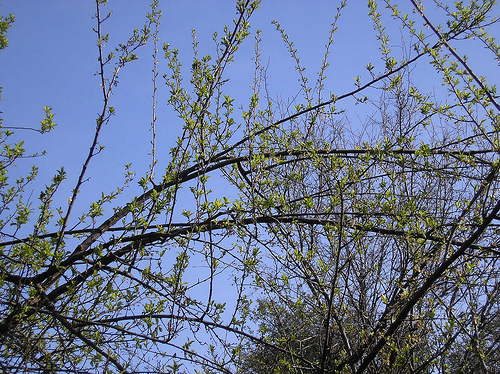 Our Plum Tree – Leaves are coming on fast this week with the little sunshine we experienced. Plum jelly in the making.
I have started reading  An Oregon Cottage and she has a great gardening/home blog that hosts a Tuesday Garden Party meme.I thought this week I would join up and share with all of you what is going on in my garden right now as spring starts to burst forth.
My garden is definitely not a winter garden. I don't do much more than throw out a few lettuce and carrot seeds in the late fall and those have long been harvested. My boys planted snap peas this past autumn but some critter of the night came and munched them down to the ground. I accept that I live in a habitat that offers yummy treats to my fellow creatures so I took the peas in stride.
Our Walnut Tree – Perhaps the squirrels will leave us some this year. 🙂
I think the theme of this post is going to be the PROMISE of a summer garden and fall harvest since that is what I observed as I toured around yesterday.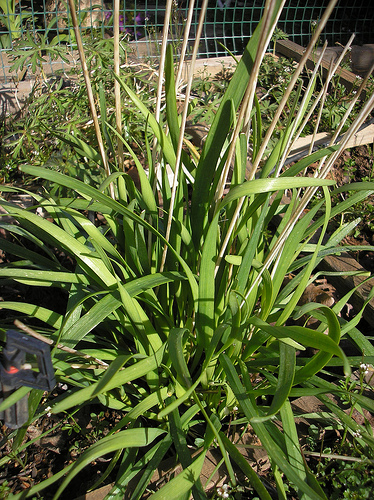 Our garlic chives are starting to grow again…can't wait.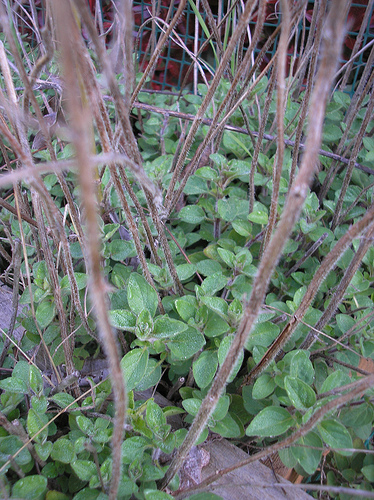 The oregano is filling in and hints at the summer pizza and sauces to come…of course, I had to nip a few leaves just to smell as I walked around the boxes.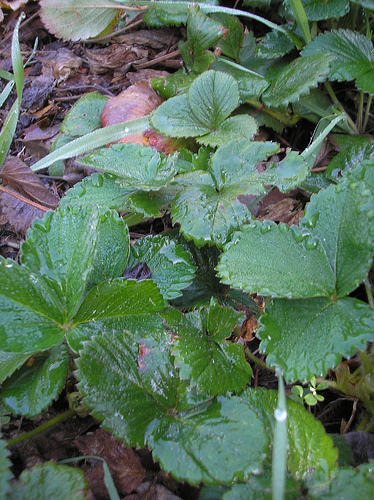 My son's strawberry box is greening up nicely as well. We are going to be adding a new strawberry box as soon as we can get through mud to built it. (see the last photo for a photo of the location)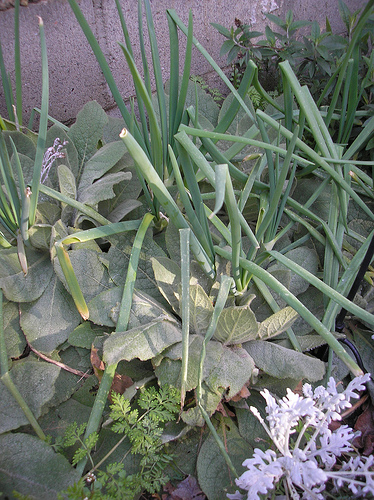 This should tell you how badly I need to tend to the garden after a long winter. These onions are popping up despite being mixed in with the mullein and the dusty miller. I know I am not going to get to this part of the garden for at least a couple of weeks….just being honest.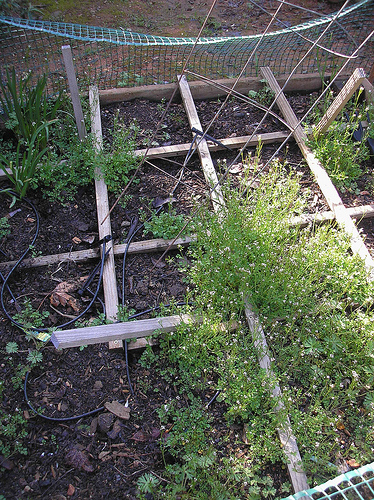 So as long as I'm being honest, here is what the state of most of our garden boxes at this very moment. Very sad and in need of a good weeding before we can even think about getting something new planted. The saddest part is that if I put my mind to it, I could have this tidied up in an afternoon.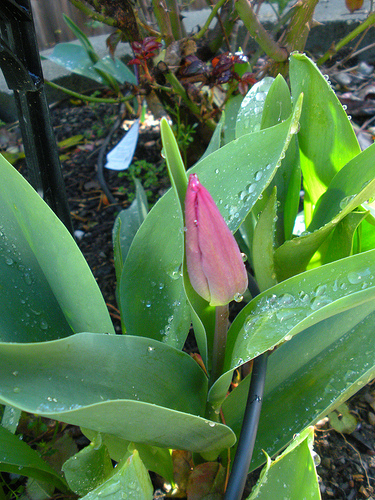 Moving away from the vegetable garden and onto the flower boxes is a little bit more cheerful. The tulips are just beginning to give us a hint of their deep purple blooms to come. I love my little tulip patch and look forward to watercoloring the flowers once they start to really shine.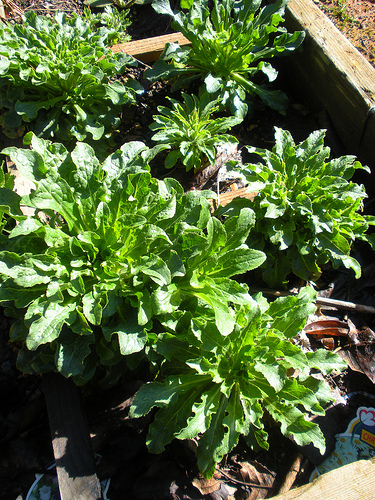 The chrysanthemums that I planted last year look like they made it through the winter nicely. I look forward to seeing their happy little faces in a few months. This box has coneflowers as well so this spot has flowers long into the autumn once it gets started. I decided a long time ago that I needed to include a couple of flower boxes along with the vegetables because it cheers me up to see the color when I look out the window. Food for the soul.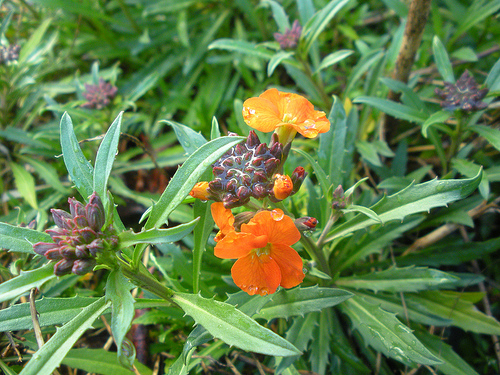 This wallflower has been a great plant in our garden for the last two years. I actually saw some bees buzzing in it too! Happy bees.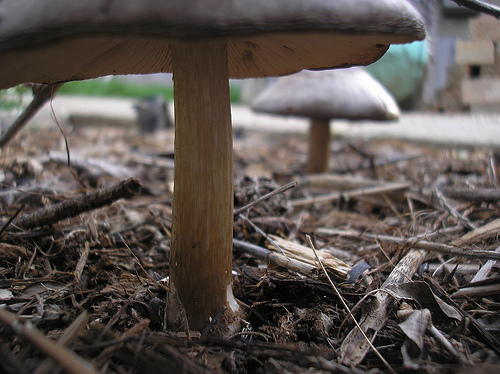 Here are some guys who came uninvited to my garden! My son spotted these whoppers in the back of the bed and of course I had to take a photo.
Now for the exciting part of the post!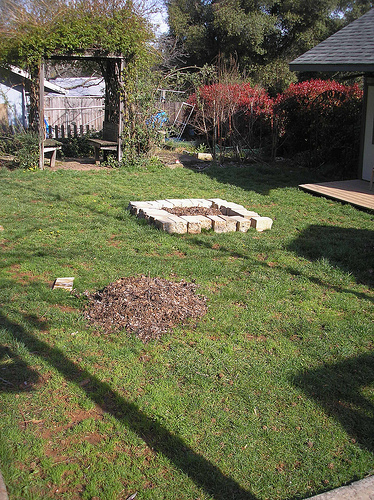 See that fresh garden territory? I finally convinced my husband that this "lawn" was using up valuable garden space and very expensive water (rates just increased again!). We are trying out a few possible configurations to build some raised boxes with one center block bed to hold something artsy. Any ideas are welcome. It usually gets summer sun mid-morning to late afternoon so probably about six+ hours altogether.
So there ends my garden survey for this first week in the spring season. I am truly looking forward to the change of the season.



Jami's Tuesday Garden Party meme is open from Tuesday to Thursday so there is still time for you to jump in and participate!