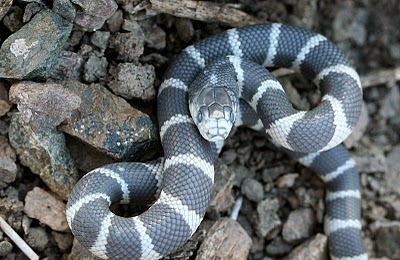 (Photo Credit: Wikimedia Commons)
Were there always this many snakes and we just never noticed them?
I kid you not….yesterday my son and I were were in the car and one block from our house there was a dead snake in the middle of the road.
At first we thought it was a fake snake because it was so colorful. I actually *turned around* and went back so we could get out and look at it. My son was shocked! He could not believe that I was going to actually go back and look at it up close. Well, I looked at it from the car window while he got out and took a photo of it with my phone. It was not in bad shape so it didn't seem weird to take a photo. I really just wanted to go home and make a positive identification using the photo. I will spare you the photo this time. (Photo Credit: Wikimedia Commons) The one we saw was much yellower in color than this one in the photo which made it very conspicuous.
It was a kingsnake. It looked like this one: California Kingsnake. Here is a good article: California King-snake.
These are good snakes…they eat rattlesnakes.
Okay, so now in less than a week I have seen two of the common snakes from our list of snakes from our snake study. It makes me wonder whether they were always here before and I did not notice them. I have been left in no doubt this week of the value of nature study and learning about what is right in our own neighborhoods.
It is a good thing we are not studying mountain lions…..