Outdoor Hour Challenge- New Members Printables
I'm excited to share some new printable pages with you!
Prairie Wildflowers and Animals Clipart and Coloring Pages: This set of five pages can be used in many ways. There is a page of clipart that you can use to decorate a prairie nature study page, three pages of various subjects for prairie nature study that can be used as coloring pages or printed on cardstock to create small cards for your nature table, and a page that explains how to use the pocket printable in a lapbook or in a nature journal.
Sea Star, Newt, and Jelly Fish Nature Notebook Pages: These three pages have been requested by families and I had time to create them this month. I hope they help make your study of these topics a little easier.
Deciduous Trees in my Yard Notebook Page- This fun page has a space for you to draw a map of your yard and then mark where you have deciduous trees growing.
Note: If you have any subjects you would like me to create nature notebook pages for, please let me know in a comment here on the blog or in an email: harmonyfinearts@yahoo.com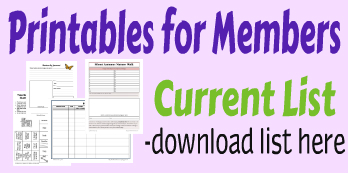 Print a complete list of printables available in the Ultimate and Journey level memberships by clicking the button above.
FYI: There will no longer be a monthly printable planning page. Please note that members have access to the complete year's plan in the Ultimate and Journey level memberships. Non-members can follow along by subscribing to this blog and each Friday the Outdoor Hour Challenge will come into your email inbox.