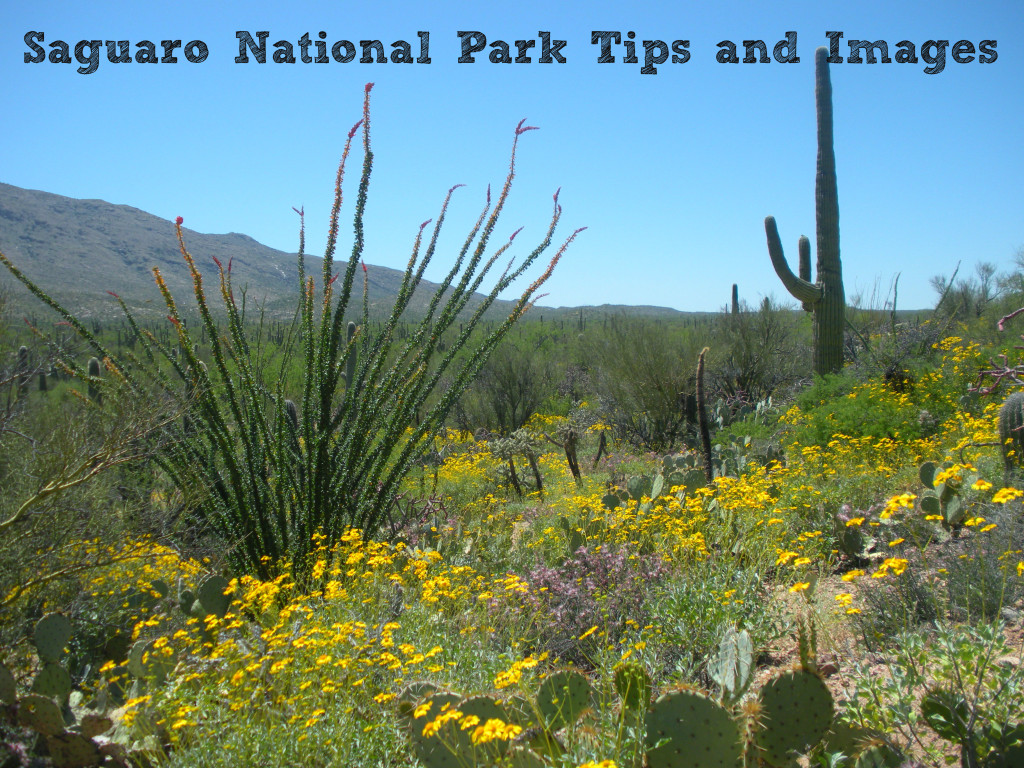 What an amazing place to explore the desert! Saguaro National Park near Tucson, Arizona surprised me with all its secret delights. There isn't anything that we didn't enjoy about the two trips we have taken to this part of the world.
If you can plan a trip to Saguaro National Park with your family, you will experience the southwest at its best!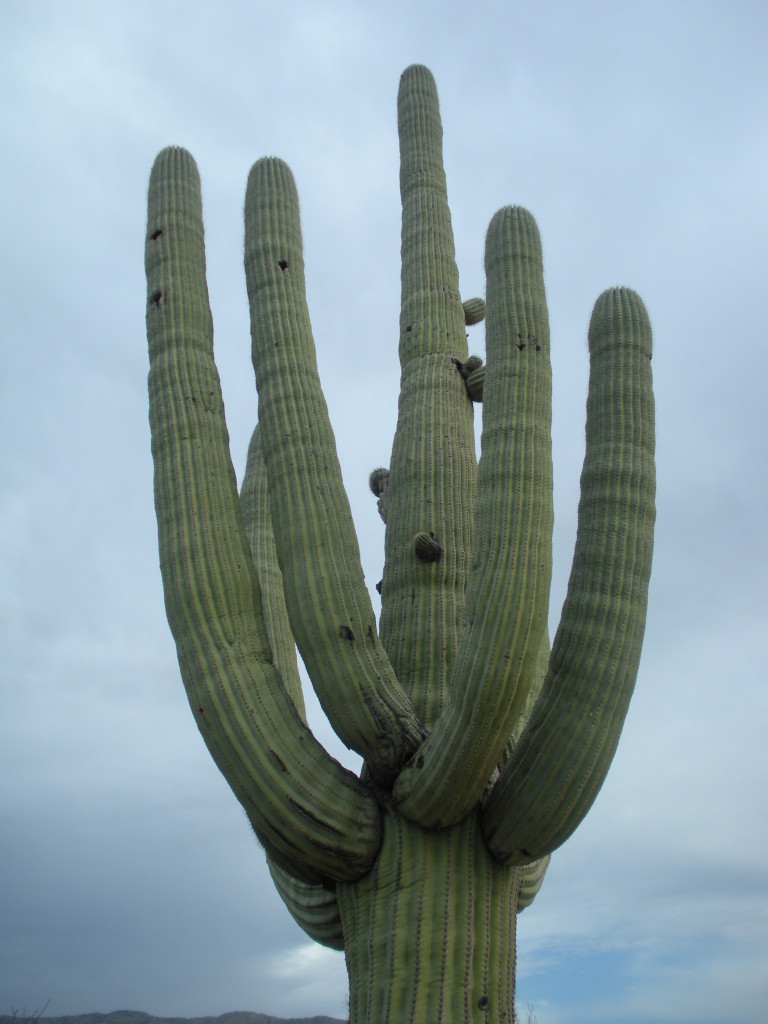 Of course, we came to see the saguaro cactus and we were not disappointed. These magnificent cactus actually are like a whole habitat in themselves with the way they provide food, shelter, and beauty for the inhabitants of this southwestern desert. We learned about the Sonora desert and its unique place in the web of life…creating a place for migrating and resident animals to take refuge.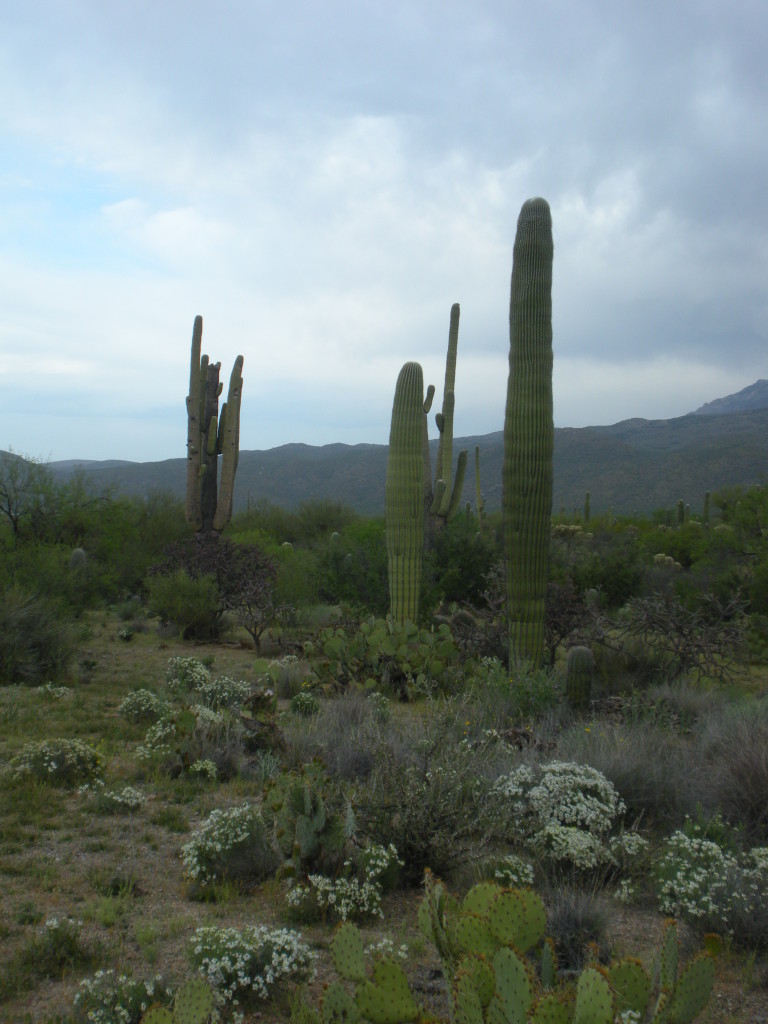 Our first trip to Saguaro was in 2009 and we flew into Tucson, Arizona and rented a car. We spent days exploring the desert together with our two boys. At first glance you wonder what lives out in the desert but after hiking out by ourselves and seeing with our own eyes the many creatures and plants that are thriving in this dry sandy/rocky place, we realized the magnitude of life in this special national park. I am personally grateful that this refuge is protected for generations to come.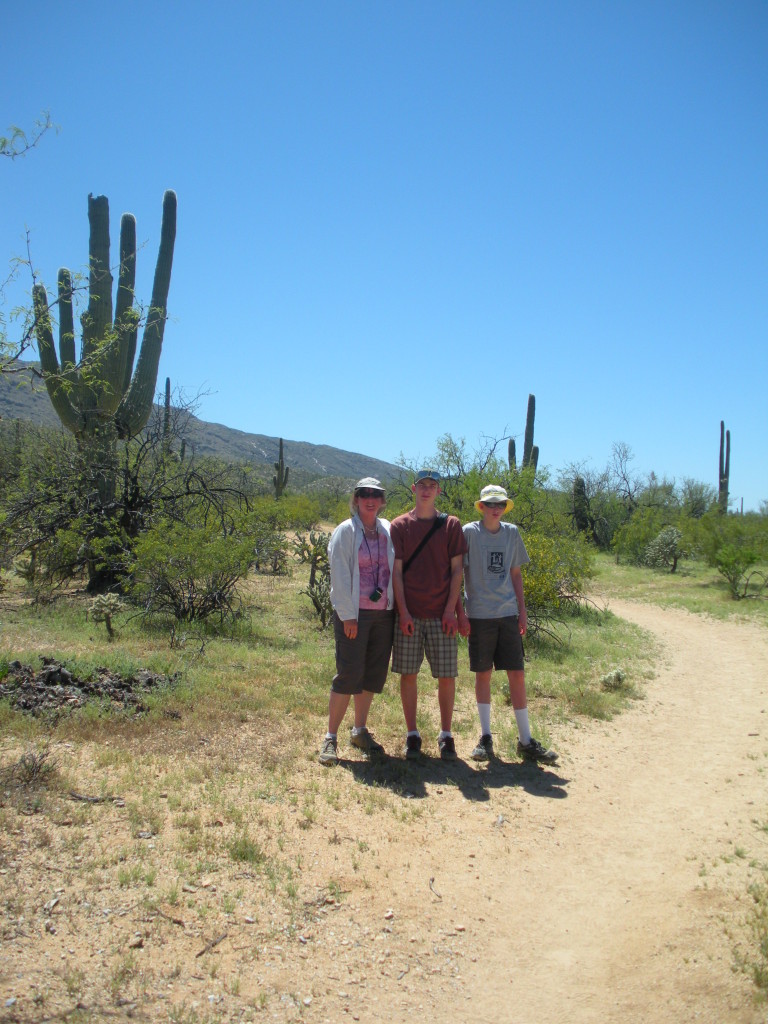 Our second trip was in 2010 when we drove from California to Tucson to visit the park again in the spring (April). This was the perfect time to experience the burst of life from the wildflowers and flowering shrubs, a bit early for the saguaro themselves to be blooming but we saw big flower buds up on the top.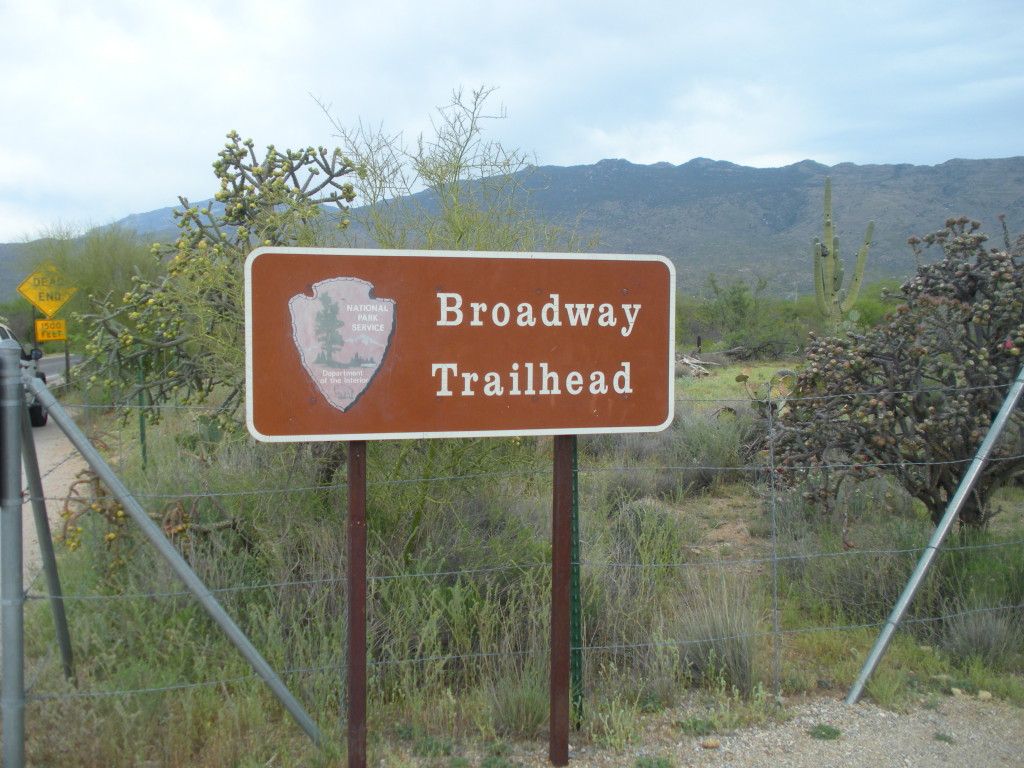 One day we parked along the edge of the park and went in at the Broadway Trailhead to hike the trails from there. It is hard to describe the many, many things we found to observe.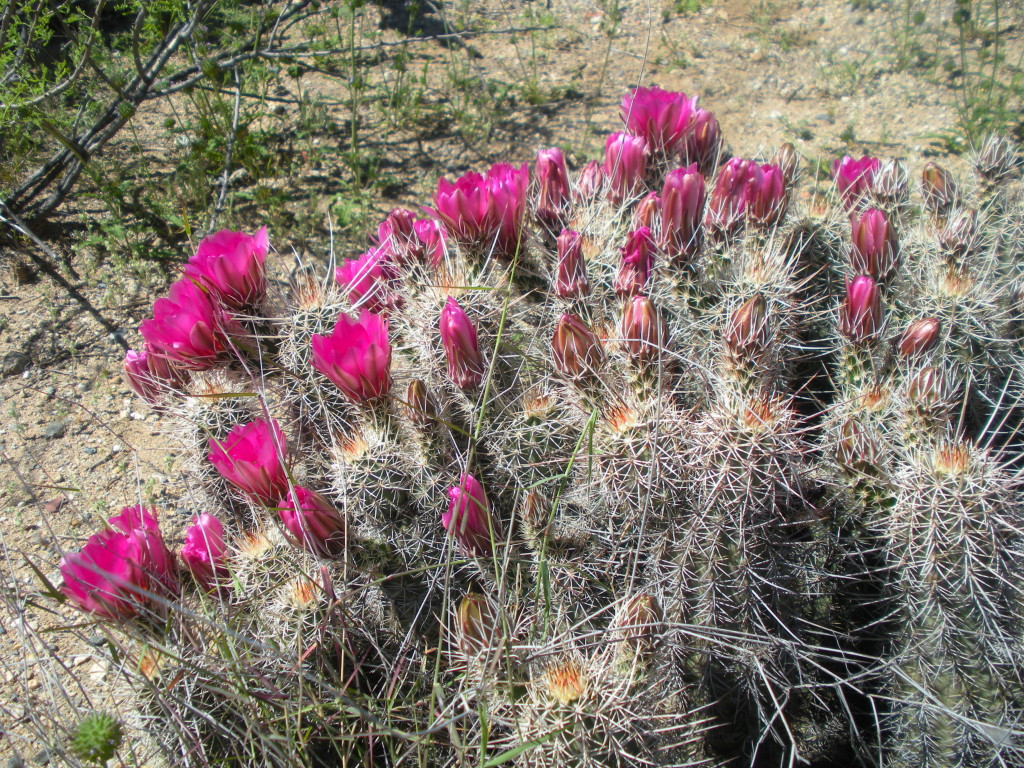 The cactus and  brightly color flowers were each a work of art…what a blessing to time our visit to see them.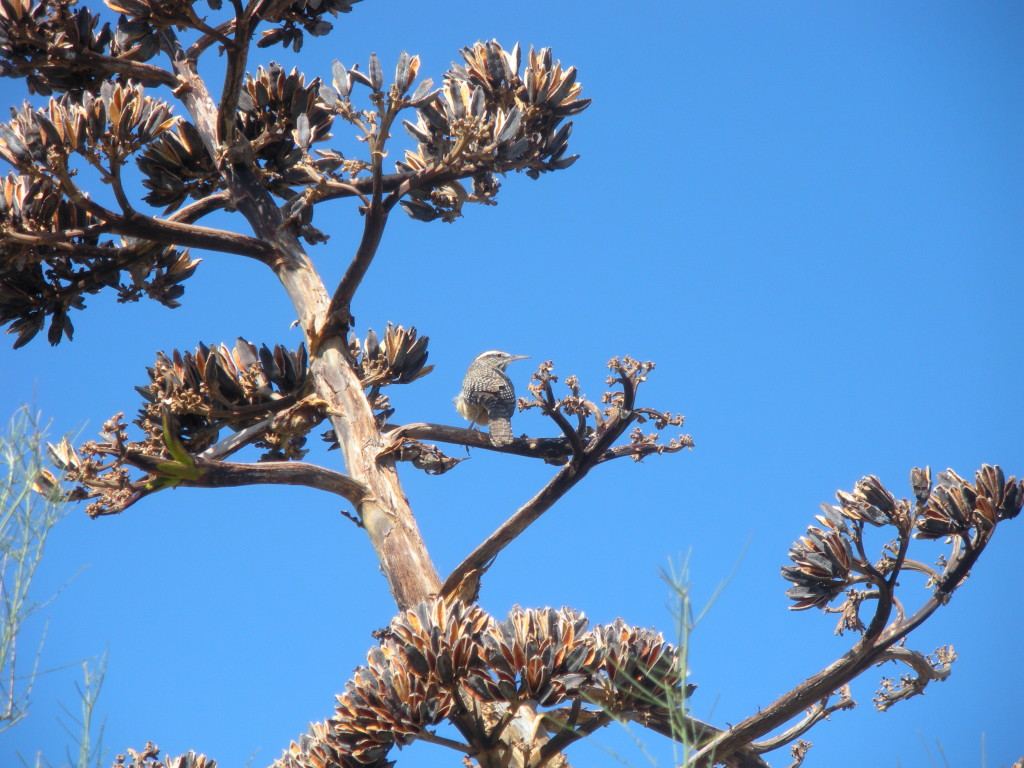 Birds…so many birds! I spent lots of time with my binoculars and field guide on both trips, making lists of birds each night when we returned to our hotel.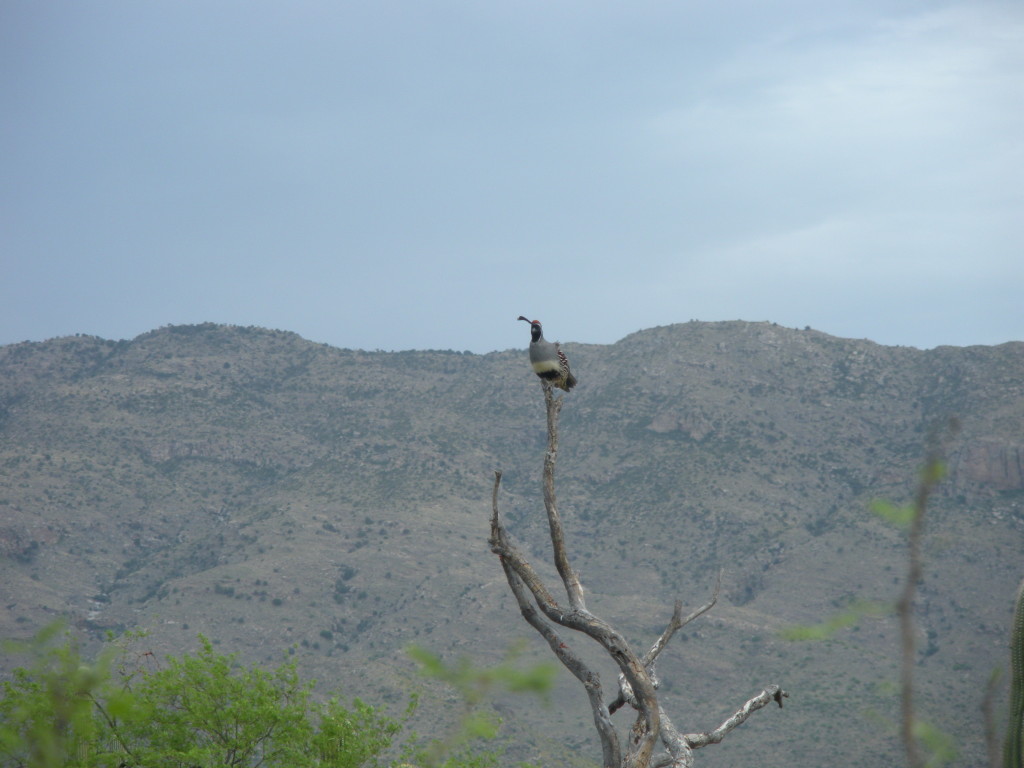 Our favorite bird of the desert is the Gambel's quail. They have such beautiful feathers, jaunty little top-notch, and sweet song.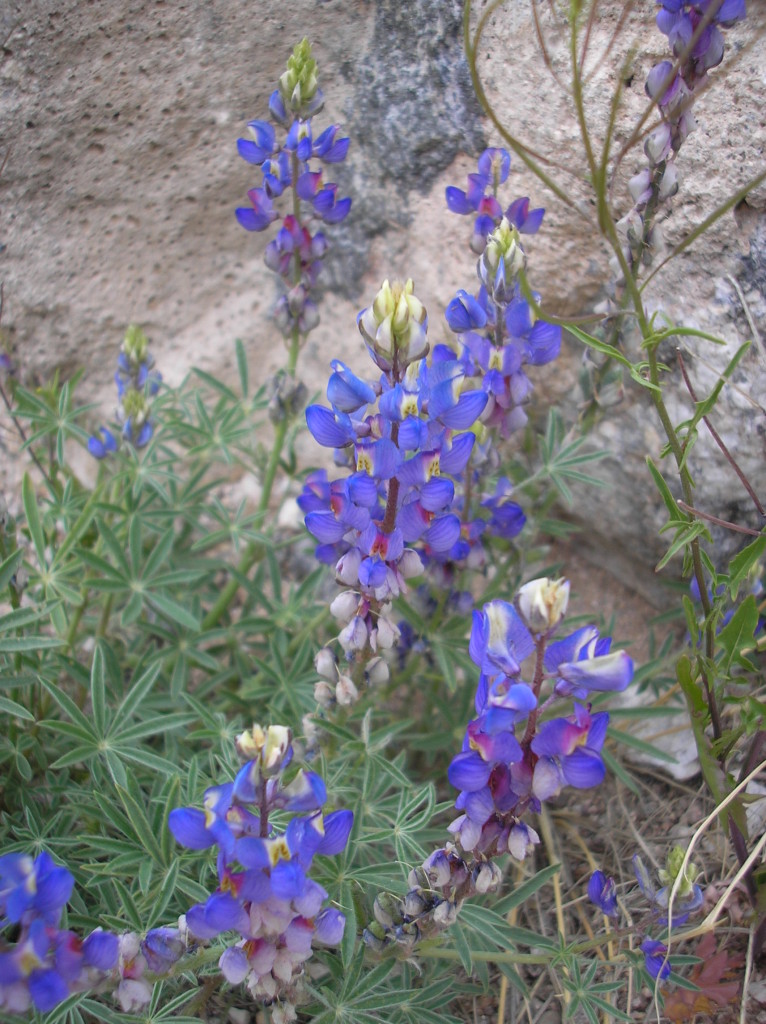 Wildflowers to make your heart sing.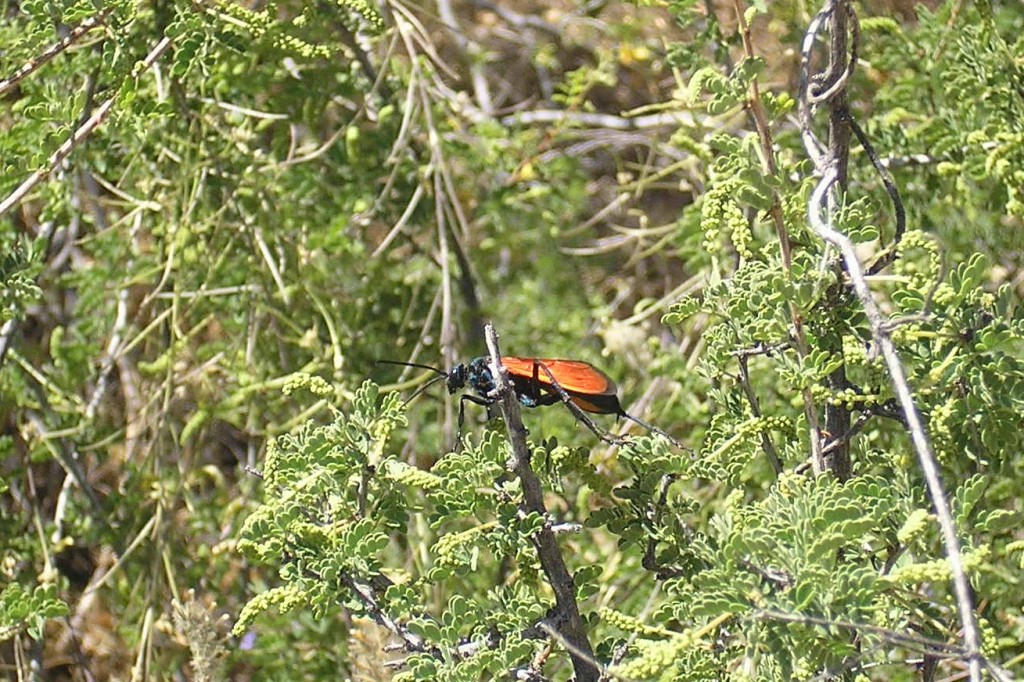 Insects like this tarantula hawk eek out a life in this part of the world. (read it's life story…creeps me out!)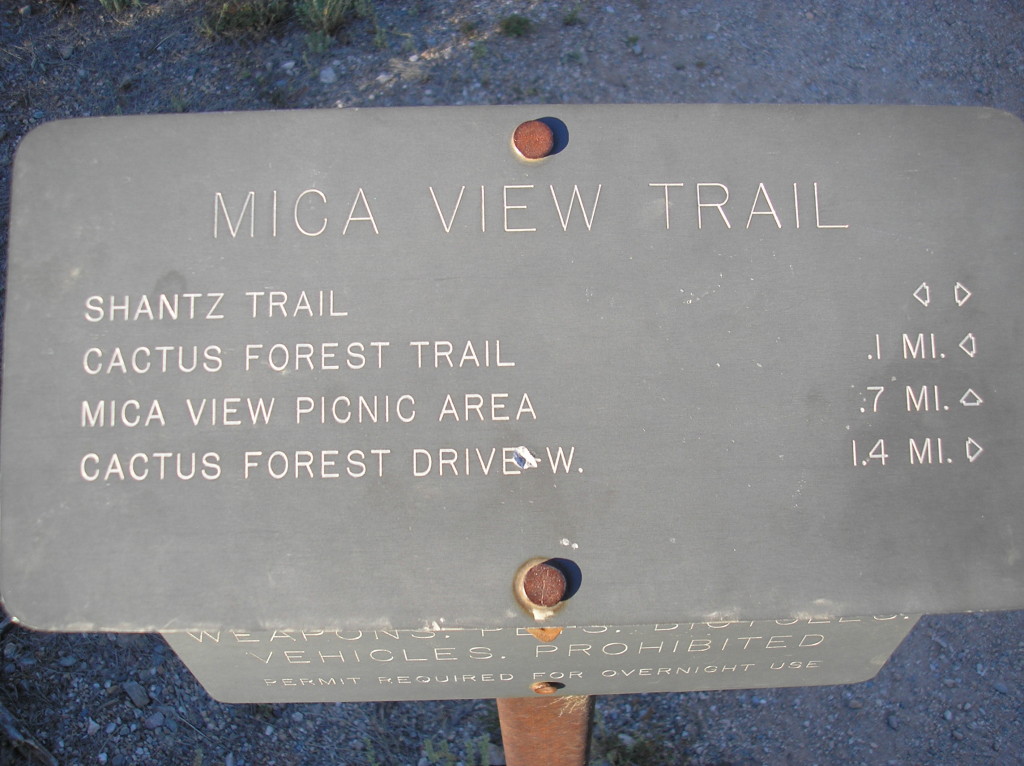 Saguaro National Park actually has two sections that are located on opposite sides of Tucson, Arizona. Find more information here at the Plan Your Visit page.
The photos above are from the eastern section of the park called Saguaro East-Rincon Mountain District. This section of the park has a large visitor center that we enjoyed on both of our visits. The Cactus Forest Drive is a must do for everyone to get their feet wet with this national park. There are several spots to stop and view the landscape and a short nature trail that features the desert habitat. You can reach the Mica View trailhead and picnic area off the Cactus Forest Drive.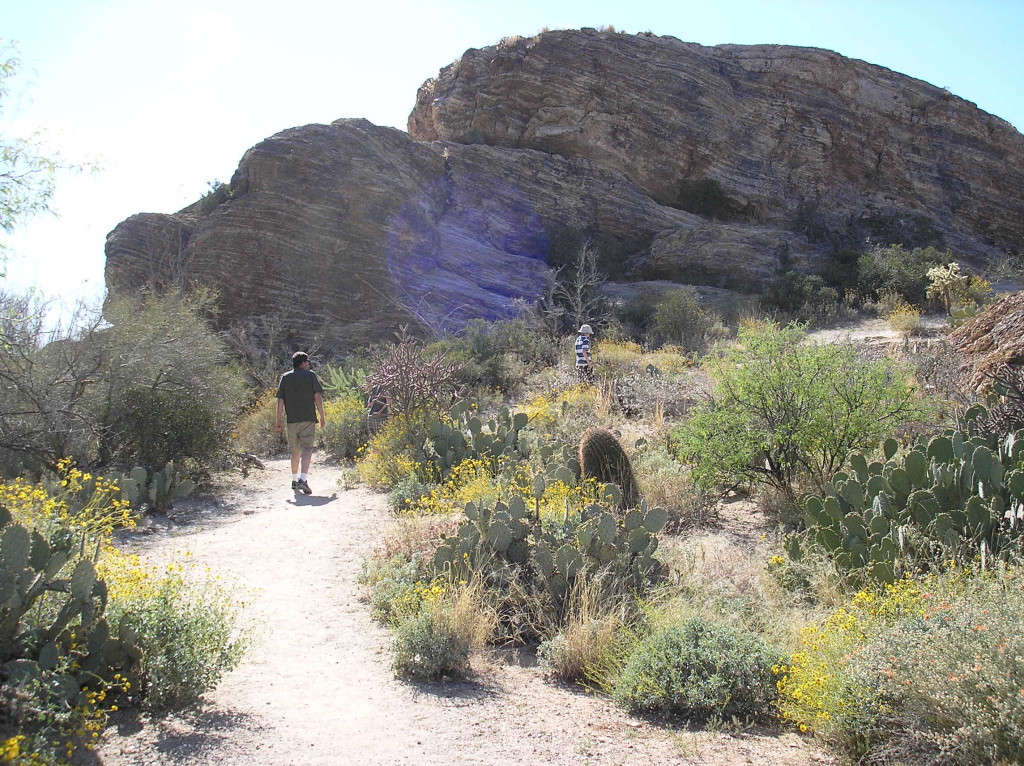 Also along this drive, we stopped at Javelina rocks and hiked. There is a trail out to an old homestead that was interesting and on this trip was lined with colorful wildflowers.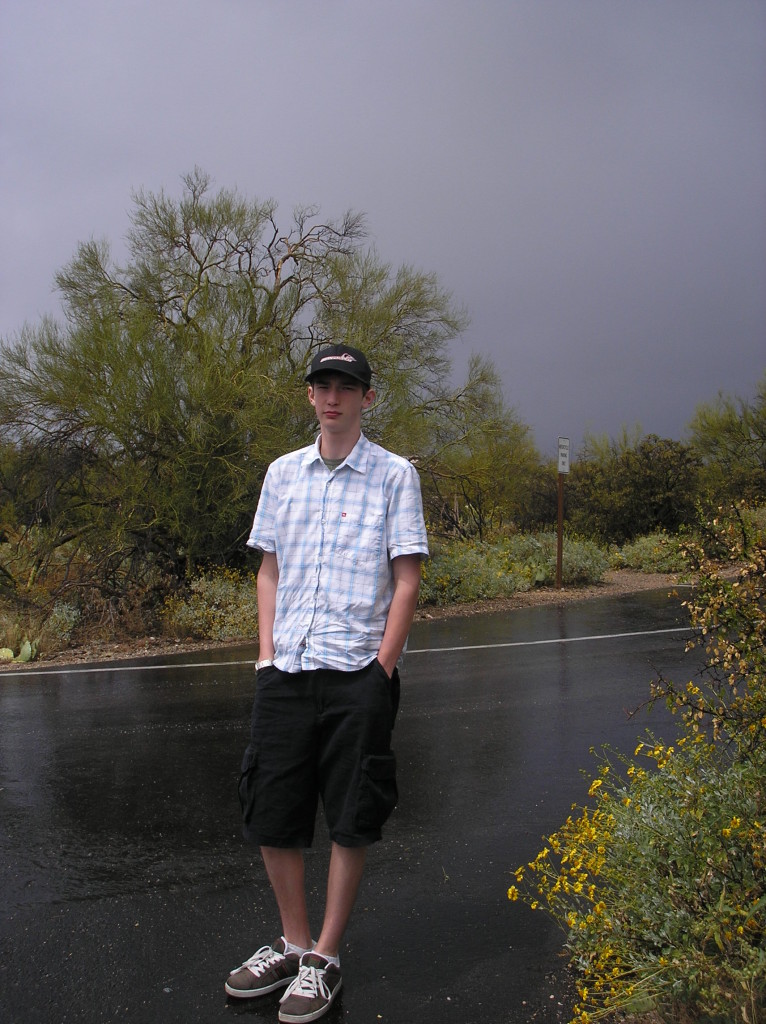 One of our favorite moments during our trip was the day we were driving through on the road and there was a sudden downpour where the rain came down in buckets. Shortly, the rain stopped and the sun came out….I cannot describe the scent of the air. It was magnificent and I hope someday to experience that fragrance again. The wet earth, the damp vegetation, the creosote bushes, something else…amazing!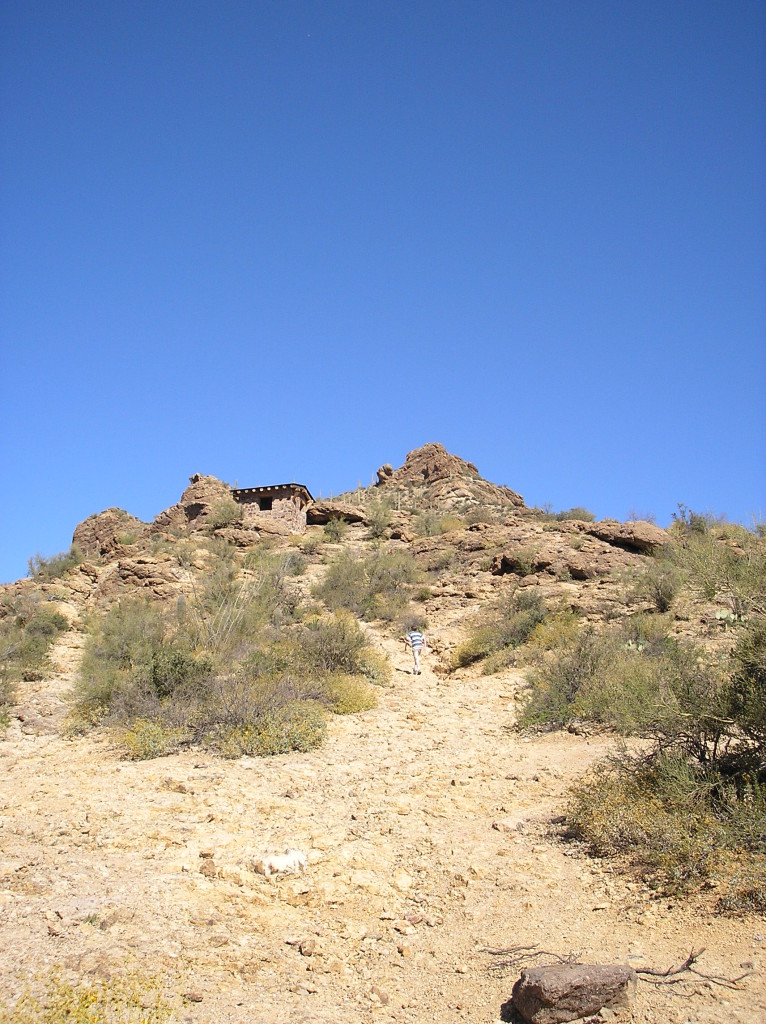 The other section of the park is on the western side of Tucson and is called: Saguaro West-Tucson Mountain District. There is a visitor center at Red Hills and is a wonderful source of information and you will find displays and helpful rangers to make the most of your trip. Here is a wonderful printable list and map for hikes in this section of the park: Trails in the Tucson Mountain District.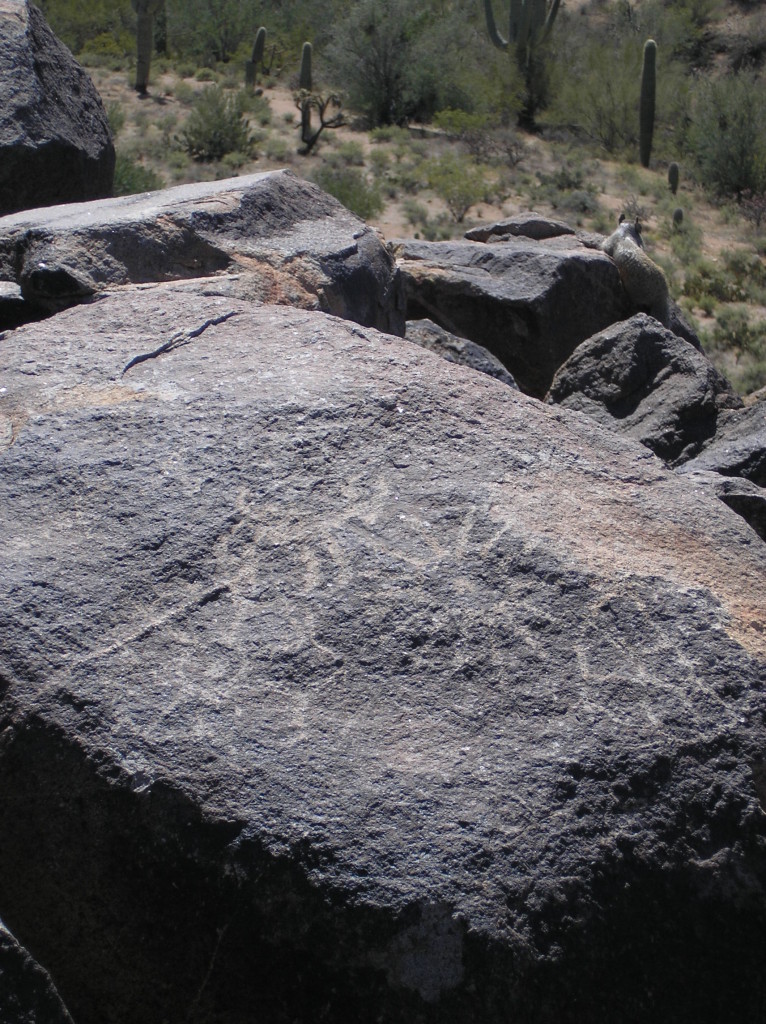 The western section is a little more rugged and has some fantastic aspects that make it worth the effort to visit it as well. One trail has petroglyphs to view along the way.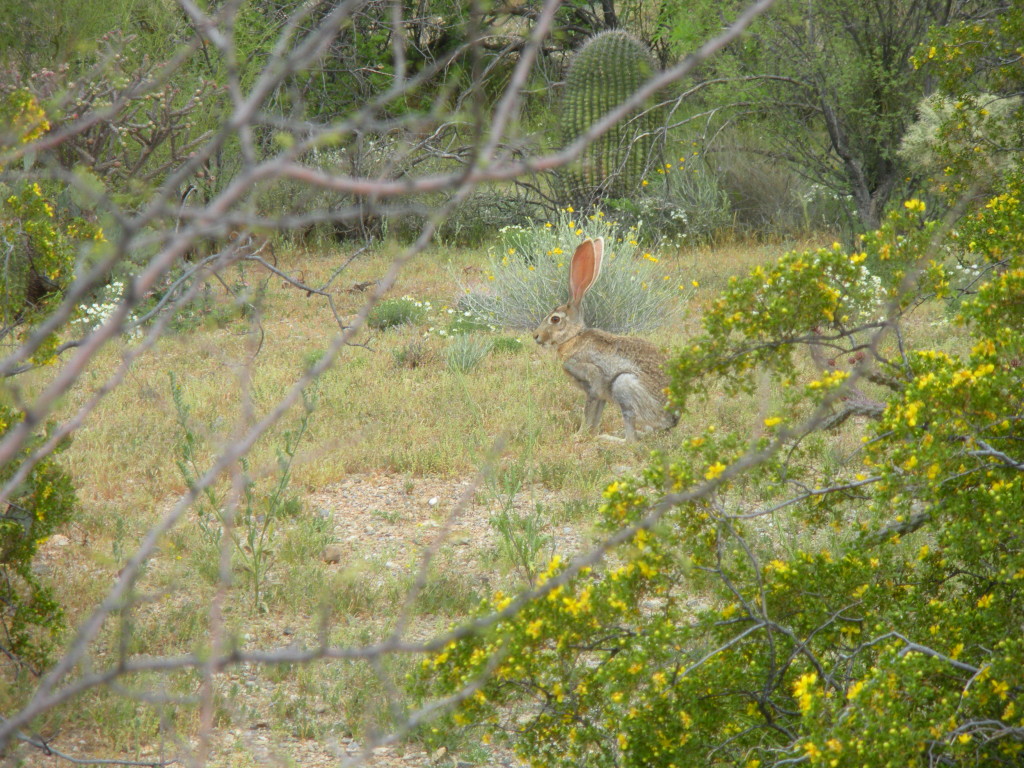 Keep your eyes open and hike along quietly and you never know who you will see! We saw evidence of pack rats and coyotes. One day we heard coyotes howling in the distance.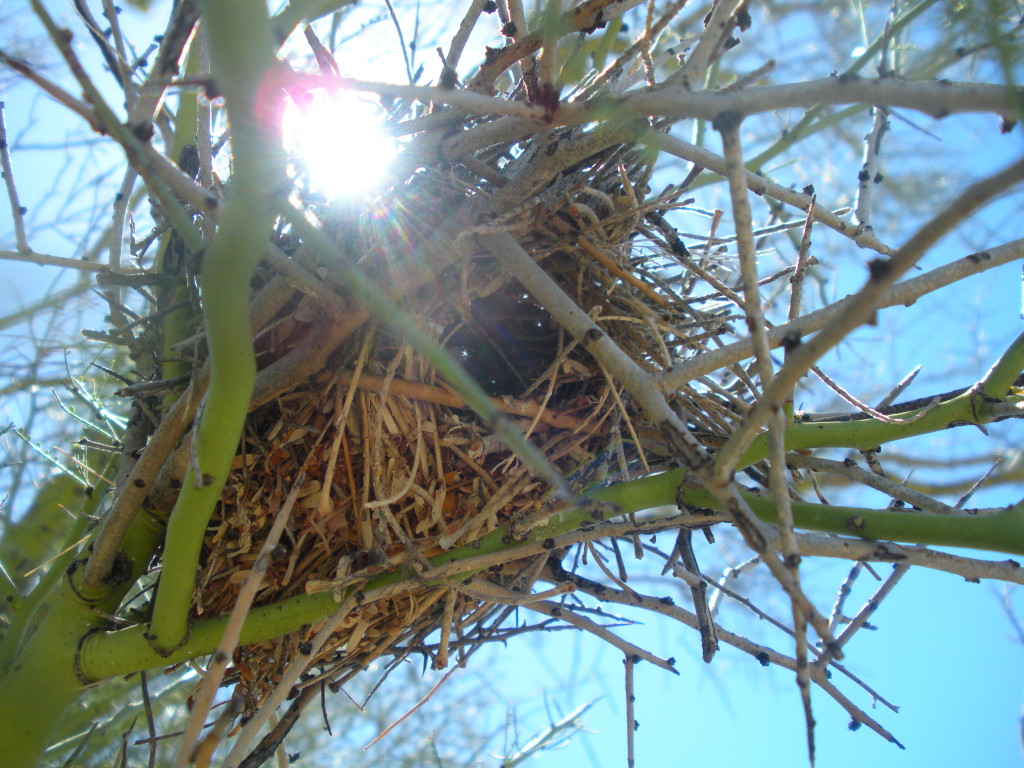 We saw more birds in the desert than we have ever seen in any other habitat. The many ways they have found to survive in this harsh environment are a wonder. Here is a nest that we found with the opening on the side.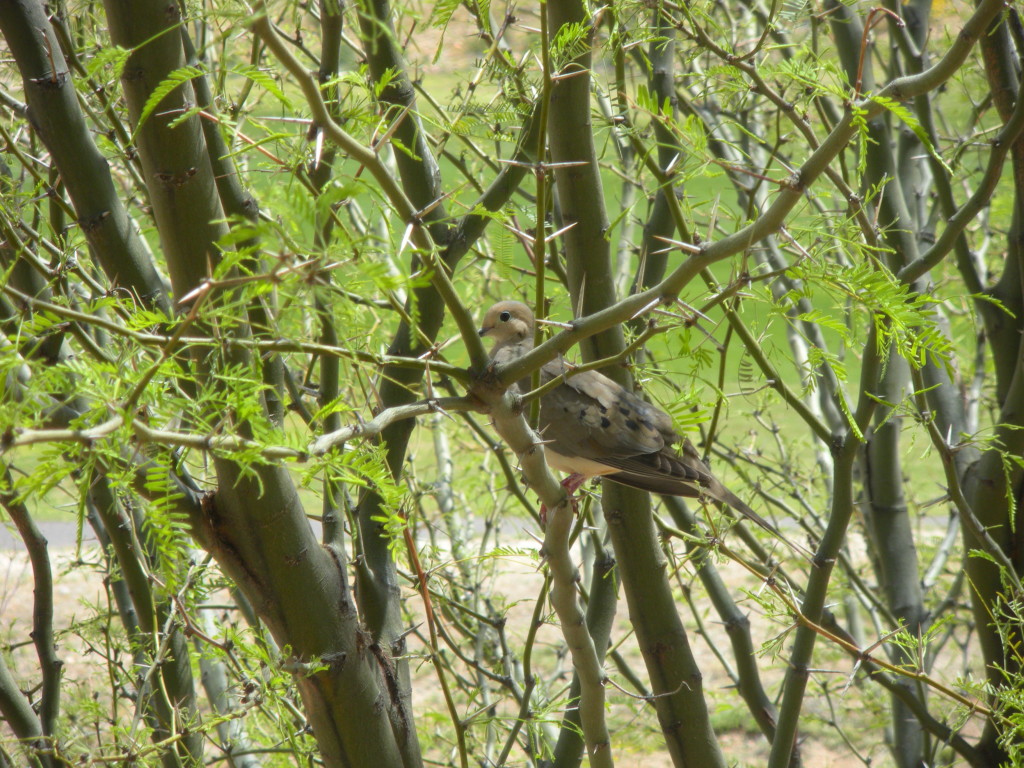 I spy a dove!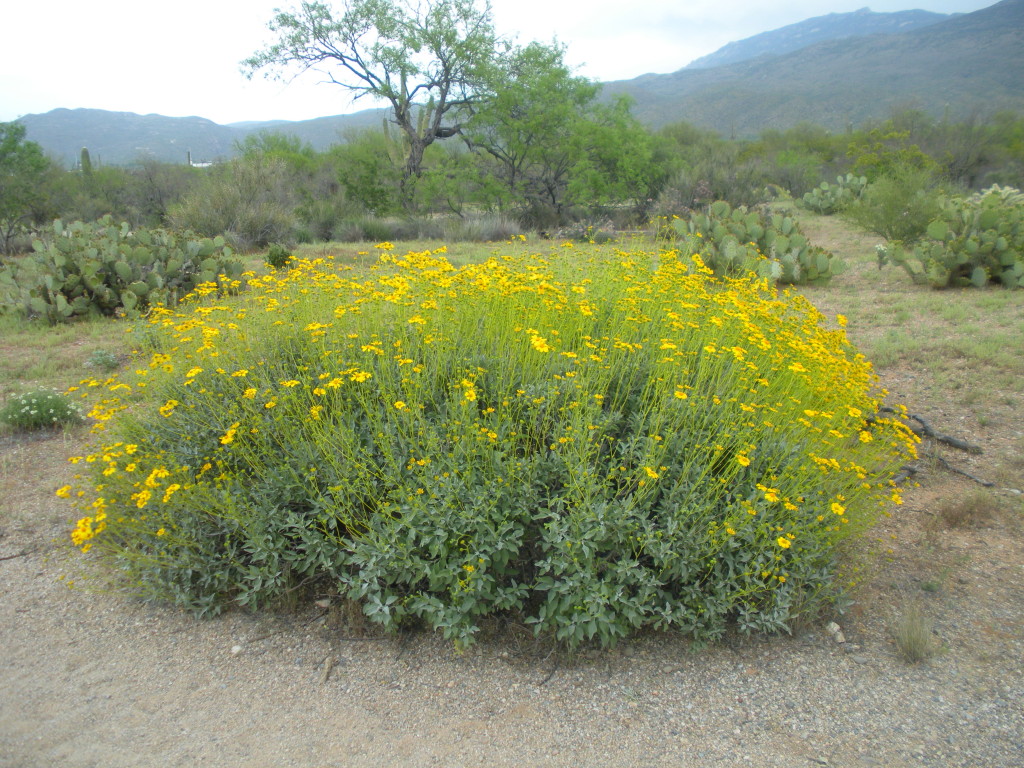 If you time your trip just right, you are going to see a display of wildflowers so colorful you can't believe it. I love this place!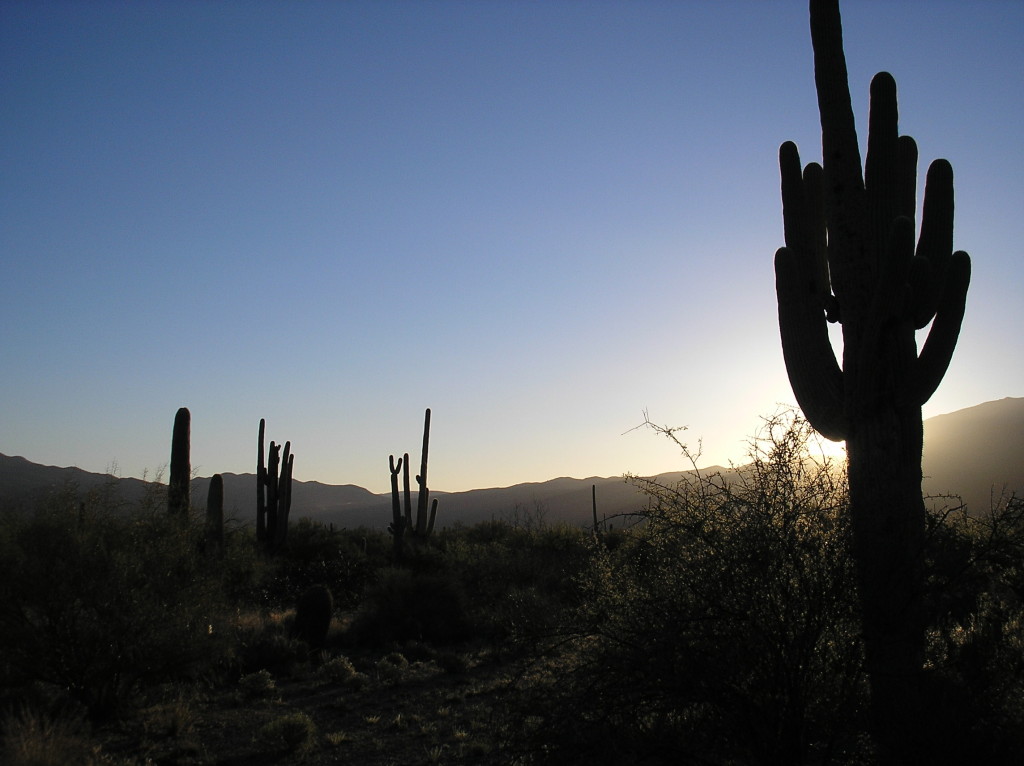 We made sure to plan a sunrise walk one of the days we were there. It took some effort and it was COLD but well worth it to us. It was awe inspiring to watch the sunrise as it transformed the desert from a shadowland to a blaze of daylight. We saw deer and rabbits and flocks of quail. My boys loved it and we hope to do this again someday.
Other Tips for Saguaro National Park:
There are six picnic areas in the park with tables and shelters. We found the shelters were helpful to keep off the sun but we got wet in the rain! There are no restaurants in the national park so pack a lunch or several snacks.
There are trails for all ages, some that are wheelchair accessible.
Make sure to bring along a camera to record the numerous plants, birds, flowers, rocks, and landscapes you are going to come across.
Bring your binoculars and a good bird field guide for the Arizona Sonora Desert region. You are going to see and hear lots of birds if you get out and hike even a short distance.
There is a Jr. Ranger program and a Not So Junior Ranger Program.
Carry water, wear a hat and sturdy shoes.
No camping within the national park but hotels galore of all sorts in Tucson, Arizona. We stayed at a condo for a steal of a deal…look online at places like Expedia.
At the very least, plan a long day in the park, visiting one section if you are limited on time. If you can stay two days, explore one section each day.
If you can, plan a sunrise or sunset hike to experience the changing light and creatures that come out during those times of day.
Distance from Las Vegas – 400 miles or 6.5 hours, Phoenix, Arizona – 110 miles or 2 hours, Albuquerque, New Mexic0 – 445 miles or 6.5 hours.
Check out this really well done YouTube video: Saguaro National Park.

Other Things I Suggest Doing While in Tucson, Arizona
You can read more of my national park tips in these entries: