I found it surprising that the California poppy is covered in the Handbook of Naure Study since it is usually thought to be a book for the East Coast and not the West. I thought the information was really well done and the black line drawing of the poppy on page 564 was really perfect for helping us draw a poppy in our nature journal.
My earliest memories of poppies are when I was quite young and my aunt taught me that you could "tip their hats".
"One of the most interesting performances to watch that I know is the way this poppy takes off its cap before it bows to the world. Like magic the cap loosens around the base; it is then pushed off by the welling, expanding petals until completely loosened, and finally it drops."
Handbook of Nature Study, page 563

These are really small poppies…the ones I remember as a child were much bigger but you get the idea.
This is such a silly little video but please envision me perched precariously on the side of the hill trying to hold the camera and to tip the cap at the same time. 🙂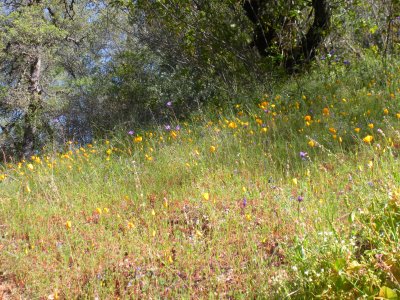 I wish I could share with you how lovely these flowers are because my photos just do not do them justice. The hillsides and banks alongside our hiking trail are a blaze with poppies right now.
"….we can never understand its beauty until we see it glowing in masses on the California foothills."
Handbook of Nature Study, page 563

The orange glow of California Poppies really cheers me up and it reminds me that it really *is spring*!
"This is not nearly so pretty or so descriptive as the name given to this poppy by the Spanish settlers on the Pacific Coast, for they called it Copa-de-oro, cups of gold."
"In California it should be studied in the spring, when the hills are covered with it. But the plant may be brought into the schoolroom, root and all, and placed in a jar, under which conditions it will continue to blossom."
Handbook of Nature Study, page 565
"The insects in California take advantage of the closing petals and often get a night's lodging within them, where they are cozily housed with plenty of pollen for supper and breakfast; and they pay their bill in a strange way by carrying off as much of the golden meal as adheres to them, just as the man who weighs gold dust gets his pay from what adheres to the pan of his scales."
Handbook of Nature Study, page 565
I think I would like to sleep inside a poppy blossom…..all surrounded by soft orange petals.
One last very cool thing to share with you. Last week we took a different fork in our usual trail. The trail wound around a long ways and gave us hints of a view of the river below. We kept saying that we would go one more bend and one more turn before we decided to stop. Well, we did that for a good twenty-five minutes until we reached a dead-end. Guess what was there?


What is it?

It is an abandoned gold mine, pretty much filled up with water……I will save more photos for another entry. 🙂
We will be studying our Bleeding Hearts this week. Although the most striking flowers in our garden right now are the pear blossoms. They are so pretty and delicate.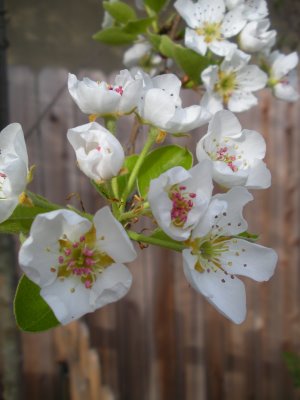 Now it is your turn. Pick a flower from the Handbook of Nature Study or from your garden and make your own flower study. You do not need to pick poppies….pick something you have in your area. Here is the first entry in this series to explain more about Wednesday Flower Study day.