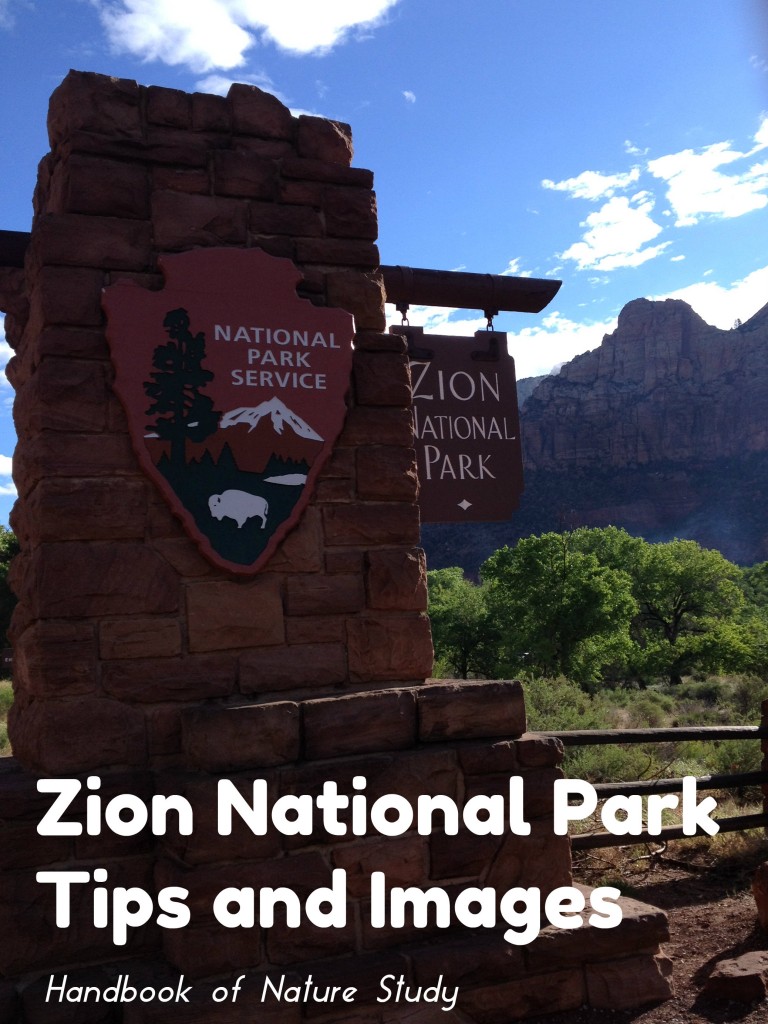 Zion National Park is like no other park we have ever visited. It amazes me when I find a place so different than I had imagined. I think that Zion rivals Yosemite as my favorite national park because of its beauty and uniqueness.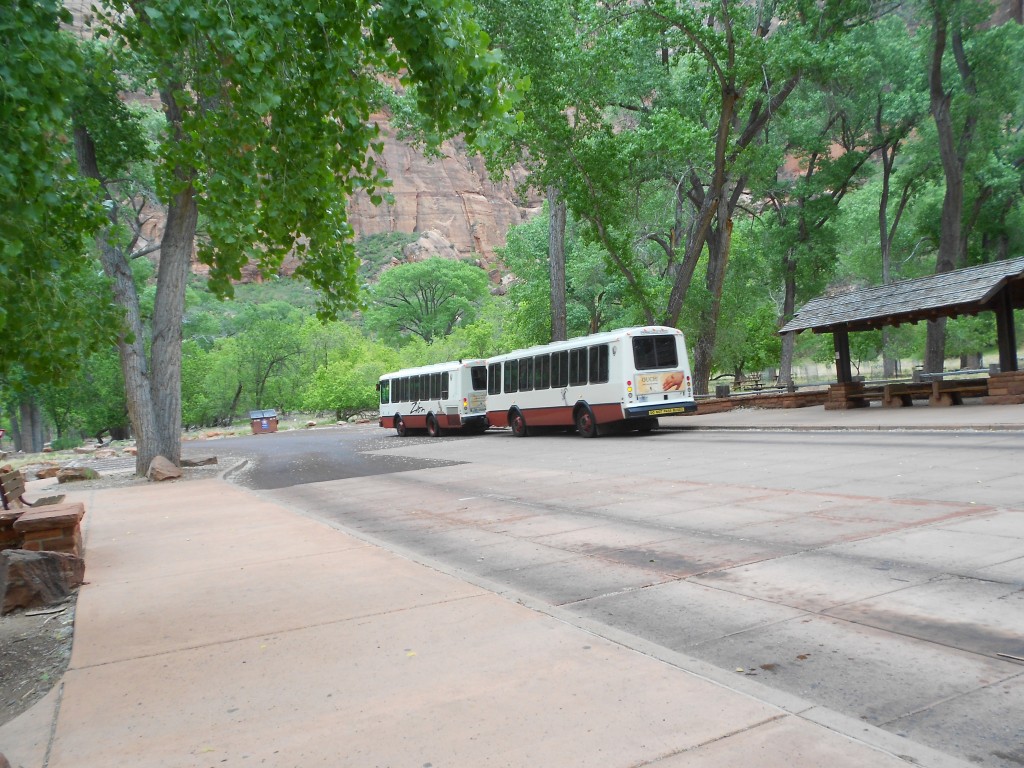 This park impressed me because we were able to park the car for three days and then either walk or take the free shuttle to every place we wanted to visit. The shuttle was convenient and came regularly, never making us wait very long. There were times that we had to stand in the shuttle but only for a stop or two at most.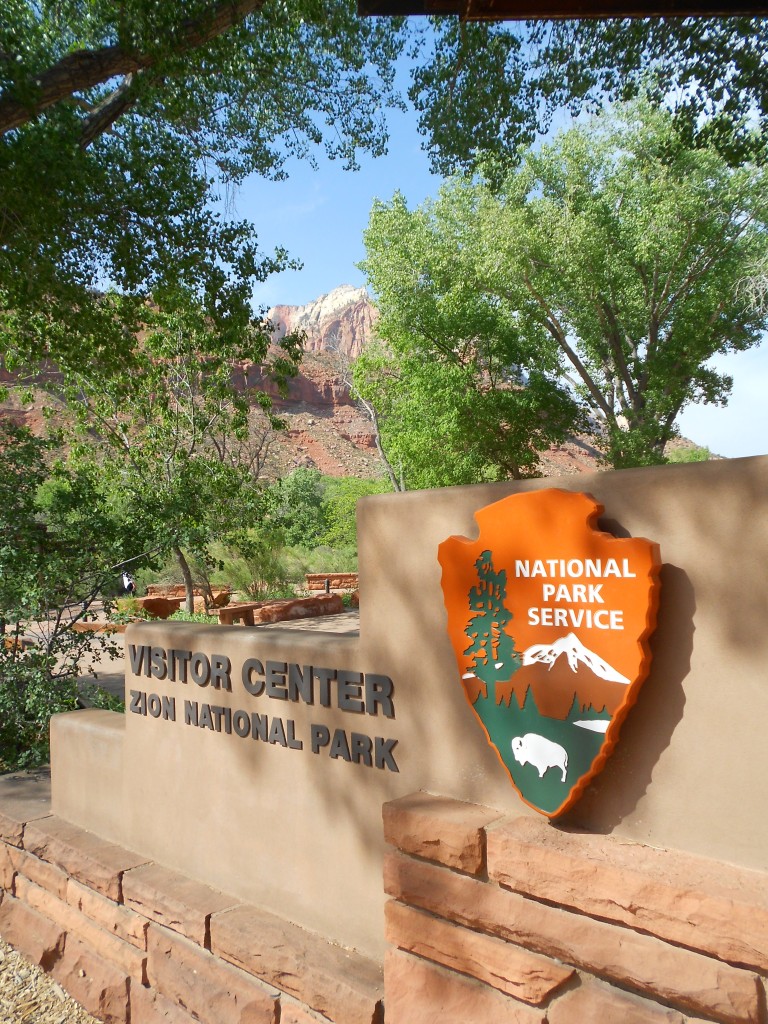 The visitor center has indoor and outdoor information boards that we found very helpful in planning our visit. Each hike was explained in detail so we could pick hikes that fit our needs: time, distance, and difficulty. My husband and I enjoy taking 3-6 mile hikes, anything longer for a day hike makes us feel pressured to walk fast and I think we miss things of interest. When we had young children, we had to make sure that the elevation change wasn't an issue either since we had our children hiking as soon as they could manage it…usually around 3 years of age. Zion has hikes for all abilities so this is a great park for families.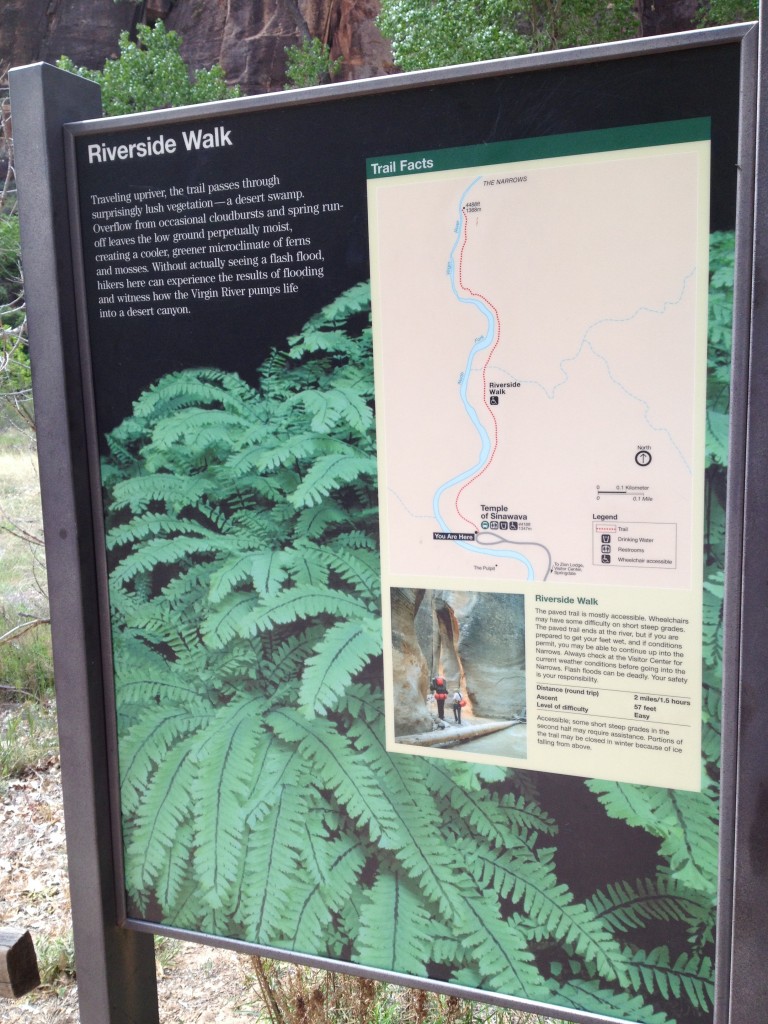 Riverside Walk: this hike is at the last shuttle stop in Zion. This is an easy hike that winds alongside the river where you see beautiful trees and wildflowers.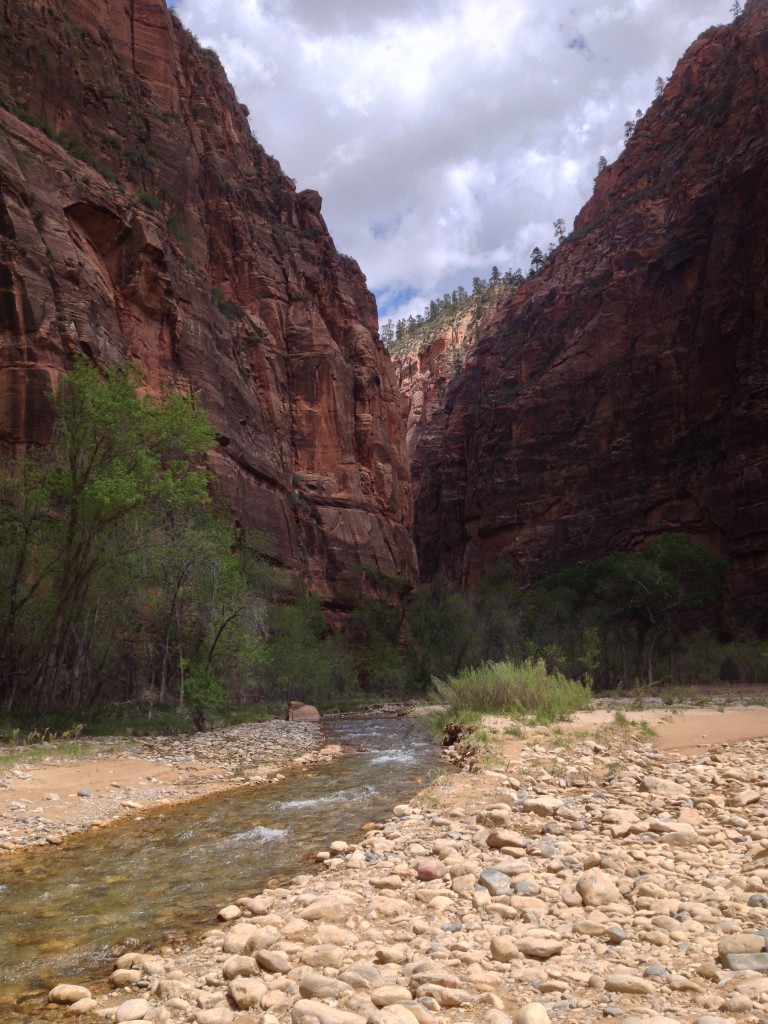 It is also the trailhead for the Narrows hike which is a popular hike that requires you to wade up the Virgin River. The day we were there it was forecasted to rain and a 50% chance of flash floods. We opted to take the Riverside Walk up to the end and have a picnic lunch as we gazed up at the Temple of Simwava, an amazing red rock formation that surrounds you.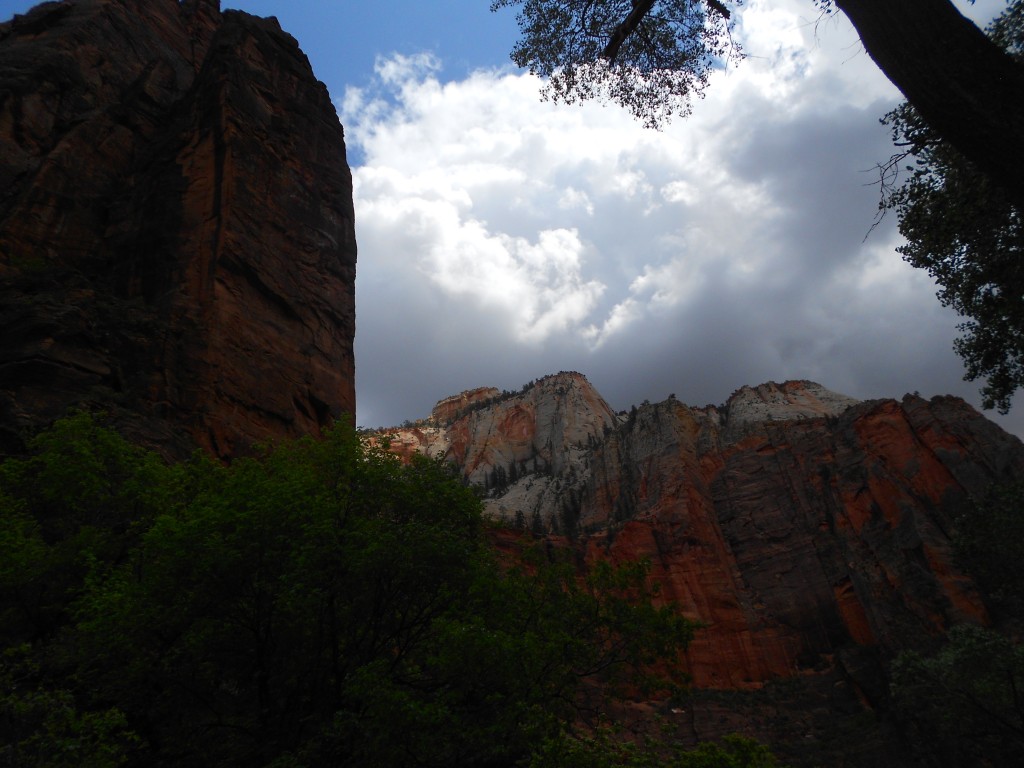 The changing weather along with the changing light make the canyon so different every time you go out for a hike. We had all kinds of weather during our visit but only one afternoon was wet enough to keep us off the trails. We took that opportunity to eat a nice lunch at the Zion Lodge and then later into Springdale on the shuttle to a very nice coffee shop.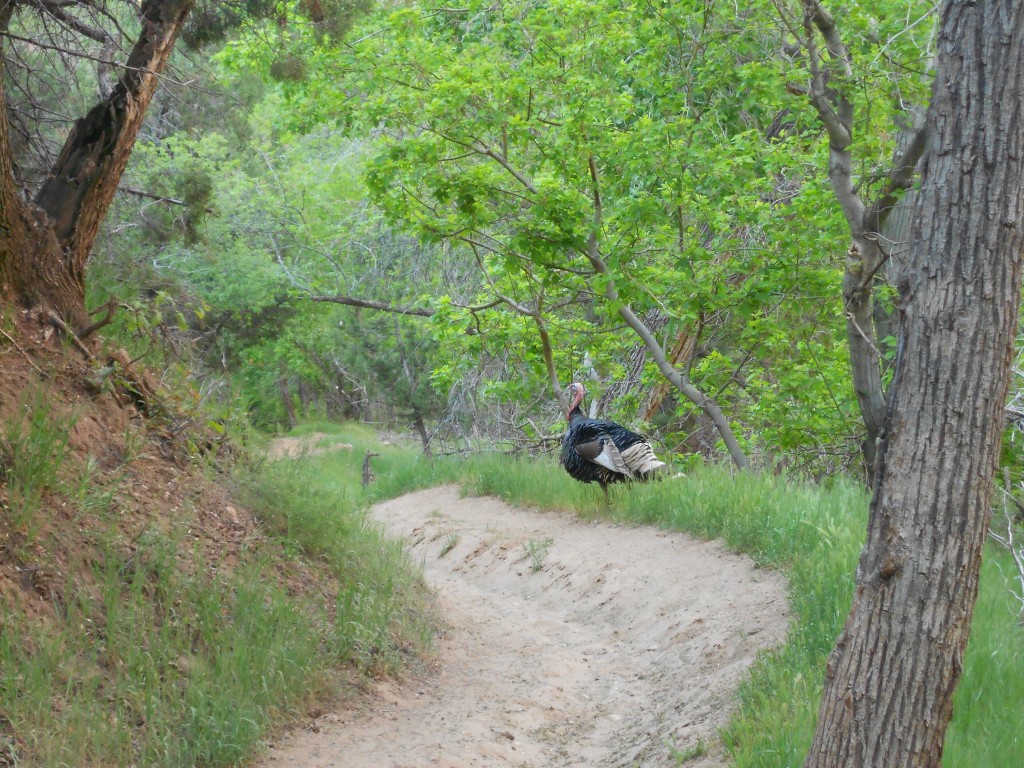 One day we got off the shuttle at the Court of the Patriarchs and hiked from there to the Emerald Pools. This was a difficult section to hike on because was soft deep sand…sort of like hiking at the beach. The horses take this path and have worn it down until it is a crazy hard stretch of trail. We did see some wild turkeys and a deer while hiking…and not a single other person which made the hike very peaceful so it had its advantages.
Here is a view from the trail that showcases the view and the plant life.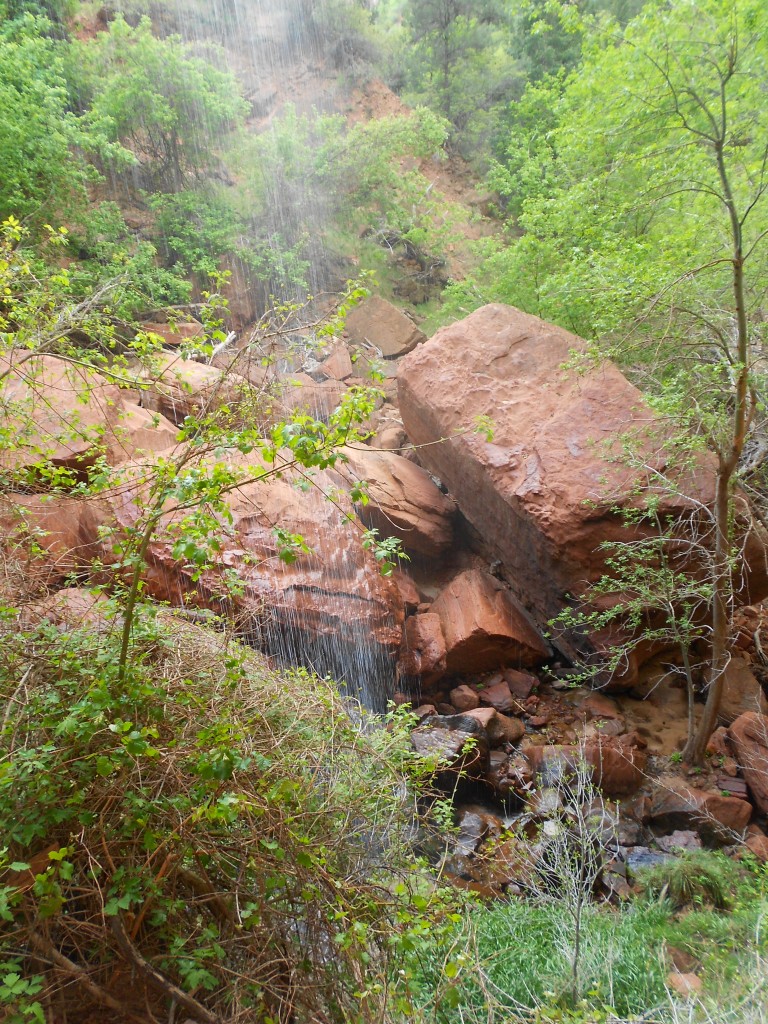 We did eventually make it to the Lower Emerald Pool but we should have taken the shuttle to Zion Lodge stop and then hiked from there. The trail is much easier in that area. The Emerald Pool was a soft falling waterfall at this time of year and very pretty. There were a lot of people at this particular spot but we continued on around to the Kayenta Trail which brought us to a portion of the park that was virtually empty.
This was actually my favorite trail in the park and we ended up hiking it from both directions on different days.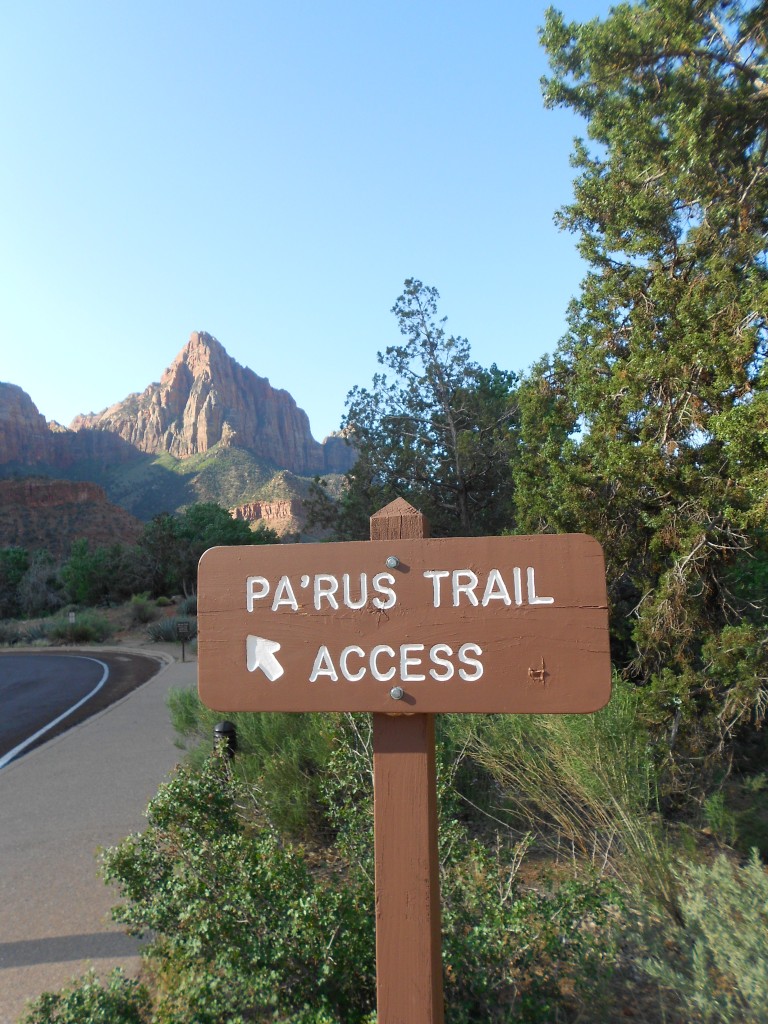 We walked part of the Parus Trail one morning by taking the shuttle up the canyon and then walking the trail back. It is a super easy trail that allows bikes and dogs so it is a little more popular. It takes you along the Virgin River with pretty spots to stop and enjoy the views.
We hiked up to the top of the Archeology Trail where you have a sweeping view of the park, especially the campground. You can see in this image the walk in part of the Watchman Campground. We stayed on another loop of this campground with our trailer and we thought it was one of the nicest campgrounds we have been in. The place seems to have been recently updated and the restrooms are brand new. I highly recommend this spot for camping and it is convenient to the Visitor Center, the shuttle bus stops, and the town of Springdale which is within walking distance.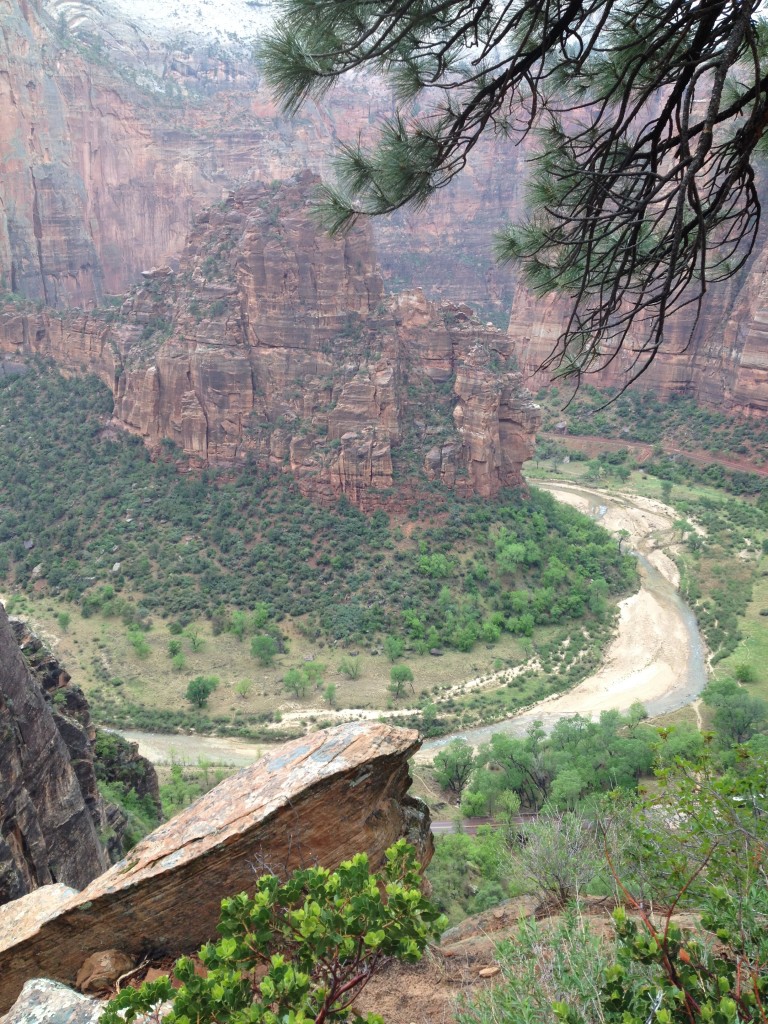 My husband's favorite hike was Hidden Canyon. We were hoping to experience Zion's famous Angel's Landing hike but the day we had planned to take it there was rain in the forecast again. I am also not sure about the portion of the hike that is along a sheer drop because of my fear of heights. We opted to take the Hidden Canyon trail and get a taste of what Zion has as far as a more strenuous hike.
See me? I made it along the portion of the trail that is super narrow and you really need to hug the hillside and hold the chains! I wasn't sure at first but my dear husband is such a great encourager. He kept telling me just to put one foot in front of the other and you know it works! I made it all the way to the top. It was thrilling and scary too, especially on the way down the mountain when it was raining a little and the rocks started to get a bit slippery.
This is a unique and wonderful place and I hope you will get to experience this park for yourself some day.  My husband and I thoroughly enjoyed our visit and will be reliving our hikes and adventures for many years to come.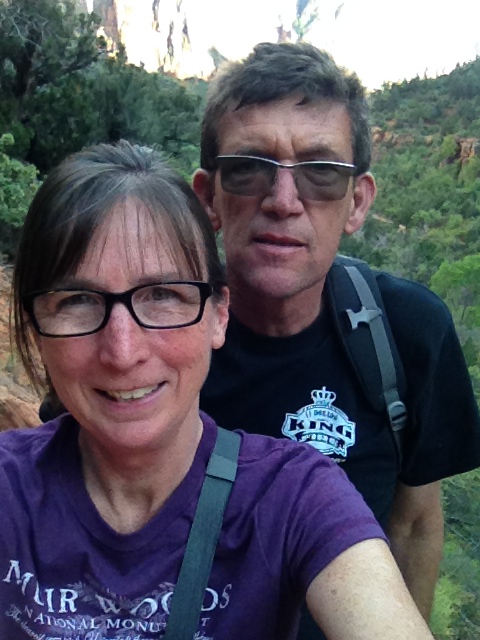 Tips for a Visit
We stayed at the Watchman Campground right in the park and found it convenient and reasonably priced at $18 per night. There is also the South Campground which is equally as convenient and right inside the park gates. If you need to stay in a hotel, the Zion Lodge is situated right in the heart of the park. Also, in Sprindale, Utah there are quite a few hotels within walking or shuttle ride distance to the park.
We ate lunch at the Zion Lodge and it was a beautiful spot to sit and look out the large windows at the landscape. There is also also a cafe and ice cream shop at the lodge. In the town of Springdale (a 5 minute shuttle ride), you have lots of cafes and coffee shops. We ate at Oscar's Cafe which was delicious and had a funky atmosphere. We also had coffee at Cafe Soleil which is a short walk from the gate at the end of the theater parking lot.
Use the shuttle to get to a trailhead and then hike to the next shuttle stop! Make sure to ride all the way to the end to the Temple of Sinawava at least once to see all of the glorious canyon.
The Visitor Center has a lot of information on hikes and things like that but you need to go to the Human History Museum to get a better grasp on the whole picture.
There is a Jr. Ranger program at Zion National Park and a nature center that is open from Memorial Day to mid-August.
Download a map and guide: Zion National Park.
If you have an oversized vehicle, check the park website for information about driving through the tunnel between the park and the east entrance.
There is no way we could experience the entire park in three days….if you have more time, there are lots more canyons and places to hike if you check with the visitor center and get some good maps.
Fees charged: $25 per car or $12 per person if walking in. (We saw them charging each GROUP $25 as they walked in together.)
You can read more of my national park entries by following these links: