2020 Nature Journal Examples and Links
This has been a year filled with personal challenges. My routine has been turned upside down and along with that my habit of creating pages in my nature journal has become erratic and lower on the priority list.
This last month I've made an effort to get back into the habit of journaling weekly. I went back and planned out some pages to "catch up" on, so 2020 isn't light on nature notes and observations.  I brought out the nature journal supplies, sharpened the pencils and organized the markers. I plan on making myself more accountable for putting down my thoughts and observations as I go along for the rest of the year.
Stay tuned to see how I do in this endeavor.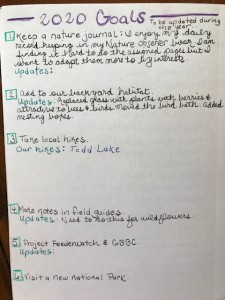 Wish List: Creating nature goals for the year is a form of a "wish list" of things I hope to accomplish. Your family can adapt this idea to fit your needs, including any of the suggestions in the wish list entry linked here.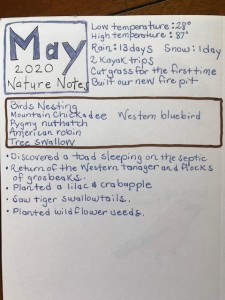 Recap Your Month: Creating a monthly recap page is a simple way to gather lots of details into one place. I enjoy creating a "highlights" recap and your family may like to pool ideas to make a recap page in your nature journal.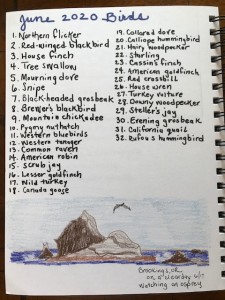 Make a List: There's usually a list of one sort of another each month in my nature journal. It may not be very exciting but it does create a record that I look at from year to year. Comparing lists is something I do all the time.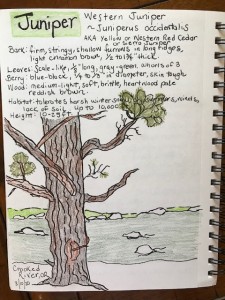 Sketch Outdoors: I took my journaling supplies along on a recent outing to the Crooked River. We stopped along the river and I realized I had the perfect view and an opportunity to sketch a juniper tree for my nature journal. What an enjoyable afternoon!
The positive news is that I faithfully complete my daily nature observations in my Nature Observer book for 2020. Keeping up on this pre-printed journal will help me reconstruct some of the months I missed in my regular nature journal.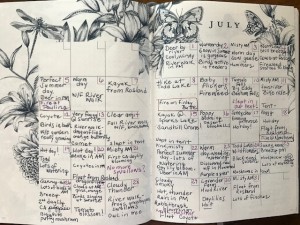 Each month has a blank calendar to fill in with short observations, a bullet grid page for my own customized observation reminders, and a weekly spread for writing more in detail anything of note.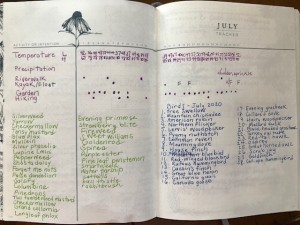 For July, I not only used the bullet grid for daily temperatures and other nature activities, but included a list of the wildflowers and birds observed both in my yard and down at the river. This format can easily be adapted to any bullet style journal page you are using.

Need some more specific nature journal ideas?
I've created a page on the website that gathers an abundance of nature journal ideas, suggestions, examples, and links. I invite you to jump over there and find your inspiration.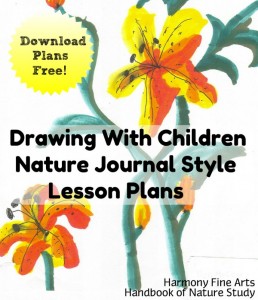 Are you familiar with the book/system Drawing with Children by Mona Brookes? This incremental, child-friendly, learning to draw plan is a valuable part of an art skills program for many homeschoolers. I loved it so much that when my children were younger I adapted the plans to incorporate nature related topics and our nature journals. I've gathered those plans into one file for you to download and use for free.
Download: Drawing with Children Nature Journal Style lesson plans printable