When it comes to winter, many people opt to stay indoors unless venturing out is necessary. However, nature has some pretty cool things to offer in winter, so it might be worth your time to go out and explore. Here are a few winter nature study activities that you can do with your kids on those days when you just need a break from cabin fever.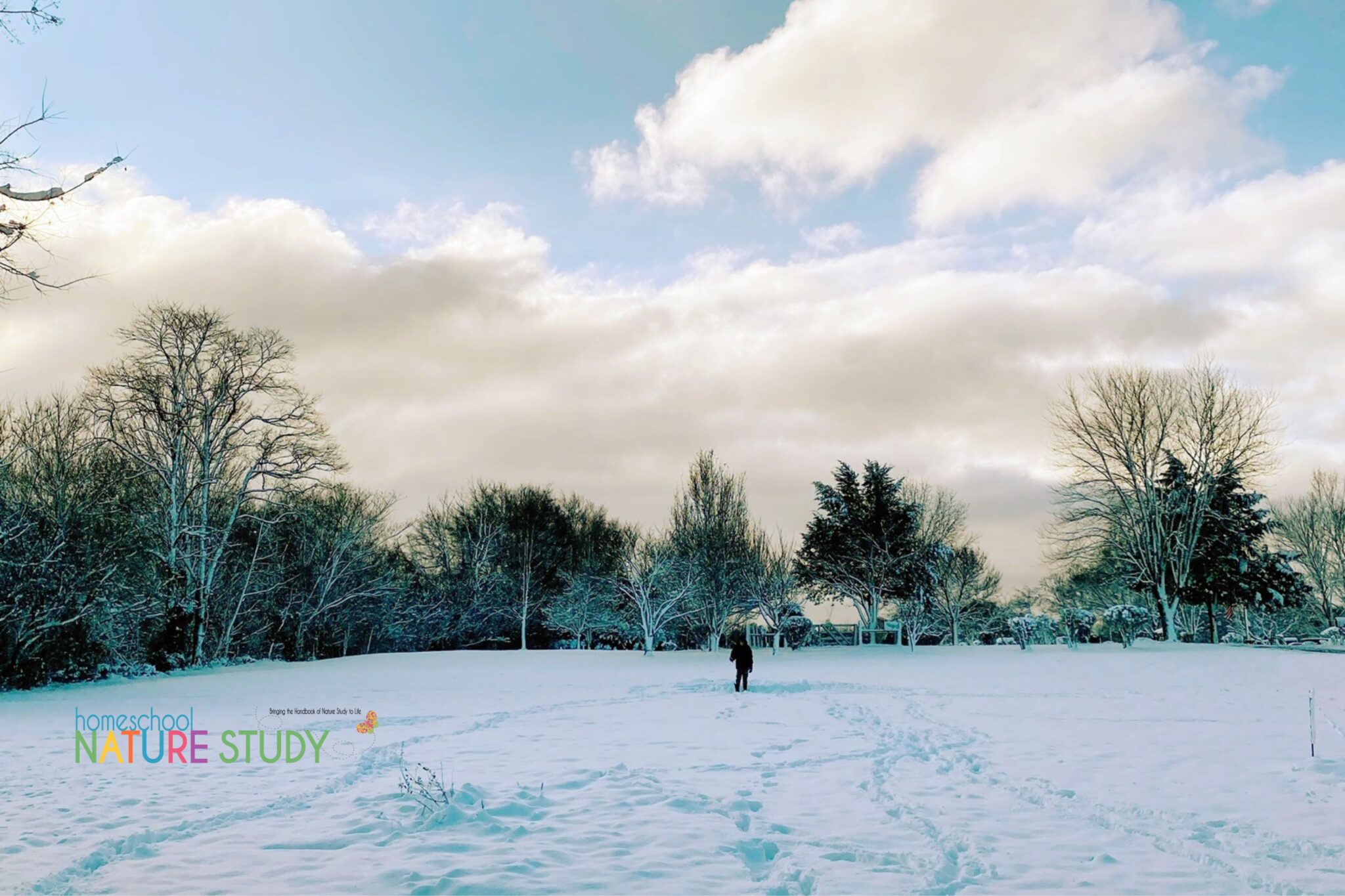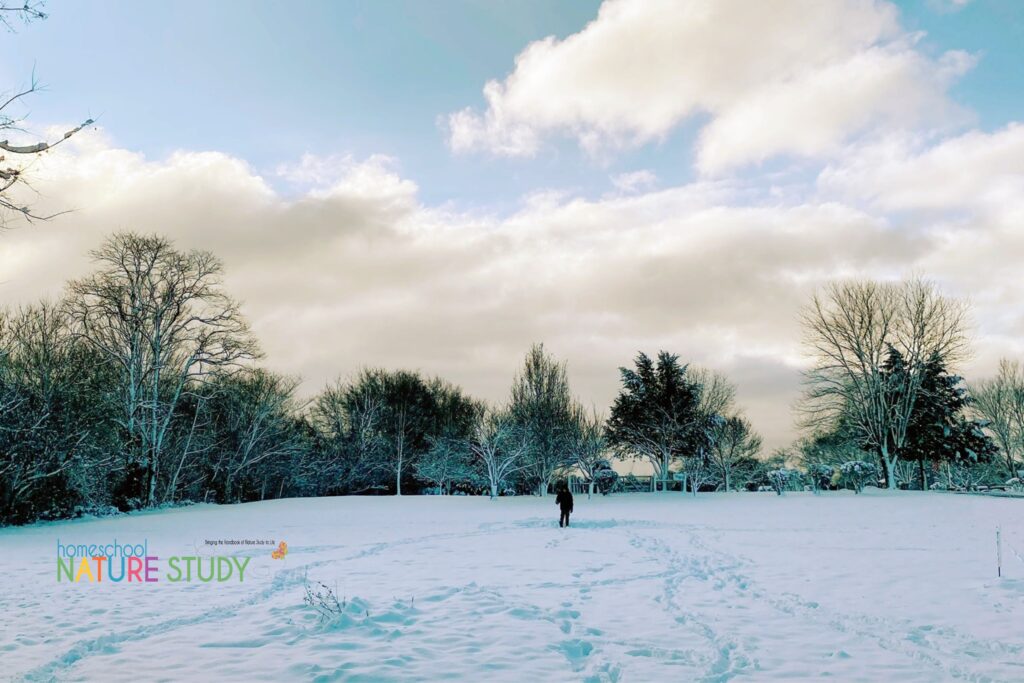 Winter Nature Study Activities
Measure the Snow
If it snows during winter where you live, you and your kids could track how much snowfall your area gets during the season. All you would need is a ruler and notebook to record the measurements. You never know, it might become an annual tradition. It also might be interesting to be able to look back over the years to see which winters were the snowiest. Enjoy our Snow Homeschool Nature Study!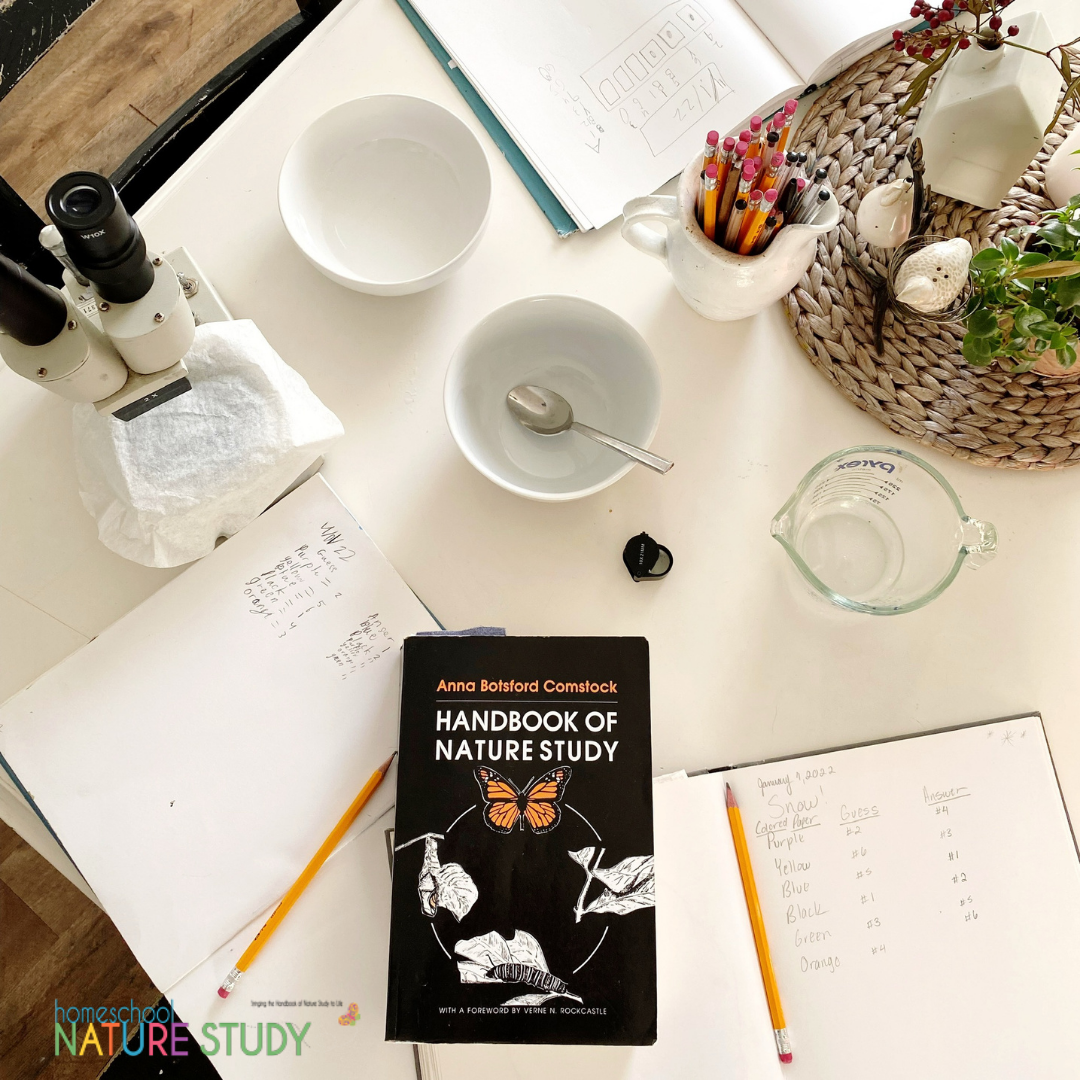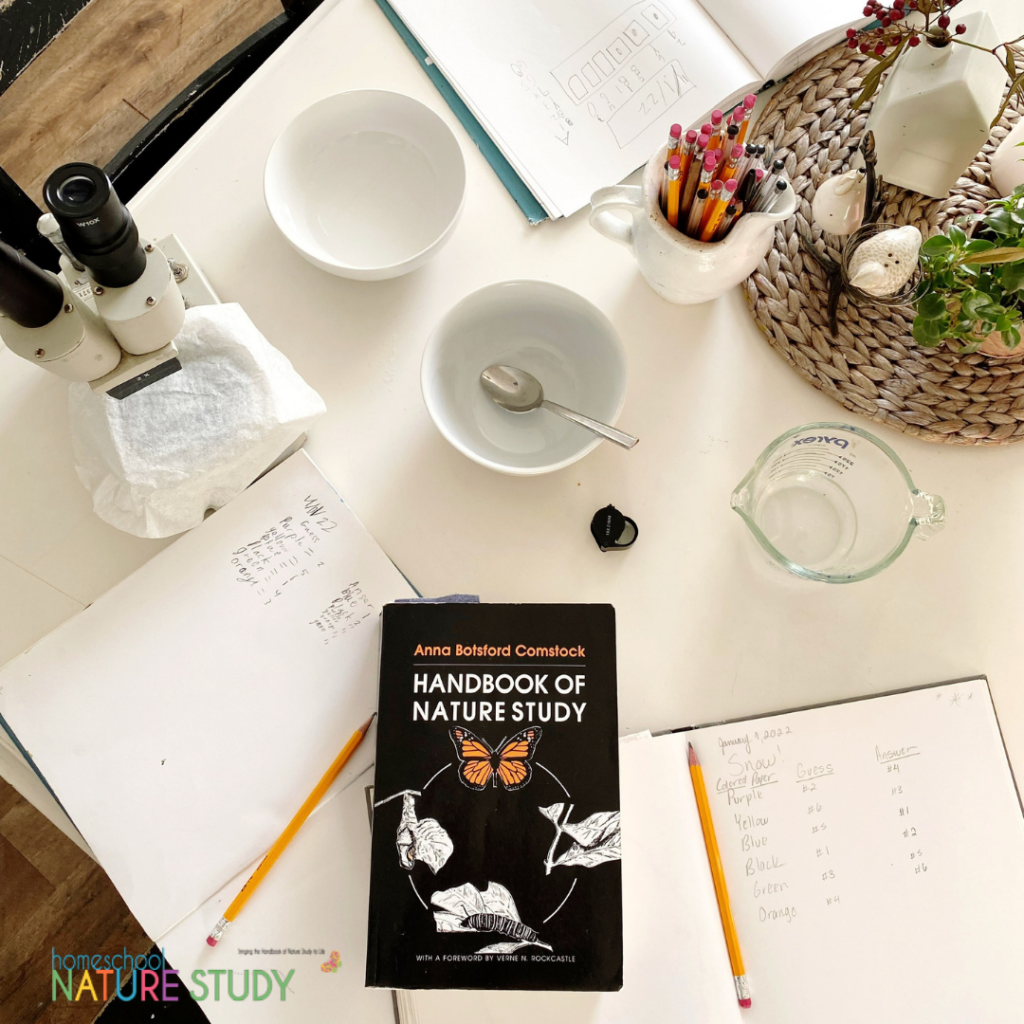 Make Snow Cones
When I was young, we would wait for the very first snowfall and as soon as there was a good pile of snow on the ground, we would go outside to collect some to make authentic snow cones. We weren't fancy, so we would just pour a little fruit juice on top of scoops of freshly fallen snow, then devour it like it was the best treat in the world. Another option would be to make snow ice cream!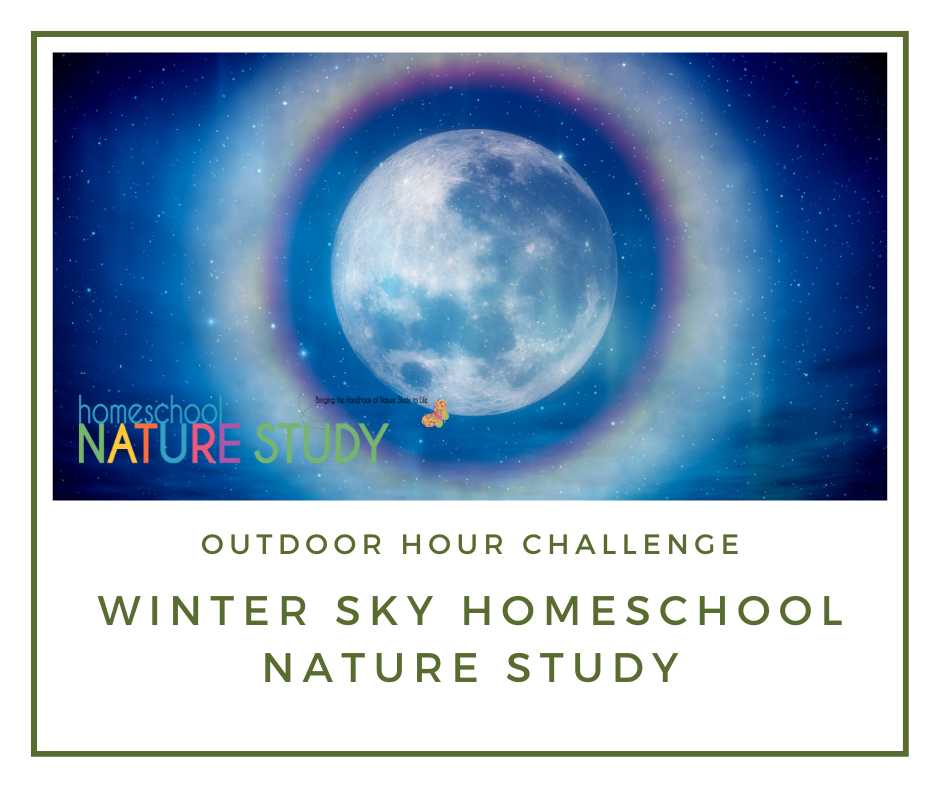 Study the Stars
Do your kids love watching the night sky? Bundle them up in some warm clothes, grab coats and blankets, load up on hot chocolate, and head outside to gaze at the stars. I personally think that winter is the best time to go star-gazing with kids. Why? Because it gets dark super early, so you can go out and watch the stars, but still have the kids in bed at their regular bedtime.
Look up at the nighttime sky and try to find the winter constellations, like Gemini, Orion, Taurus, Pegasus, and Cassiopeia. You can also look for bright stars like Betelgeuse, Polaris, and Rigel. Take it a step further by telling them the stories behind these celestial bodies. Enjoy our Spectacular Night Sky Nature Studies!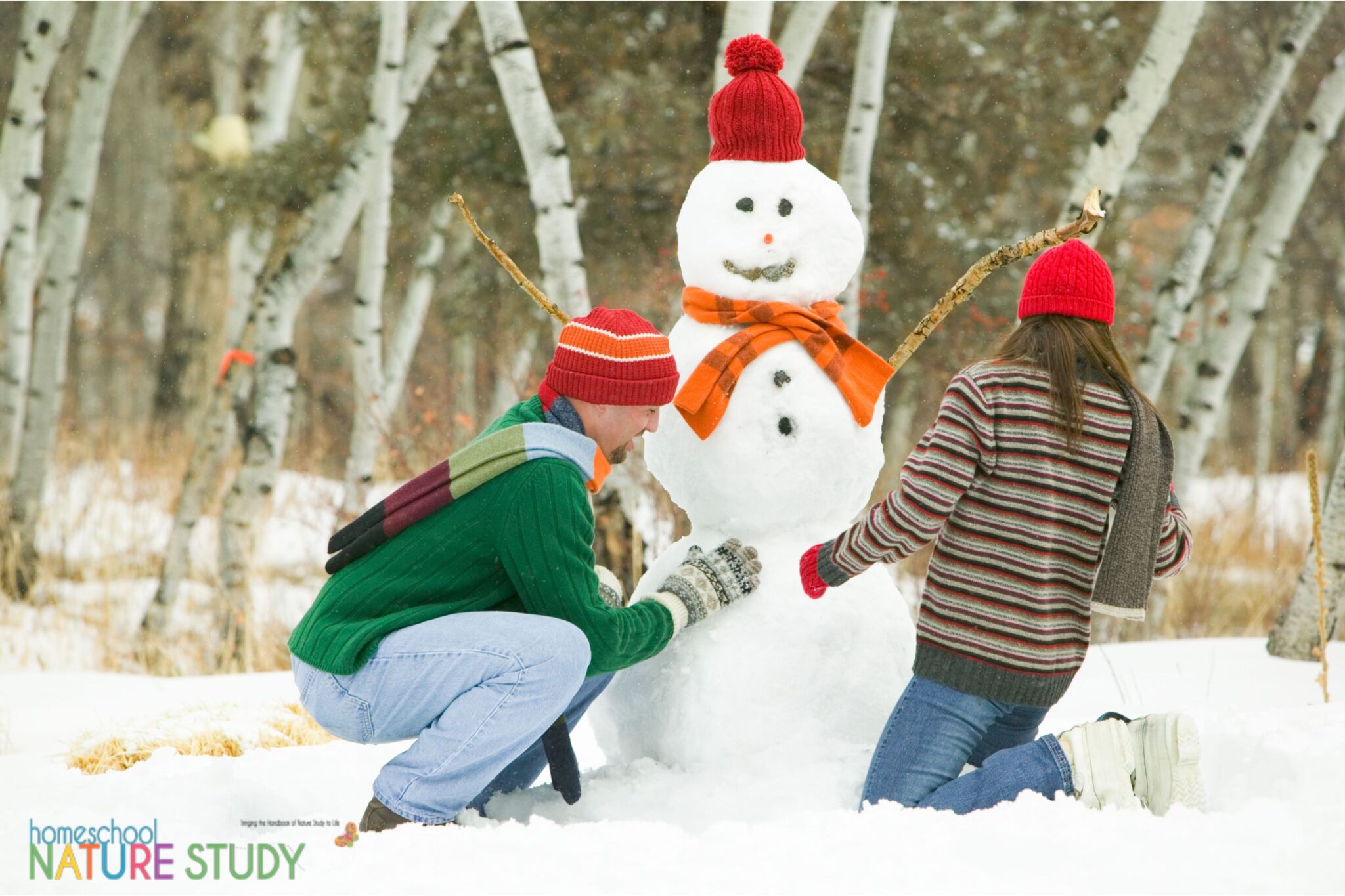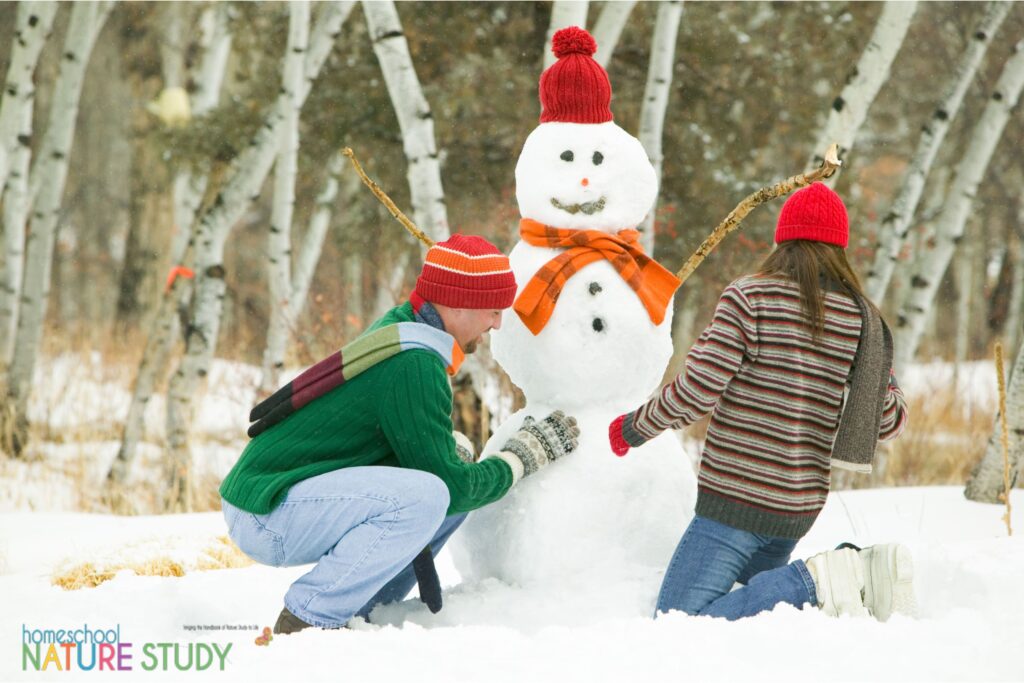 Bird-Watching
Although a lot of birds fly south for the winter, not all do. Try bird-watching to see which local birds stick it out in your area. Print out this Bird of the Day printable to keep track. Or, if you live in the South, see which ones come for an annual visit. You could even make homemade bird feeders to coax them into your yard, like this Snowman Bird Feeder!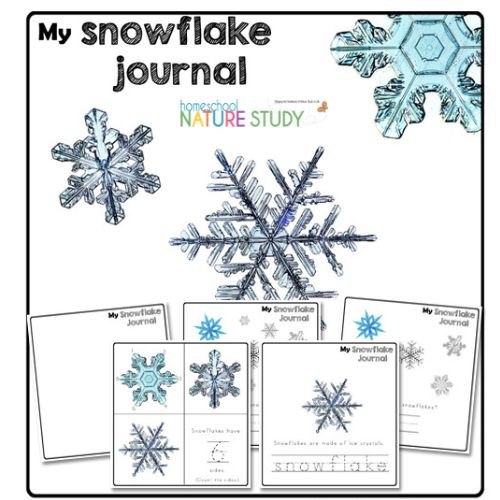 Nature Journal
If you spend a lot of time outdoors, why not help your kids start a nature journal. They could draw pictures of things they see, scrapbooks some items, take pictures, or even just talk about the things that they experience during the winter months.

For younger students, we have a printable snowflake journal coming for you in the Preschool section of Homeschool Nature Study Membership. It's easy to assemble and just their size.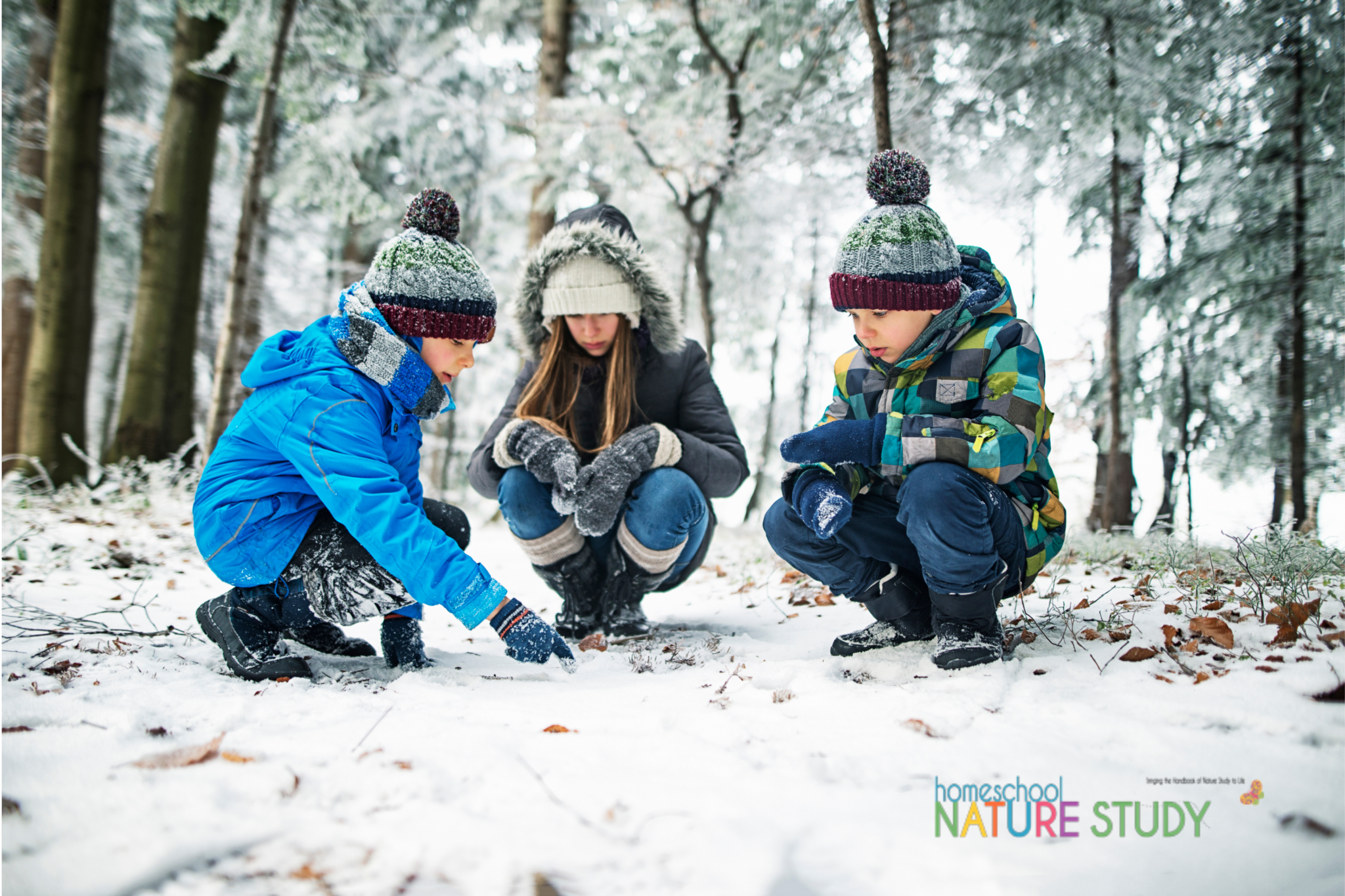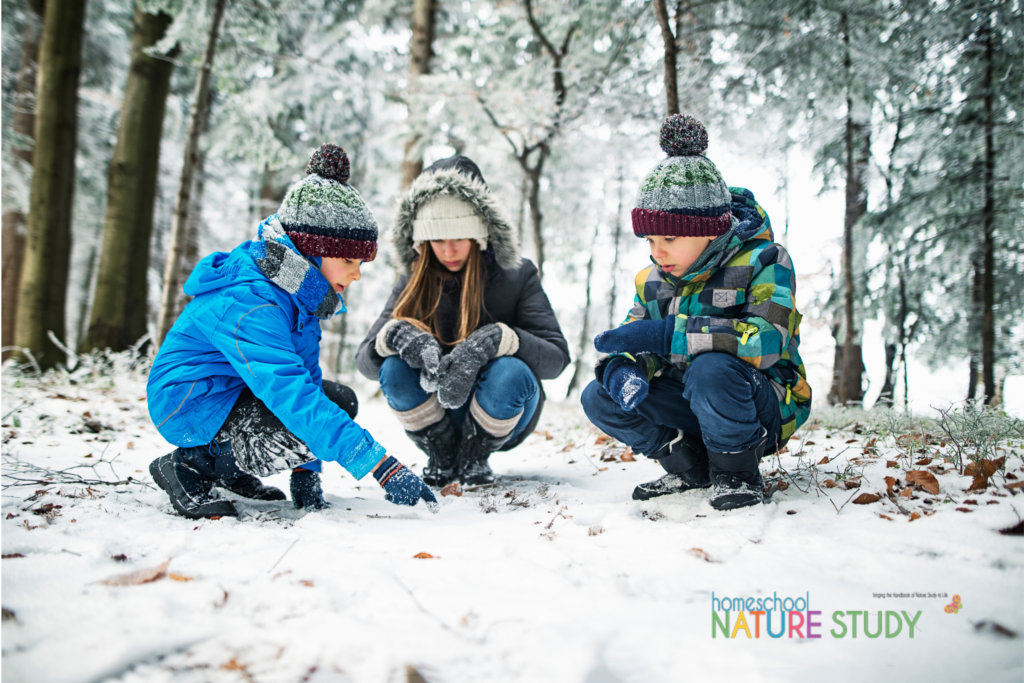 Animal Tracks
Winter can be a great time to get an idea of the types of animals that live in your area. Especially when it snows. Walk around your backyard and neighborhood to see if you notice any animal footprints. Work with your kids to try to identify which animals they belong to. You might be surprised to learn about the various creatures that are all around you. Enjoy these winter nature study activities with Animal Tracks Nature Hunt: Mammals Homeschool Study!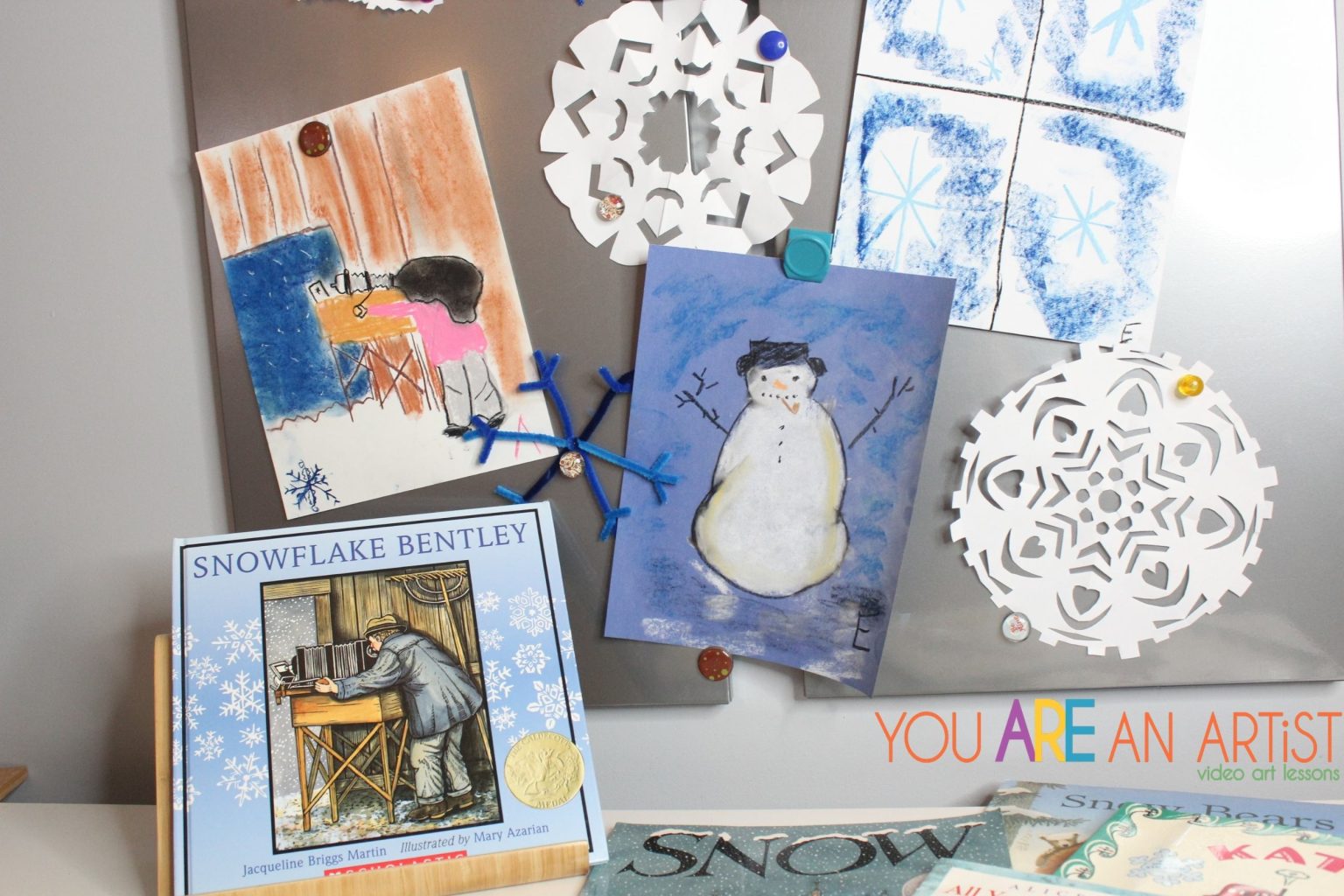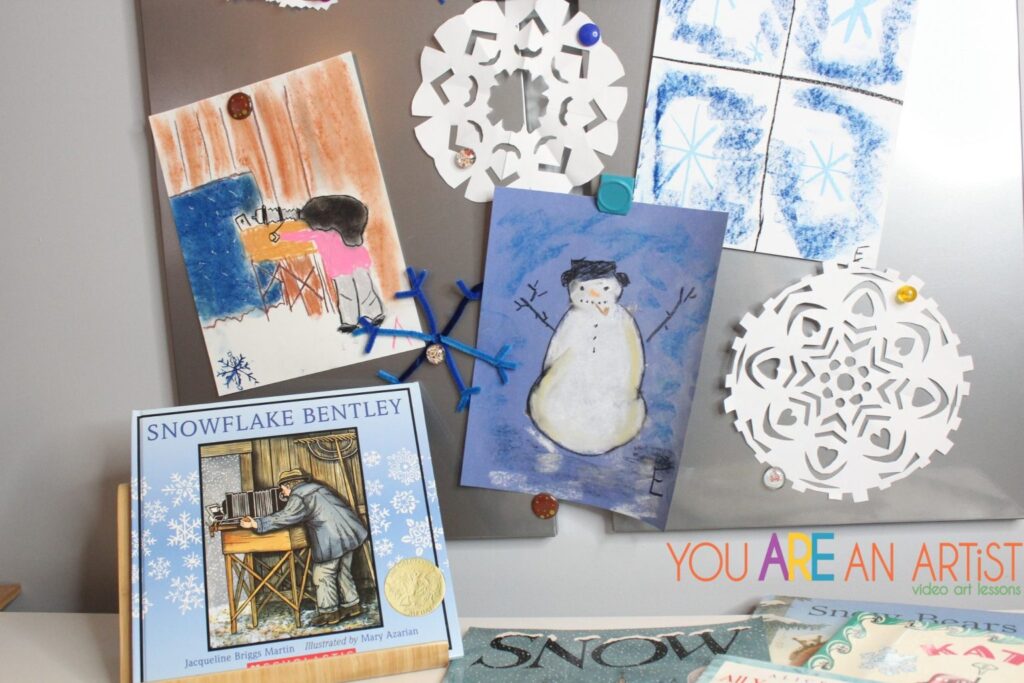 Winter-Themed Books
And when it's time to warm up back inside, having a book basket of winter-related books helps continue the conversation. Here are a few of our favorite winter books:
Snowflake Bentley: A Winter Snowflake Study – This winter homeschool snowflake study combines the beauty of winter with the fascinating life of Snowflake Bentley.
Stopping By The Woods on a Snowy Evening – we love this book and these tea time homeschool ideas!
And more wintry ideas here: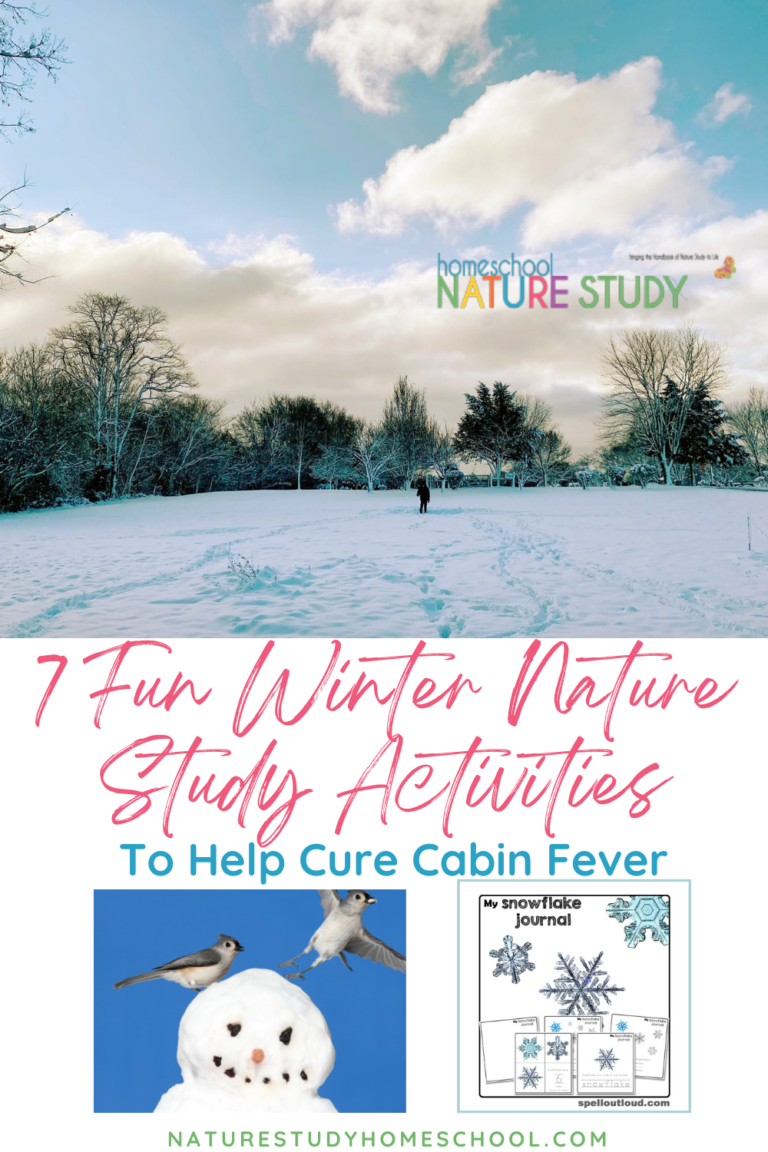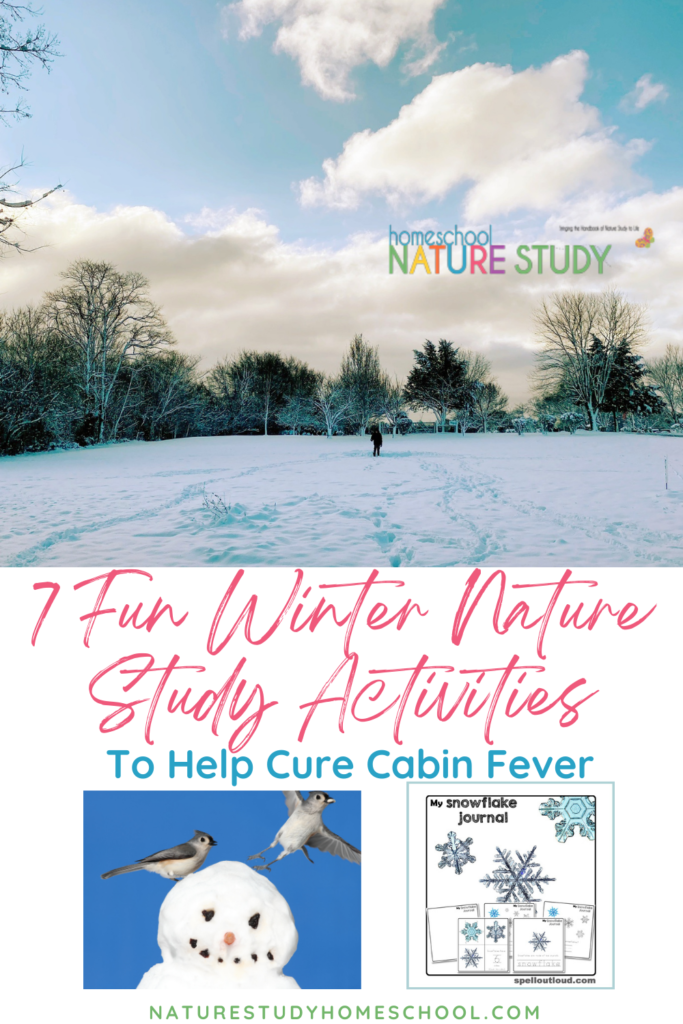 The Outdoor Hour Challenges Bring The Handbook of Nature Study to Life in Your Homeschool!
For even more homeschool nature study ideas for all seasons, join us in Homeschool Nature Study membership! You'll receive new ideas each and every week that require little or no prep – all bringing the Handbook of Nature Study to life in your homeschool!
Be inspired. Be encouraged. Get outdoors!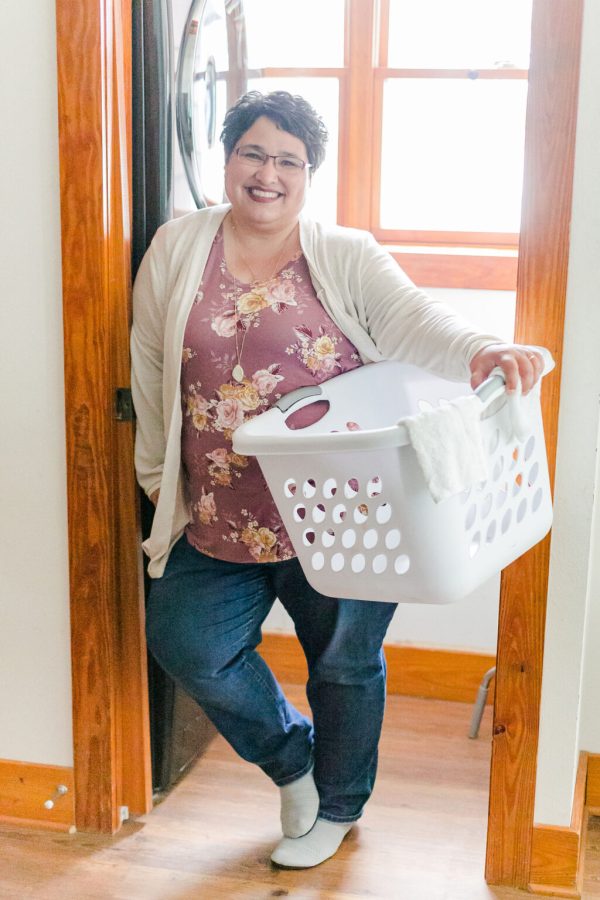 By Maureen Spell, a long-time contributor to the Outdoor Hour Challenges. Maureen helps Christian mompreneurs operate their business from a place of joy, purpose, and excellence because they are clear on how their business is serving their family and others. As a homeschool mom, she believes success at home AND business without the mom-guilt, stress and burn-out is possible! Outside of work, she loves having good conversations over a hot chai or GT Gingerberry kombucha and spending time with her husband and seven children. Visit her at MaureenSpell.com