Imagine making unforgettable memories with your children through outdoor play. Laughter, smiles, and a time of connecting as a family are only a few virtues of simply getting outside. Immersing ourselves outdoors with our children also cultivates relationships, encourages bonding, and nurtures our mental health. These 5 outdoor games are the very best to encourage a love of the outdoors and have fun!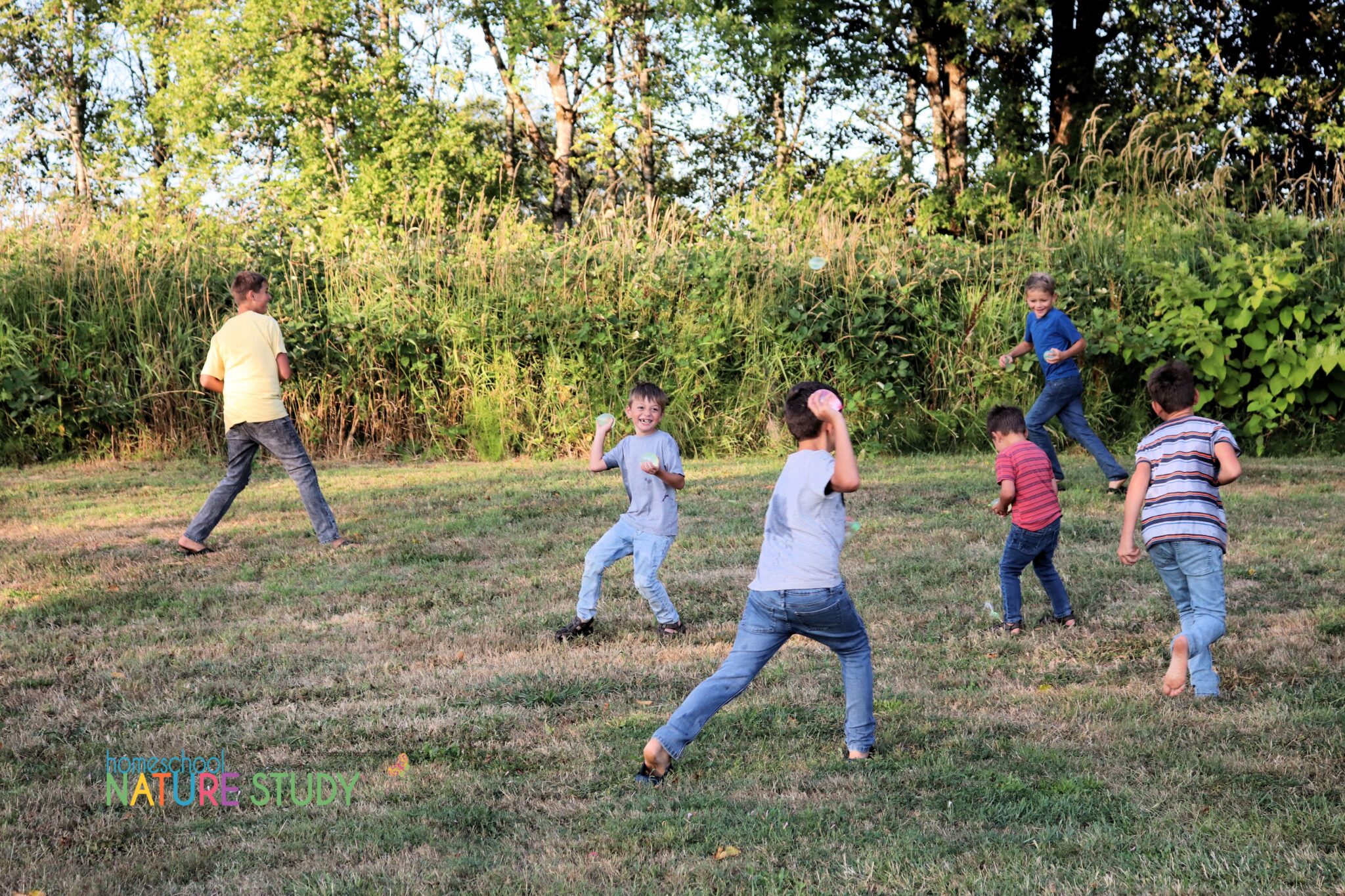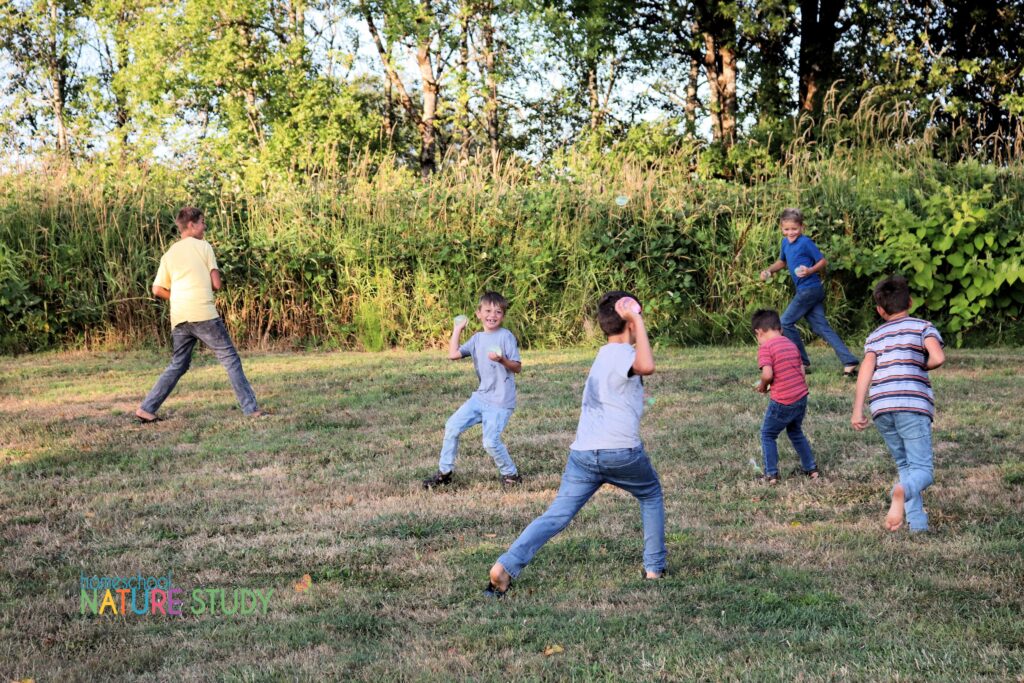 The Importance Of Outdoor Play
"Years of research have revealed how vital being out in nature is to our mental health: from listening to water trickle, smelling the forest air, or staring at fractals and cobwebs, it all counts as healing, soul-stirring endeavor that we'd do well to invest time in as much as we can. All children benefit from being outside whether homeschooled or otherwise."

Leah Boden, Modern Miss Mason p. 111
Spending time outside is also essential to a child's development. From the early years nature facilitates vocabulary, stirs the senses, and unwraps curiosity. It's like a schoolroom teeming with multi-sensory and interdisciplinary learning for all ages. Rocking and Rolling – Fresh Air, Fun and Exploration: Why Outdoor Play Is Essential For Healthy Development
In her book, Modern Miss Mason, Ms. Boden asserts,
"When we step outdoors, we find the seeds of science, biology, physics, history, mathematics, and more."

Ms. Boden (p. 107)
In a recent outdoor time of exploring the beaches, my toddler was captivated by all the ladybugs congregating on an old log. He observed with interest and admired the ladybug's arrangement: from her little legs, her coloring, and her black dots. My smitten toddler added four new words to his vocabulary, "babybug" (ladybug), "bots" (dots), "bwack" (black), and "wed" (red). We added a bit of mathematics as he counted Ms. Babybug's legs and her little black dots. This time outside encouraged bonding, self-education, communication skills, and unfolded multiple subjects in a natural way.
When we create time to step into nature, a realm of gentle learning happens that is beneficial to a child's development:
patience
teamwork
observation skills
fine and gross motor skills
and so much more!
So, how do we reap the all the benefits of outdoor time? And how do we involve our children outside more? Let's take a look at a few ways we can facilitate this special time in nature with our loved ones.
The 5 Best Outdoor Games For Kids
Are you interested in spending valuable time outdoors with your children? Do you desire to hear a lot of giggles, build gross and fine motor skills, shape social skills, practice teamwork, and foster family connections? Try the five best outdoor games for kids. We have included games that are perfect for all ages. Beware! When you're all done, you may hear your children eagerly exclaiming, "Mom, let's play that again!"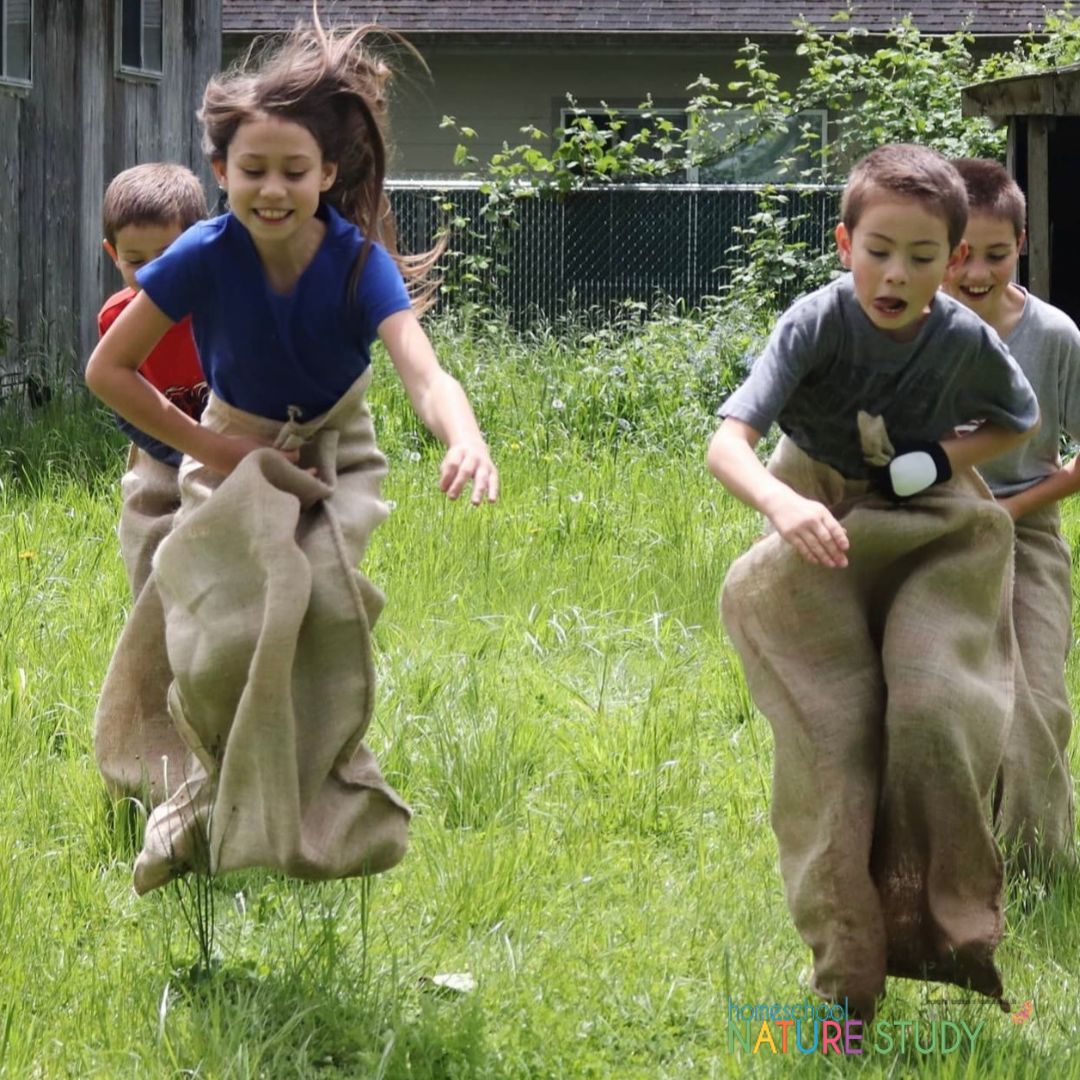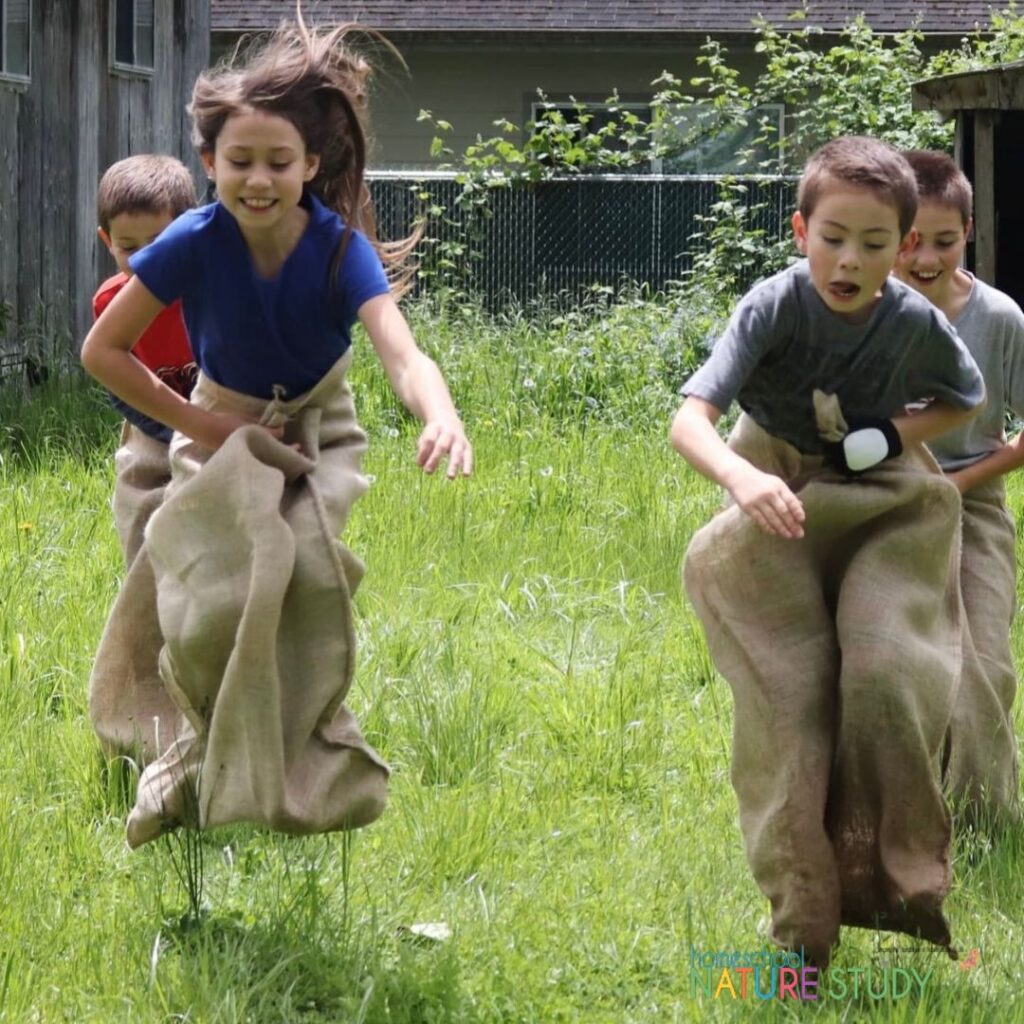 Sack Races
This game is extremely easy and fun. Sack races also help with getting those wriggles out. Start your players with boundaries by creating a "start" line and a "finish" line. Each player places both feet in a sac or pillow. When they hear a "START!" or "GO!", all players hop to the finish line. The first one to the finish line wins!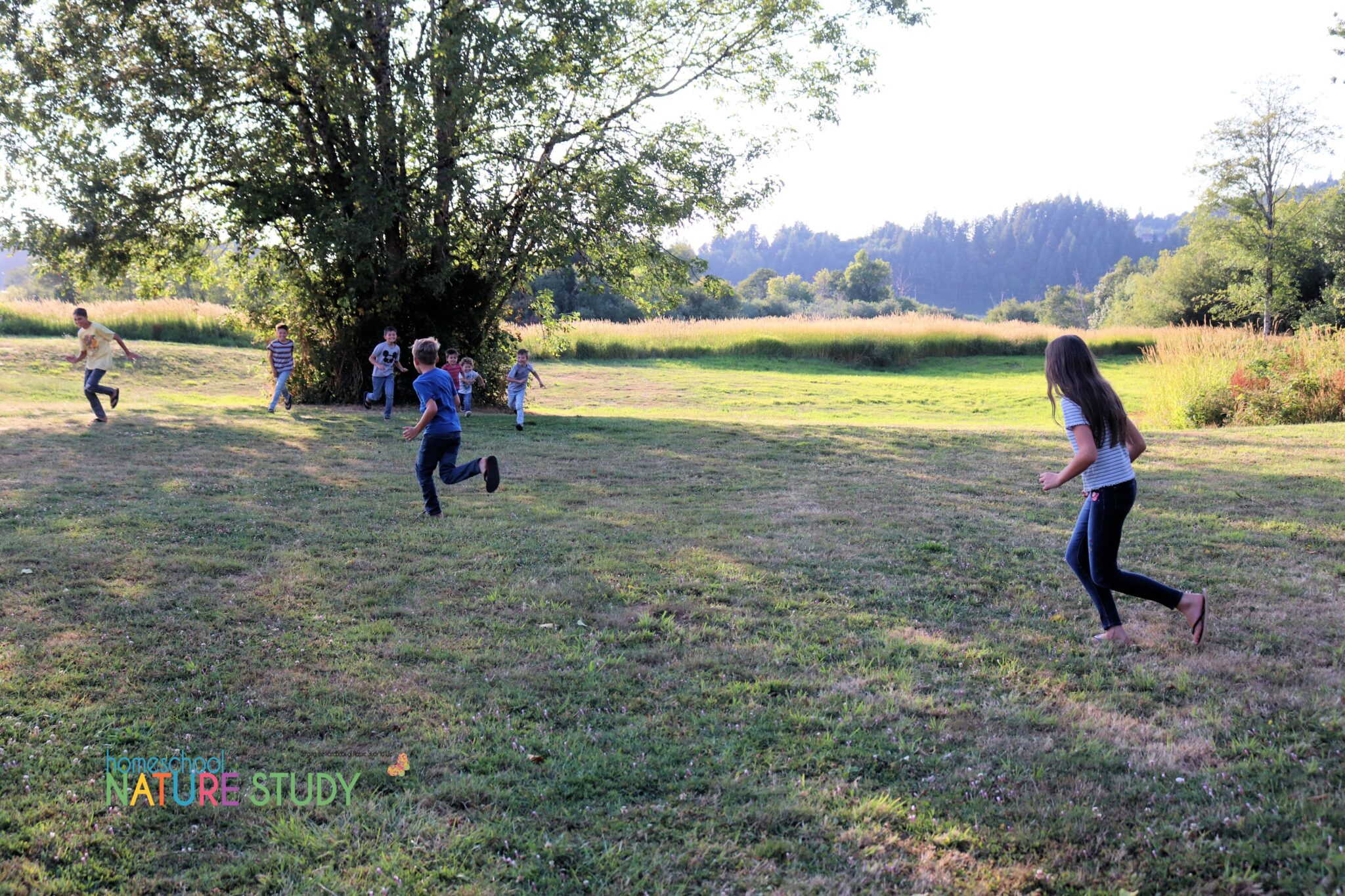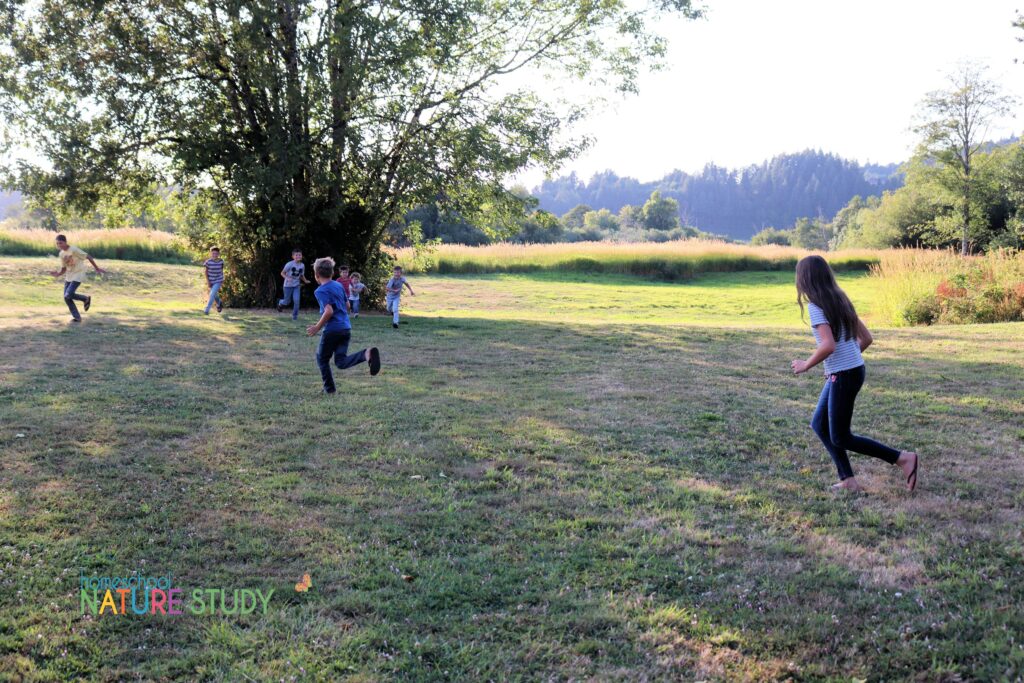 Sharks and Minnows
Sharks and Minnows is among one of our favorites. I love it because you don't need any equipment, just a space large enough to run back and forth. There are several versions of Sharks and Minnows, but if this is your first time playing, I suggest beginning with the most basic rules.
Begin by setting your boundaries and safe zones; one safe zone on one end of the field and another on the other end. Pick one player to be the Shark, the rest are minnows. The minnows place themselves on the safe zone. The Shark places himself in the middle of the field. When he is ready, he calls the minnows out.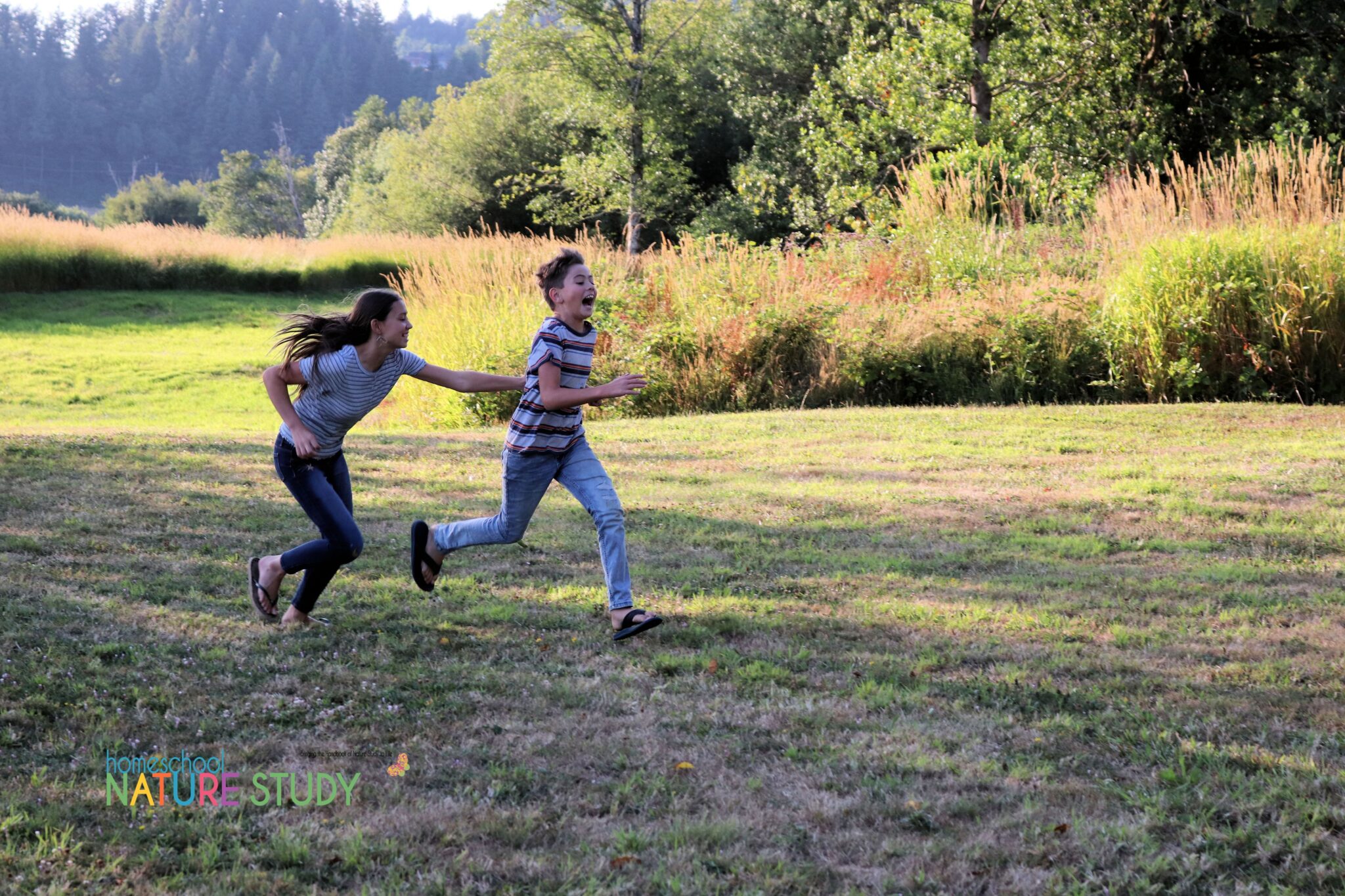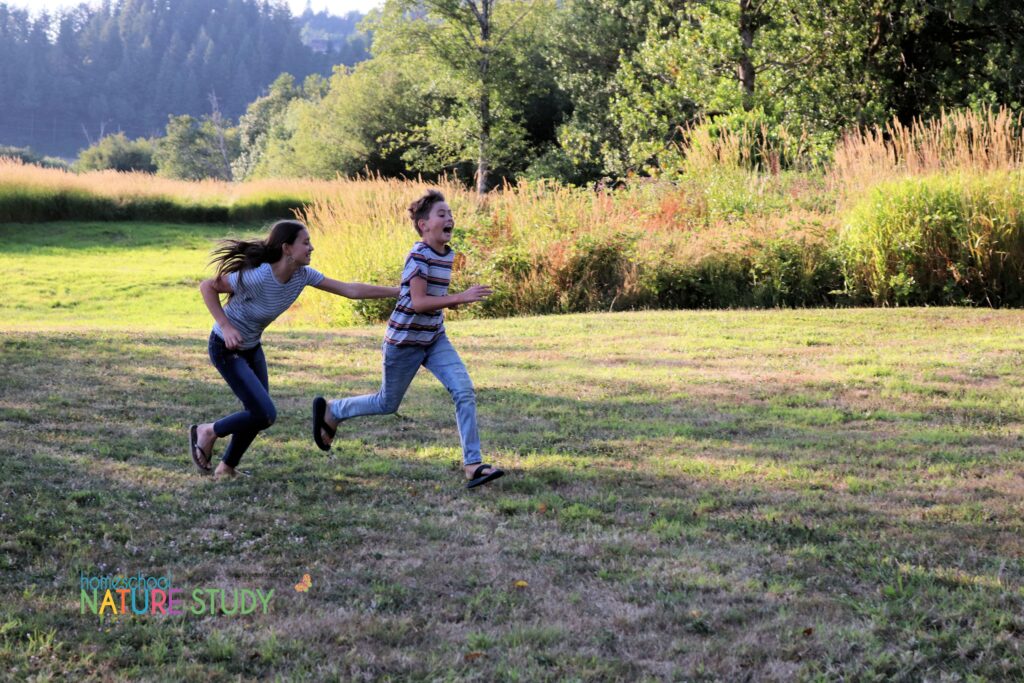 The goal of the minnows is to get safely to the other side of the field into the safe zone without getting tagged. Once they arrive at the safe zone, they are safe. If they are tagged by the shark, the minnows then turn into a shark and help tag the remaining minnows. When there is only one minnow left, it is time for the next round. The last standing minnow is the shark in the next round.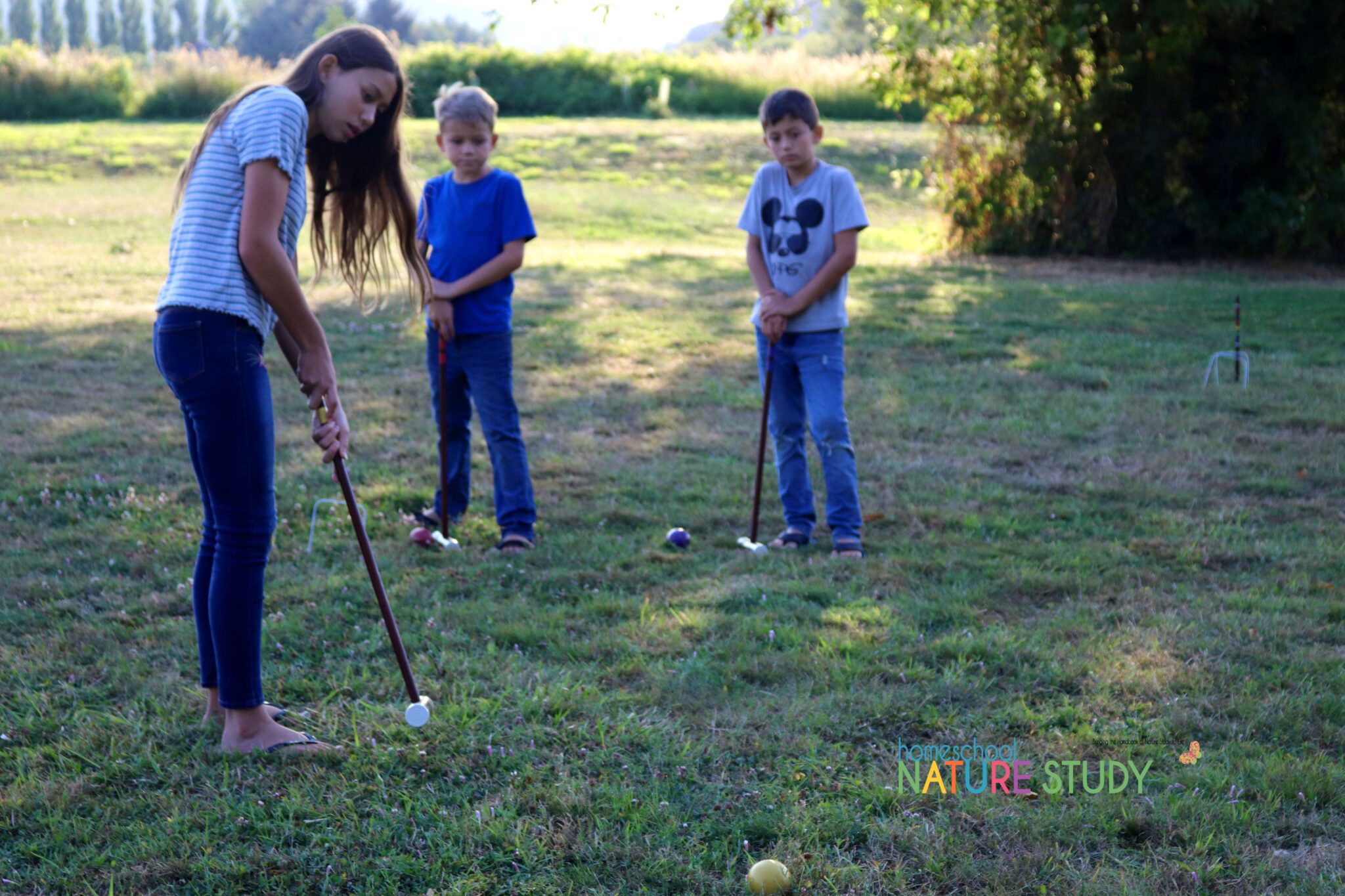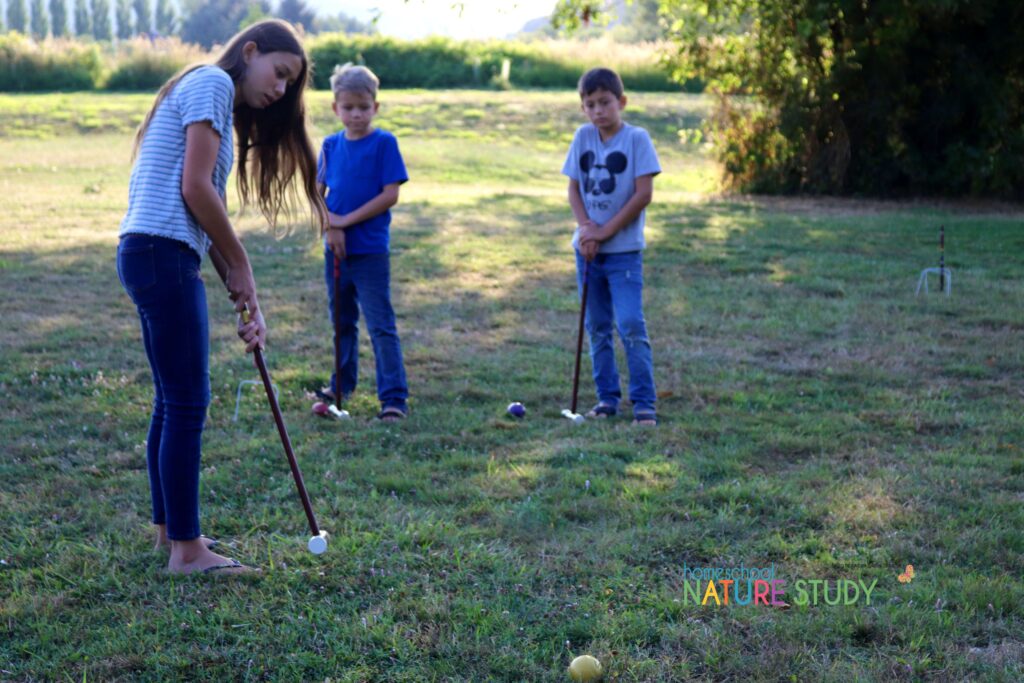 Croquette
This colorful game involves stakes, wickets, mallets, balls, and two to six players. Each player picks a colorful ball and a mallet to match. Players take turns hitting the ball through the wickets. The key is to make sure that the balls pass through the wickets and stakes in the correct order. The player who scores all fourteen wickets and two stakes wins!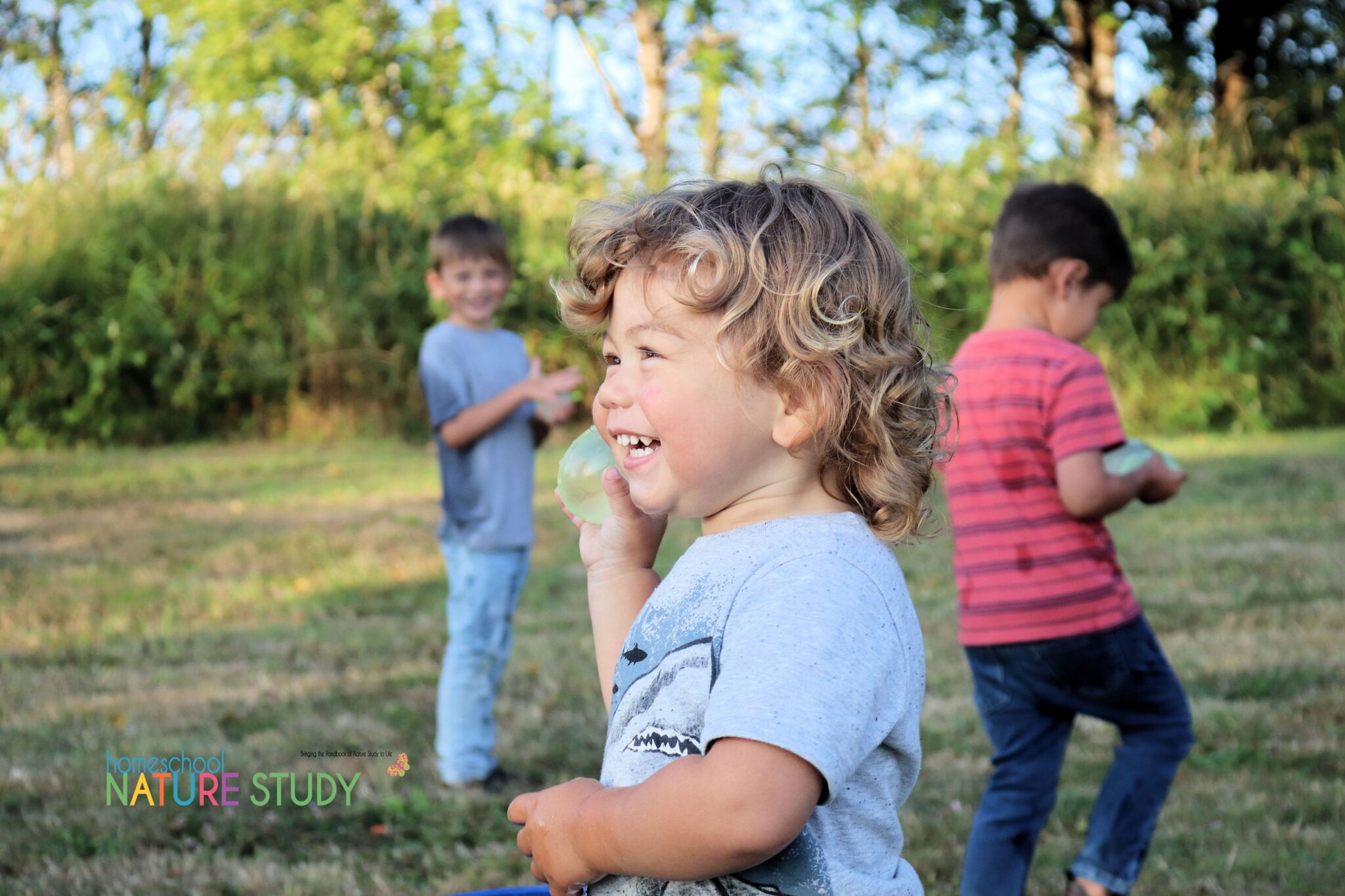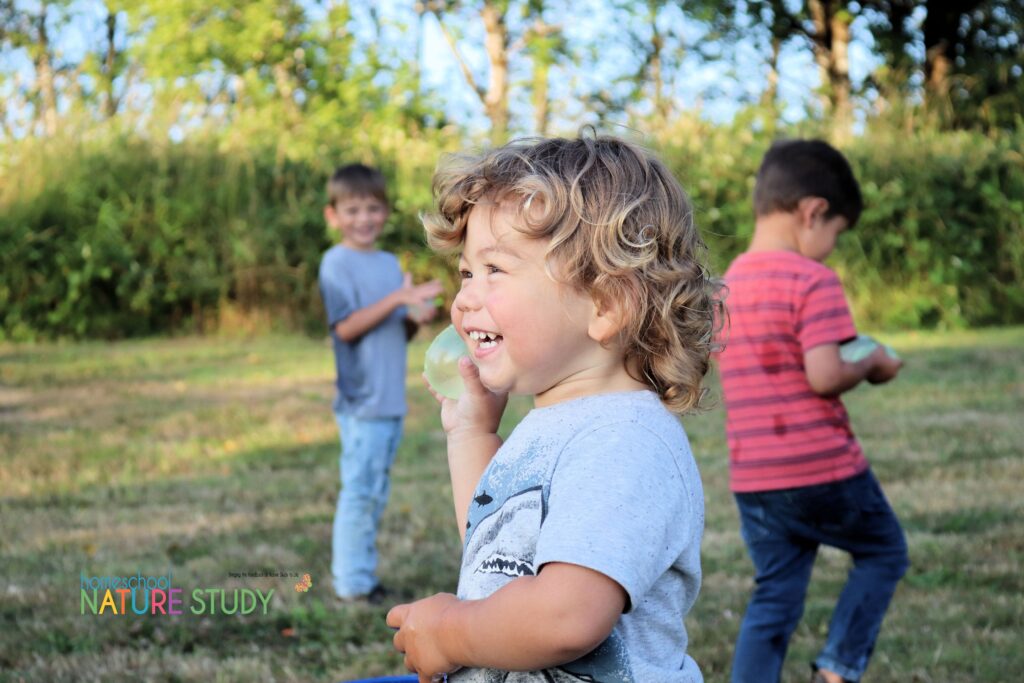 Water Balloon Fight
You can play so many games with water balloons! We love to simply fill up a lot of water balloons and throw them at one another. Although this game is a blast, we find it helpful to create boundaries before the fun begins. Each family is different and may need to tailor boundaries to fit their family size and dynamics.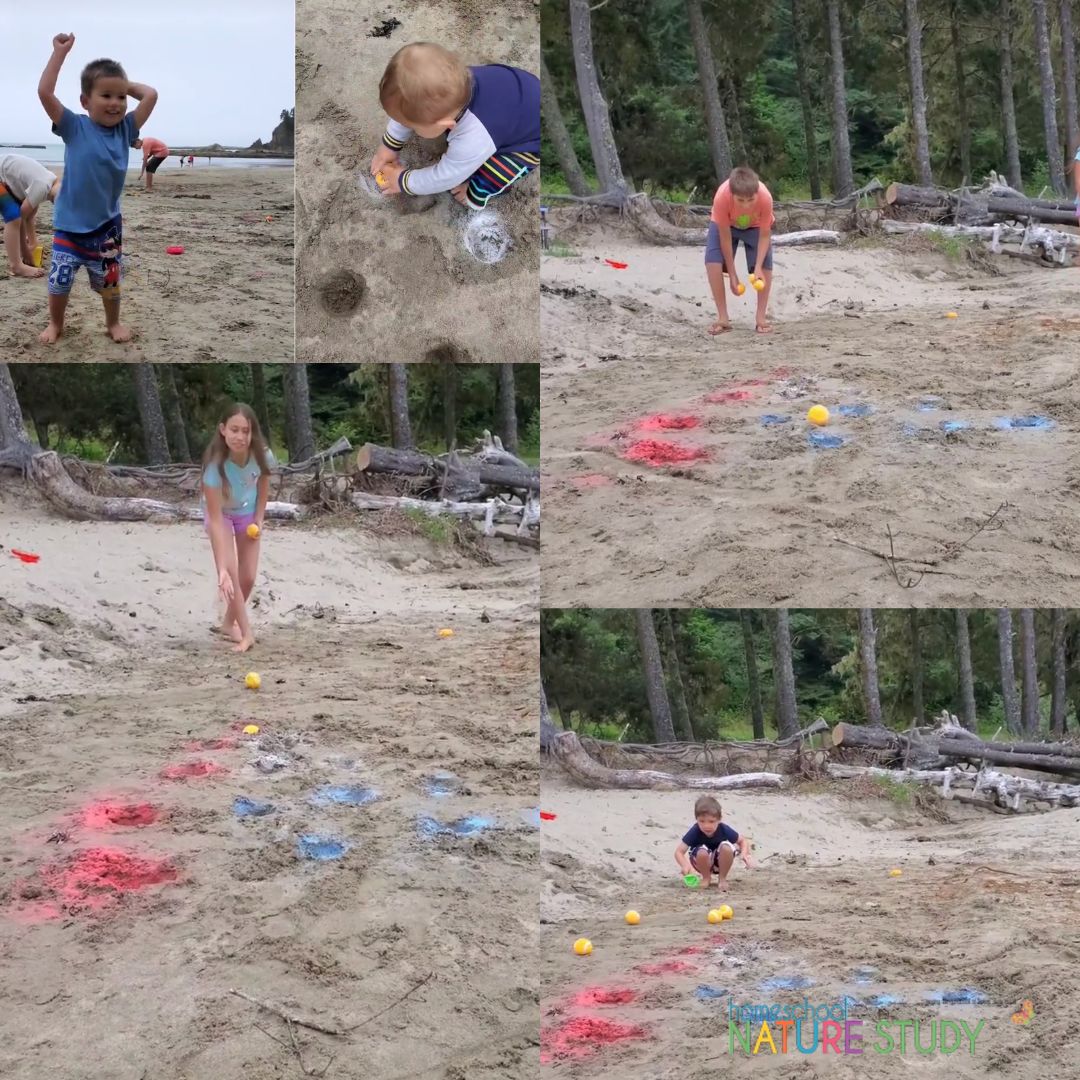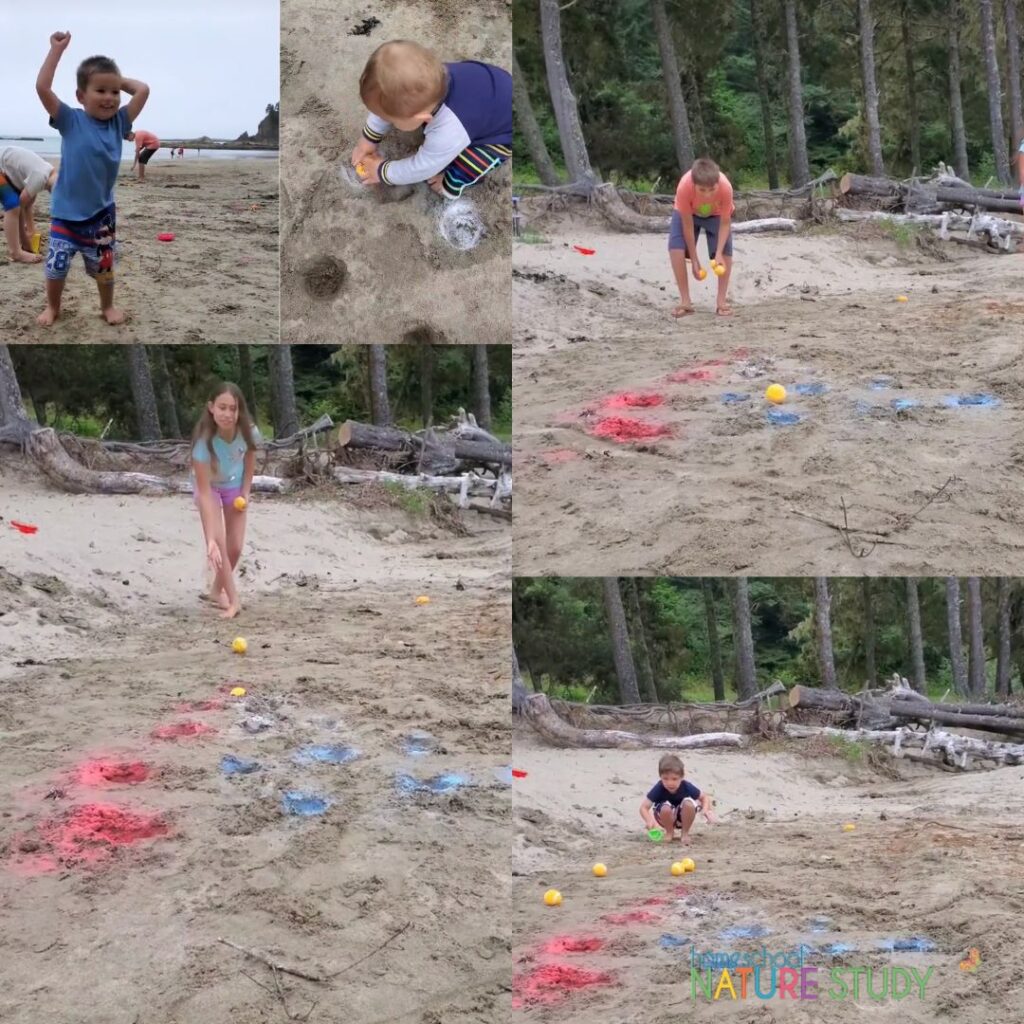 On a Roll
Homeschool Nature Study provides a link to this enjoyable game titled, On a Roll. It's easy to create and is wonderful for fine and gross motor skills. Using a shovel (we used a plastic shovel that came with our beach toys), dig holes big enough to fit a tennis ball. We formed the holes very similar to the way bowling pins are set up; in a triangular pattern. Then roll the tennis ball and try to land it in the holes!
More Fun Outdoor Game Ideas
Tug of War
Hide and Seek
Eye Spy
Three Flies Up
Wiffle Ball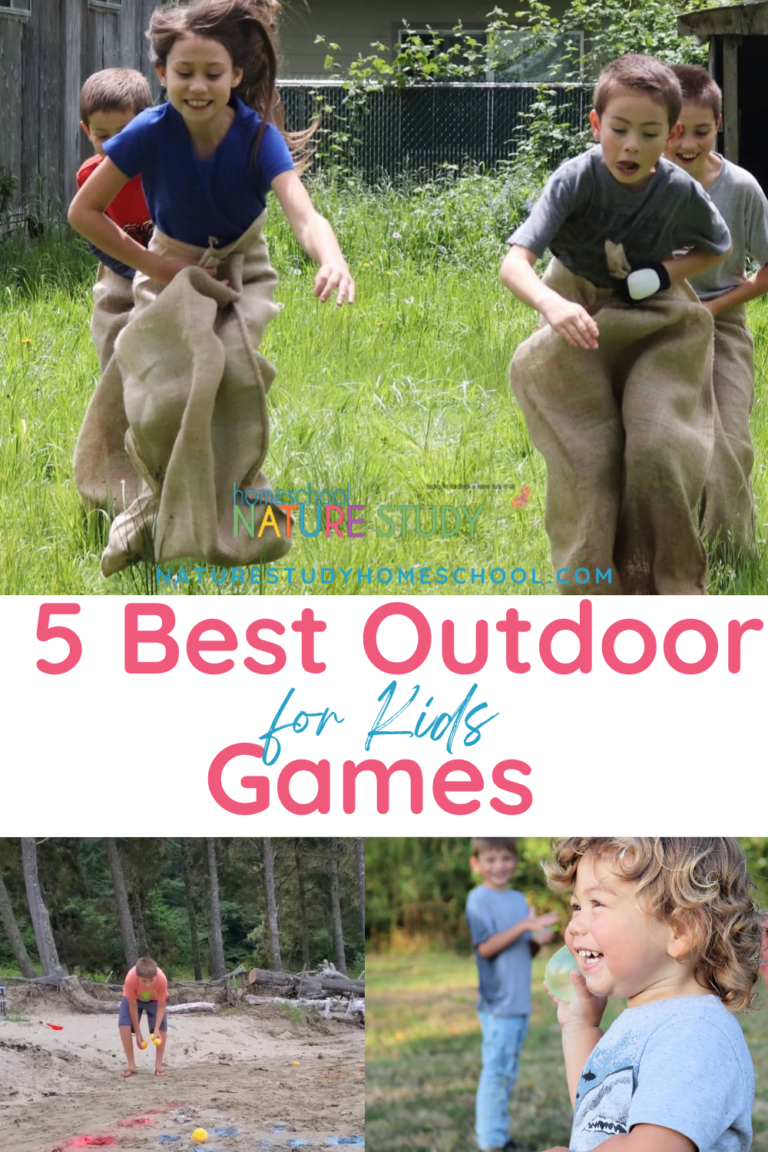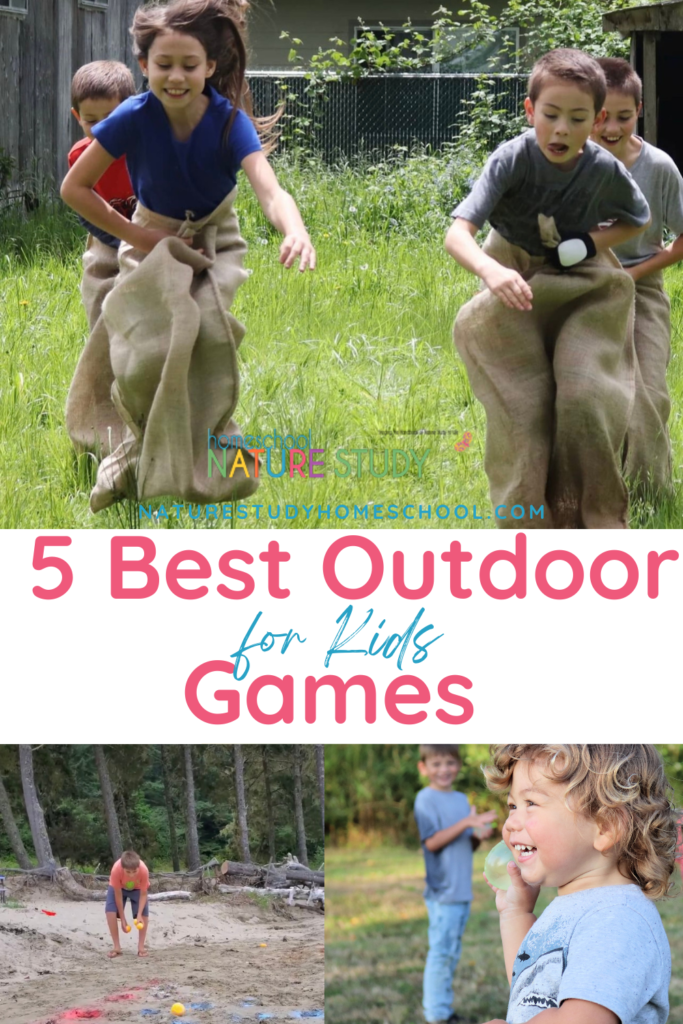 Homeschool Nature Study And Outdoor Play
Nature simply promotes outdoor play. When a child embarks on a journey outside, he has the freedom to explore, use his imagination, run in the grass, jump in a puddle, build a fort, touch a friendly frog, create. It's delightful to watch a child engage in activities that are pure and lovely and learn at the very same time. Would you like to spend more time in nature with your children? Do you have a desire to make outdoor time a habit whether it's participating in outdoor activities or simply taking a walk?
Unearth the benefits of spending outside time with your children and watch dynamic learning unfold with the Homeschool Nature Study membership. Homeschool Nature Study is designed to support your child's healthy development, encourage outdoor time with your family, and nurture relationships. It's equipped with endless outdoor hour challenges, courses, nature crafts, and an interactive nature calendar that keep children involved and engaged.
Not sure where to start? Homeschool Nature Study offers free lessons for you to try and tips to get started.
That's not all! Getting outdoors isn't beneficial just for children! It's essential for us moms too. Homeschool Nature Study offers the Outdoor Mom Series just for mothers. Shirley Vels writes monthly devotionals that stir a time of quietness in our hearts, reflection, and the desire to slow down…even if it is for five minutes. Included are ideas for outdoor time for mom and nature journal prompts! You don't want to miss it.
Be Inspired. Be Encouraged. Get Outdoors!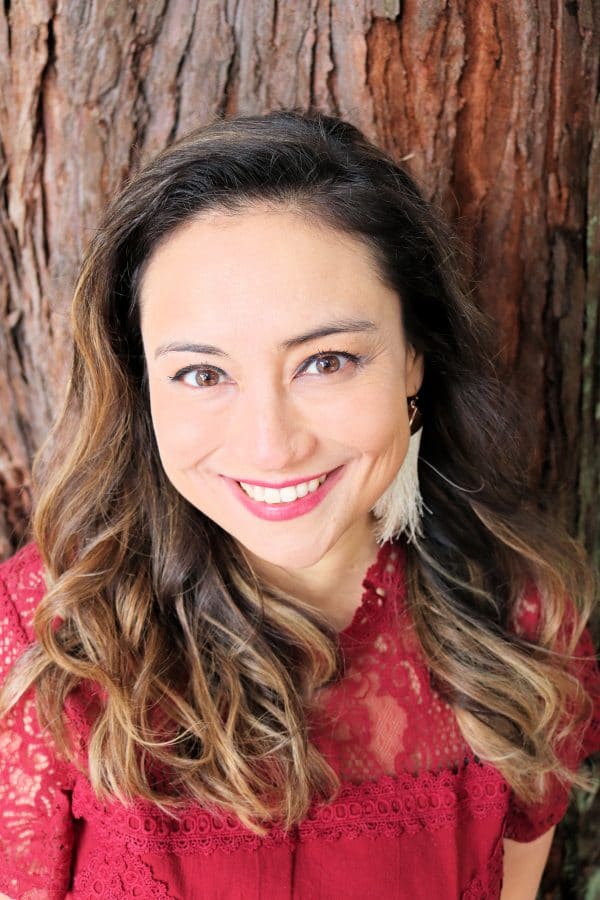 Jamie is the author of A Brown Bear's Language Arts Study, a literature-inspired homeschool mom of eight, and a former educator. She enjoys a bookshelf bursting with colorful picture books and children's stories of all genres. Indulging in a read aloud with all of her children around her is one of Jamie's favorite moments of her days. Be sure to find Jamie on Instagram and visit her blog, Treasuring the Tiny Moments Homeschool, to be encouraged by all her learning adventures with her wonderful family.