We are starting to build our new garden area to replace a huge portion of our backyard lawn area. It has been a dream of mine to take the water-hungry lawn out and replace it with color and attractive plants for birds, bees, and butterflies. My husband and I finally agreed on a plan and we started a week or so ago to build the first two garden boxes from recycled blocks that came out of our frontyard remodel last fall. We are on a limited budget for this project so we are reusing materials we have on hand and it is going to be a long range plan to add more as we have time and money. We did end up purchasing and hauling in a yard of garden soil that we added some of our homemade compost to so we could fill up our boxes. We didn't use the complete yard of soil in the boxes but used the balance to top off our vegetable garden boxes and fill two pots for patio tomatoes.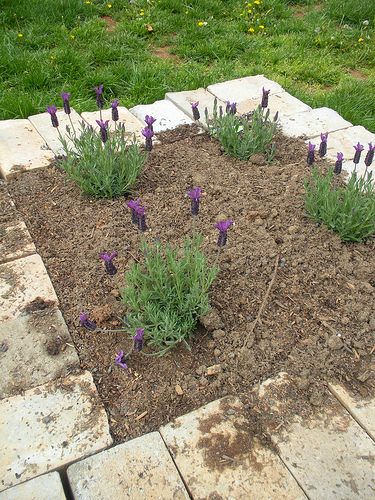 Here is the first square which will anchor the whole project. We found some lavender on sale at Home Depot and we added four plants…..bees no extra charge. I am not exaggerating when I tell you that there are bees on these blossoms every day, at all times of the day.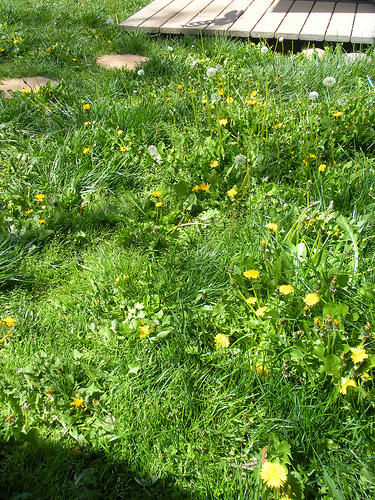 We also have loads of bees in the dandelions over on the other end of the yard. I counted quite a number of bees in the yellow blossoms as I sat and enjoyed their cheerfulness one afternoon. My husband is not convinced to keep the dandelions and wants to pull them up. I asked him to wait a bit and then he can mow them over.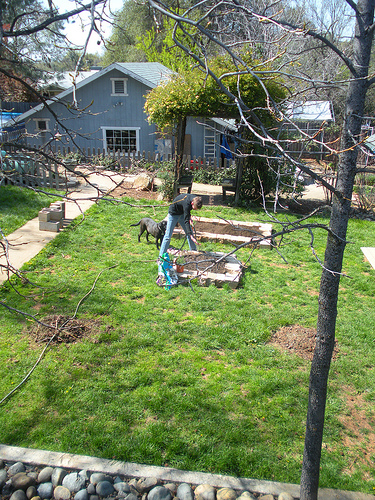 Mr. B is my garden helper these days and we enjoy spending time outdoors together.
The larger box is going to hold my sunflowers and zinnias. I am including the Lemon Sunflowers in this box as part of the Great Sunflower Project. I was reading on their website about their change this year and they have added quite a number of other flowers to the project so you can count bees in your area.
If you want to check it out, click over and read on their website but it looks like you can count bees on include Bee balm, Cosmos, Rosemary, Tickseed, and Purple coneflower.
The two brown piles of leaf compost that you can see in the image above are going to become part of another bee garden that we may get to this year. The link will take you to Renee's Garden where she has collaborated with the Great Sunflower Project on a list of bee attractive plants for your garden.
The only other part we are planning on planting this spring is the Three Sisters Garden that will be a long row parallel to the sidewalk just behind where my son is working in the image above. The Three Sisters are pumpkins, corn, and beans that you plant as companions. I am excited just thinking about this part of the garden!!!
I am anxious to add in a few things as we have time and the weather warms up. My husband keeps telling me he doesn't see my vision for the yard but I told him to have faith and see what evolves. At the bottom of the post are the seeds that I am planting in the new larger box if you are interested.
That is what we accomplished this week in our new garden project but here are a few of our on-going bee/butterfly/hummingbird habitat garden projects that are a work in progress.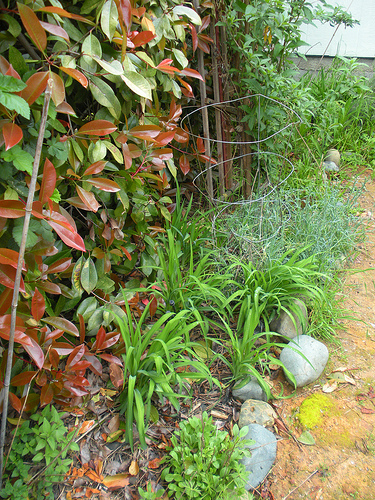 We have been working on this section of the garden for a few years now and it is filling in and growing more beautiful with each passing season.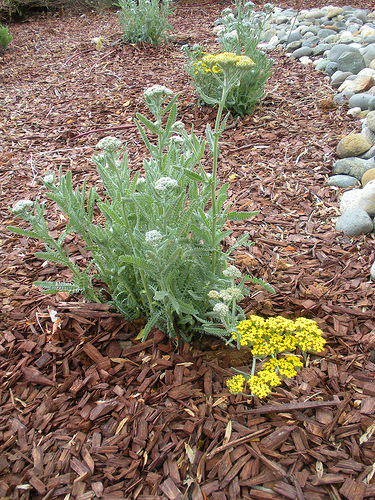 In our front yard we added some Moonshine Yarrow….this has become another favorite of the bees this spring. I am anxious to see how it grows over the summer since it says it needs very little water.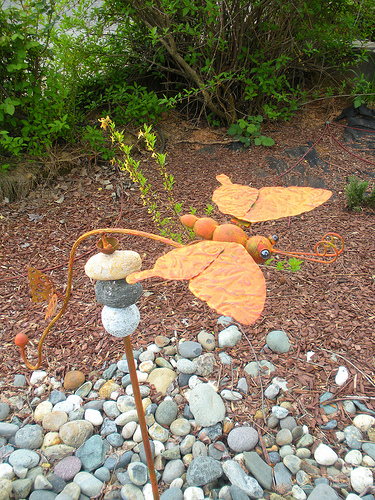 I have to share my new yard art piece that my dear husband found for me. It is a metal butterfly balanced on top of a pole with river rocks stacked. It is the perfect piece for our front yard. I love the way it moves in the slightest breeze and is a great addition to the look of the front yard. I decided it is all about movement…the grasses, the forsythia, the butterfly bushes, and now the sculpture.
I have enjoyed reading all the entries over on Jami's blog An Oregon Cottage as part of her Tuesday Garden Party. Welcome to all who have clicked over to read my entry!
I welcome all readers to subscribe to my blog…see the sidebar for a place to enter your email.



Jami's Tuesday Garden Party meme is open from Tuesday to Thursday so there is still time for you to jump in and participate!