We are excited to get started on this first day of spring with simple ways to study nature and a fresh set of homeschool nature study ideas. It hardly seems possible that we are at the beginning of another spring season but here we go! We look forward to another season of encouraging nature study. Have fun and get outdoors with your children!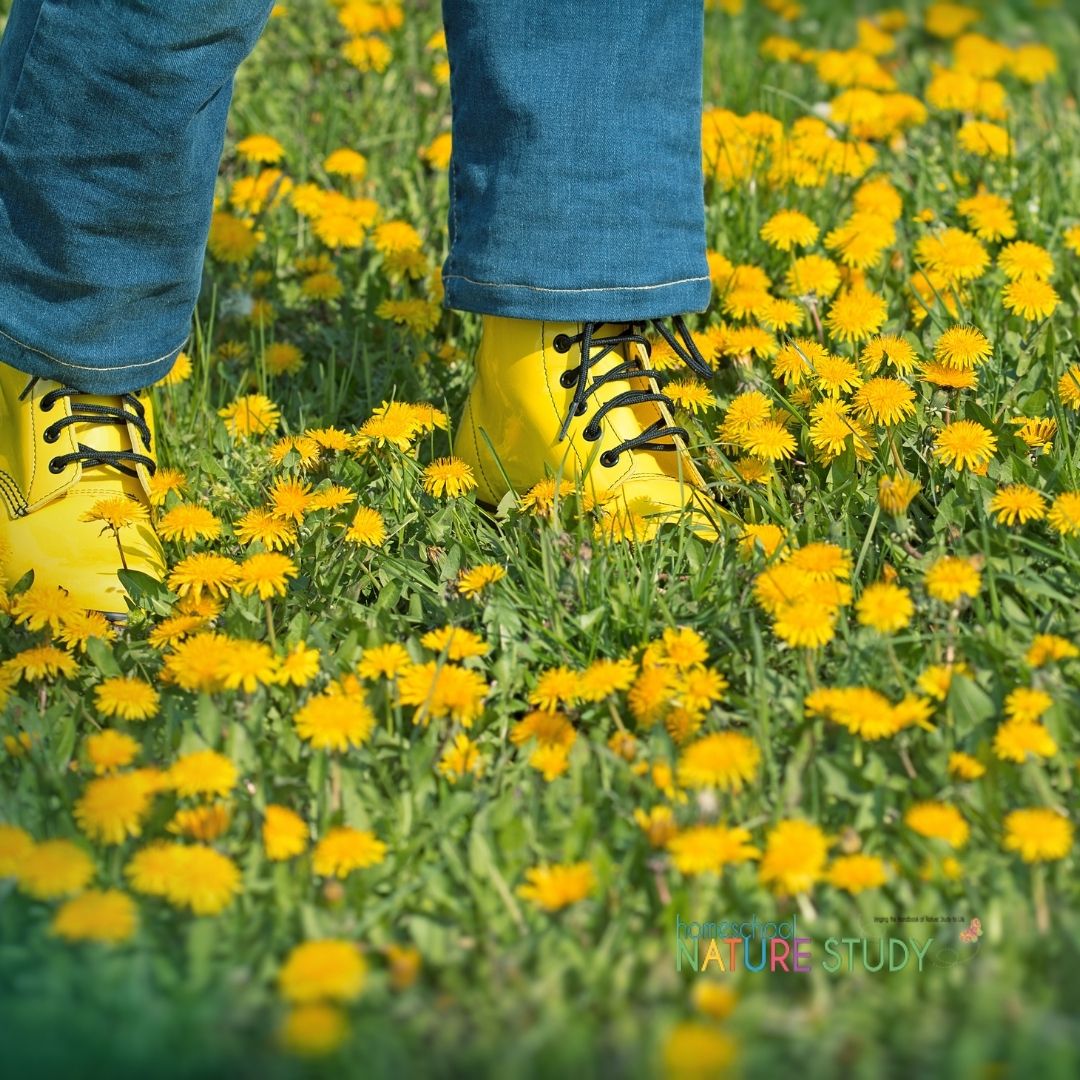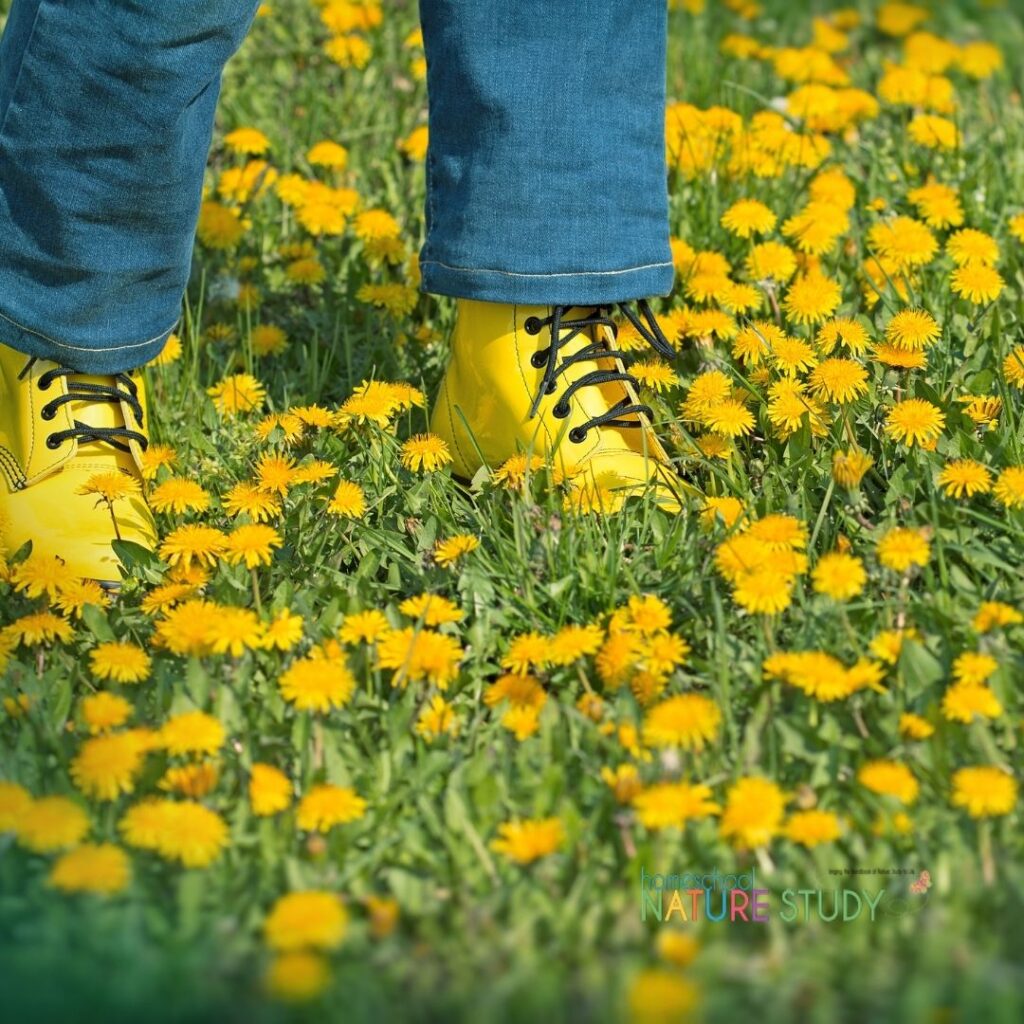 First Day of Spring: Simple Ways to Study Nature in Your Homeschool
Inside Preparation Work
1. If you have not read pages 23-24 (How to Use This Book) in the Handbook of Nature Study, please read it now. In addition, read the section on The Field Excursion on page 15. Highlight interesting sections as reminders.
2. Prepare your children for your outdoor time by explaining the purpose. For this challenge, use the ideas from Outdoor Hour Challenge #2—Using Your Words in our FREE Getting Started Homeschool Nature Study Guide which is take a short walk in your yard or neighborhood and then come back inside and record words to describe your experience.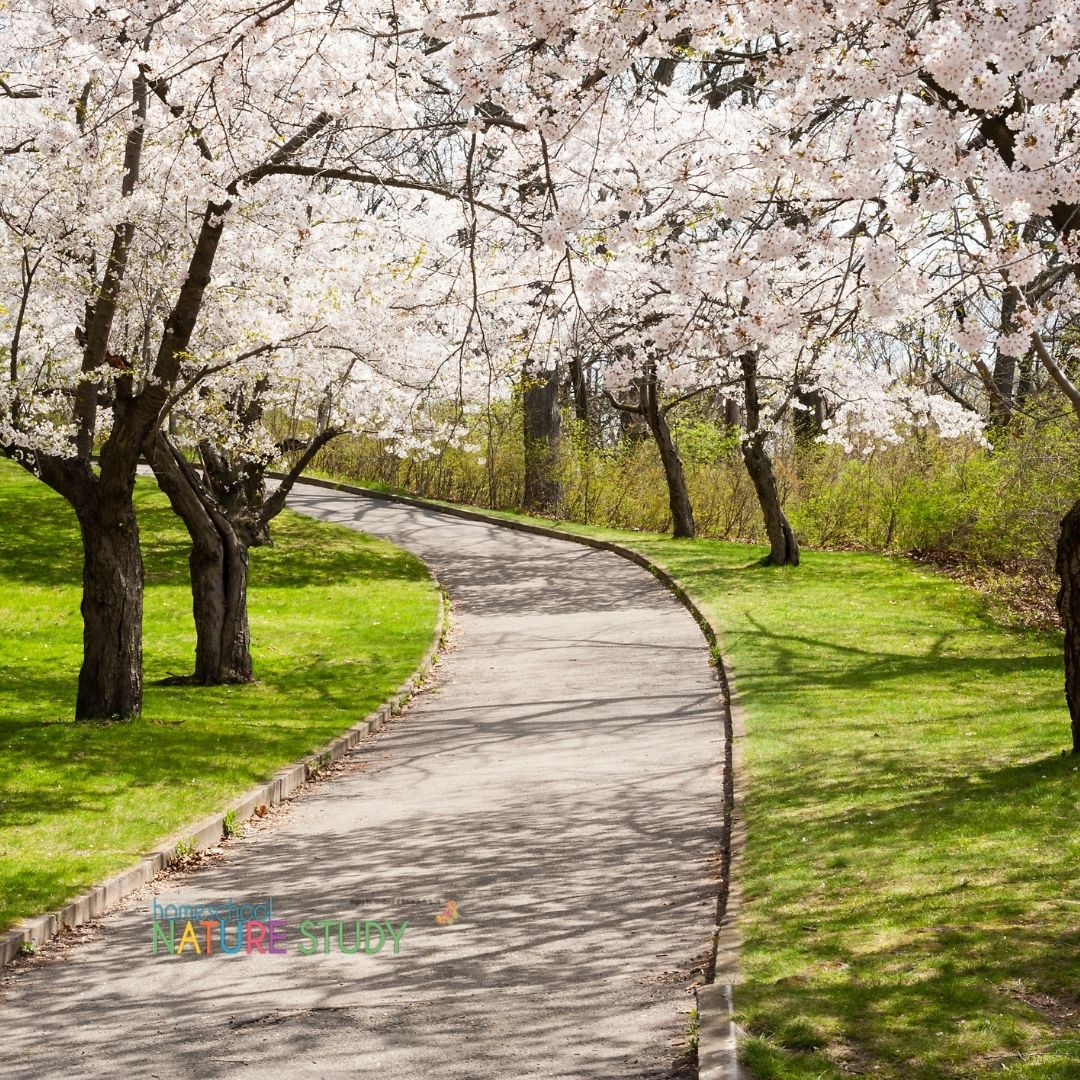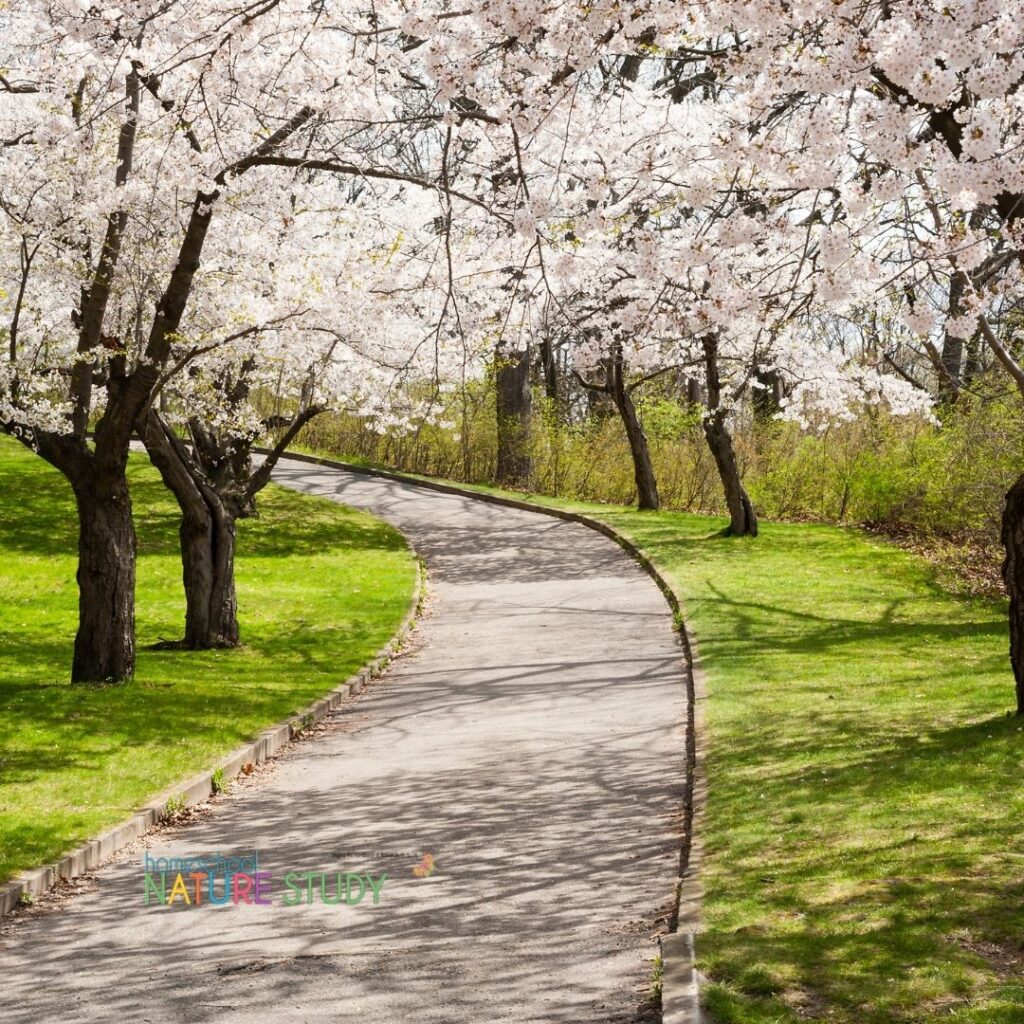 Spring Splendor Nature Walk Ideas
Homeschool Nature Study Members: Before beginning this series of challenges, use the Spring Splendor Notebook Page (Challenge on page 8 of your Spring Nature Study Curriculum and notebook page linked there as well) to build enthusiasm for the spring series of nature study. Keep the page in the front of your nature journal as a reminder of the three questions you hope to answer and the three activities you hope to accomplish.
Outdoor Hour Homeschool Nature Study Time
1. Enjoy some time outdoors this week as part of this challenge, including a few minutes of quiet observation if possible. Observe what early spring looks like in your neighborhood. Use all your senses. If you have young children, taking a walk and enjoying the season is the main point. You can work on adding words as your child gains confidence in nature study.
2. Homeschool Nature Study Members: Use the Spring Nature Walk Worksheet notebook page if you want more structure to your time outdoors.
3. Collect an item to sketch into your nature journal, perhaps a leaf or a flower.
4. Advanced Study: Take photos of spring flowers, birds, trees, leaves, or other objects you see during your outdoor time. Try taking photos from different angles and up close.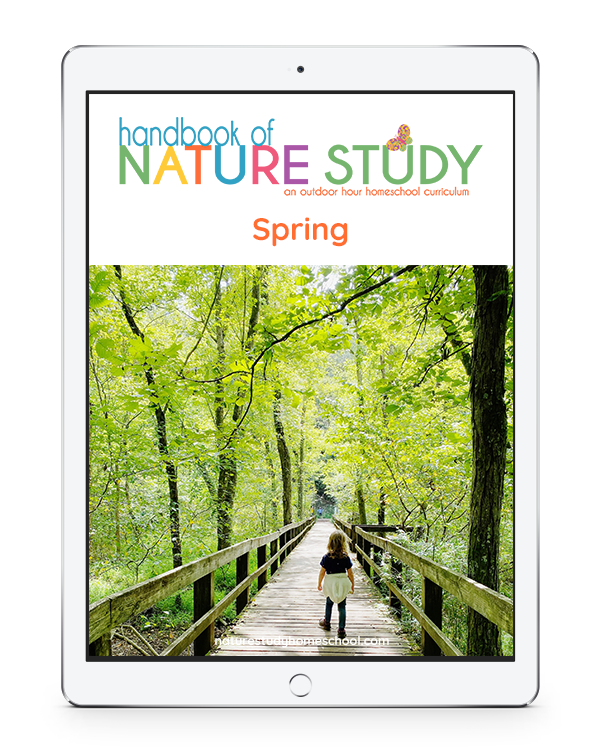 Follow-Up Activity
1. Use the Spring Splendor notebook page (Homeschool Nature Study Members) or your nature journal to record your time outdoors, including the prompts for descriptive words. You can brainstorm words with your children if they have trouble. Sketch or watercolor your spring scene in your nature journal or onto your notebook page.
2. Advanced Follow-Up: Make a slideshow with the images you took of your spring splendor walk. You can also print the images and include them in your nature journal.
3. Homeschool Nature Study Members: Optional coloring pages: Spring Woods 1 and Spring Woods 2.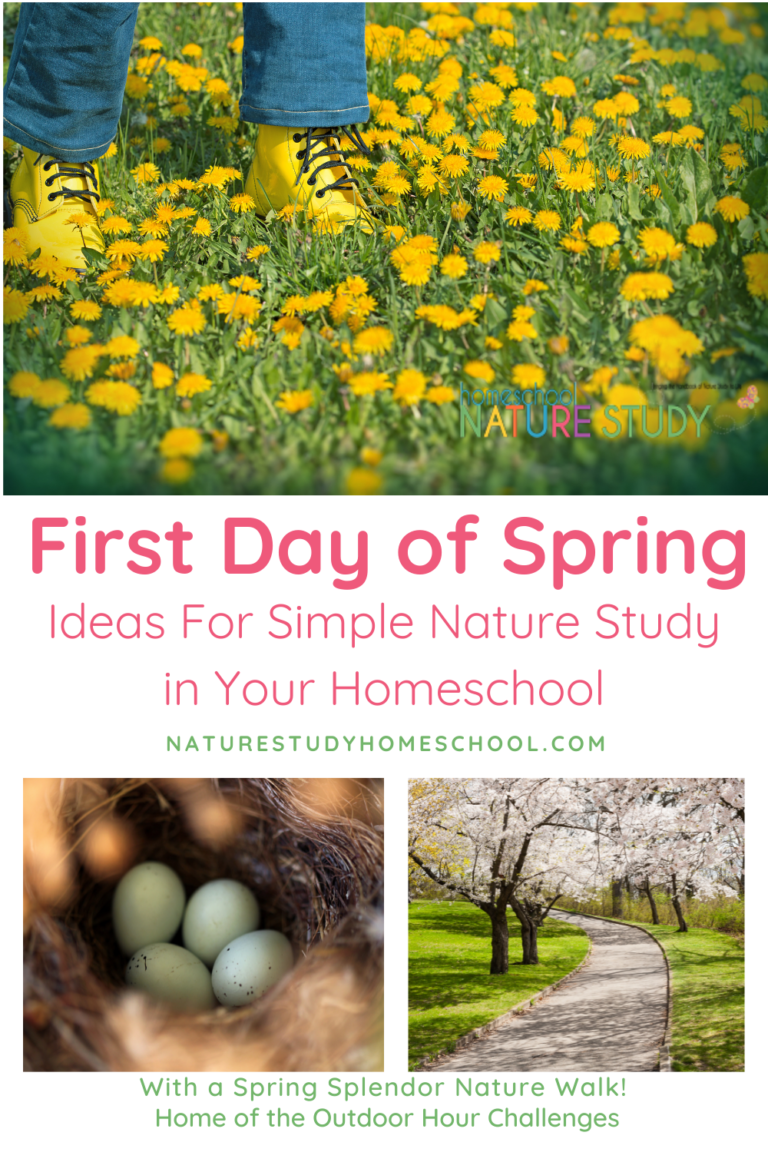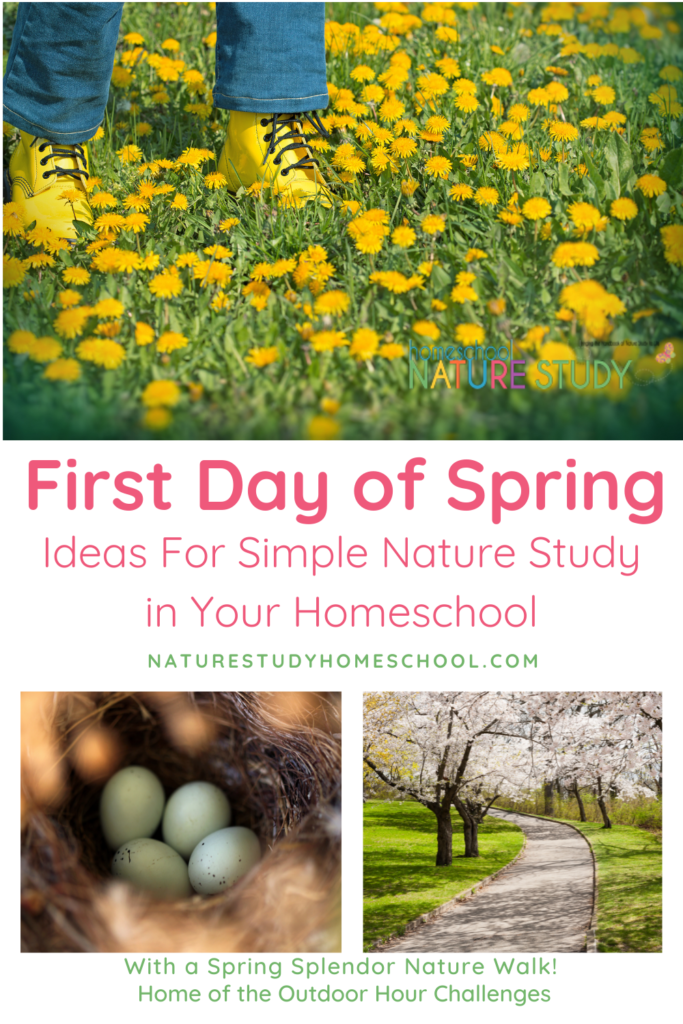 More Spring Homeschool Nature Study
You might also like these simple ways to study nature in your homeschool!
Outdoor Hour Challenges with Homeschool Nature Study
If you enjoy any of these first day of spring nature study ideas, please share with us! Take a photo, share on social media and tag @outdoorhourchallenge on Instagram and use the hashtag #outdoorhourchallenge – we would love to see and to comment!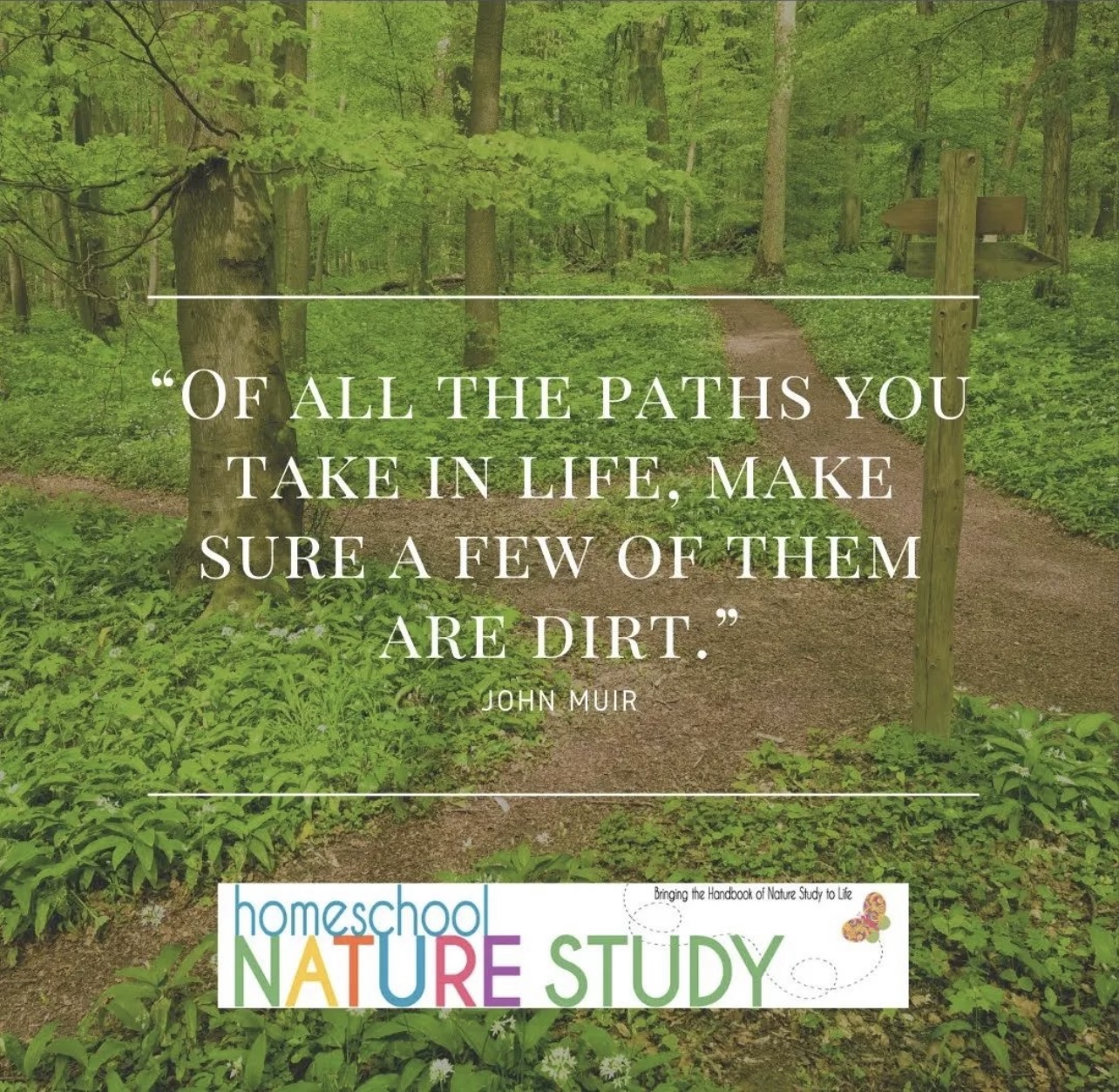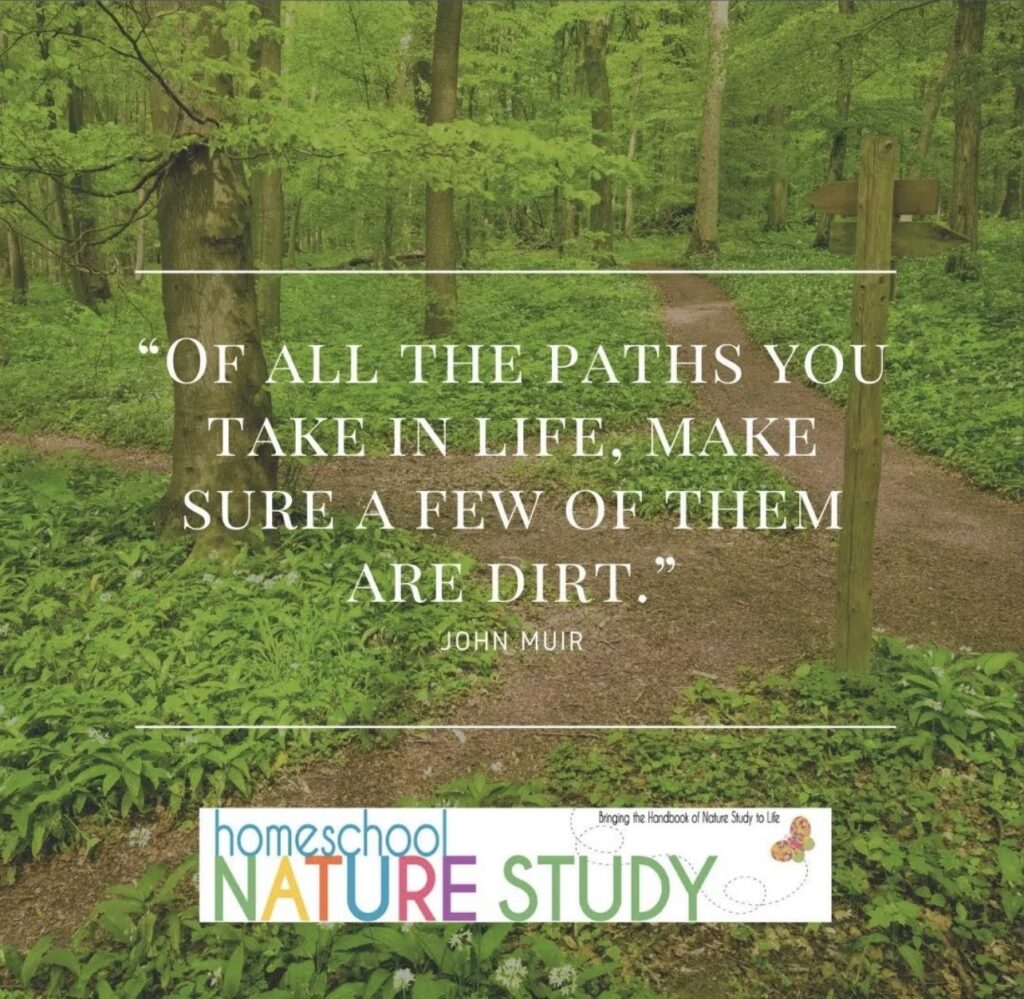 Homeschool Nature Study Membership for Year Round Support
Can you believe all of these spring homeschool resources you will find in membership? You will also find a continuing homeschool nature study series plus all the Outdoor Hour Challenges for nature study in our Homeschool Nature Study membership. There are 25+ continuing courses with matching Outdoor Hour curriculum that will bring the Handbook of Nature Study to life in your homeschool! In addition, there is an interactive monthly calendar with daily nature study prompt – all at your fingertips!
Be inspired. Be encouraged. Get outdoors!