You can enjoy a simple garden and wildflowers homeschool nature study with these resources we have gathered for you to use in your own backyard. It is such a delight to study and learn about a garden and the beauty of wildflowers!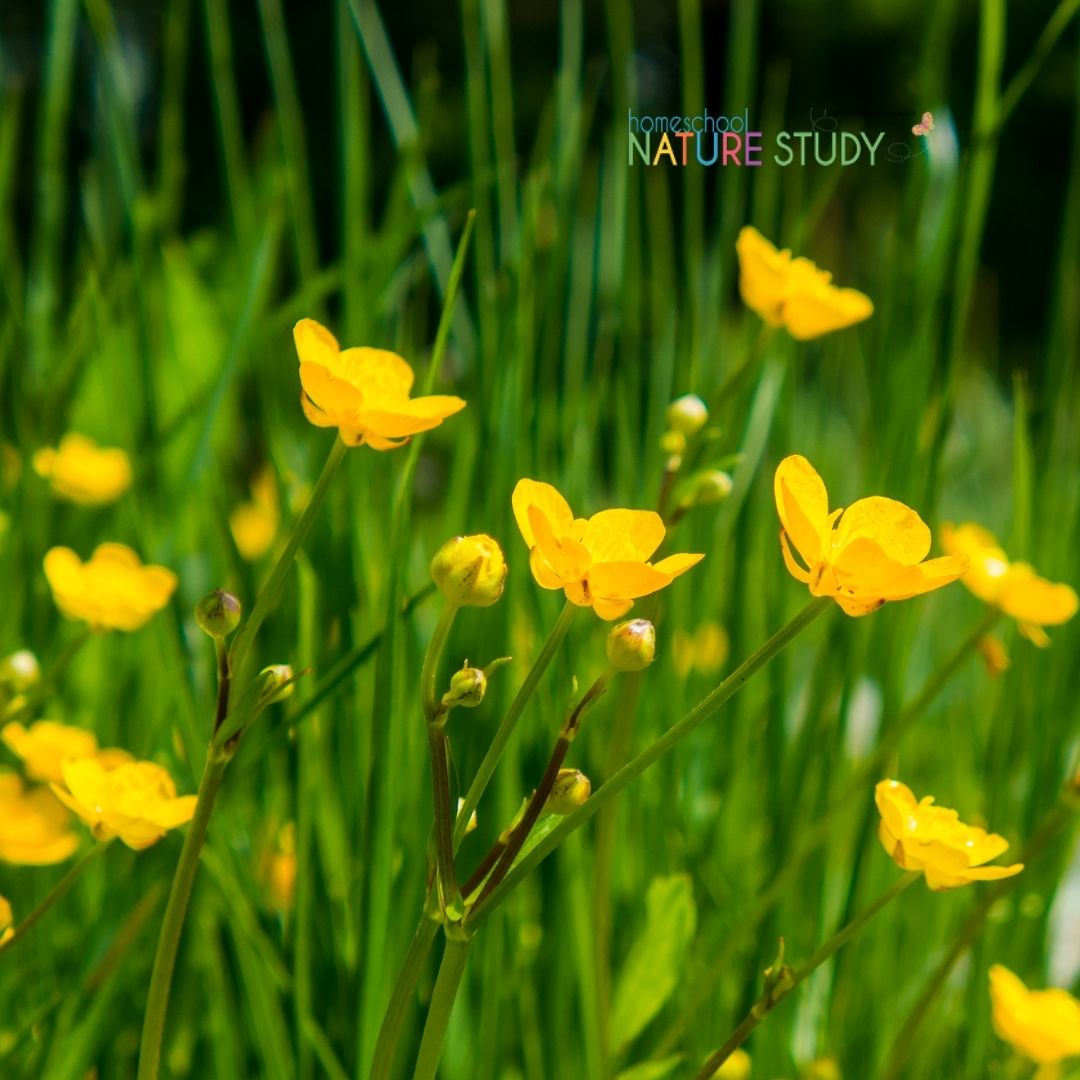 Wondering how to start? Grab our FREE Getting Started with Homeschool Nature Study Guide!
The Ultimate List of Garden and Wildflowers Homeschool Nature Study Using the Outdoor Hour Challenges
NOTE: If the challenge is included an Outdoor Hour Challenge Curriculum ebook in Homeschool Nature Study Membership, it is noted directly after the challenge. If you have a membership, you will be able to pull up the ebook and print any notebook pages, coloring pages, or other printables for your nature study.

Bachelor's Buttons – Summer Continues
Bee Larkspur/Delphinium – Summer Continues
Black Eyed Susans – More Nature Study Summer
Black Swallowtail – Spring Continues
Bleeding Hearts – Winter Continues
Blue Flag Iris – More Nature Study Spring
Crocus – Winter
Daisy – More Nature Study Summer
Daffodil – Winter
Earthworms – Spring
Geranium – Spring Continues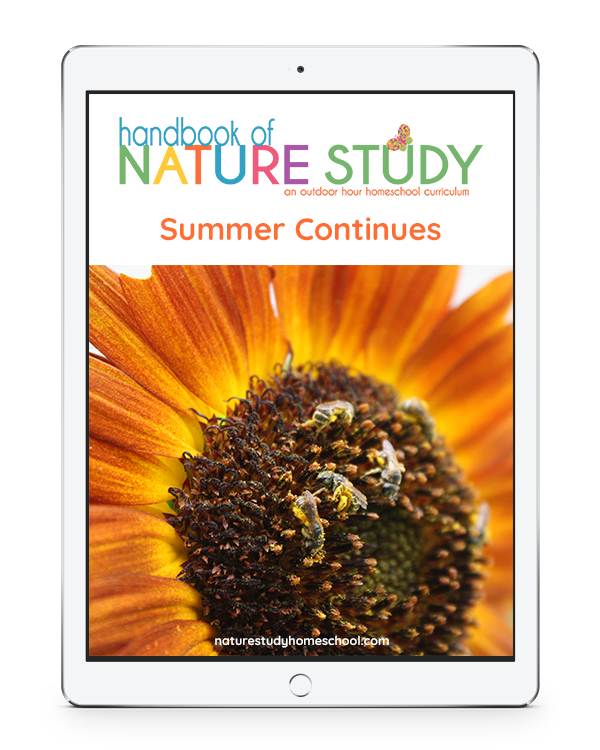 Monarch Butterfly – More Nature Study Summer
Nasturtiums – Spring Continues
Pansy – More Nature Study Winter
Pears – More Nature Study Autumn
Petunias – Spring Continues
Robins – More Nature Study Spring
Salvia – Autumn Continues
Snails – More Nature Study Spring
Sunflowers
Sweet Peas – More Nature Study Spring
Tulip – Winter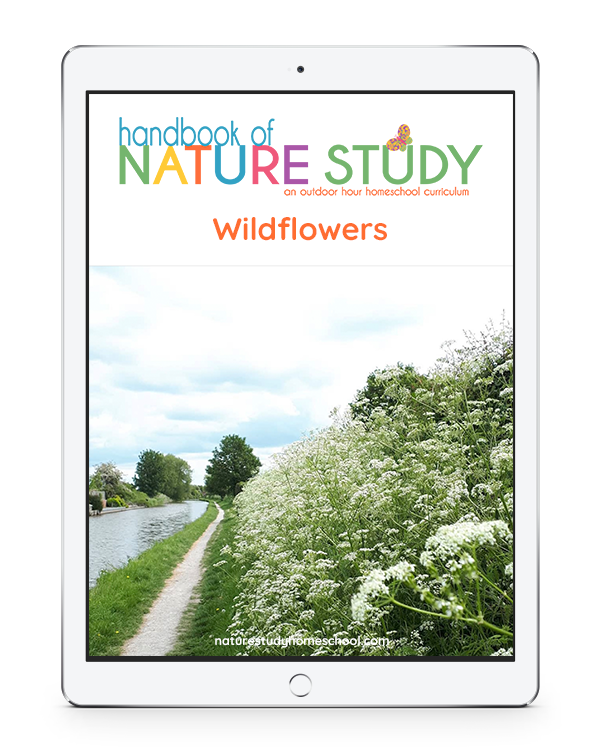 Outdoor Hour Challenge Wildflower Nature Study
These challenges can be found in Homeschool Nature Study membership.
Wild Mustard and Wild Radish
Shooting Stars
Lupine
Purple Chinese Houses
Yarrow
Henbit
Cow Parsnip
Columbine
Chicory
Cocklebur
Fireweed
Salsify
Forget-Me-Not
Paintbrush
Common Silverweed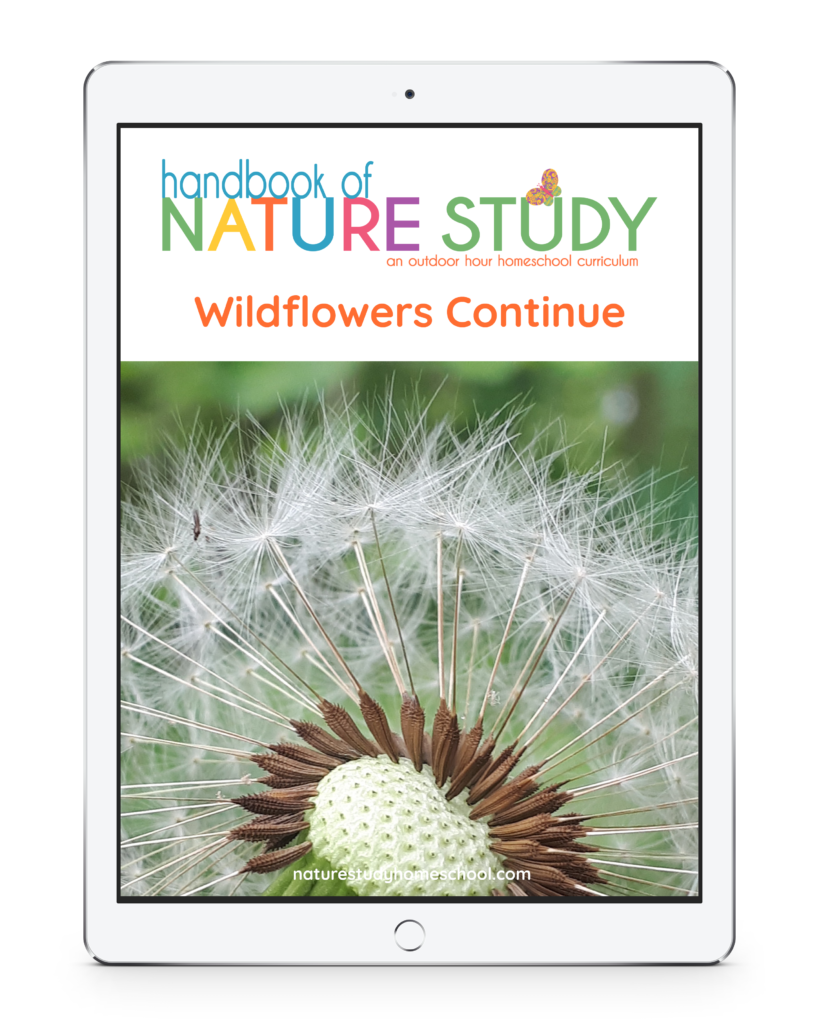 Homeschool Nature Study: Wildflower and Weed Challenges
Azalea – Forest Fun
Bitterbrush – High Desert
Bloodroot – Winter Continues
Bluets – Spring Continues
Burdock – Autumn Continues
Buttercups – More Nature Study Spring
Cattails Spring Observations – Spring
Cattails Summer Observations – Summer
Cattails Winter Observations – Winter
Chicory – Wildflowers Continue
Cocklebur – Wildflowers Continue
Columbine – Wildflowers Continue
Common Silverweed – More Wildflowers
Cow Parsnip – Wildflowers Continue
Dandelions – Spring course (Here is an example of a Dandelion Outdoor Hour!)
Dodder – More Nature Study Spring
Dutchman's Breeches – Winter Continues
Evening Primrose – Summer
Fern – More Nature Study Spring
Field Horsetail – Autumn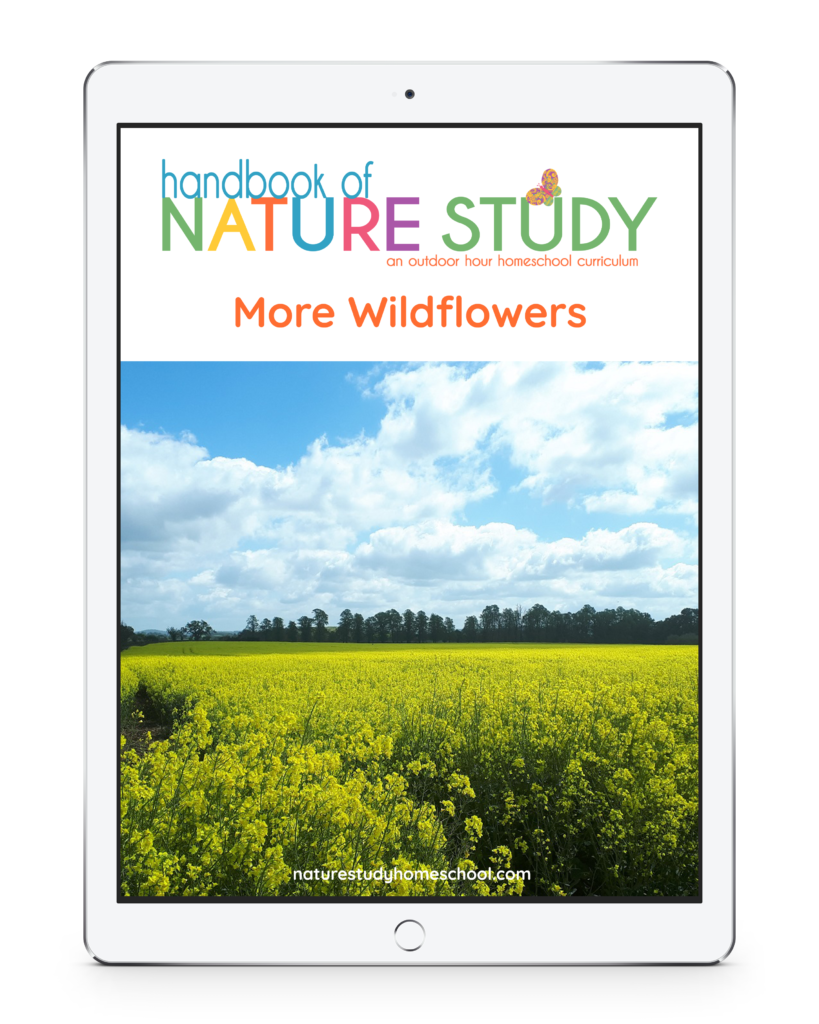 Fireweed – More Wildflowers
Forget-Me-Nots – More Wildflowers
Hedge Bindweed – More Nature Study Spring
Henbit – Wildflowers Continue
Hepatica – Winter Continues
Jack in the Pulpit – Spring Continues
Jewelweed – Autumn 2015
Lupine – Wildflowers
May Apple – Spring Continues
Milkweed –More Nature Study Autumn
Mullein – More Nature Study Winter
Mustard and Radish (wild) – Wildflowers
Paintbrush – More Wildflowers
Pearly Everlasting – Summer Continues
Poison Oak – Creepy Things
Pondweed – More Nature Study Summer
Poppies – More Nature Study Spring
Prickly Lettuce – Autumn
Purple Chinese Houses – Wildflowers
Queen Anne's Lace Autumn Observations – Autumn
Queen Anne's Lace Summer Observations – Summer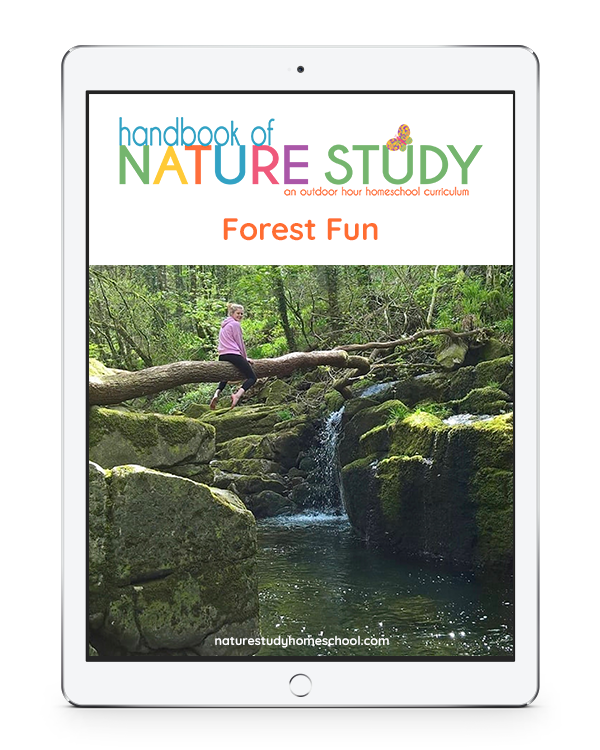 Rabbitbrush – Forest Fun
Big Sagebrush – High Desert
Salsify – More Wildflowers
Shooting Stars – Wildflowers
Skunk Cabbage – Forest Fun
Snowberry (shrub) – High Desert
Squirrel Corn – Winter Continues
Teasel – Autumn Continues
Thistles – More Nature Study Autumn
Trillium – Spring Continues
Vine Study – More Nature Study Spring
White Water Lily – Summer Continues
Winter Berries – Autumn Continues
Winter Weeds – Winter Wednesday and More Winter
Yarrow – Wildflowers
Yellow Adder's Tongue – Spring Continues
Yellow Ladies Slipper – Spring Continues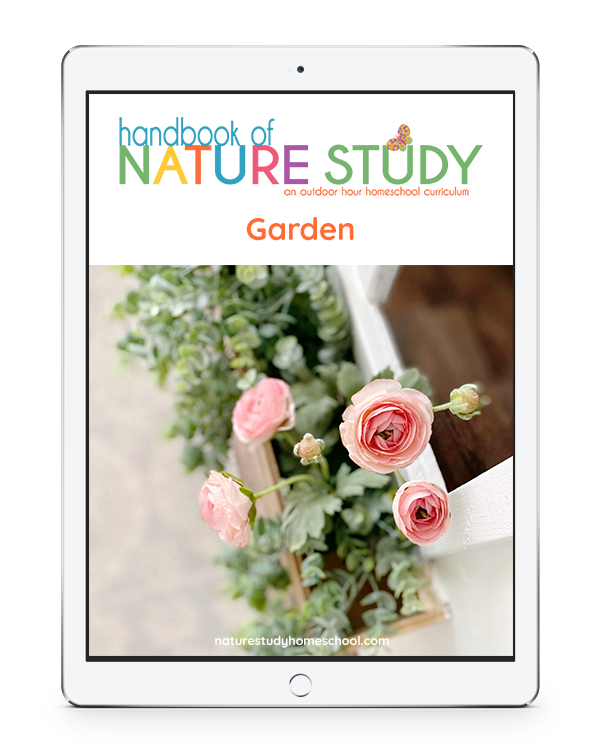 Crop Plants – Clover
Crop Plants – Beans
Crop Plants – Corn
Crop Plants – Cotton
Crop Plants – Strawberries
Crop Plants – Pumpkins
Crop Plants – Tomatoes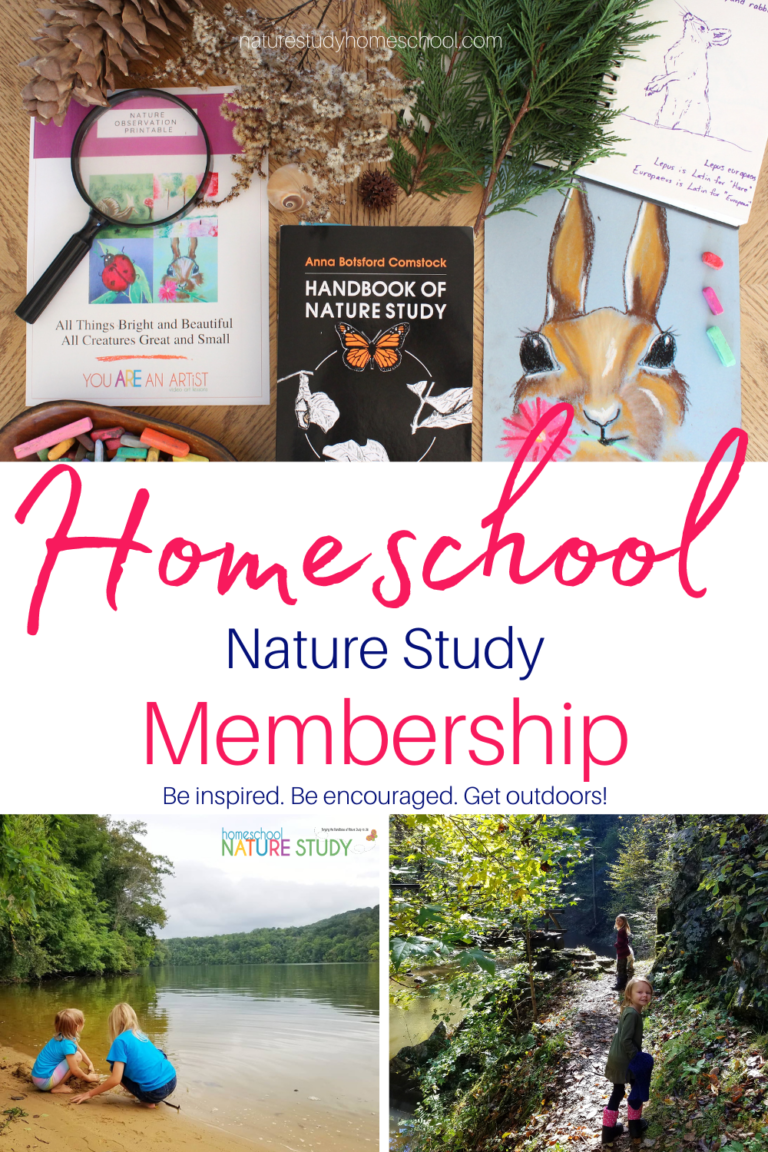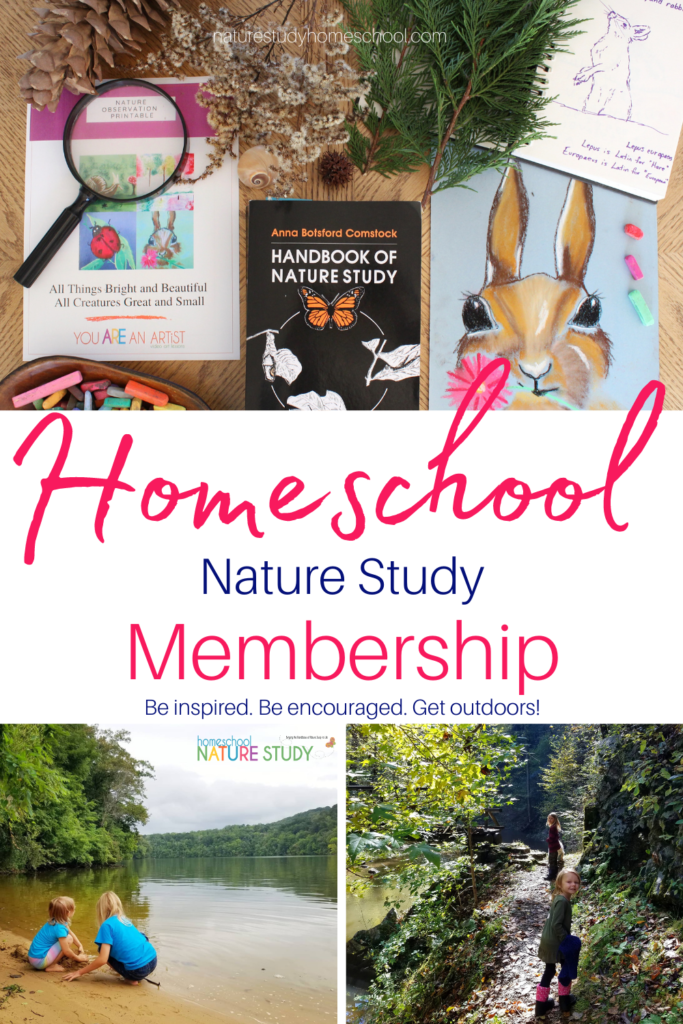 Join The Homeschool Nature Study Membership for Year Round Support
Can you believe all of these garden and wildflowers resources you will find in membership? You will also find a continuing series on gardens and wildflowers plus all the Outdoor Hour Challenges for nature study in our Homeschool Nature Study membership. There are 25+ continuing courses with matching Outdoor Hour curriculum that will bring the Handbook of Nature Study to life in your homeschool! In addition, there is an interactive monthly calendar with daily nature study prompt – all at your fingertips!
first published January 2011 by Barb, updated by Tricia March 2022