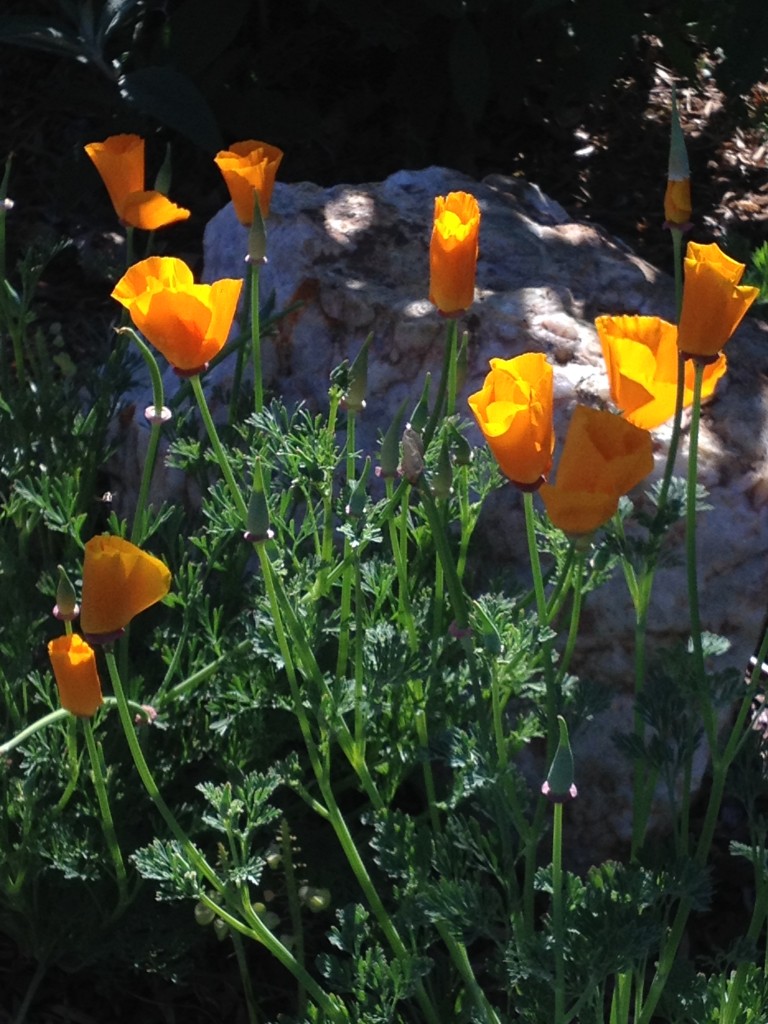 Your Garden in All Four Seasons – taking a look at our spring garden
My garden is coming to life during the month of May. We had an unusual winter so many of the plants didn't do well without our normal winter rains. Our dogwood barely bloomed this year with perhaps only five or six flowers compared to dozens in past years. Some of our lavender plants did not survive either…perhaps the week of snow and freezing temperatures with the snow left on top made the death blow but no matter the reason, we will be digging them up and replacing them next year.
Come along on a quick trip around my spring garden…welcome to all who are popping in from the Tuesday Garden Party.
We are currently experiencing drought conditions in our part of California and we are under mandatory watering restrictions. This means I will not be planting my traditional garden but trying to keep our drought resistant plants and native plants going with the water we have available. The weird winter didn't seem to effect the California Poppies at all and we have a beautiful crop of flowers right now in our front yard.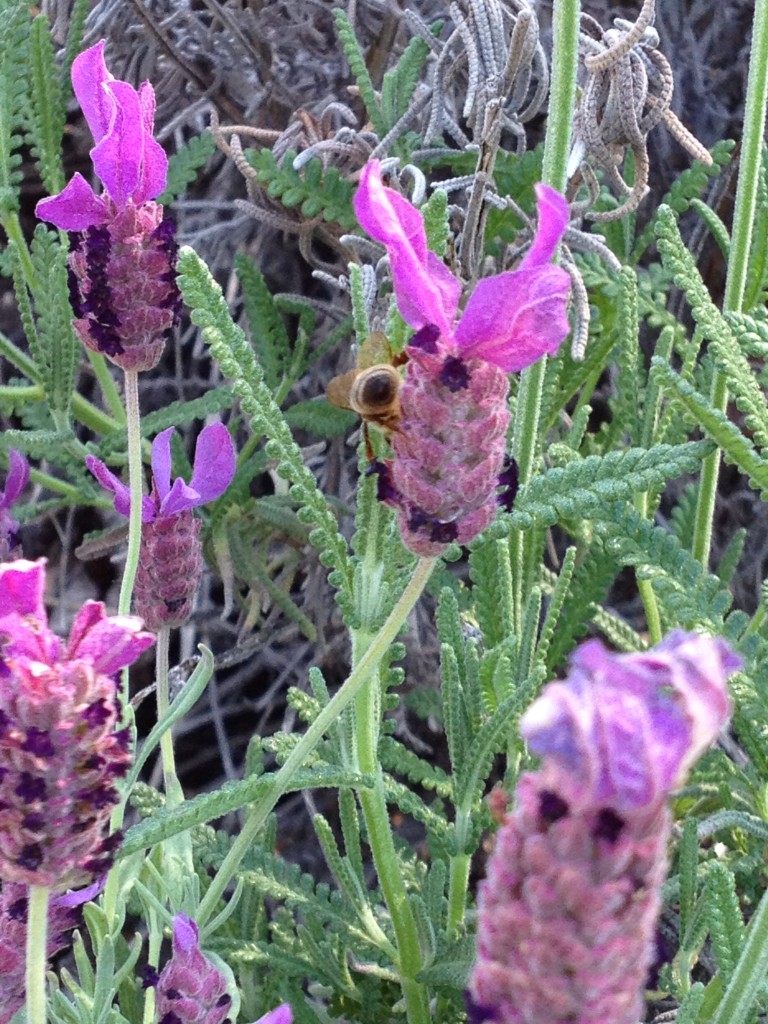 The Spanish Lavender did much better than the English Lavender over the winter and the bees are back in full force. There are lots of spittle bugs and border bugs too.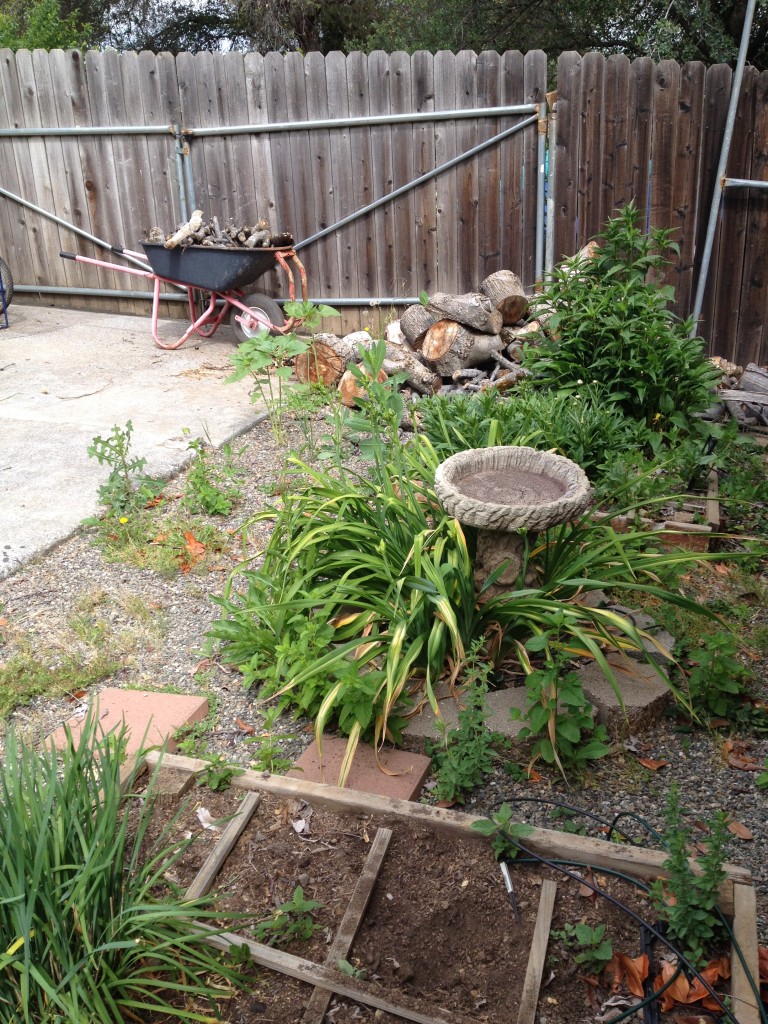 We have not put much time into the garden yet and it shows. There are lots and lots of weeds all around the garden boxes. The interesting thing is how many oregano, thyme, and sunflower plants there are growing outside the boxes! We also have a pile of wood left from the walnut tree we cut down that needs to be stacked neatly. I am missing my strong teenage boys who usually take care of tasks like this for me.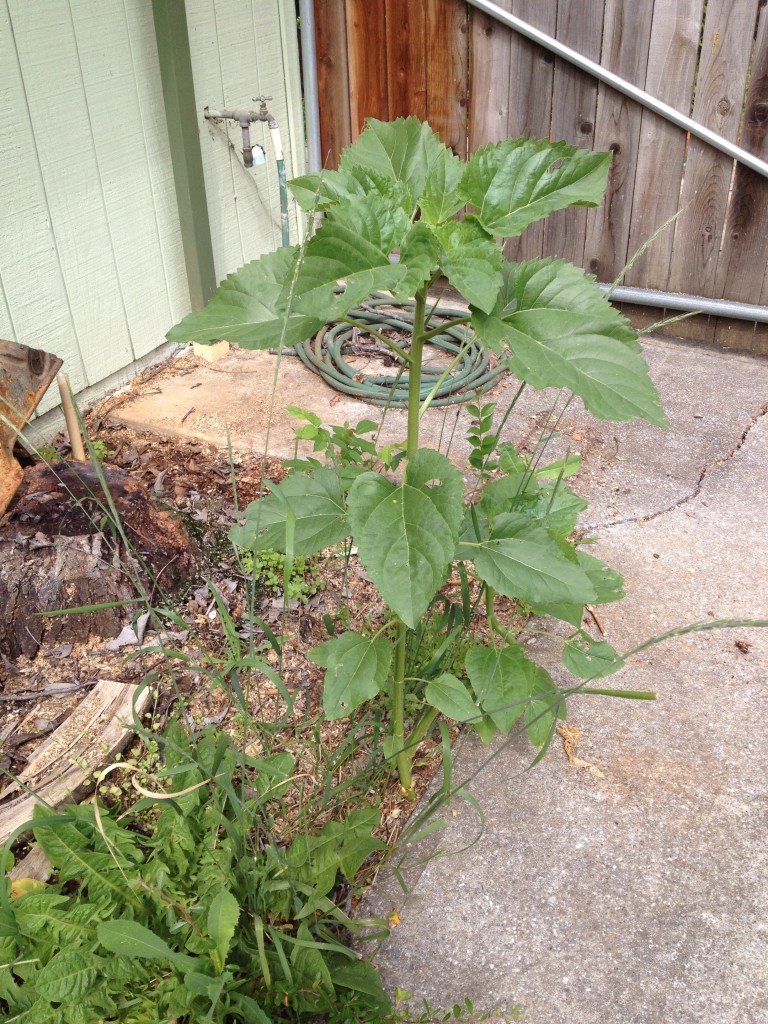 This is a monster size sunflower growing where the walnut tree was before we cut it down. I think I will leave it to grow in this spot and let the birds enjoy the seeds this summer. I can hand water it if I need to since there are not drips over on this side of the yard.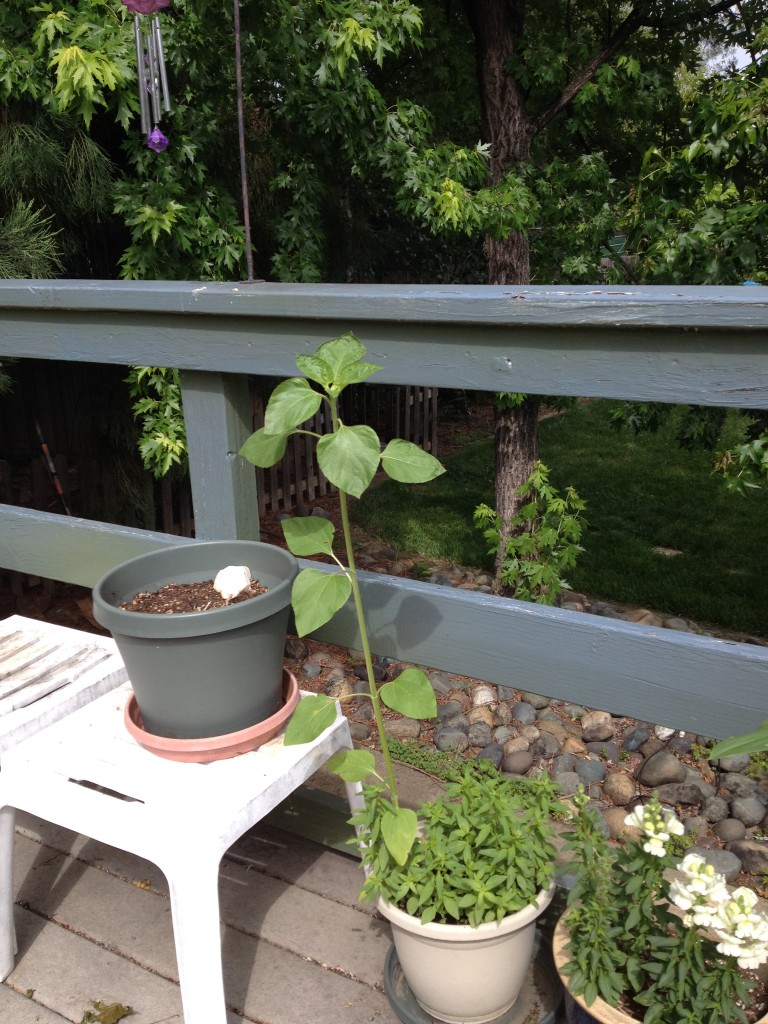 There are sunflowers growing in several of my deck planters as well. In the past, these volunteer plants seem to be the most hearty of plants and they have great flowers so I will leave it growing here as well.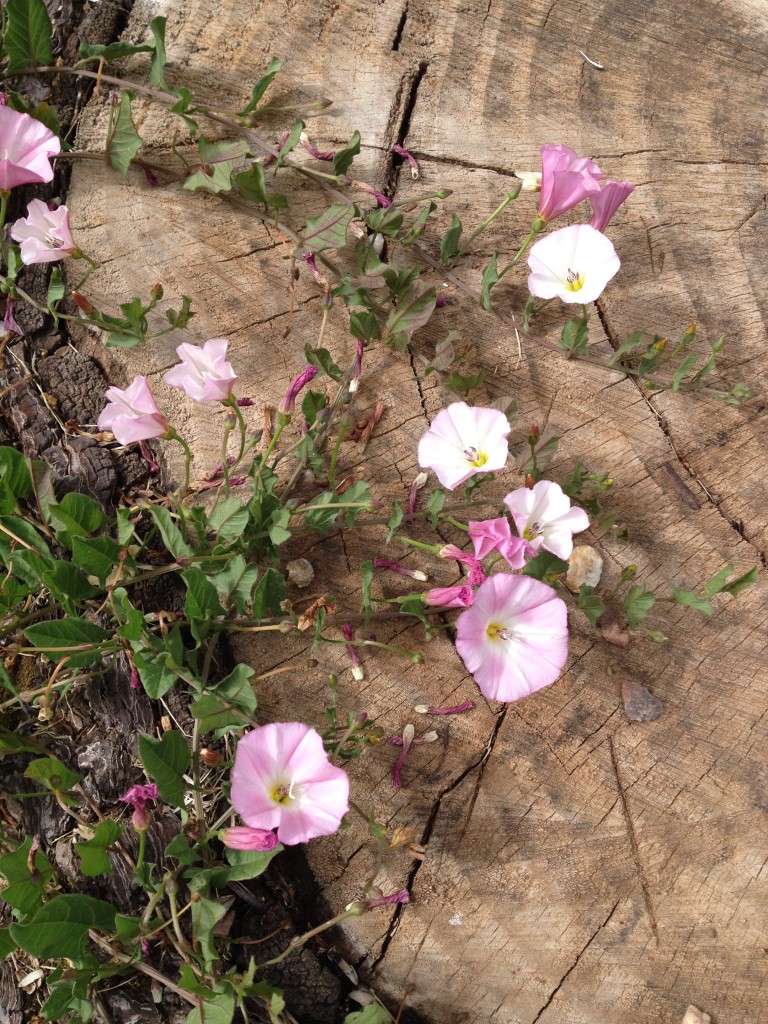 The Hedge Bindweed is so pretty right now as it grows under the birdfeeder and around the old pine tree stump. There is a lesson in the Handbook of Nature Study for this flower if you have it in your yard too.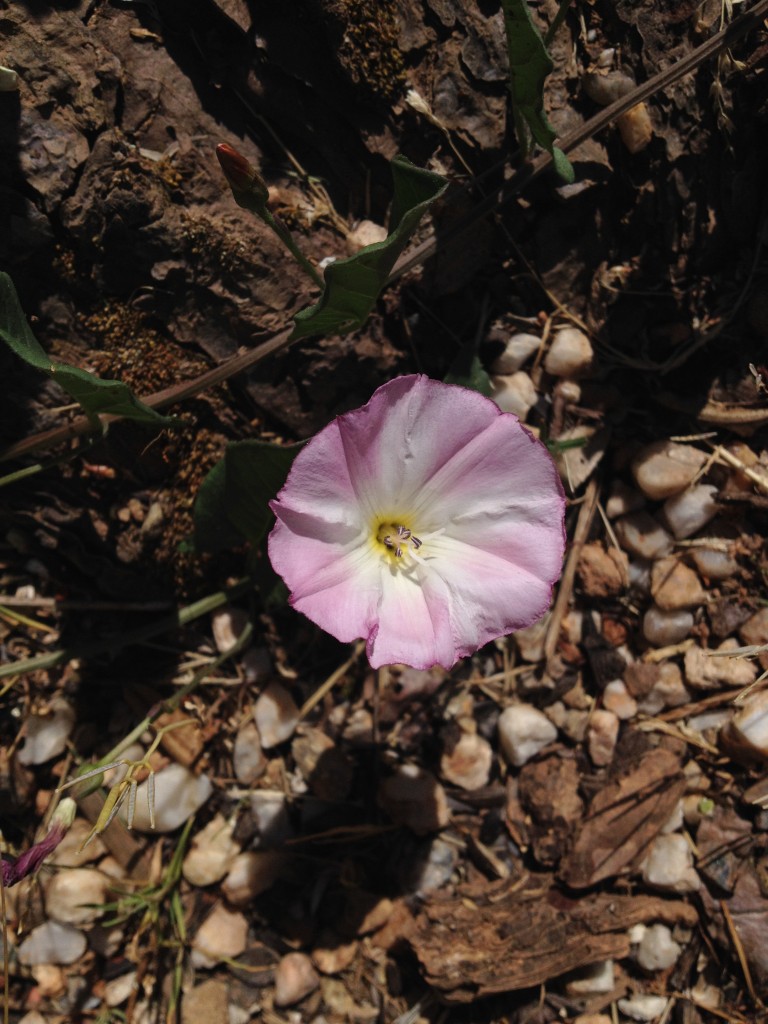 There are so pretty and remind me of morning glories. My little patch is growing in a spot that I can let it wander without too much trouble.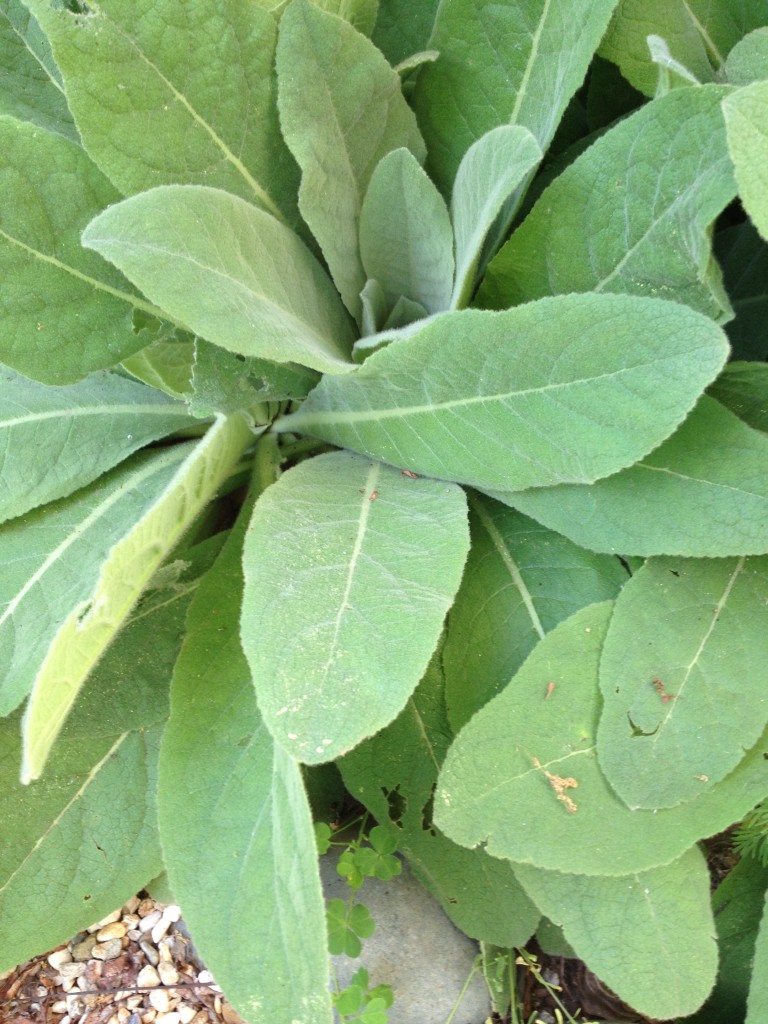 There is lots of mullein around my yard…I love to watch the flower stalks grow and the leaves are so pretty and soft.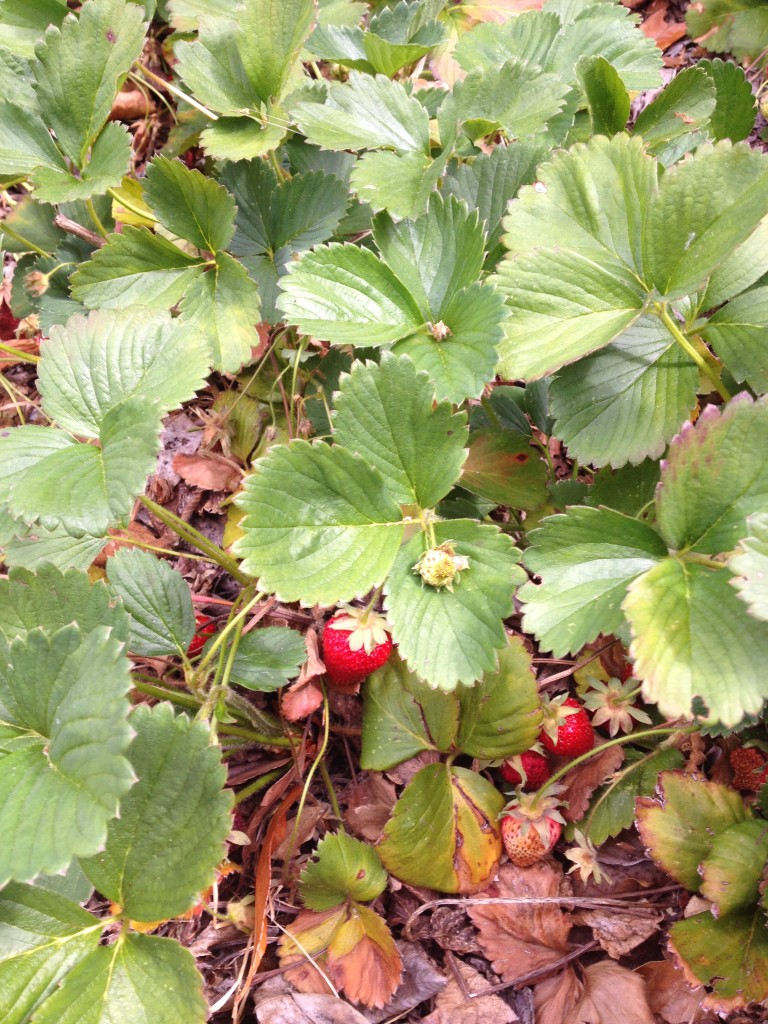 We have quite a crop of strawberries already which is a little early for our "June" berries. I don't think they will do well with our restrictive watering rules this summer. I may need to pull a couple of plants out, put them in a pot, and hope that I can keep them going during this drought year.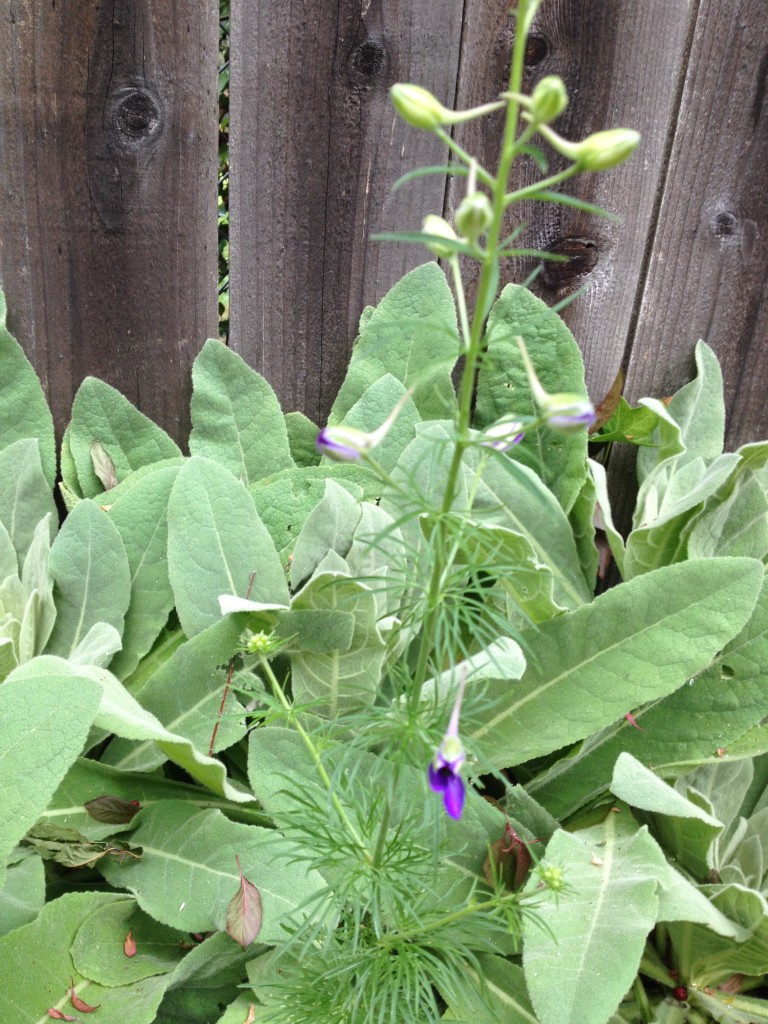 I found this mystery flower growing among the mullein and I am not sure what it is yet. I know that last year I planted a mix of seeds on this side of the yard but none of them grew. I am wondering if this is from a seed that I planted last year and it is just now growing. I will keep an eye on it.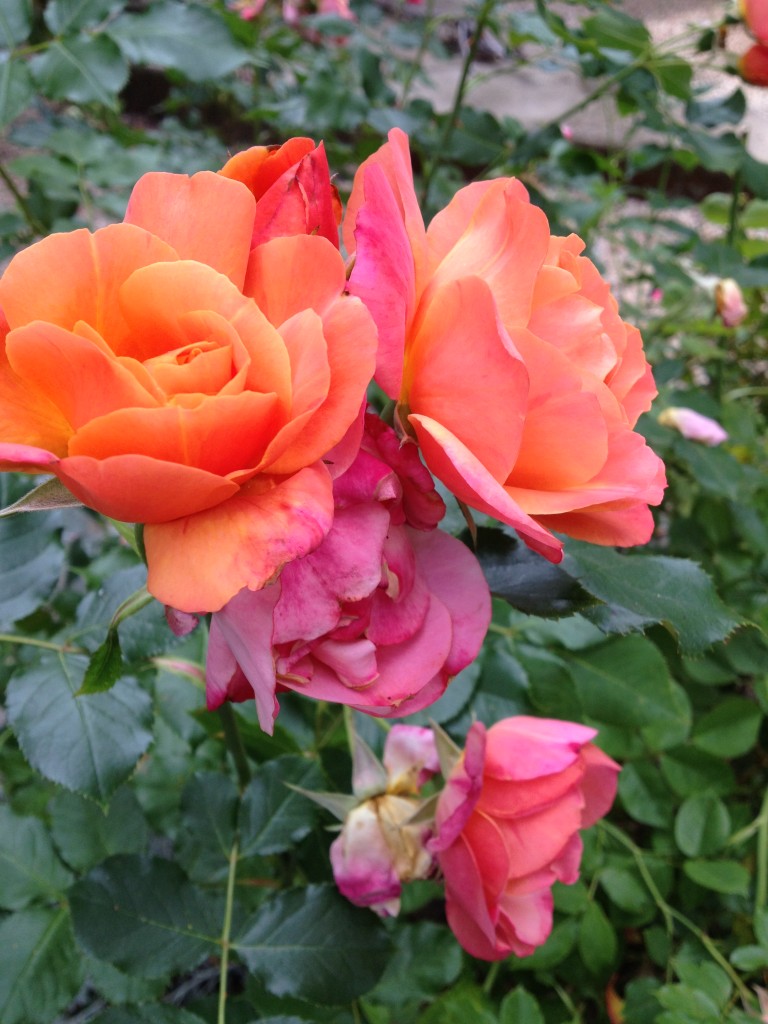 The Disneyland Rose is gorgeous right now, the whole plant full of blooms. I am filling vases full for the kitchen table and they just keep coming.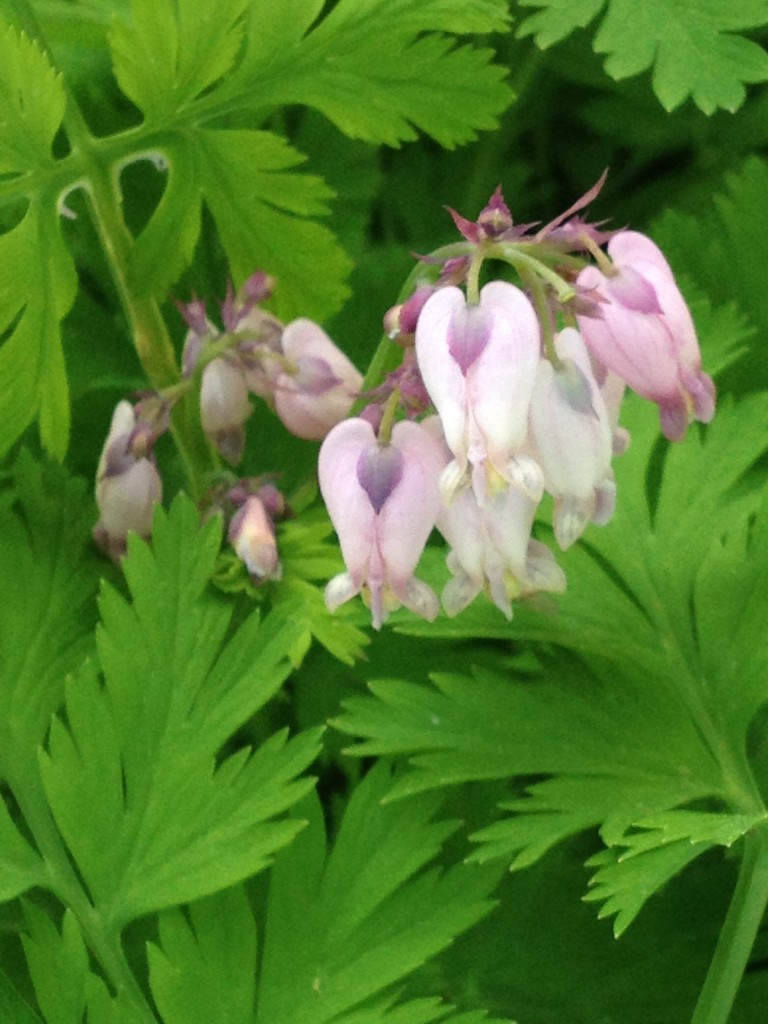 The shady part of the yard is filled with Bleeding Hearts…such a fun flower that I love to see when I look out the window. I appreciate that this plant comes back year after year with no fussing from me. I just get to enjoy it.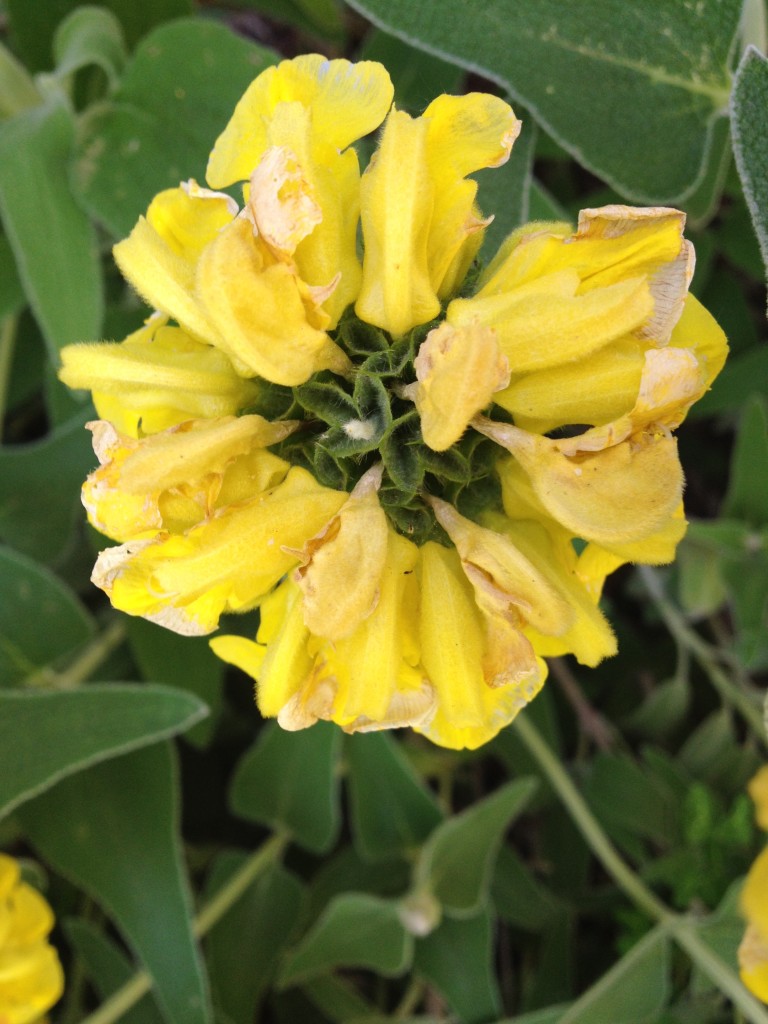 The Jerusalem Sage is an amazing grower in our garden. It is thankfully a drought tolerant plant and I don't have to worry about the amount of water it will get this summer. It just keeps on blooming.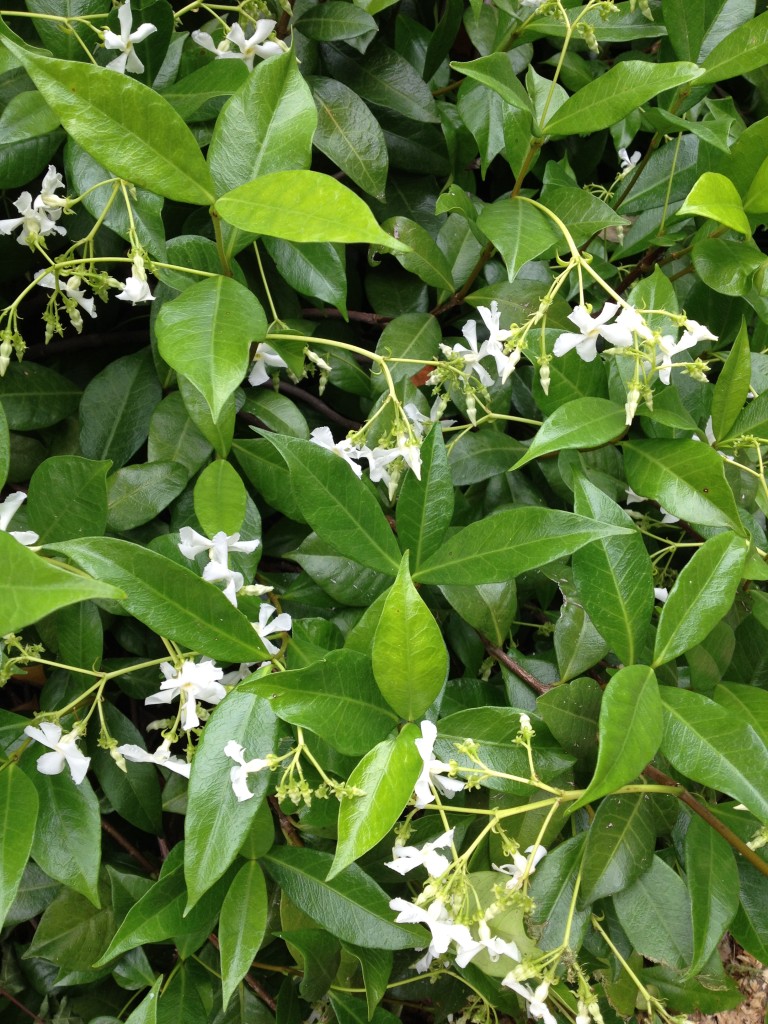 The Star Jasmine is filling the air with its sweet perfume. This is another plant that will take the heat and very low amounts of water.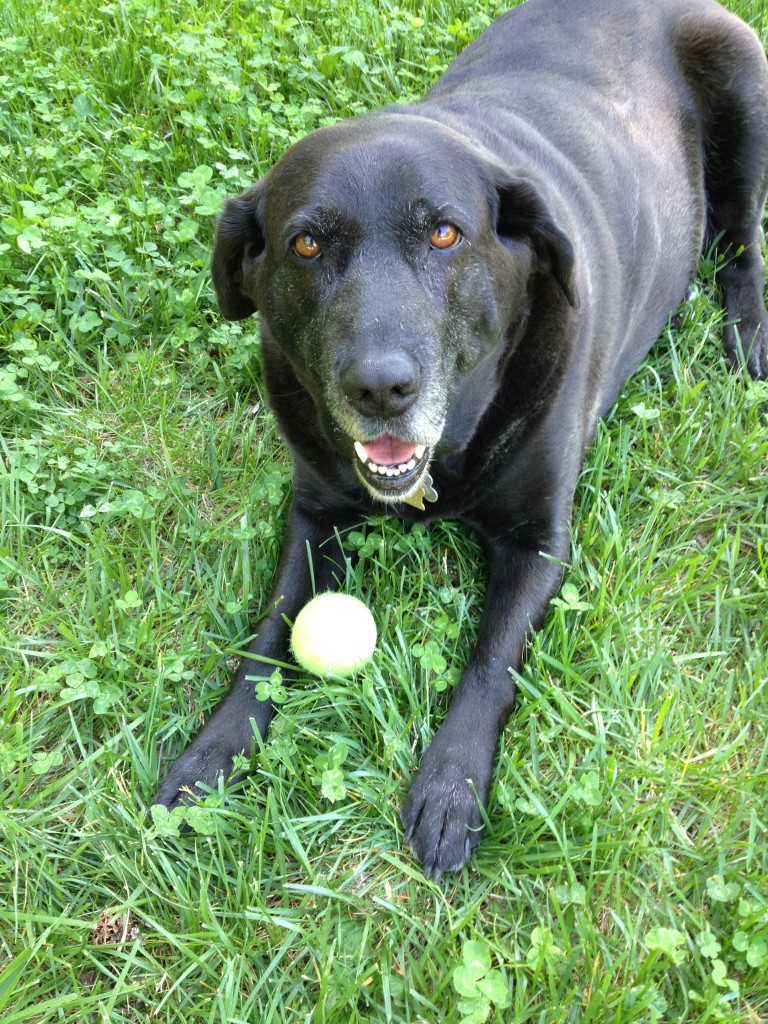 Well, there is a look at our spring garden. I would love to get out and plant some summer veggies but it looks like that is not going to happen this year. Instead of being disappointed, I will focus on the plants and flowers I do have and be satisfied.