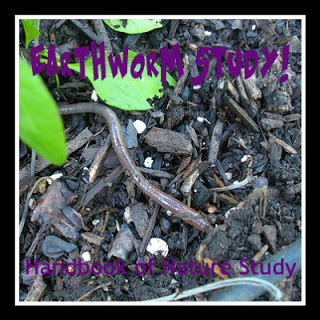 Outdoor Hour Challenge:
Spring Earthworm Study
We are going to be outside this week looking for earthworms. The Handbook of Nature Study suggests going out at night with a flashlight to look for worms but we find them just digging around in our garden boxes. Ask your children if they know where there are any earthworms.
Spring Earthworm Study – Make sure to find all the suggestions for worm observations in this entry.
Earthworm Nature Journal Topper – Find a nature journal prompt in the May Newsletter that will help you record your earthworm observations.
Special Activity:
If you have a child who is super into worms and they would like to see a YouTube video of an earthworm dissection, here is a link: Earthworm Dissection.
Getting Started Suggestion:
If you already own the Getting Started ebook, complete Outdoor Hour Challenge #3.  Take some time this week to use the suggestions in this challenge to focus on making a drawing in your nature journal. It can feature your earthworm study or anything else your child finds during your outdoor time that interests them.