October's Party
October gave a party; the leaves by hundreds came,
The Chestnuts, Oaks, and Maples, and leaves of every name.
The Chestnuts came in yellow, the Oaks in crimson dressed,
The lovely Misses Maple, in scarlet looked their best.
-Unknown Author
Many families already implement the idea of a morning circle time. Even in our family with high school age children (and above) we meet together each morning for our version of "circle time" because it has been our established routine for many, many years. Circle time is a great time to include some nature study themes and activities. Here are some ideas to get you started and that will tie into your Outdoor Hour Challenge time.
The morning is the perfect time to share daily weather and changes in the trees or plants outdoors. Each day your child can go outside briefly or look out the window to give the morning "nature report". Younger children can share with their words or use pre-made pictorial cards, then progress to keeping a daily weather/nature journal, and finally older students can record temperatures, wind direction, cloud types, and changes in plants, animals, and birds.  (PreKinders has weather themed printables for your circle time activities.)
Memorize a seasonal poem or a stanza from a poem like the one quoted at the top of this blog entry.
If you already include a "color of the week", why not ask what things in nature are that particular color? Try to get them to dig deeper than the ordinary by building on your outdoor time. You can give them hints to get started by reminding them of subjects you observed outdoors. What did we see yesterday in the garden that was yellow? Can you remember the name of a yellow bird? What yellow object did you sketch in your nature journal last week?
If you have a "number of the week", ask them to list objects they have learned about as part of their nature study? Can you name four birds? What are five garden flowers? Can you think of six mammals?
You can use this time to work on your verbal skills by having an object from your nature table to pass to each child. They take turns describing the object using as many adjectives as they can.
Gently work into your circle time some references to your nature study and it will make some important connections as your children get in the routine of observing and learning about their very own backyard.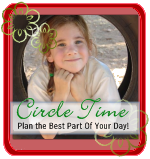 If you haven't had a chance to read about circle time on Kendra's Preschoolers and Peace blog, I highly recommend you pop over and take a look.
Circle Time- Plan The Best Part of Your Day: Kendra has an ebook outlining ideas for circle time and she has generously offered to share a copy with one of my readers. To enter the giveaway, leave a comment here on this entry (one comment per person please). Each comment will have a chance in the random drawing of names on Friday, October 14, 2011 8 AM (EST).
Thanks Kendra.