Nature Goals 2021
2nd Quarter Update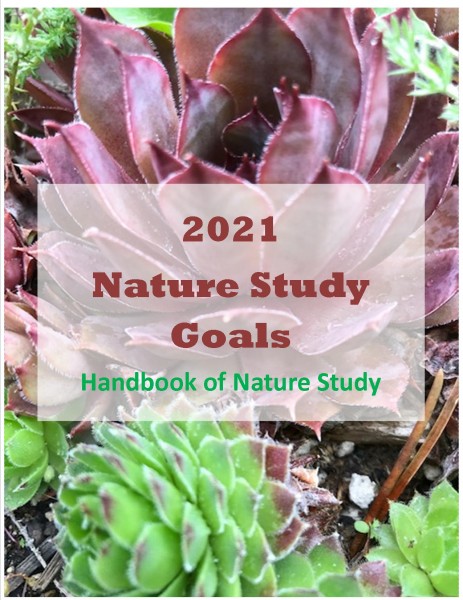 At the beginning of every year, I sit down and create a list of nature study related goals for myself. I realized years ago that without having specific goals to keep me motivated, a whole year could slip by and projects and outdoor activities that are important to me have not been accomplished. If you'd like to read this year's goal entry, you can click here: Nature Study Goals 2021.
Backyard Habitat development:   
I was reading back over the first quarter's entry and I smiled because I said that the second quarter was going to be the time for "heavy lifting" as far as developing a backyard habitat. Nothing could be truer than that statement!
Here are a few of the reflections on what has happened in the garden this quarter:
We nurtured seeds in pots, bringing them in and out of the garage at night to avoid freezing them as they sprouted. Our first round of seeds was eaten by mice! I had to replant everything! (Perhaps there is a small greenhouse in the future to make life easier?)
Weeded and weeded and weeded again as everything began to grow. We had to weed the beds from last year, pluck the weeds from our gravel walkways, sift out the weeds from the native plants. The majority of this fell onto my shoulders since my husband injured his leg and he had to keep from kneeling on it for over six weeks! Weed management is still an ongoing process and it's the way we carefully keep the native plants we desire to have growing in the yard.
Eventually we planted the seedlings in the ground. Once the nights were warm enough and the big threat of a freeze was past, we were able to get all the seeds and seedlings into their garden beds. We did end up adding a few more automatic drip lines to the new plants to make sure they were properly watered.
We were surprised with the number of plants that have reseeded themselves. Practically my whole sunflower bed is filled with volunteer plants from last year's crop. I'm making a note that we may not need to replant as many seeds next year to have the same beautiful results.
It hasn't taken long for the pollinators, birds, toads, and small mammals to make themselves at home in the garden. We added quite a few more water dishes and saucers around the yard and they are busy spots for everyone on the hot afternoons. So many baths and sips of water!
I've noticed that the effort to keep as many native plants in our yard as possible has paid off as far as attracting insects. It has taken careful weeding and observations as plants have matured to decide if they stay or not. I'm still learning but the feeling of success is a wonderful reward for all the time spent with my nose in a field guide and on the internet to determine which plants will add value to my wildlife habitat.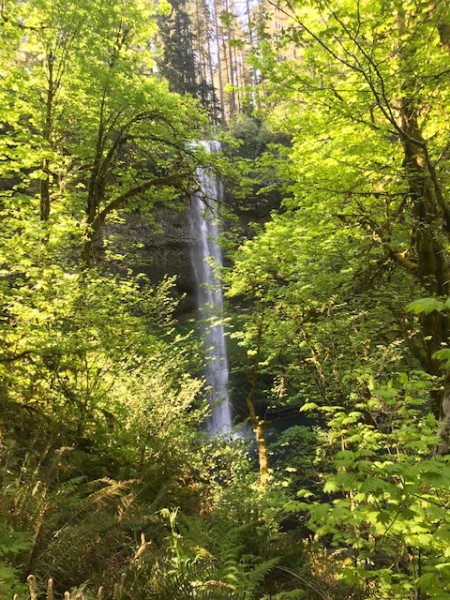 Local Hikes:
We took a day trip to Silver Falls State Park (Oregon) to hike and enjoy the spring waterfalls and flowers.
We didn't have much of a chance to explore any new hiking trails. As I mentioned before, we had to let my husband's leg heal before we could really get out and hike again. It's still my goal to make more local hikes so stay tuned for our 3rd quarter adventures to make up for what we lacked in the last quarter.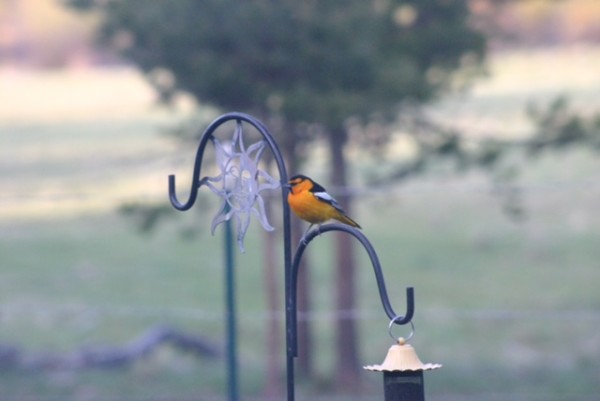 Make notes in field guides
I'm still making notes in my field guides as a way of documenting my observations. Currently, I'm being vigilant about keeping up with the wildflowers, birds, and butterflies that we identify.
I have to say it is thrilling to note a new species and then marking it in the field guide. We had several "new to us" species of birds to note this quarter.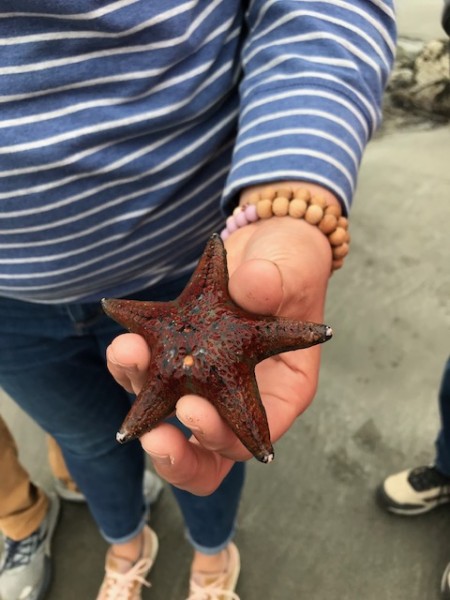 Go camping:
We managed to fit in two camping trips this quarter.
In April, we went camping on the Crooked River, near Prineville, Oregon. It was a SUPER windy weekend but not too cold. We were able to hike up and down the river in both directions. The shrubs and wildflowers were just beginning to come to life, and a few were in bloom. My husband did a bit of fishing and I spent time working on my nature journal.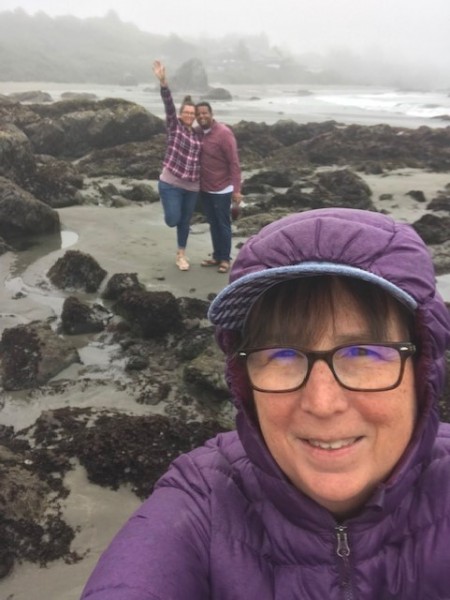 In June, we traveled over to the southern Oregon coast to camp with a couple of our children. What a great time! The tidepools were amazing because there was a negative tide (which means the low tide exposes things normally under water). We had a couple of beach afternoons in the sun, did a little kite flying, and hiked along the Oregon Coast Trail. It was a perfect week! Even the foggy days were a welcome change from the 100+ degree heat at home.
What do you think? Does it count that I camp out in my own backyard several nights a week?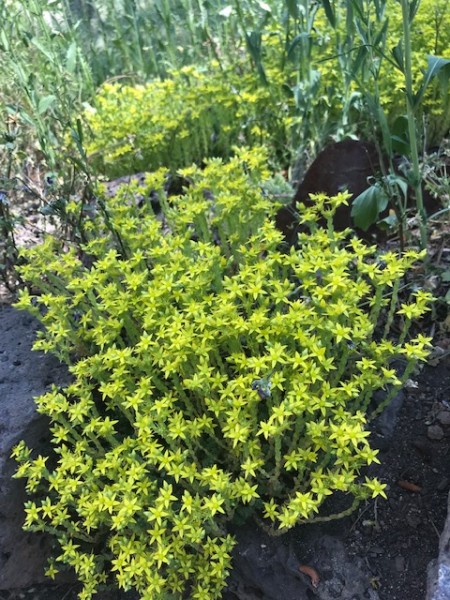 Learn about succulents
I've been trying to identify the succulents that live in my yard. I waited until this one was blooming to identify it with my field guide and the internet. It appears to be a kind of stonecrop. Whatever kind it is, I think its bright yellow flowers are gorgeous and I'm glad it's growing in a spot I can let it spread.
Learning about succulents is a long term project that I'm really enjoying. I have several other succulents ready to bloom so I hope to share them in my 3rd quarter update.
So what about you? Have you created nature study goals for your family?
Could you use some help in keeping nature study a regular part of your week?
You can join as an Ultimate Naturalist Library member and immediately have access to hundreds of nature study ideas and printables.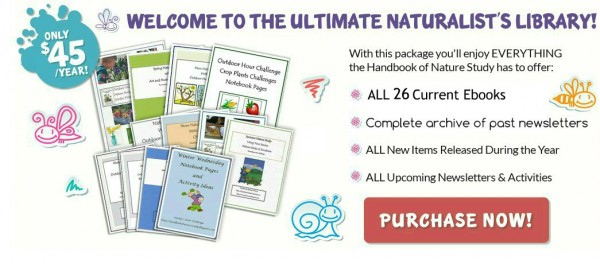 Click the graphic above to see the complete benefits of a membership. Join and make 2021 the best year of nature study ever for your family!
Use the discount code NATURE5 for $5 off an Ultimate Naturalist Library membership!