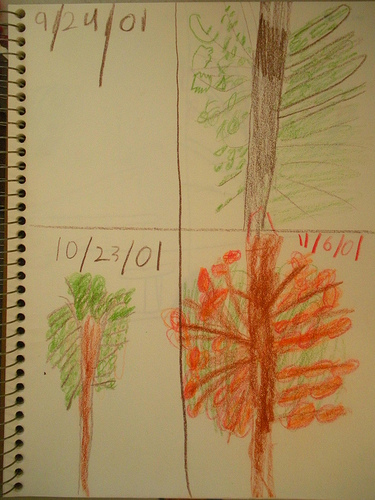 Tree Study Sketches
"Correlation of nature-study and drawing should give excellent results to both subjects. The nature-study should afford objects in which the pupil is genuinely interested; the drawing should aid in focusing the observation and making it accurate. Drawing should be encouraged primarily for the purpose of discovering what the child really sees. As the child sees more, and with greater accuracy, the drawings improve. So the drawings become the approximate measure of the progress of the pupil. Do not measure the drawings merely as drawings, or from the artist's point of view. We are likely to dwell so much on the mere product of the child's work that we forge the child. Too early in the school life do we begin to make pupils mere artists and literators. First the child should be encouraged to express himself; then he may be taught to draw and to compose."
Liberty Hyde Bailey The Nature Study Idea pg 225
Don't forget to send in your Outdoor Hour Challenge blog entries for the Blog Carnival. The deadline is June 29, 2011 and I will post the carnival on 6/30/11. If you have trouble entering, please feel free to email me your link but try to use the form first. Several of you are receiving errors when you submit and I have no idea what the issue or how to fix it.
Here is the link: Outdoor Hour Challenge Blog Carnival
You will need to scroll down to the "submit an article" button.
Added incentive: Every entry submitted will give the writer a chance to win the June Newsletter Challenge Giveaway for the Squirrel-Buster Birdfeeder!
Make sure to download the June Newsletter before 7/1/11.