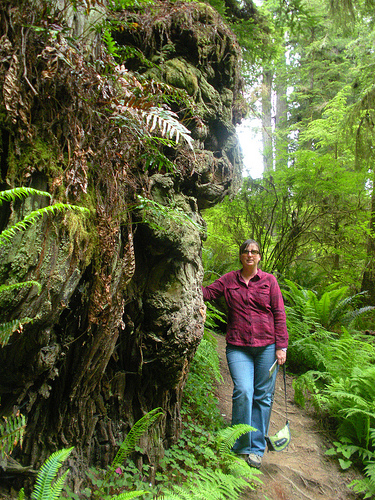 Jedediah Smith Redwoods – Boy Scout Tree Trail June 2011
Our camping trip to the Oregon Coast was glorious. The weather was perfect without even a sprinkle or a cold day! We enjoyed sunshine, sand, and trees all up and down the southern coast of Oregon. Although I could fill a complete post with our adventures, I want to focus on our tree study that was completed right in our campsite.
We were prepared with some notebook pages and a field guide so this was not only an easy study, it was informative and interesting. The campground had a brochure that discussed the common plants and trees to be found so it was our starting point. We read through the brochure and decided to focus our tree study on the Sitka Spruce. Turns out our campsite was surrounded by them!
We looked up the identifying marks of the spruce as well as looked at the images of the needles, the cone, and the trunk. We discovered that the Sitka Spruce is found along the fog belt of the coast of North America.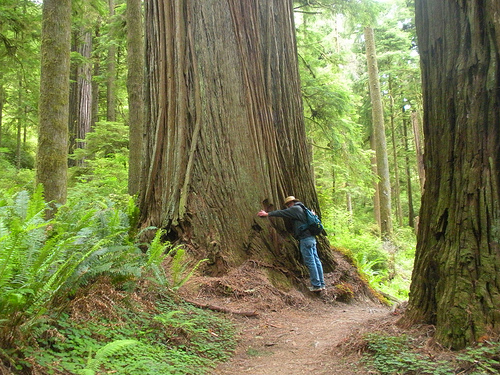 They are not quite as tall as the Coast Redwoods we experienced most of the week but they are still very tall trees. The photo above is my husband showing how large the base of this Coast Redwood is on one of our hikes. These trees make you feel small and insignificant. We would hike along and one of these ancient ones would come into view and it would make you stop dead in your tracks. Breathtaking.
Even though the Sitka Spruce is not in the HNS, we looked up the information for the Norway Spruce and used the suggestions in Lesson 186 to learn more about spruces in general. We observed the needles, the cones, the bark, the shape of the tree, the roots like buttresses, and the way the limbs droop.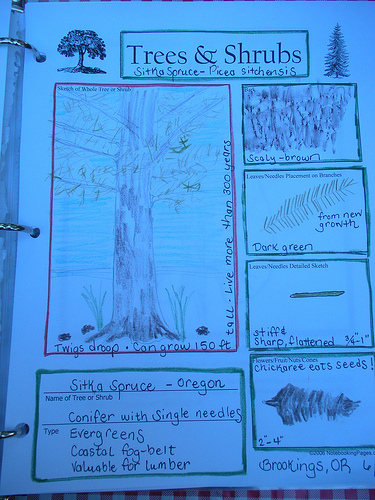 NotebookingPages.com – Nature Study Set. I like to embellish mine a bit with colored pencils.
Somehow I misplaced the photos I took for our study so now I am glad that we did the sketches on the notebook pages for our journals. We enjoyed our simple vacation nature study….one of many we did on this trip.
Here are some other things we observed and read about: harbor seals, trillium, fuchsia, gumboot chiton (sea creature in the tidepools), Winter wrens, huckleberries, and owls. There is a story to every nature study we did and if I had time I would relate them all but for this entry I will stick to our tree study.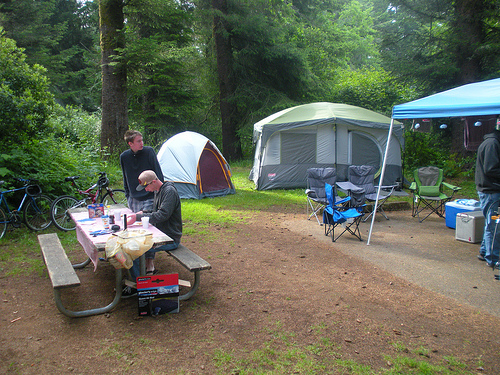 Here is the best shot I have of the Sitka Spruces around our campsite. We could have spent our week focusing on the many plants, birds, and trees of this place and not run out of interesting things to think about. Eating and sleeping under the spruces made our study even more meaningful.
Okay, do you love my new tent? It is 6 1/2 feet tall and even my really tall husband and boys can stand up inside it without rubbing their heads on the ceiling. I love the hinged door too! This was our first outing with it and I think it is going to serve us for a long time.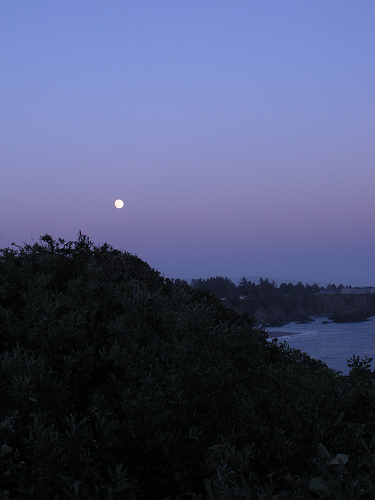 Just a pretty shot I took one night while we were out for a sunset walk…the moon was incredible the whole time we were camping, a natural nightlight.
So there you go…our vacation tree study. Wish every tree study could be this up close and personal.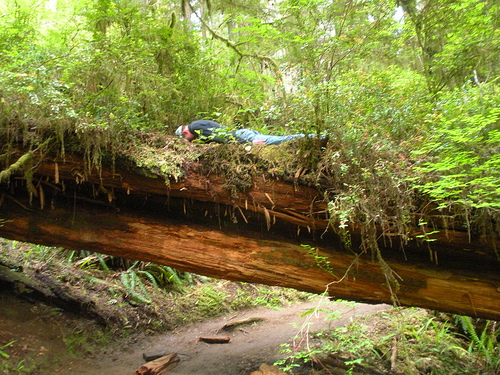 Well maybe not that up close….my boys have decided Planking is rather a fun activity.