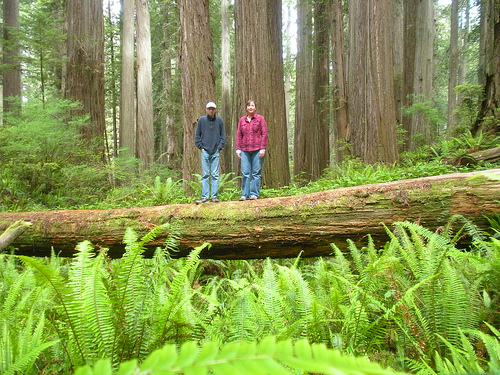 Boy Scout Tree Trail – Jedediah Smith Redwoods
We had the opportunity to take several hikes in Jedediah Smith Redwood State Park while on our trip to Southern Oregon. No matter where you go in this area of California, you are going to see some spectacular trees and other plants of the redwood habitats. In a matter of minutes, you can be on the trail, hiking along the forest floor, bordered by ferns and wildflowers. There is always a bird singing somewhere in the forest and since you feel as if you are all alone you realize it is singing for your enjoyment.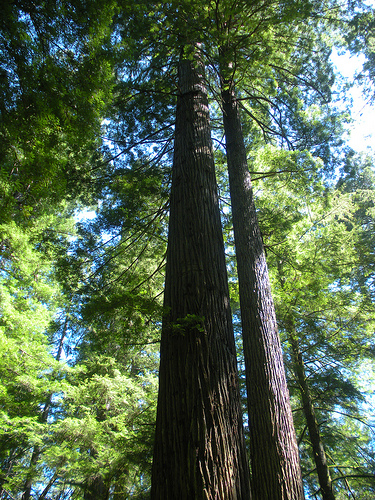 Look up there at those redwoods….in the sky…practically.
There is no chance of missing these ancient trees when are right there hiking under them. On some places along the trail you can reach out and touch the soft fibrous bark. In other places you have to literally climb under or through downed redwoods. This is the best way to get to know these quiet giants.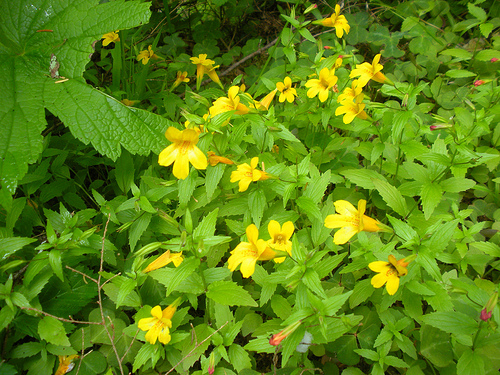 Looking down wasn't so bad either…these are monkeyflowers.
When all around you are tall redwoods, it is easy to forget to look down and notice the floor of the forest with its carpets of Redwood sorel and other colorful wildflowers.
I love this flower! We actually stopped and just enjoyed the color of the bloom and as we stood there another couple came along and wanted to photograph the flower since it was new to them. I was so glad that I had read my field guide before we hiked to refresh my memory with some of the flowers we would more than likely see. I was able to share the name of the flower which is always fun.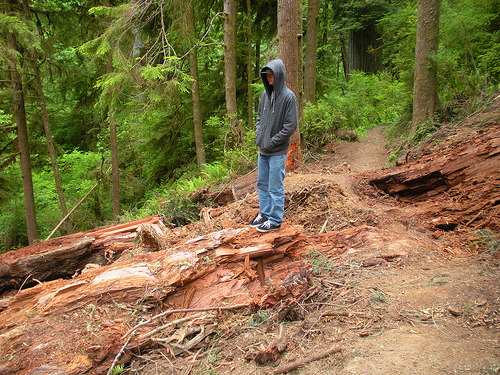 We saw lots of downed trees that appear to be melting into the forest floor. Even in their death, these trees provide a living habitat for other growing things.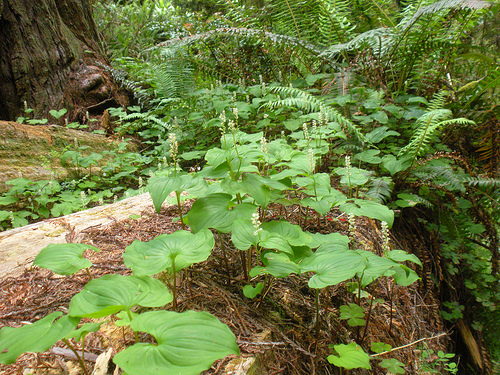 Like these False Lily of the Valley plants…..isn't it great how the forest just fills in when a tree falls?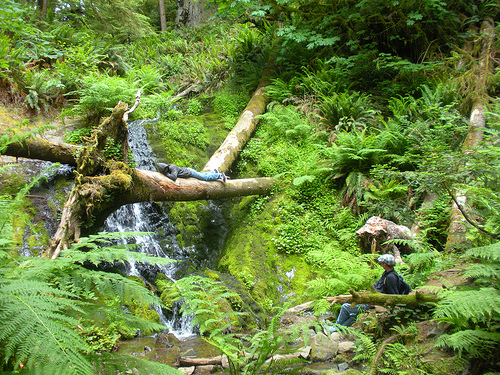 Fern Falls was found at the end of one of our hikes….time to just stop and drink it all in. Time for a nature journal for me and climbing up to the top of the falls and then out on the log for Mr. A. It was hard to tear ourselves away to make the hike back. It was an awesome hike. (Fern Falls is at the end of the Boy Scout Tree Trail.)
If you venture to Redwood National Park in Northern California, don't miss driving Howland Hill Drive. Even if you just take the drive and don't get out of the car, roll your windows down and enjoy the scenic road winding around the redwoods.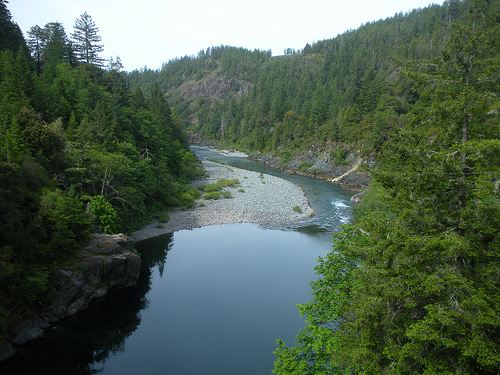 There is also a lovely river that runs through the park. Here is the Smith River in all its glory. A few years ago we camped right next to the Smith River at Panther Flat….quiet campground with nice spots for tents.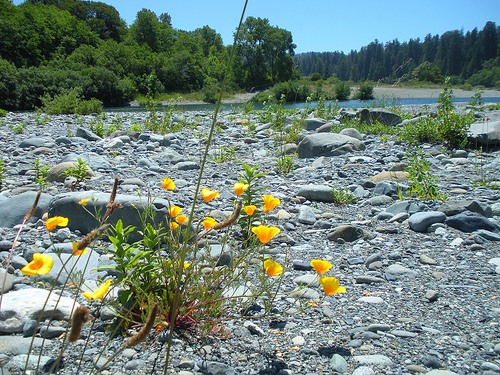 There is no shortage of hikes to try in Jedediah Smith Redwoods. We drove down Walker Road all the way to the end and then got out to walk along the river. I love the poppies sprouting in the river rocks. It was a fine way to end our stay at the redwoods part of our trip.
Hope you enjoyed my Oregon/Redwoods series. We certainly had a wonderful, wonderful time getting out and spending time as a family in the wide open outdoors hiking and camping.
Oregon Tidepools 
Oregon Coast Hiking
Speaking of wide open….my boys and I are going to heading out again soon to another part of the west, Grand Teton National Park. You can be sure we will share those experiences as well.