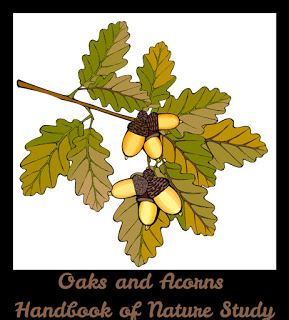 We are starting a new theme for the month of October – Trees! 
For this whole month we will be enjoying trees in our backyards and neighborhoods during our Outdoor Hour time and then following up with some exciting activities. Make sure you are subscribed to my blog and you will get the download link for the October Newsletter in the next blog entry mailed to your inbox.
Outdoor Hour Challenge:
One of the most popular trees that we study here on the Handbook of Nature Study is the oak tree. The oak has many interesting aspects including its leaves, bark, acorns, and the habitat that it provides to animals and birds. This week you can choose one of the previous oak tree challenges to complete when you find an oak tree subject. Make sure to read the suggested pages in the Handbook of Nature Study. Keep your eyes out for oaks and acorns!

Oaks and Acorns (2009 Autumn Series)
Oak and Leaf Activity Suggestion:
This week the challenge extra is a creative way to slow down and look at leaves.
This project which came from The Artful Parent (via Pinterest) is a simple activity where you collect leaves and then thread them onto a stick. I love the variety of shapes and colors and as we work our way through October there should be an opportunity for your family to collect and then make a leaf stick. We found this works best with leaves that are not too dry and brittle. Make sure to include photos of your leaf sticks in your blog entries and then submit them to the blog carnival.
You also may be interested in trying some of the ideas in this Hearts and Trees entry: Things to Do With Acorns.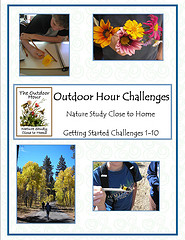 Getting Started Suggestion:
If you already own this ebook, this week's challenge would be a great addition to Challenge #10-An Outdoor Picnic. Find a majestic oak or another tall tree to spread a picnic blanket underneath and enjoy as you have a snack or meal. Bring along a book to read (see widget below for some suggestions).
If you need an explanation of how the Outdoor Hour Challenge is going to work from this day forward, please read this entry:
Nature Study Using the Outdoor Hour Challenge – How to Steps and Explanation.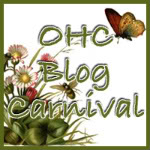 You are welcome to submit any of you blog Outdoor Hour Challenge blog entries to the Outdoor Hour Challenge Blog Carnival. Entries for the current month are due on 10/30/12.