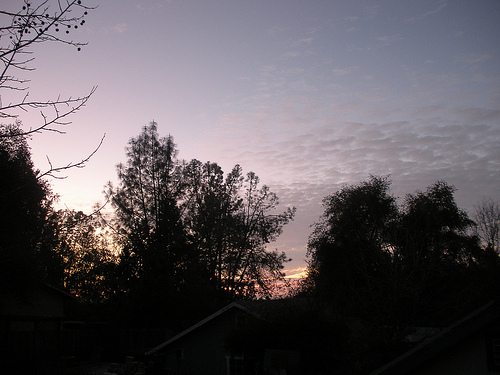 Beautiful Pink and Lavender Sunset
We have been out a few nights in the past week to gaze at stars even if it was for just a minute or two. The moon was very bright and we even saw it early in the morning a couple of times, peeking out from between the pines on the horizon. I think the moon impressed us more than the stars. We have been focusing on stars all this school year so I just went with what the boys were interested in learning about.  The next full moon is on February 18, 2011 and is know as the Full Snow Moon.
I ordered a new book for them because of their interest in learning more about the Apollo landings on the moon and the Apollo program in general. I know it doesn't look like a very deep book but it gets builds their interest and helps them to know what they can research more on their own. It is another one of those books that I will keep on the coffee table for a few months and let them browse it at their leisure.
The other interesting subject that came our way was a bat! We were out at sunset and here was a bat flying and swooping around our backyard. We were surprised to see him but it was fun to watch as he flew around and around putting on an acrobatic show.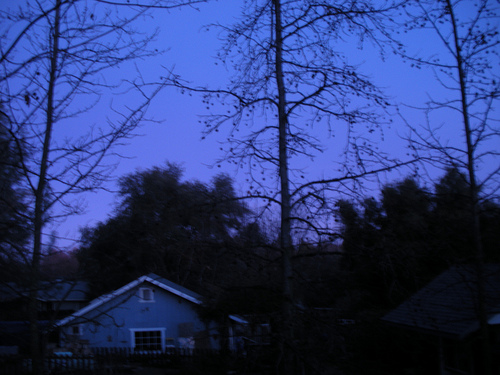 Purple Sunrise…Looking West
My son pointed out this purple sunrise sky…this is facing west so the sunrise is behind us. It is the same spot that the very top photo was taken at sunset. I had a hard time getting the color right and had to take about twenty images on different settings to get it to come out. It was really this purple.
If you are looking for a journal to use over long periods of time for star gazing (or moon gazing), we found a perfect one that my son has been using all year.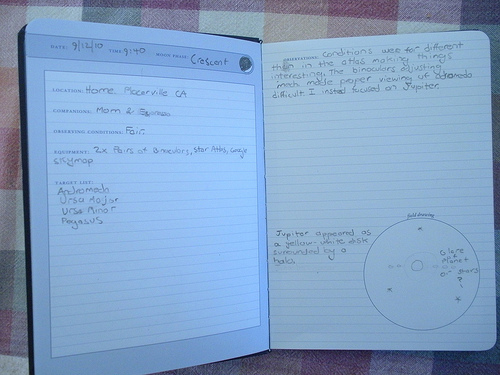 It is called Stargazing Journal and it has pre-printed pages for you to record each night time session you have. There is even a place on the page for a sketch of your observations. I like that it is hardbound and has an elastic closure.
I have really enjoyed reading other family's star entries and I encourage you all to give it a try. It doesn't even need to be a long session but just calling attention to the winter sky's beauty is even enough if that is all you can fit in. Do a sunset or a sunrise study if you can manage that for this challenge. I guarantee if you put in the effort, you will be rewarded.
Have a great week and I will post up the next challenge tomorrow.
Don't forget to submit your January Outdoor Hour Challenge and Winter Wednesday entries to the OHC Blog Carnival. The deadline is this coming Monday, January 31st.