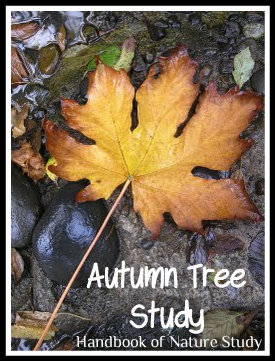 "Children should also become familiar with trees at an early age. They should pick about six in the winter when the leaves are gone, perhaps an elm, a maple, a beech, etc, and watch them during the year. In the winter they will see the color of the bark, the way the branches grow and the thickness of its build."
Charlotte Mason, volume 1, page 52
The Outdoor Hour Seasonal Tree Study started in the spring and will complete its cycle in the winter. Our family has been anticipating the changes that come with fall. The last week or two has brought about some *huge* changes in our tree and we are anxious to focus this week on our journal pages.
Outdoor Challenge #36
Seasonal Tree Observation-Autumn
1. We started a tree study project way back in Challenge #11 and made our first observations of our tree. Then during the summer we completed a summer observation of the same tree in Challenge #20. If you would like to review this section in the Handbook of Nature Study, you will find it on pages 622-626. This week the challenge includes making the next seasonal observation of your tree. Lesson 172 on page 623 includes five suggestions for studying your tree during autumn. If you are just joining the challenges, pick a tree from your yard, your street, or a near-by park to observe over the course of the next year. Check in the Handbook of Nature Study to see if your tree is listed there and then do the reading about that particular tree. There should be some suggestions for observations that you can follow. You can use the prepared seasonal tree study page to record your observations.
2. Take your 10-15 minute outdoor time to study the tree you are going to observe over the next year. You can take photos of your tree to put in your nature journal or you can sketch the tree in your journal. If you need help with tree sketching you can use this resource.
Clare Walkers' Tree Guide
3. After your outdoor time, complete your Seasonal Tree Study notebook page or record your tree observations in your nature journal. Take a few minutes to talk about your time outdoors to see if there is anything that your child wants to learn more about. Follow up any interest shown.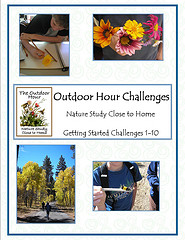 You can purchase all of the first ten challenges in a convenient ebook along with custom notebook pages.