Outdoor Mom
August 2021
Prime Summertime Delights
Please note you can purchase a membership right now for $35 using the code GREATDAY. Code expires on 9/10/2021.
Waking up to birdsong has become my favorite part of summer. It starts early! Mid-July it started around 4:30 AM and it has gradually become later and later, until those morning serenades have stopped. The departure of so many of the dawn singing birds has been replaced by a nip in the air and shorter days. How does that happen so fast?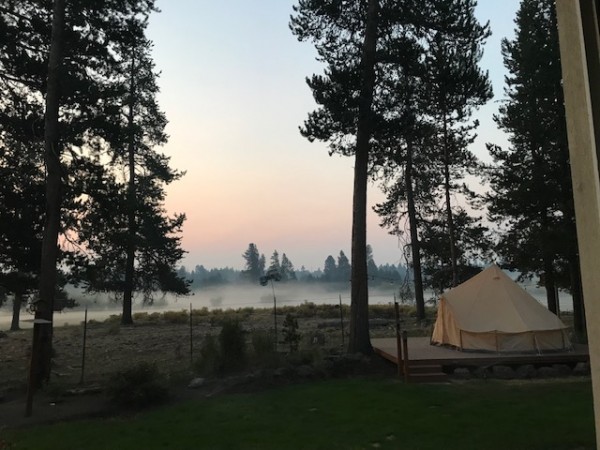 You may wonder how I know that the birdsong starts so early. Well, we spent most summer nights sleeping in our backyard tent. The birds would be so loud that they would wake me up! I heard many a nighttime owl duet from the resident great horned owls. Then there were the frogs in the river meander behind our house that make a ruckus most nights. Finally, the last few weeks we've had the sound of yipping and howling coyotes. It's hard to believe there's so much going on outside, but it's there if you happen to listen.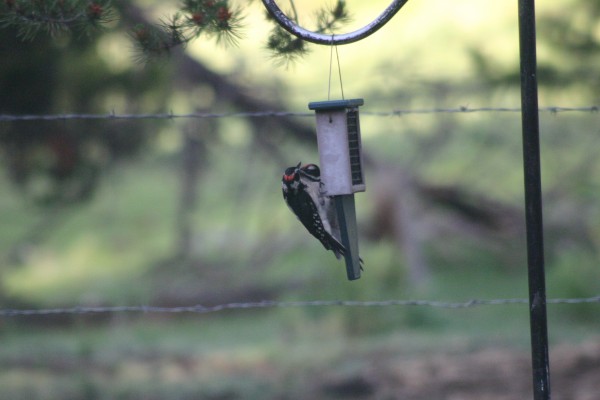 Late Summer Changes
Most of the robins have flown on, the swallows are gone, the bluebirds are scarce, hardly a red-wing blackbird to be seen. The sounds now are of chickadees, finches, doves, and flickers. I've been reflecting on the coming and going of the birds as the seasons change. I looked back in my journal where I noted we saw our first robin and red-wing on March 1, 2021. I remember that day with great fondness, happy day indeed. The summer bird season went by entirely too fast.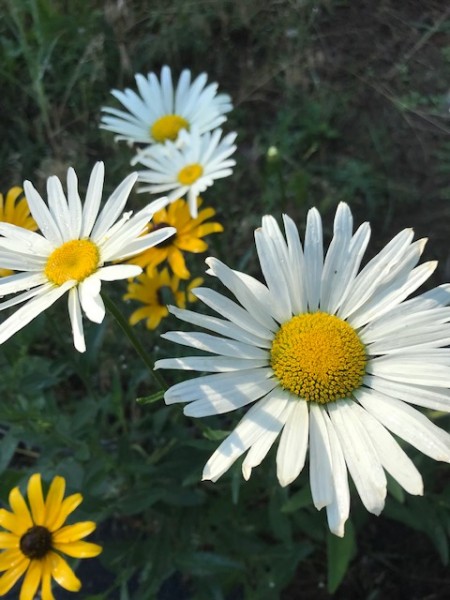 As I write this entry, our garden is still in full bloom and I spend many days watering, weeding, and cutting flowers. I call it my garden therapy. I sometimes linger sitting on the garden bench just so I can watch the creatures who come to visit. There are hummingbirds in the flowers, bees buzzing around, and all kinds of birds who come to take a bath or drink from the bird baths. There are a few chipmunks who zip in and around the garden when they think no one is watching. If I'm lucky, there will be a butterfly, or a dragonfly come to check things out.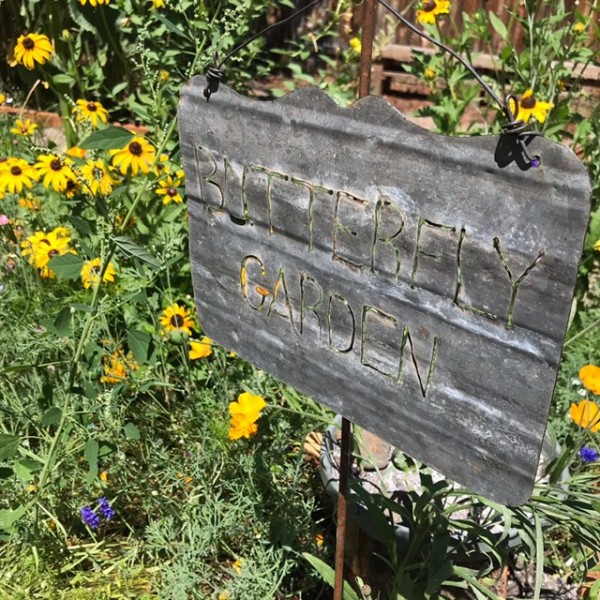 I make mental notes of what grew well in the garden and what I would like to do differently next year. I create new plans in my head for areas that need improvement and I also make a mental list of the things that failed.
Some days, our kids show up and entice us down to the river for a kayak. We drag the boats down to the riverbank and slip into the shallow water as we make our way downstream. The river is low this time of year and it's not unusual to see a few fish or crawdads as we float over.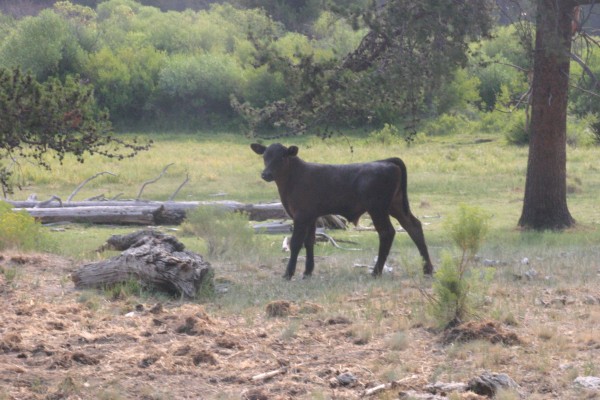 The grasses are still quite green from the thunderstorms we've had this month. This means the cows and calves are still living out back where we enjoy their antics as they spend their long summer days grazing and sitting under our trees out back. They often are right along the river's edge as we make our way down river. We noted a brand new calf with spindly legs and soft brown eyes, we named him Hot Cocoa.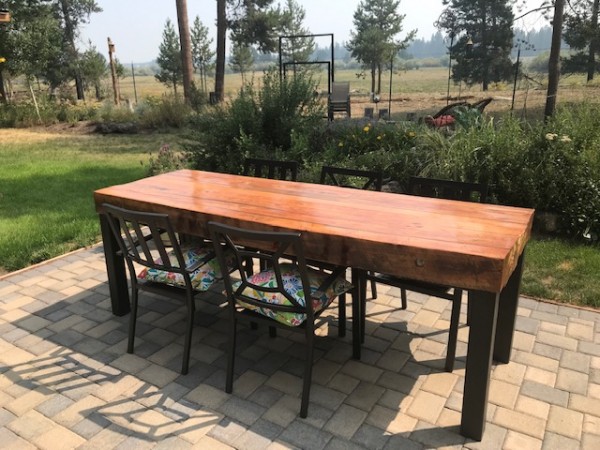 Now I find myself trying to muster up enthusiasm for the autumn and all the changes that come with it. Most people welcome the autumn, but it makes me feel unsettled. Perhaps it's because I don't like change and the replacing of my warm, summer sunshine-filled days with the unpredictability that comes with autumn in Central Oregon. We could have a warm day, a cold day, a snow day, or all the above all in one day.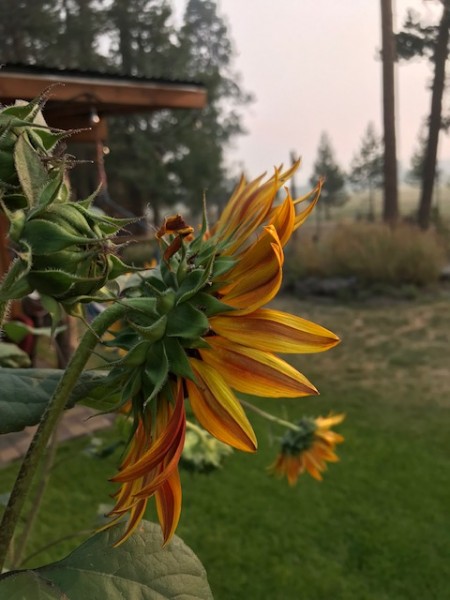 The falling leaves and withering flowers make me sad. The putting away of the lawn furniture and the potted plants and taking down the flower baskets….so melancholy.
I have in the past found it helpful to make an Autumn Bucket List of things I look forward to doing to make the season a little more positive in my eyes. So, I will do that this year in anticipation of trying to put some joy in my autumn. Maybe that will take my mind off the winter season which is cold and long here in La Pine. I can always hope anyway.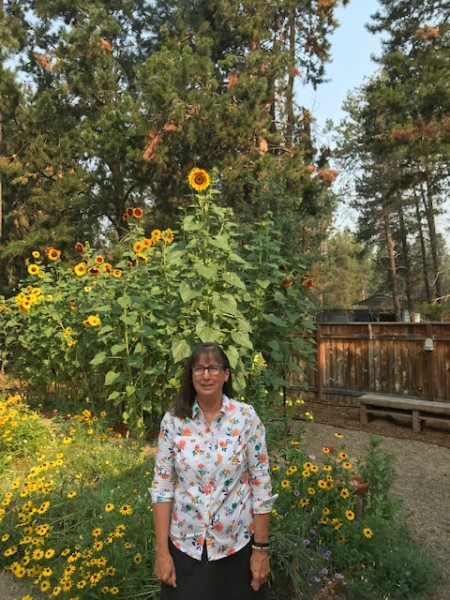 This summer is drawing to a close and I have saved up some memories to pull out on long winter days. This mom is grateful to have had a garden to enjoy this year and a place to spend my days close to the plants and animals who share my space. I also appreciate the ability to share it all with you dear readers.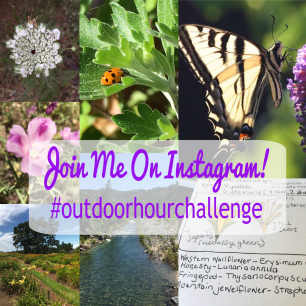 You can follow me on Instagram to see more of our outdoor life here in gorgeous Central Oregon.
Want to join in the Outdoor Mom post?
Answer all or just one of the prompts in a blog entry on your own blog or right here on my blog in a comment. If you answer on your blog, make sure to leave me a link in a comment so that I can pop over and read your responses.
During our outdoor time, this month we went…
The most inspiring thing we experienced was…
Our outdoor time made us ask (or wonder about) …
In the garden, we are planning/planting/harvesting…
I added nature journal pages about…
One last image…