You can plan a simple outdoor picnic with the benefit of homeschool nature study! Even a snack in your backyard will make for a fun time together outdoors. You will be surprised at all you notice while you are outside.
"..by beginning with the child in nature-study we take him to the laboratory of the wood or garden, the roadside or the field, and his materials are the wild flowers or the weeds, or the insects that visit the goldenrod or the bird that sings in the maple tree, or the woodchuck whistling in the pasture."

Handbook of Nature Study, page 21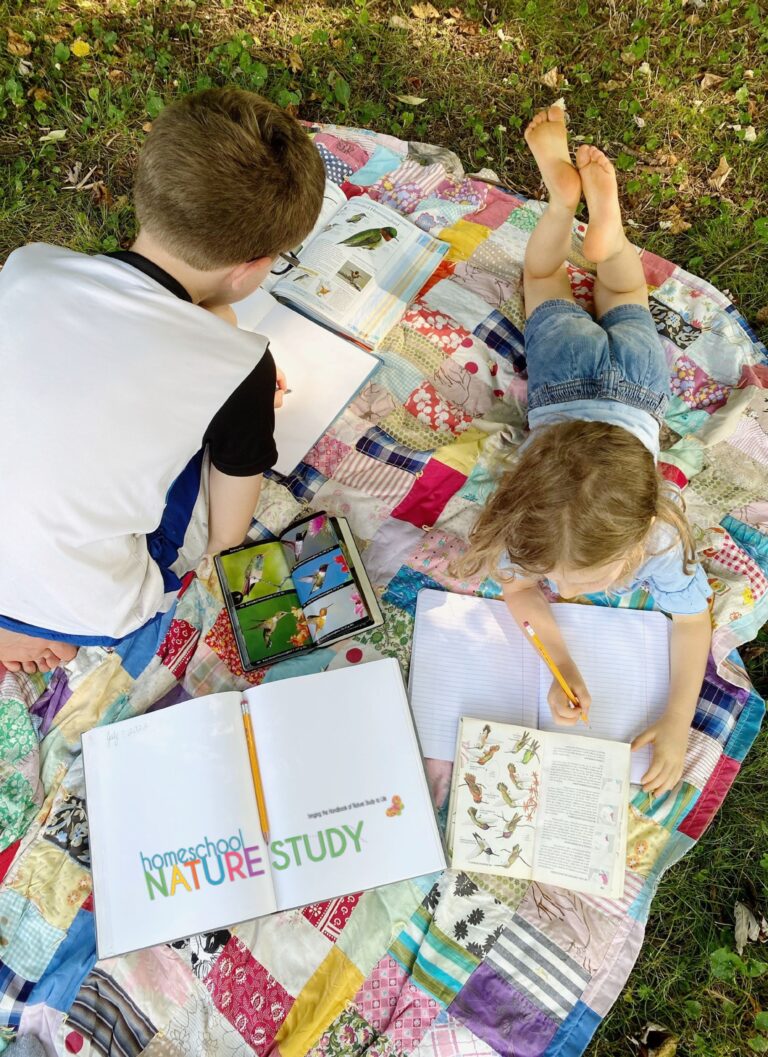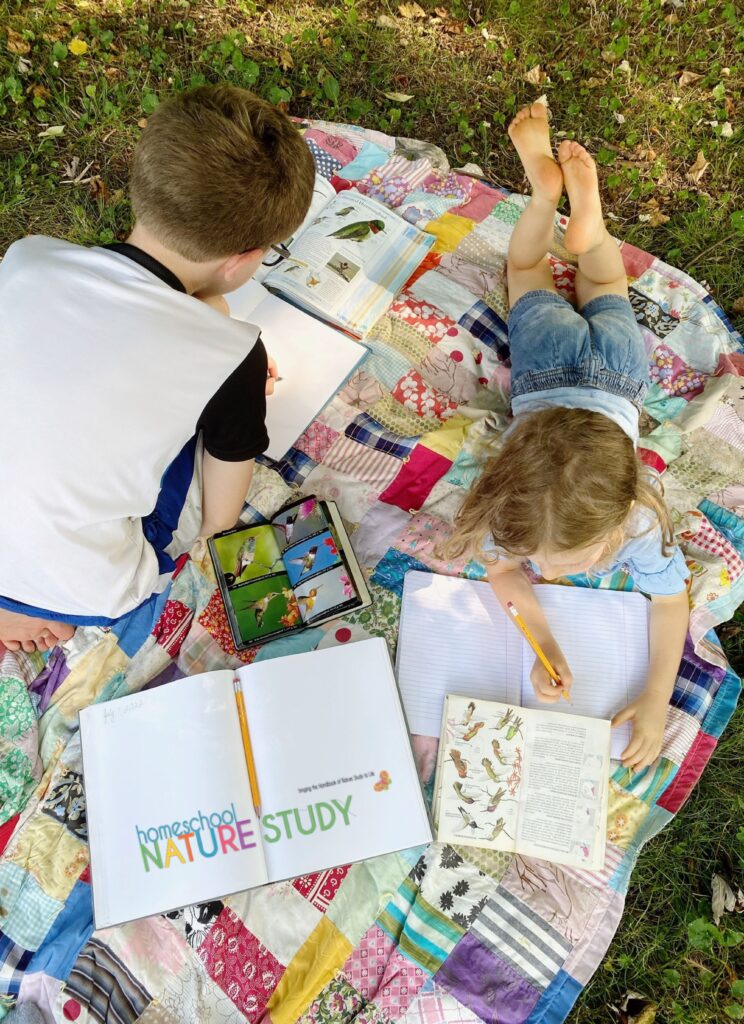 Ideas for How to Plan an Outdoor Picnic
Picnics don't need to be fancy. Wrap up a sandwich in a cloth napkin, grab a piece of fruit, and some water and you are set. Venture outside even if it is only to your own yard to sit on a blanket and enjoy your lunch. Afterwards you can make time for a short period of nature study.
I love eating outside with my family, especially in the summertime. This week's Outdoor Hour Challenge encourages you to share a meal outside with your children. Keep it simple as far as food selections and location. Even if all you do is put a few things in a bag, grab a blanket, and then spread it all out on your own backyard lawn, I'm sure you and your children will enjoy the fresh air and the time spent outdoors sharing a meal.
Our family looks back fondly on the meals we shared outside in the summertime on our back deck. It made us slow down a bit and take notice of the things that happen outside like clouds floating by, birds chirping, and trees swaying in the breeze. We watched loads of sunsets and I remember a few times being sprinkled on by a passing late afternoon thunderstorm.
Our family eats dinner outside every night from June to September….longer if the weather allows. We have arranged our patio table under a canopy and the citronella candles are always kept nearby. We have a tree that the hummingbirds sip nectar from in the dusk hours and after our meal we sit and observe their dinnertime.
"…When the weather is warm, why not eat breakfast and lunch outside?…Besides the benefit of an added hour or two of fresh air, meals eaten outside are often delightful, and there's nothing like happiness to convert food and drink into healthy blood and bodies."

Charlotte Mason, Outdoor Life pg 43
Summer Nature Study Tip
Purchase some inexpensive, unbreakable dinnerware and reusable utensils. Make sure you have a small ice chest and some cooler packs to pop into your freezer. Gather a blanket or camping chairs to leave in your garage for those last minute excursions to the park for a picnic. Make sure to bring your nature journal and some pencils so you can create a nature journal page if the opportunity arises during or after your picnic.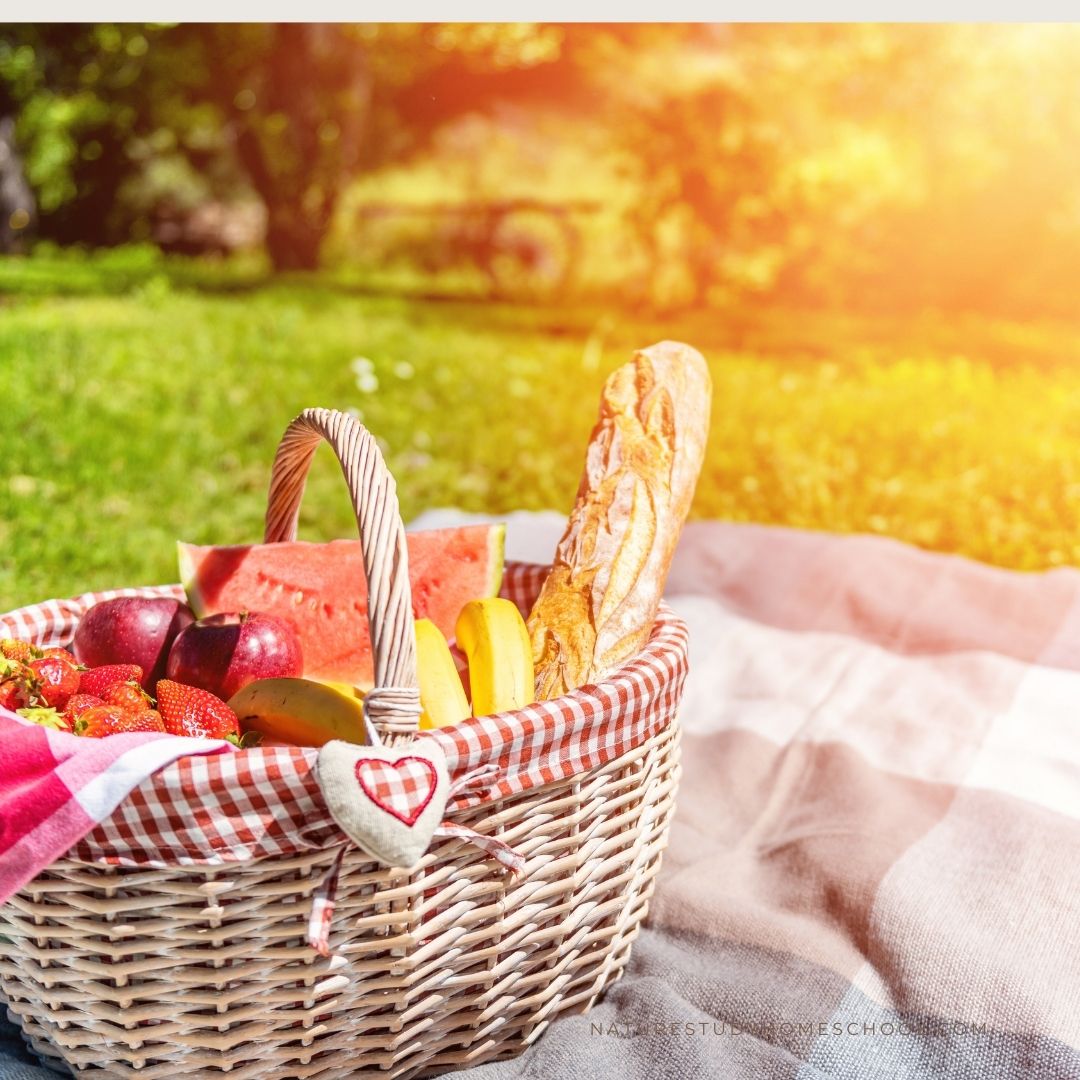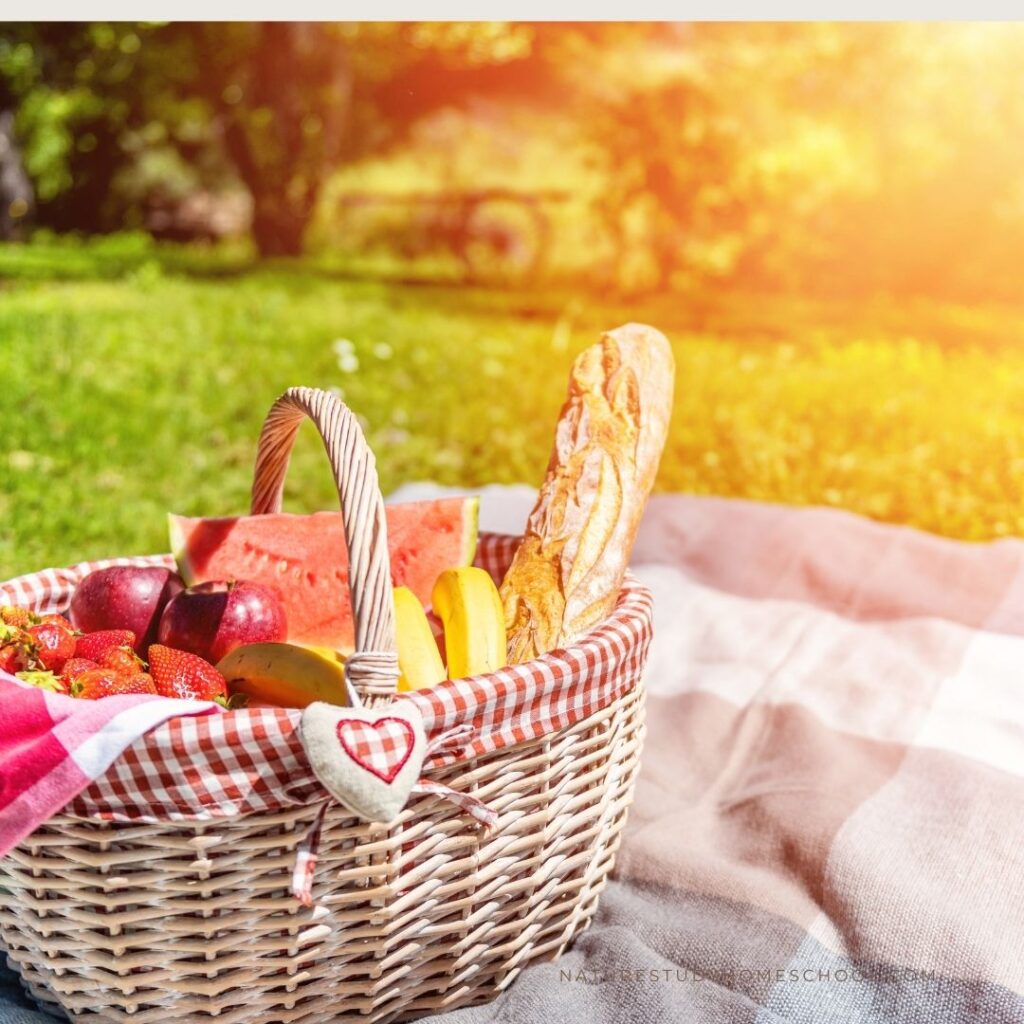 Outdoor Hour Challenge Picnic
1. The challenge is to have a picnic. No need to go far or to even have a picnic table. Food always tastes better outside and if you don't want to commit to a whole lunch, why not just a snack?
After you eat, sit and listen to the sounds of the spring.
"Given the power of nature to calm and soothe us in our hurried lives, it also would be interesting to study how a family's connection to nature influences the general quality of family relationships. Speaking from personal experience, my own family's relationships have been nourished over the years through shared experiences in nature-from sharing our toddler's wonder upon turning over a rock and discovering a magnificent bug the size of a mouse, to paddling our old canoe down a nearby creek during the children's school years, to hiking the mountains."

Last Child in the Woods by Richard Louv
2. After your picnic, spend 10-15 minutes observing your surroundings. Add anything new to your list of items observed in your focus area that you are keeping in your nature journal. Make note of any additional research that needs to be done for things your child is interested in. Make a journal entry if you wish.
This challenge is found in the Getting Started ebook which is included in Homeschool Nature Study membership. The ebook provides the challenge as shown above as well as custom notebook pages for your follow up nature journal if desired.
Homeschool Nature Study Members Have Great Resources at Your Fingertips
Consider working through the first three Outdoor Hour Challenges in the Getting Started ebook. These three challenges can help build your nature study habit. I highly recommend following the suggestions for reading in the Handbook of Nature Study that go along with those challenges. The words expressed in those readings include timeless advice to parents about the value of regular nature study close to home. Make sure to have the printable nature journal pages bookmarked in case your child is ready to create a record of their Outdoor Hour Challenge.
#1 Let's Get Started
#2 Using Your Words
#3 Now Is The Time To Draw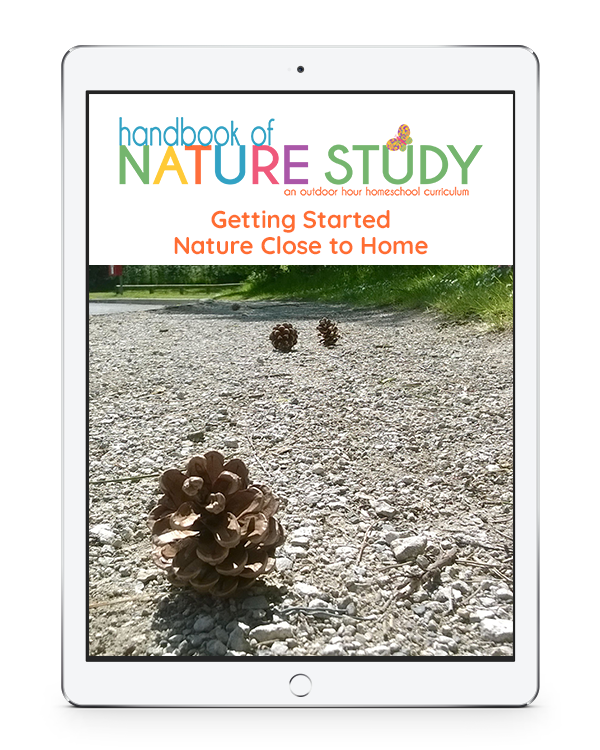 Get your FREE Getting Started: Nature Study Close to Home (includes these challenges!)
Look for the Outdoor Hour Challenge Planning Pages printable in the Planning Resources course. Use these pages to make a rough plan for your nature study.
If you're not a member here at Homeschool Nature Study yet, please consider joining to gain the benefit of having a nature study library at your fingertips. There are numerous resources available for you to help create the habit of nature study within your family.
by Barbara McCoy, Outdoor Hour Challenges founder