Spring Ebooks from the Ultimate Naturalist Library!
Getting outside with our children has been the sanity saving activity we all needed this past year. As spring approaches, have you considered adding a little nature study into your weekly routine? I've heard from families that they were reluctant to start a nature study plan, stating that they thought it would restrict their freedom to focus on one topic. But, they found that having a focus each week actually helped them to stay regular at getting outside and it helped them be better at taking a few minutes to learn about an object they encountered, even if it wasn't the original aim for getting outdoors.
The key is to make a regular habit of getting outside and taking note of things that interest your family.
If you're looking for a more "free form" style of nature study, I invite you to read this post from my archives: Focus and Consistency
Spring is a fantastic time to start a season of nature study. Please see the ebooks listed below along with their specific topics. Consider working through an ebook or you can pick and choose subjects from any of the ebooks. Without a lot of extra effort, you can customize your spring nature study by picking your favorite topics from any of the ebooks listed.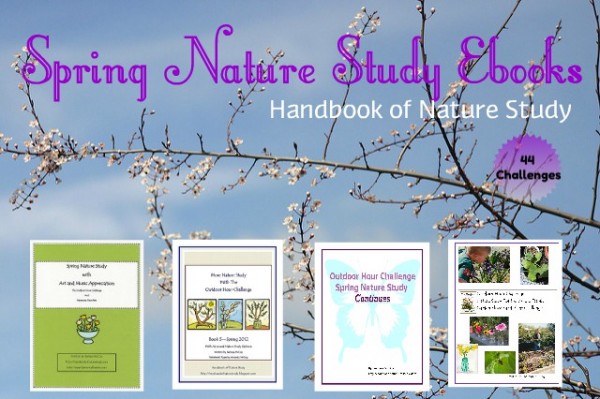 Spring Nature Study Continues
Did you know this ebook also contains art and music appreciation?
More Nature Study Book #3 Outdoor Hour Challenges – Spring Splendor
Spring Series 2010 Ebook Challenges:
The Garden Flower and Plant Challenges in the Ebook: 
The Ultimate Naturalist Library currently has 26 ebooks covering hundreds of topics. There are 76 newsletters in the archives and dozens of printables available too!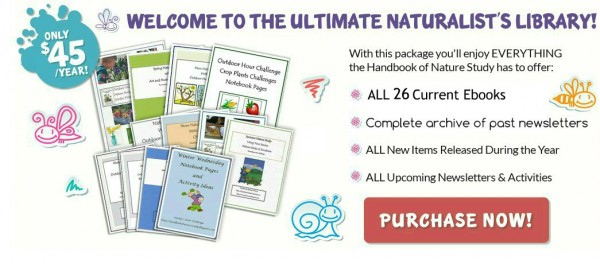 Please click over to see all the benefits of a membership here on the Handbook of Nature Study.
Right now, I'm offering a super discount just to get you started.
Use the discount code SPRINGFUN to receive $10 off an Ultimate Naturalist Library membership! The discount code will expire on 3/27/2021.
The current library contains 26 ebooks covering hundreds of topics. There are 76 newsletters in the library and dozens of printables in addition to the ebooks!