Maybe it is in anticipation of starting the Spring Series of Outdoor Hour Challenges, but I am very much alert to the signs of spring around us. Mr. A and I were in the backyard doing some clean up and we noticed the winged parts of the sweet gum tree for the very first time ever. How could we have this tree in our yard for over a decade and not notice them before?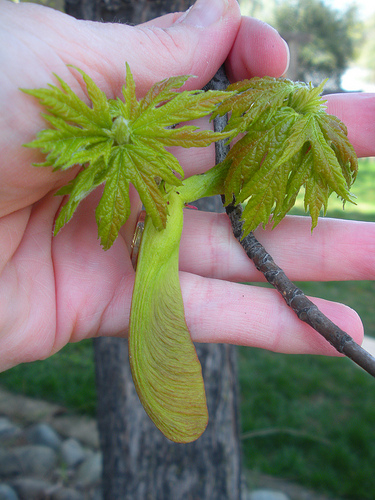 Does anyone know what these actually are?
Edit to add 3/31/10: After a few comments and some investigation on my part, I have come to the conclusion that this is not a sweet gum as we thought but a maple. I would like to thank those of you who commented about it being a maple this morning and helping me.
Here is what I wrote to Amy in an email:
I guess what has stumped me about this particular tree is that my husband is dead set that he planted a row of four sweet gums. I was thinking that this tree had the sticky balls on it but after going outside this morning, I might have been wrong. The other three in the row still have remnants of the sticky balls but this one doesn't. This one is the only one with the helicopter seeds on it and the other three still have buds and no leaves. I still never noticed the helicopter seeds before so it just shows how we really don't "see" until we stop and take the time to really "see".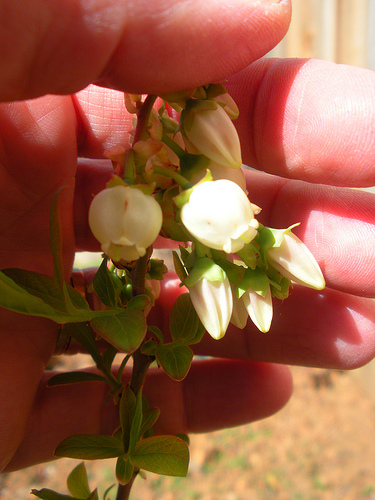 My most favorite things in the garden right now are my blueberry bushes. We planted three bushes last fall and they are bursting out with blossoms right now. I have never had blueberries growing in our yard and it is something that I have wanted to try for a very long time.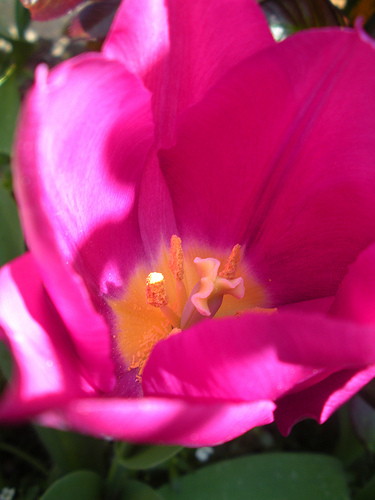 The tulips are in full bloom right now as well with their pretty colors all in a row. These are definitely going into my nature journal again this year.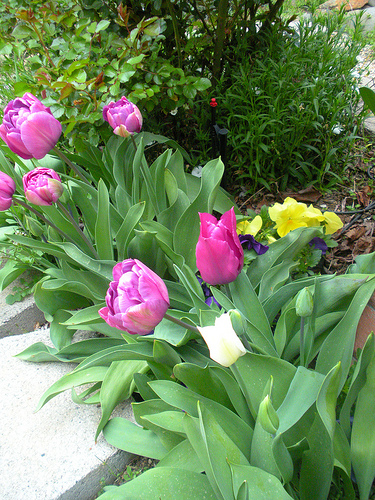 Aren't they pretty? We started this tulip garden last year with ten bulbs and I added ten more this last fall. There is a row of pansies behind it and when the tulips die back the pansies fill in for the summer.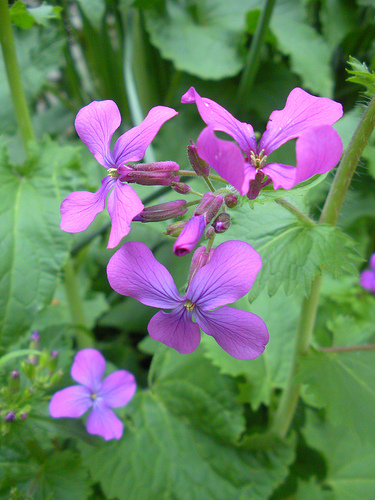 This is a volunteer plant from seeds blown in from another part of the yard. We call it Money Plant but it is actually called Annual Honesty. It is really easy to grow and it has wonderful pods at the end of the season.
One more photo that is not from our yard but still really fun.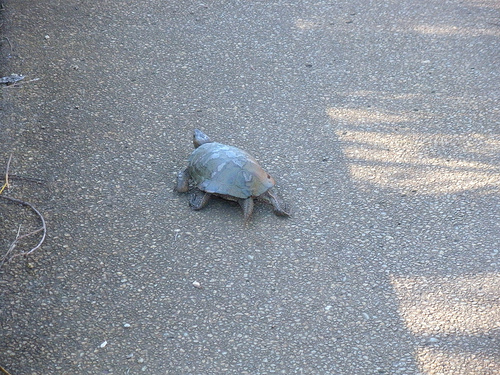 This turtle was on the loose at the flower nursery last week. My hubby and I were getting some garden inspiration by browsing the aisles of plants and this guy was walking down one side. There is a pond at the nursery and somehow he had taken a wrong turn and ended up in the wrong place. One of the nursery workers picked him up and carried him safely back to his pond and friends.
Tomorrow the weather man has predicted some light snow. I can hardly believe it. I am hoping he is wrong and we just get some much needed rain to water our garden flowers. I didn't get a photo of my climbing rose that is just beginning to bloom so I will make another post as soon as I can get back outdoors to capture it. Oh, I forgot to take a photo of our strawberries blossoming too. So much going on outdoors right now in our little yard. I suppose that will give me something to post about tomorrow.