A few weeks ago I wrote about finding something extraordinary in the ordinary as far as things we see in our own backyard and in our own neighborhoods. We have done some follow-up work on our five subjects and I wanted to share a little about what we learned and didn't learn. 🙂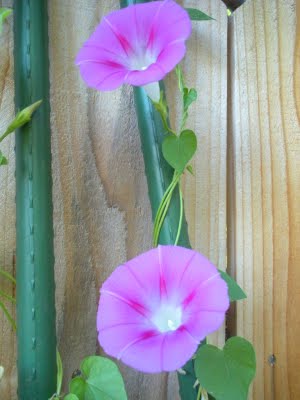 Morning Glory (Handbook of Nature Study page 519 reference to twining)
We learned that it is closely related to the sweet potato. It is called a morning glory since the blossoms only last one day. It grows in just about any soil, doesn't like too much moisture, and will thrive in full sun.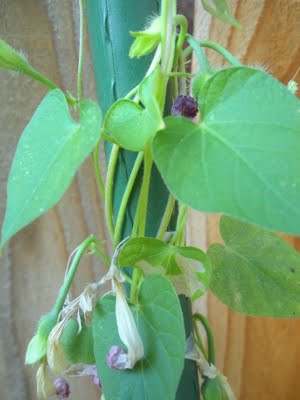 I love the way the vine curls up the poles and then into the trees.
Alligator Lizard (reference and photo of alligator lizard and fence lizard, Handbook of Nature Study, pages 210-211)
We did some research on our alligator lizard but guess what? We saw an even bigger and more glorious lizard last week.
How is that for a lizard? I love his feet!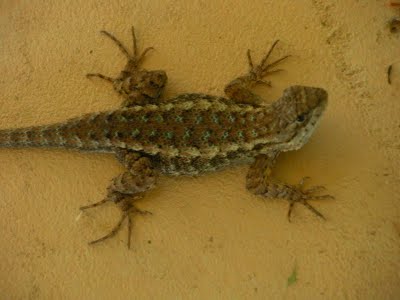 I think he might be a Northwestern Fence Lizard which we have had in our backyard before but he also may be a Sierra Fence Lizard. He has lots of color on his back and we have always just called these guys "blue bellies". I am not definite about who exactly he is but still enjoyed observing him with his wonderfully long toes on his feet and his inquisitive eye.
We learned from reading on different websites that lizards can have ticks! That is something we definitely did not know before and for some reason we all found it very interesting.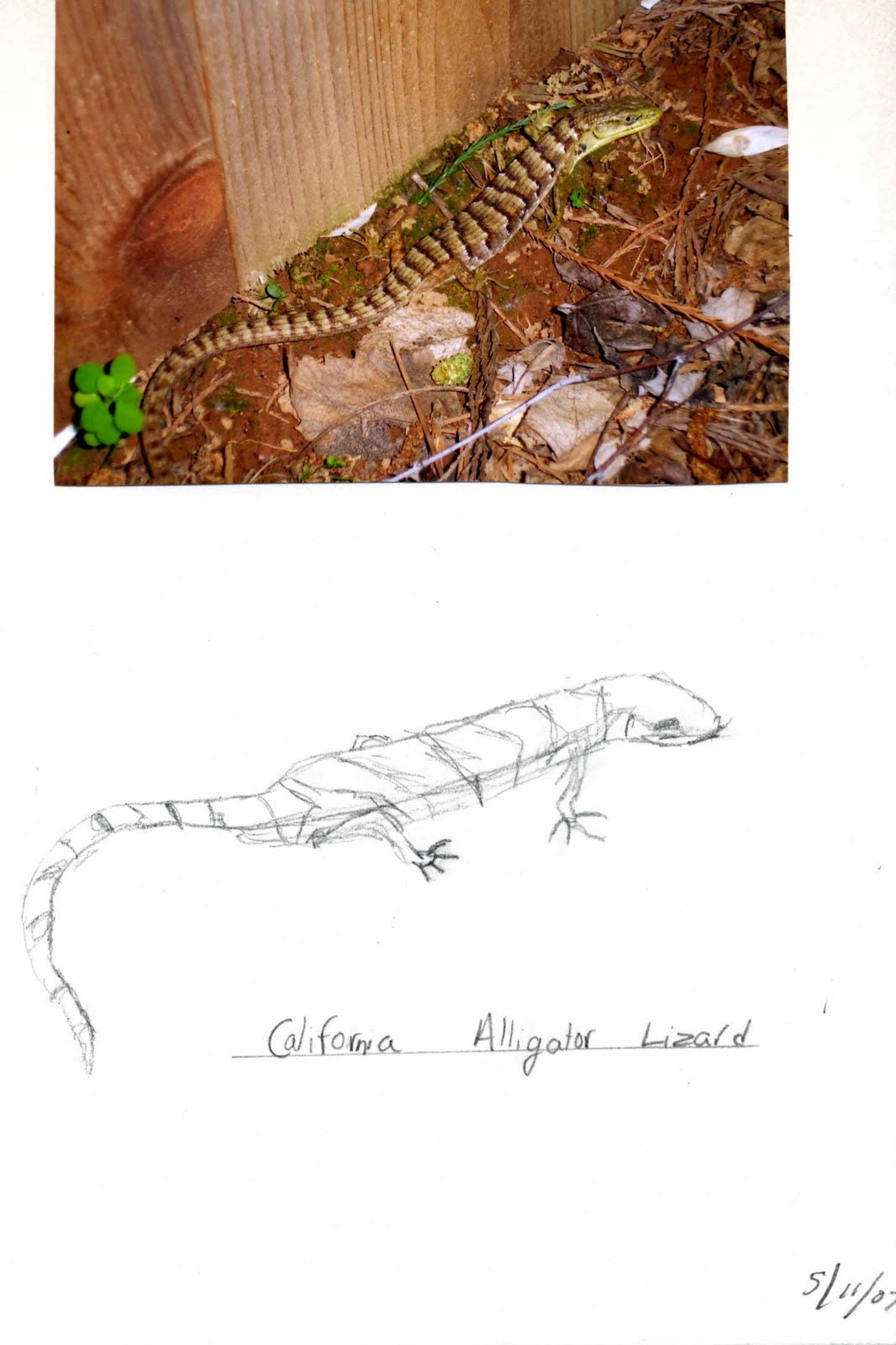 This is an older journal entry my son did for a lizard we had in the backyard. He incorporated a photo and a sketch. We did some additional research this week on the alligator lizard and found that there are several species that live in our area. Now we are not sure which one we have so during our next encounter we will know more in detail what to look for.
Caterpillar (Handbook of Nature Study -lots of caterpillar info. We used page 299 for a drawing in our nature journal.)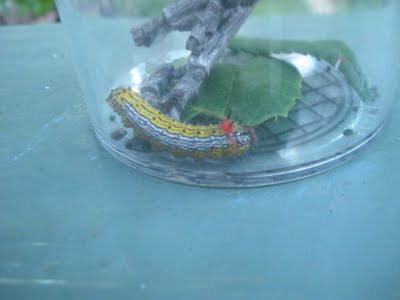 We had no luck with figuring out what kind of caterpillar we saw on the sidewalk under our Sweet Gum tree. You would think that with its bright colors and outstanding horns and markings that we could find it somewhere in our field guide or online. Nope. We will be keeping our eyes open to see if we can observe more about these creatures right outside our back door.
Hummingbirds (Handbook of Nature Study section on hummingbirds starts on page 115)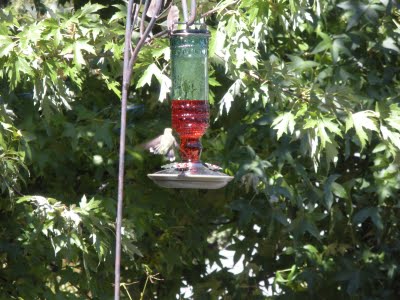 We were still not able to figure out our dark headed hummingbird from a few weeks ago. We have been watching the feeder but the regular hummers are keeping it busy. Anna's Hummingbirds are very common at our feeders all summer long and then even over the winter. We learned that they are *not* migratory which is really interesting since it gets very cold here in the winter and we even have snow. Where do they live when the weather is bad in the winter? You can be sure we will be keeping our eyes open to answer that question.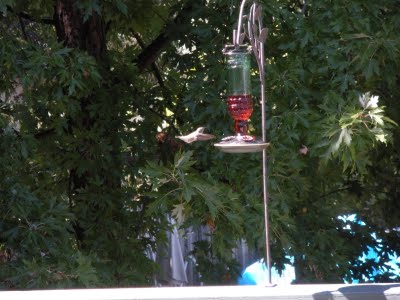 We have been working on taking photos of the birds in sports mode and we get much better photos…a tad bit clearer.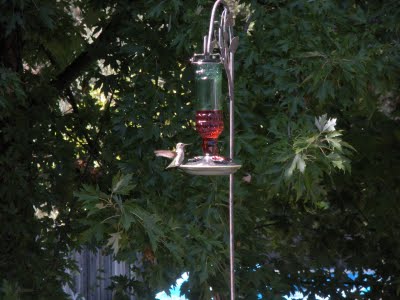 After some research and online digging, I think we have identified our migratory black headed hummer as a Black-chinned Hummingbird. I looked at the migratory map on WhatBird.com and it looks like it is highly likely it could be just this bird. Here is more on their migration.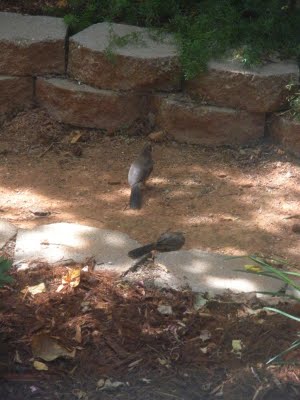 We read some more about this regular to the feeder, or more specifically…under the feeder. They always come in a pair. What is interesting is that the map does not show that we should have these birds but we have them year round in our yard. The other thing that is interesting is that the maps show that we should have Spotted Towhees all year but we don't during the summer. Hmmm….don't know what that means but it is interesting.
We also learned that California Towhees are sometimes called "car birds" since they like to run and hide under parked cars. We have actually witnessed this behavior several times and think it is quite funny. They also will sit on car mirrors and "fight" their own image. We have not seen that behavior but it wouldn't surprise us.
Here is a link for reference on the CA Towhee.
Our Fabulous Five Ordinary Things
That wraps up our fabulous five ordinary things that we looked more closely at from our yard. This was a great exercise and we will be certain to do it again.