I love having a "familiar trail". The subtle changes that take place from week to week sometimes escape my notice until I look at them through the lens of my camera. The light is different this time of year and the colors so very different. This trail that is bursting with wildflowers in the spring and early summer is now just a palette of browns and greens, with an occasional splash of color if you really look for it along the edges.
Although this may sound like a complaint, it really isn't. I love having the contrasts between seasons, anticipating the next progression of growing. It is something at the core of me that knows this is the natural way to keep time. Thinking about it…perhaps this is why I don't wear a watch or carry my phone with me at all times. I just like to feel the natural rhythm of the day and the seasons without fussing too much with the minute by minute ticking of time. It's cloudy, rainy, cold, the oaks have lost their leaves, the buckeyes are sprouting on the ground, the ferns are unfurling…..it must be close to the first day of winter.
Guess I'm feeling sort of reflective on this cold, gray afternoon. 🙂
What to see a few images from our walk? Enjoy!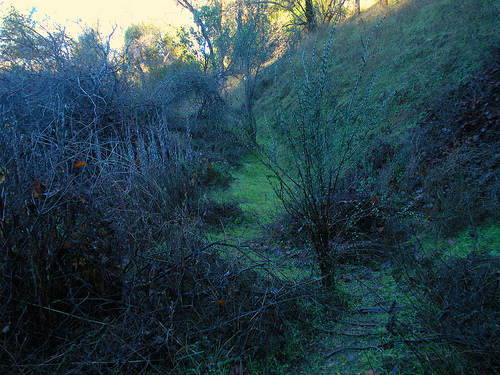 It was still wet from the melted frost we had overnight and the mood was very somber.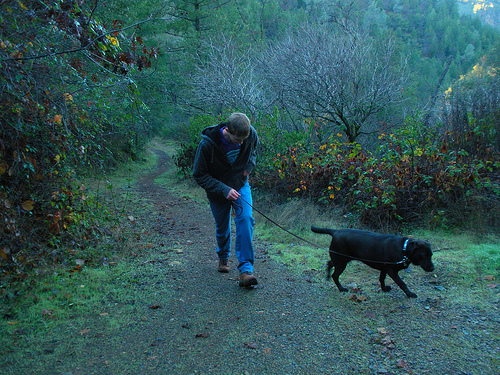 It is a steep hike back up the canyon after we hike down. Great exercise for humans and canines. (If you want to see what this place on the trail looks like in the spring, you can click HERE.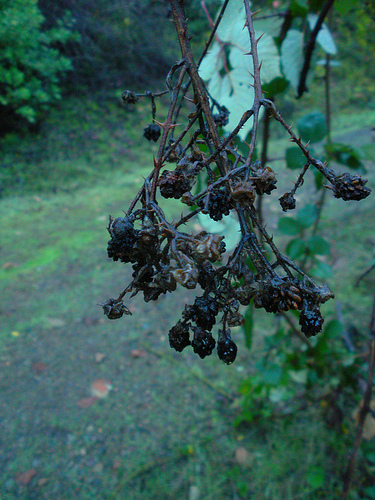 Dried up blackberries still hanging on the vines next to the trail. This is near the mushy part of the trail and soon we will have a little creek to hop over at this point.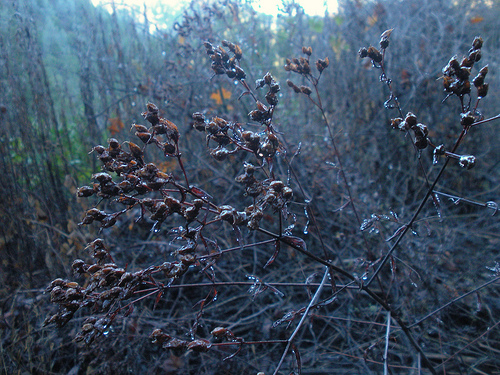 Wet wintery weeds are everywhere….I can visualize what the spring will bring but for now the landscape is pretty sad.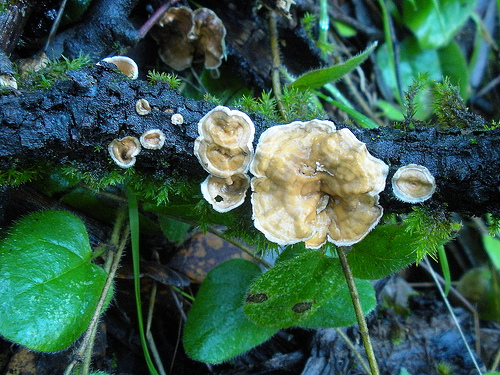 The most colorful spot we found on our hike was right near the top where the ferns, mosses, and fungus are all bursting out.
So there you have it….a December day on our familiar trail. We are now facing ten forecasted days of rain so we may  not make it back for another week or so down this trail. If the weather clears, we will jump on the chance to get out and hike again on this path so close to home.