Garden Flower Nature Study Planning
This is the season for planning your garden whether it's a flower garden or a vegetable garden. Anticipating the colorful flowers, the delicious tasting fruits, and the many hours of happily tending the garden is more than half the fun in my opinion. Paging through seed catalogs or scrolling your favorite gardening sites online can fill your cold winter days with pleasant thoughts of things to come.
I've already started my garden planning for the year and put in my seed order to Renee's Garden Seeds. If you've been following my blog for any length of time, you already know that I love this seed company. I always have great results from their products and they are my go to place to purchase seeds for the garden.
Because of our short growing season here in Central Oregon (less than 60 days), our garden is mostly flowers now and not veggies. But, I have decided to try a green bean and broccoli raab crop this year as an experiment. I will keep you posted on our results.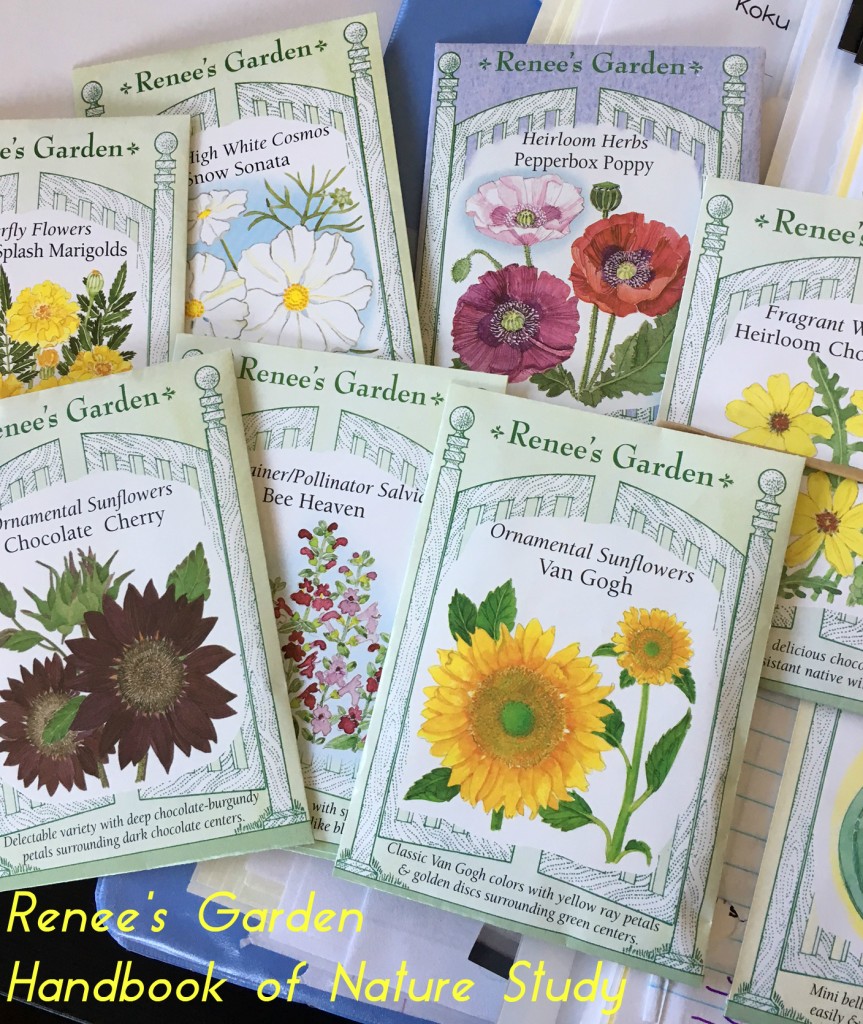 Want to know my list of seeds?
4th of July Heirloom Cornflowers
Lace Perfume Fragrant Dianthus
Rainbow of California Poppies – We grew these last year in our garden and they are gorgeous!
Lemon Queen Sunflowers – These are the sunflowers suggested to grow as part of the Great Sunflower (bee counting) Project.
Classic Slenderette Green Beans – We're going to try this variety because of its short growing to harvest time.
Early Rapini Heirloom Broccoli Raab – This is another crop we hope we can grow here in our cooler climate.
Astia Container Zucchini – I grew this in California in a big pot on my back deck. I'm hoping to have some success with it here in Oregon.
Sweet Greens and Reds lettuce mix – This is another variety of a lettuce we grew last year from Renee's.
Garden Babies Butterhead container lettuce – This is a new lettuce for us and I'm hoping it produces a few heads for us to enjoy.
Cinnamon Sun Sunflowers – I'm excited to try a new color of sunflowers in this year's garden.
Chocolate Daisy – This is an old favorite that I want to try this year in our new garden box. (It does have the fragrance of chocolate!)
I am eagerly awaiting their arrival! It will be a while before I can actually plant them, but I can dream about the warm summer afternoons in the garden while I wait.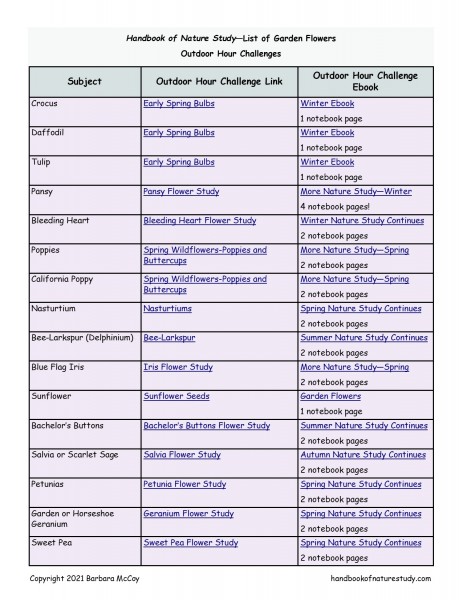 Maybe you would like to start dreaming and planning for your summer flower garden nature studies. I have completely updated my chart of garden flower topics from the Handbook of Nature Study. Each flower has an Outdoor Hour Challenge associated with it on the website and an ebook with notebook pages to use for your study. Use the links in the chart to decide on which flowers you will study this summer!
Download a copy here: Handbook of Nature Study List of Garden Flowers with the Outdoor Hour Challenge.
Ultimate Naturalist Library members have access to all the ebooks required. If you'd like to purchase an annual membership, click the link above and then use the discount code NATURE5 to receive $5 off your membership.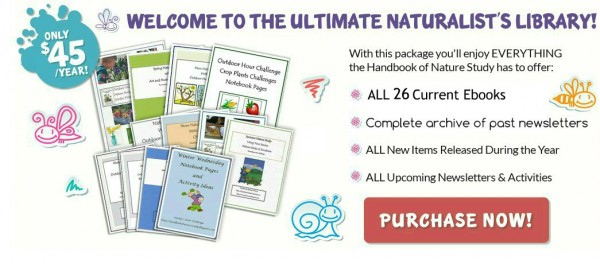 All memberships are valid for one year after your purchase. The library of ebooks, the newsletters, and all the printables will be only a few clicks away.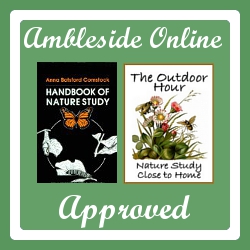 For those of you following the Ambleside Online nature schedule, the spring topic is garden flowers and weeds. Please feel free to combine your nature study with the Outdoor Hour Challenges found in the archives.