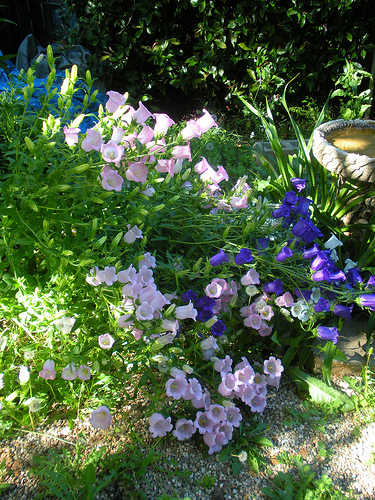 Sunny hot weather this week in Northern California has given our garden just the breath of life that it needed after our cool rainy weather in May and the beginning of June.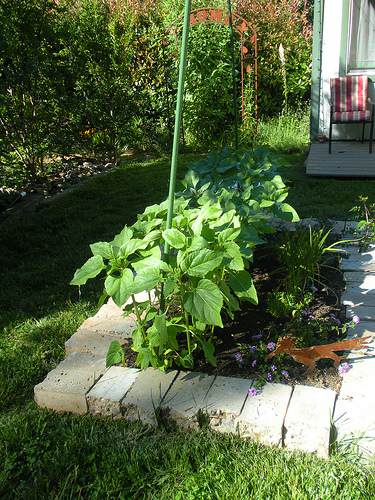 The sunflowers actually look like sunflowers all neatly growing in rows, just waiting for each day's sunshine. If you remember I planted three varieties in this section of the garden…my artist garden. I am envisioning a lawn chair in the shade of the maple tree, paints and colored pencils sitting at my side and a sketch book in my hand just across the yard from these beauties.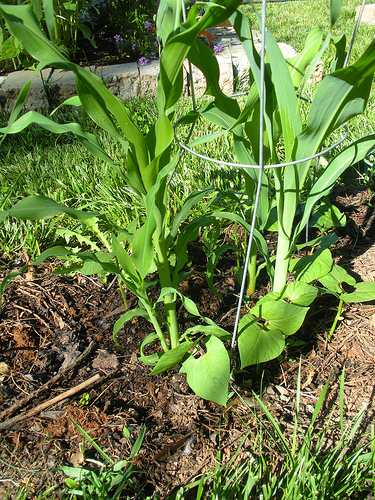 My three sisters garden is all planted and growing! We added the beans and pumpkins and most of the seeds have spouted and are growing right as they should. This has been a fun project….one that has captured my interest, renewing my gardening zeal.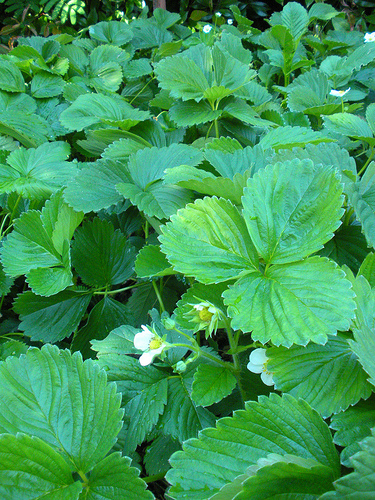 We have had several quarts of strawberries already…big and juicy red ones!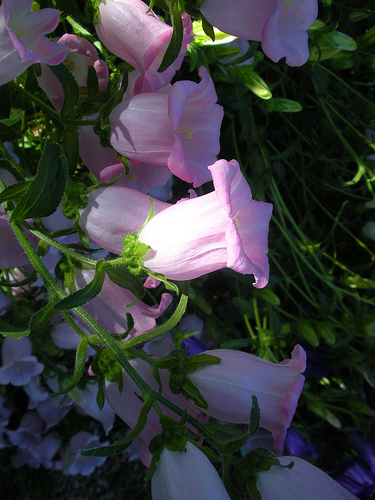 Now this is another of my "mystery" plants. I was waiting to see what was going to bloom and this week it has come alive with color! Here they are…Cantebury Bells. I vaguely remember planting them last year and since they are a biennial, they are blooming this year. Amazing color….which you know will make its way into my nature journal.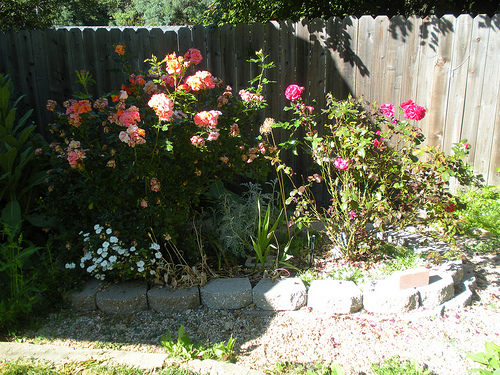 We had two birdbaths in the backyard so I decided to move one to the front yard…perfect fit. The empty spot in the garden is really needing some attention and I don't know what to put here. In the spring there are tulips and allium that bloom but in the summer there isn't much to fill in the spot. I think those are old gladiola bulbs that didn't bloom last year coming up. I am not a big fan of gladiolas. This spot gets sun most of the day so the roses love it and I let the allysum grow where it wants. Any suggestions for plants for this middle spot would be appreciated…I'm thinking something taller than the roses.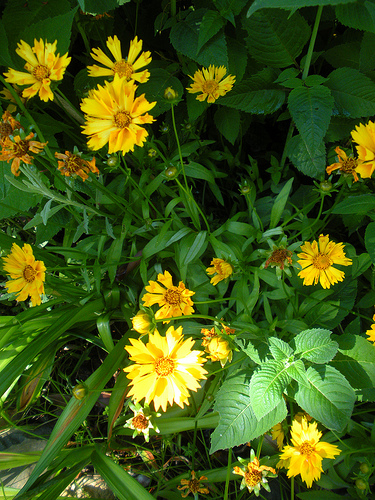 The tickseed is in full bloom and it makes such a great little bouquet for the table….nothing makes you smile more than having breakfast with a vase of sunshiney tickseed in front of you.
The chore list for the garden this week includes quite a bit of weeding, including the hedge bindweed that I wrote about recently. I try to spend 15-20 minutes in the morning each day just pulling weeds. The whole garden never is weeded at one time but it doesn't get too crazy with daily attention. I have one tomato that doesn't look so great so I will try to figure out how to perk it up. I also have one garden box that looks like it has some insect eating the leaves on the plants…..time for some private eye time to see if I can figure out who is the culprit.
In the past, I worried about having the garden "just right". I spent way too much time worrying about the weeds and the organization and the practicality of it all. I realized this week that I have come to a new understanding about my garden. The garden is what I make of it and if I want to grow pumpkins in the middle of my grass…I can give myself permission to do so. If I want to try something new, I can because it is MY garden.
This year I am just going to enjoy the gardening experience…take the ups and downs as they come. I will put in the effort that I can and see what happens.



Jami's Tuesday Garden Party meme is open from Tuesday to Thursday so there is still time for you to jump in and participate!