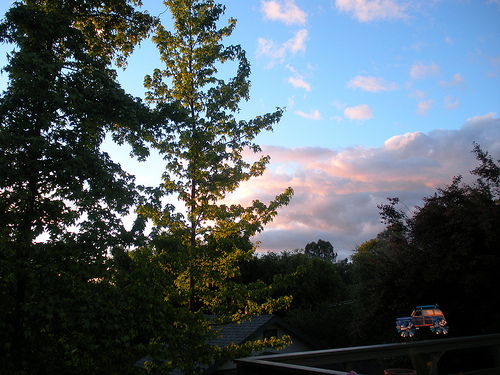 Sunset – time for mosquitoes and almost time for bats.
We have been on the lookout for a mammal subject for our May nature study. I included it in the May Newsletter suggested study because I was really hoping to see our fox friend in our yard this month.  I have been wanting to do some research on him, but he has only left some scat behind and we haven't actually seen him.
What would we study for our May mammal?
Well, remember a few weeks ago we had a bat visitor inside the house? My husband suggested that we learn about bats. Sigh. I don't really like bats and we already had done a quick study with OHC #49. I wasn't convinced until night before last. We were sitting outside eating dinner for the very first time this year…our normal spring/summer routine….and the mosquitoes were driving us crazy! There is an abundance of these pesky little critters right now and I commented that we needed to do something about them. My husband mentioned that we should encourage the bats because they eat lots of mosquitoes and they would help keep the population down.
Aha! A positive reason to study the bats!
We spent some time at dusk sitting outside to wait for the bats and they didn't disappoint us. They came in and swooped at head level, zooming around the yard with amazing agility. We did some reading in the HNS and online the next day and here are some of the points we gleaned about our flying mammal friends.
Members of the family Chiroptera, meaning winged hand.
Only real flying mammal.
Most North American bats are insectivores, eating about 1,200 insects an hour or approximately 6,000 insects a night.
You can attract bats in several ways- build a bat house and/or leave a light on so the insects cluster, making a dinner spot for the bats.
We found this website informative for our local area: Northern California Bats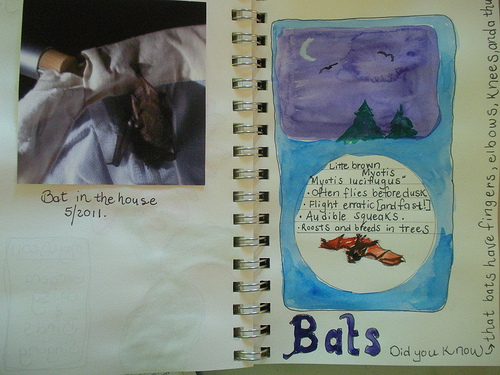 May Newsletter journal idea – Fill In The Circle (bat drawn by Mr. A)
I have had a few readers ask me what kind of nature journal I use to watercolor in and I will give you a link to an entry where I discuss my choice: Autumn Series #1. Well there you go…our May mammal study finished and just in time to start thinking about all our June nature study subjects. Our family is really loving the new format of the Outdoor Hour Challenge and the freedom it has given us to pursue a variety of subjects as they have come up in our daily life.
Don't forget to send in your nature study entries by 5/30/11 for the Outdoor Hour Challenge Blog Carnival. You can submit your entries HERE.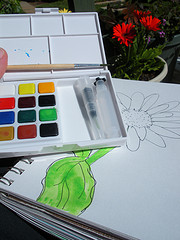 The winner of the giveaway from last week's watercolor sketch entry is Corrine from Boston! 
(I used a random number generator to pick the winner.) Corrine chose the Koi Water Colors Pocket Field Sketch Box
! Congrats!