Nature Observer – Nature Journal Examples
April 2018
Things are starting to look like spring around here and we've had an abundance of bird sightings and animals to watch. Seeing these things inspires me to get out my nature journal and get busy. I've found this to be the key to nature journaling: Find something interesting in nature to put on the page whether it's a sketch, some words, a list, or a photo.
I'm still struggling with my sketching abilities (note the ground squirrel page below) but I know that practice makes perfect.
I wrote about this dilemma in an earlier blog post:
Drawing and Your Nature Journal
Here's another entry I wrote that explains a few ways to get started with sketching:
3 Tips for Nature Journaling When You Think You Can't Sketch
Above all, remember that a nature journal is a personal record of your own experiences in nature. There is no right or wrong way to do it. The only mistake you can make is to not take a few minutes each week to put something down on paper. Photos are great but taking the process to the next step makes a more lasting impression.
Here are my weekly entries for April!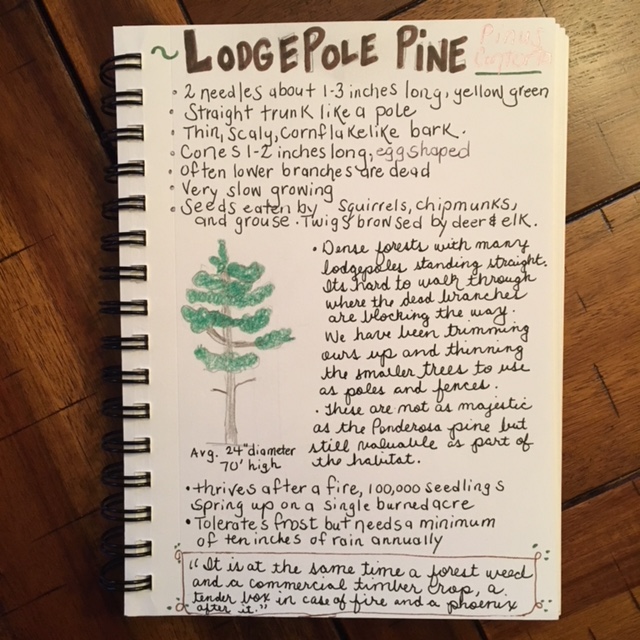 I'm pretty happy with my lodgepole pine nature journal page. I managed to get a decent sketch of the tree shape along with some facts and a quote. Doing the research for this page has enabled me to pick out the lodgepole pines in our forest. My eyes now see the 2 needle bundles and the dead branches at the bottom of the trunk which helps me identify this particular pine from the others.
In an attempt to get to know my local habitat better, I decided to create a simple chart in my nature journal that compares the most common shrubs in our area. It took some time to do the research but it has already helped me pick out the bitterbrush from the rabbitbrush by contrasting leaf shape and color. I may eventually add a few more shrubs to my journal on another page.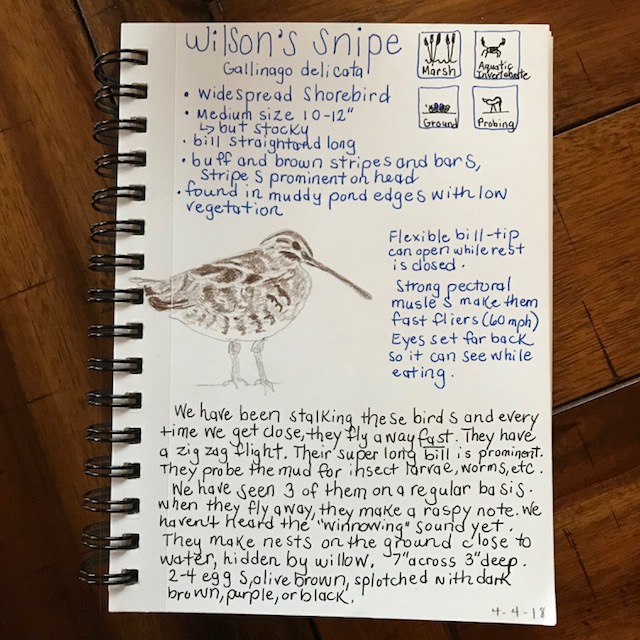 It is thrilling to identify a new bird! We often saw a bird fly up and away from the edge of the slough when we were out river walking. Many days with binoculars and time on the internet have helped us identify the Wilson's snipe! Of course, he made it into my nature journal and I'm fairly happy with the sketch.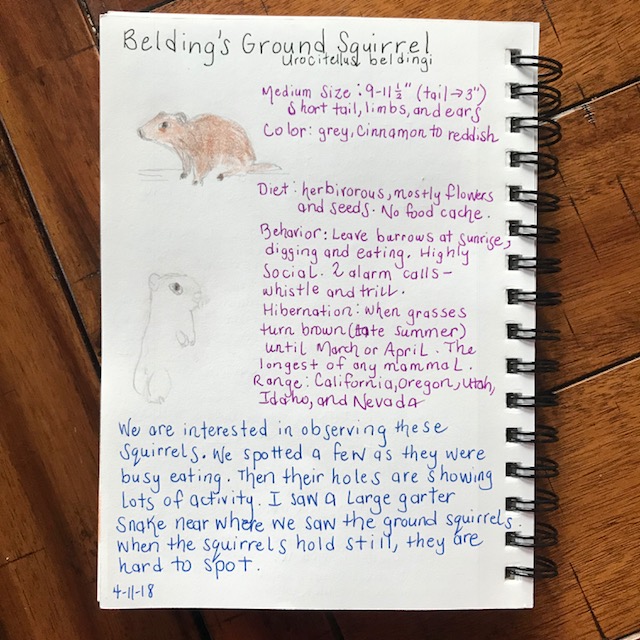 One day we were sitting and looking out our back window. My husband spotted the ground squirrel scurrying along our fence line. It was the first time seeing them outside their holes, which we've seen all over the back of our property. Since that first sighting, I've seen several sitting up on top of a dead tree stump in the sun.
The forest floor is starting to come alive and one of the first things to be sprouting leaves is the wax currant. The leaves are an interesting shape and the little bell shaped flowers are pretty. We'll be watching to see the berries later in the season.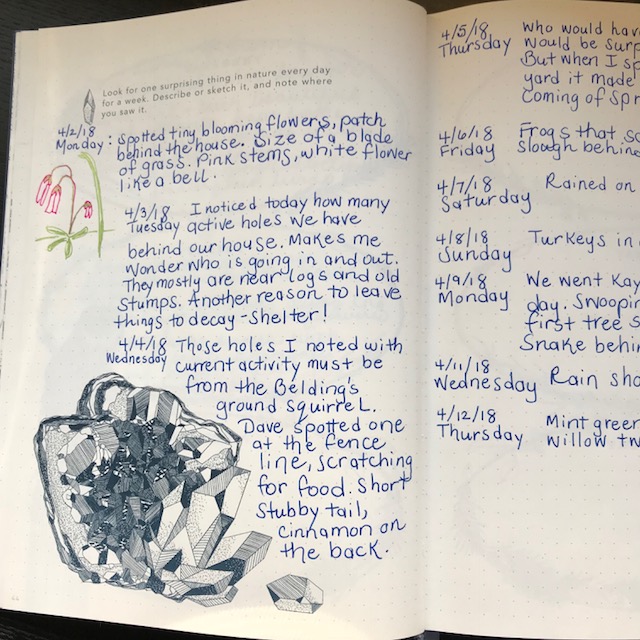 I loved working on this page from the Nature Observer journal this month. The prompt was to note one surprising thing in nature each day for a week. I may do this again in my other journal.
What's made it into your journal this week?

Have you taken a look at my updated nature journal page? Here's a link to see some ideas to inspire you in your journaling efforts.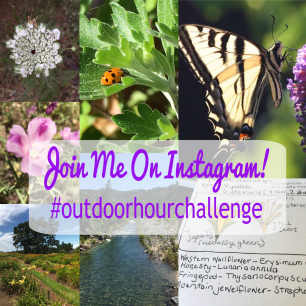 Don't forget that I'm sharing a nature journal page each week on my Instagram account if you want to see the pages as they unfold. Follow me here: Instagram – outdoorhourchallenge. And, if you want to create a page and share it on your Instagram for me to see, use the hashtag #OHCnaturejournal.