Find nature studies on bees for all ages! Learn the different types of bees, visit a bee farm, play bee games, create a bee garden habitat or house and more!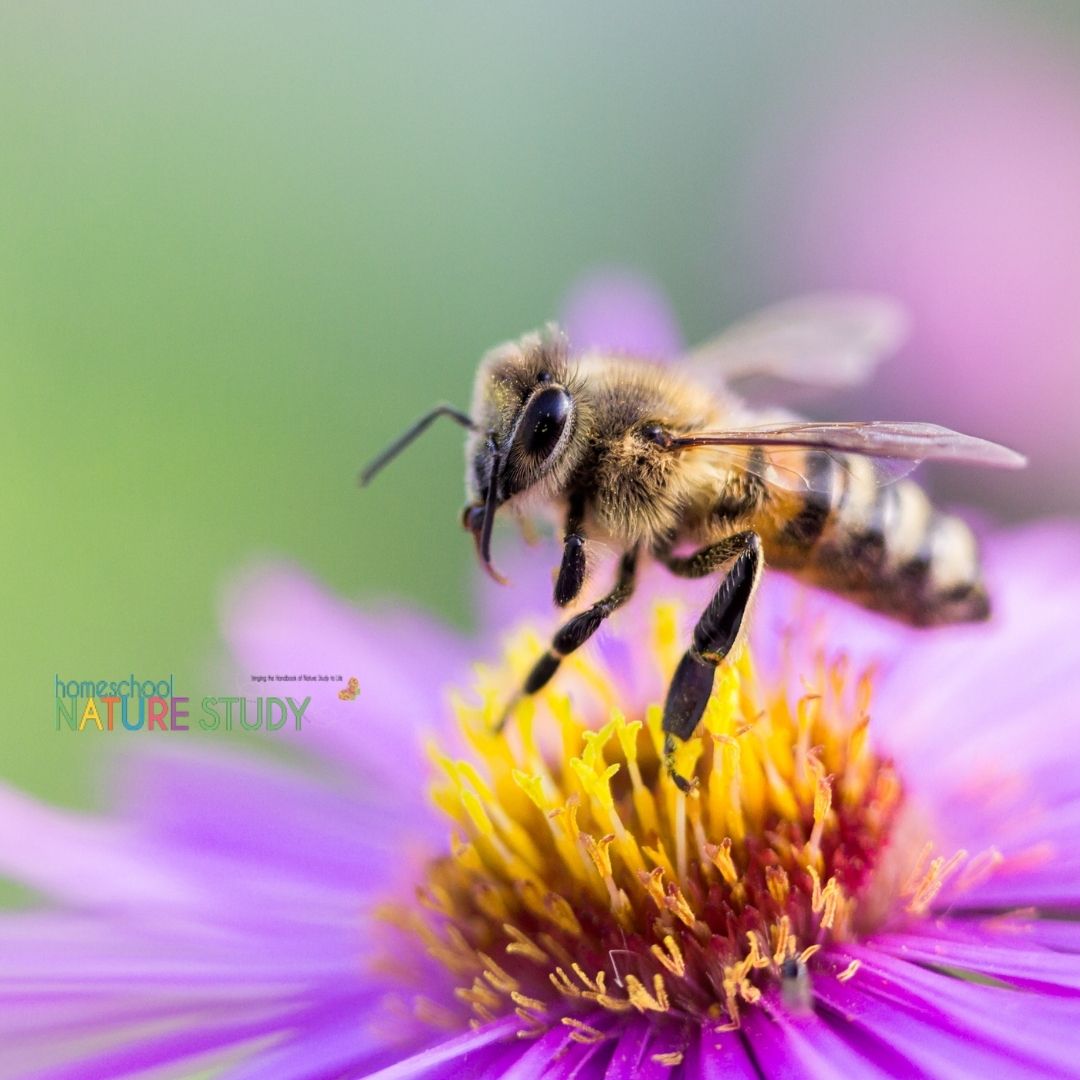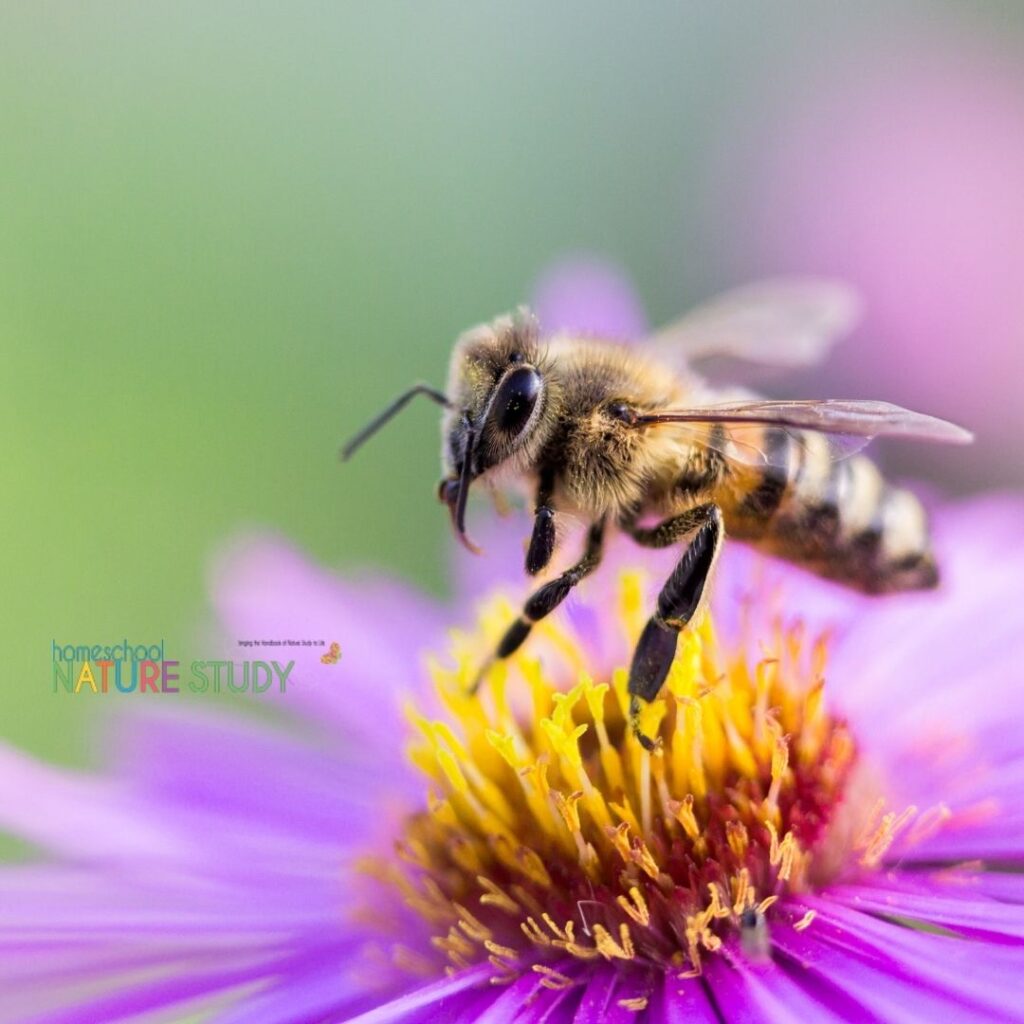 An Awesome List of Nature Studies on Bees and Bumblebees
In an attempt to attract native mason bees to my garden, I purchased a mason bee house a few years ago. ( I purchased this one: Esschert Design WA02 Bee House which is my amazon.com link) It just seems to make sense to me to help support any local pollinator in my rather eclectic front yard habitat. There are plenty of bees already but lately I have been observing the insects more closely. In the past I have lumped all bees together, not really taking time to identify the various kinds of bees. Even when I took part in the Great Sunflower Project and counted bees, I really had a hard time noting the different types. If you are interested in some bee identification cards, you can find them at the Great Sunflower Project.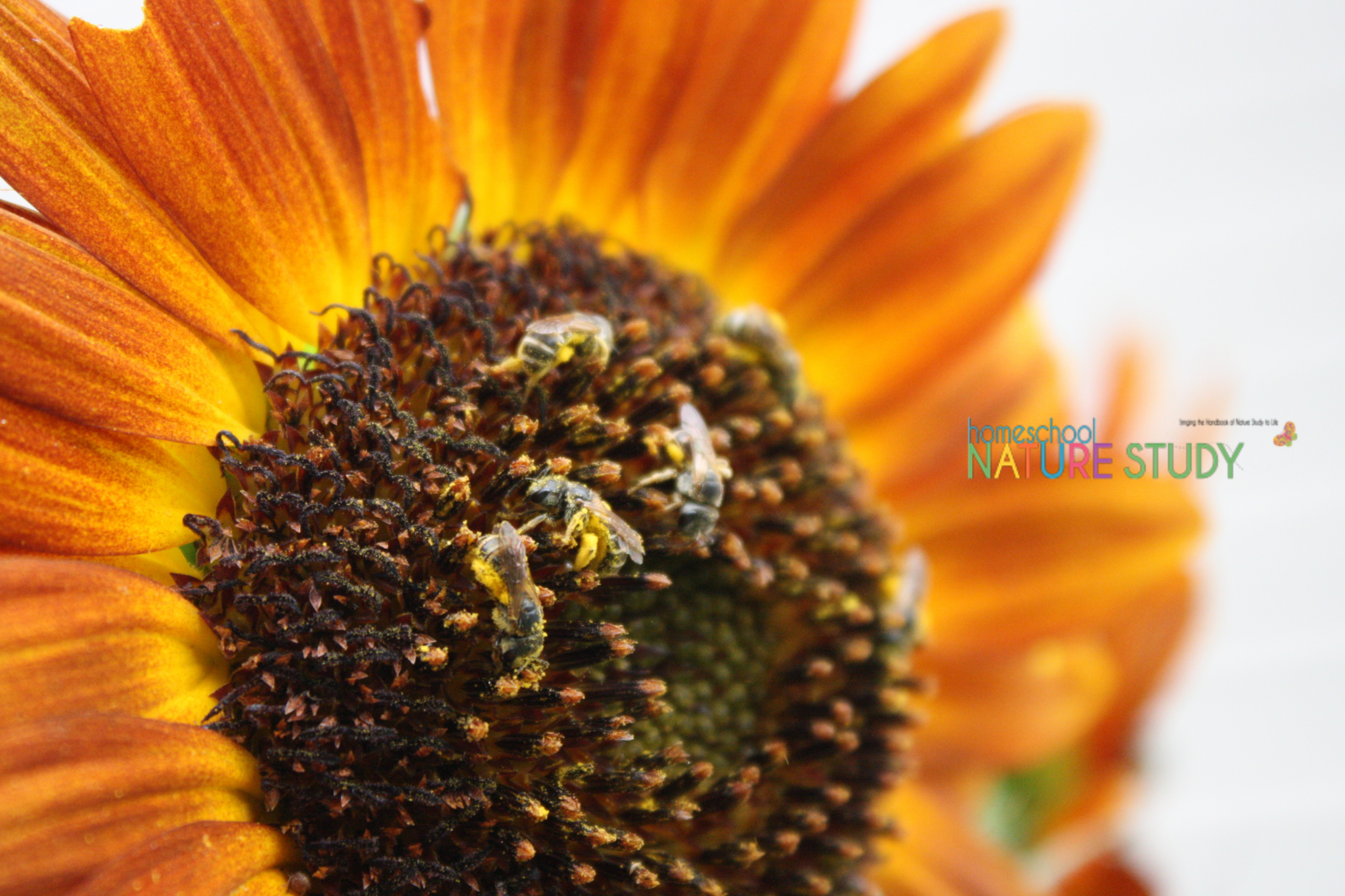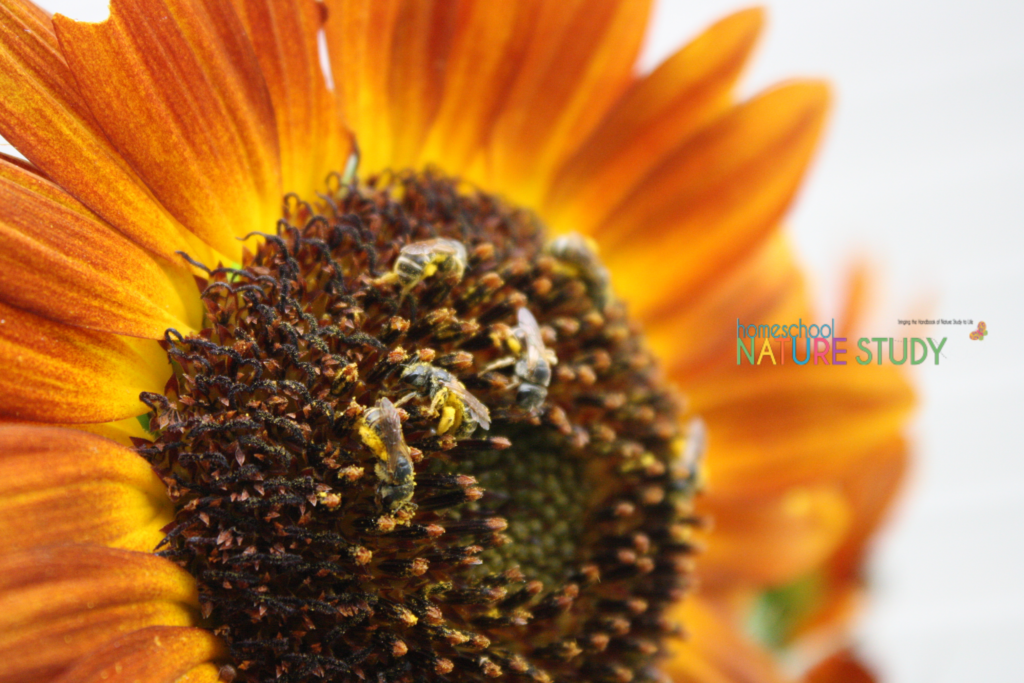 I am attempting to educate myself…love learning new things about the creation around me right in my own yard. So, after a little digging around, I stumbled upon some information that was new to me. I guess I always assumed that all bees lived in colonies. Wrong. There are many bees that are considered "solitary bees" and live as individuals, sometimes living next to each other but not in a hive.
Learn About the Types of Bees
Here are a few basics:
Leafcutter Bee: This bee cuts a clean bit of leaf to use in its nest. I have noticed leaves in my garden that may have been used by leafcutters and now you can be sure I will be looking even more carefully. Also, they gather pollen on their bellies and not in the pollen baskets on their hind legs.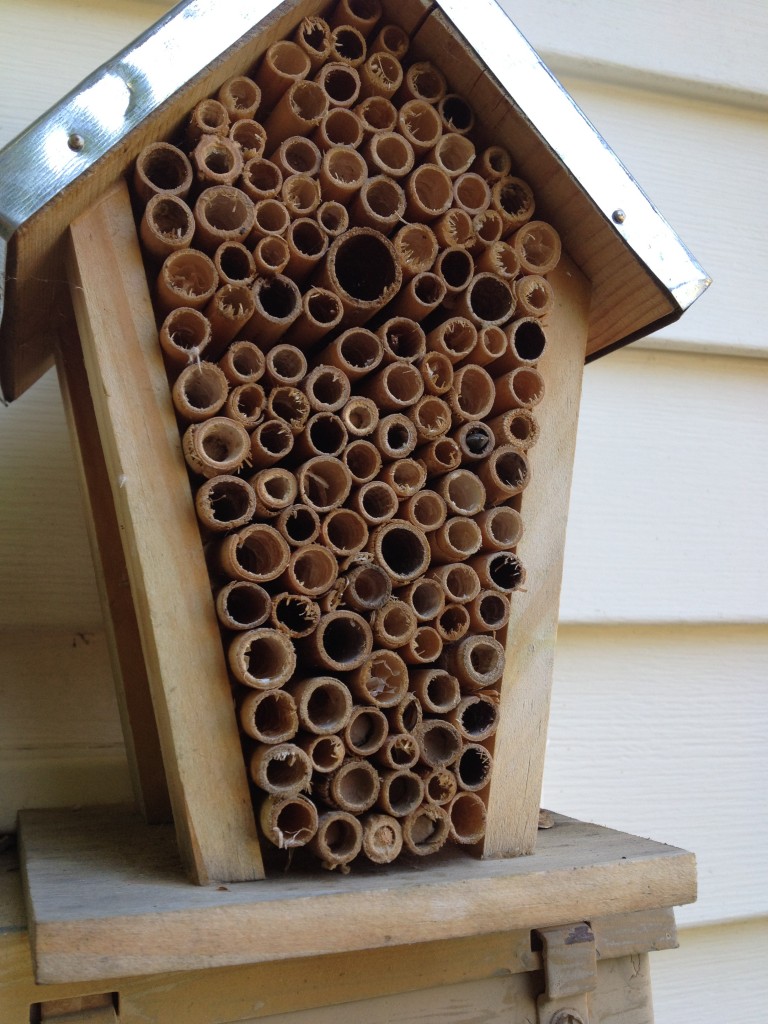 Mason Bee: These are bees that use mud to construct their nests. They create the nest in hollow tubes like the one in my pre-made mason bee house. These bees are excellent pollinators. My research says they are out and about from May to late June or July.
Carpenter Bee: These bees make their nests in wood, usually rotting and old or damaged wood.
Tricia's family enjoyed a backyard study of bees and investigated a carpenter bee, honey bee, paper wasp, yellow jacket and more! Checkout their Bees and Buzzy Insects Nature Study.
Learn About Bee Houses
Mason Bee House Video – interesting to watch this video showing five minutes of activity at the house.
You can read more about mason bees here: Gardener's Supply.
Information on building a bee house: National Wildlife Federation. A bee house would be a wonderful addition to your wildlife habitat!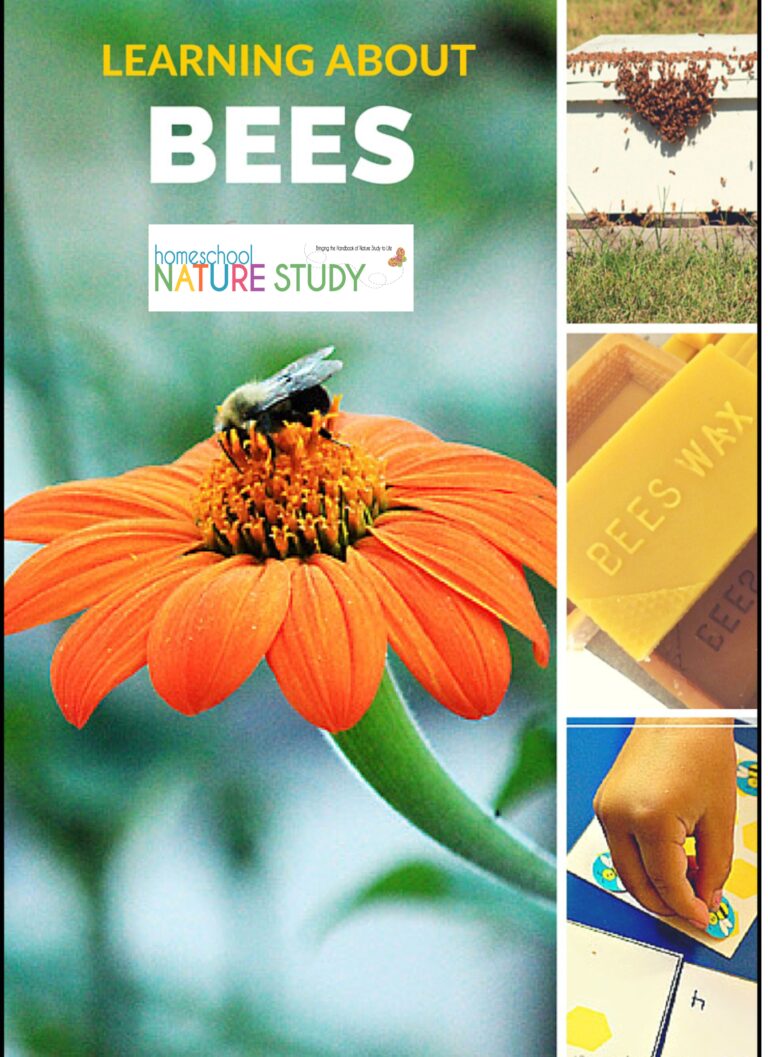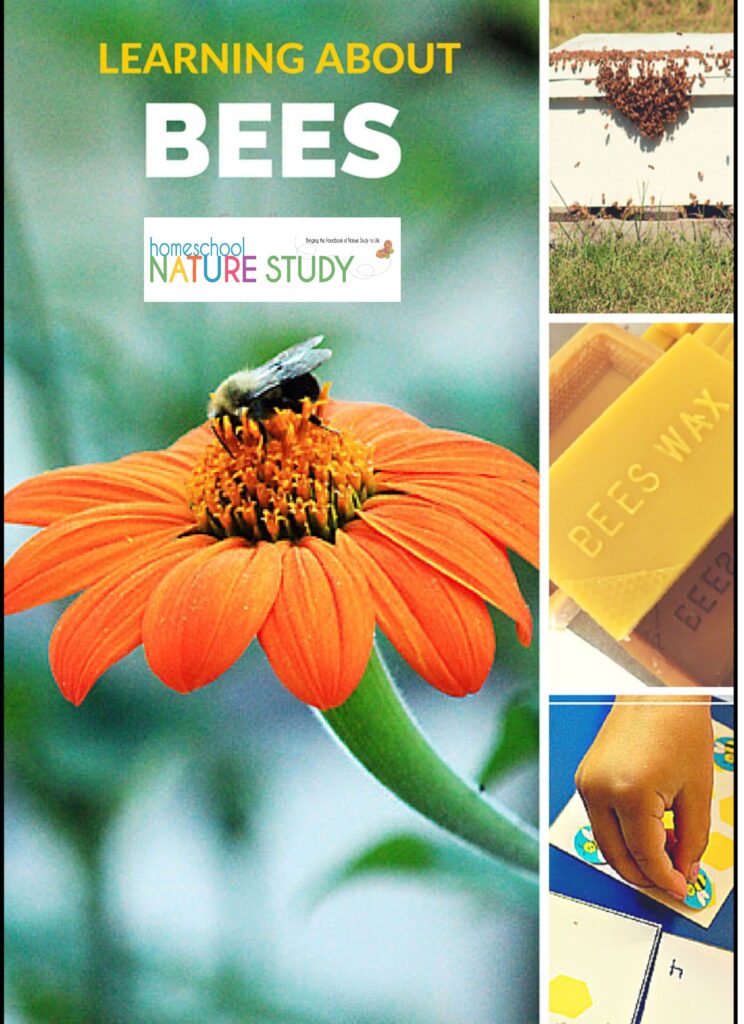 Preschool Science: Learning About Bees
As part of our farm unit study for this semester we've been visiting all types of farms. We recently visited a bee farm! We learned all about bees, honey and products made with beeswax! During the week we pulled out various bee books, printables, games and activities for a mini-unit on bees.
Bees are such wonderful and helpful creatures. From pollinating flowers to making honey, we could not live without them. Go ahead and explore the world of bees with your child, preschool class, daycare or homeschool co-op. Use these bee ideas as a science unit, a unit to go along with Letter of the Week or a spring-themed week. I've included free bee printable coloring sheets and games I've created for my children and local co-op class plus other fun ideas.
Learning about bees came at the perfect time for my family. I have one member who is not very fond of bees, so I figured learning more about them would help her have a healthy respect for these creatures as she learned about their importance in our ecosystem.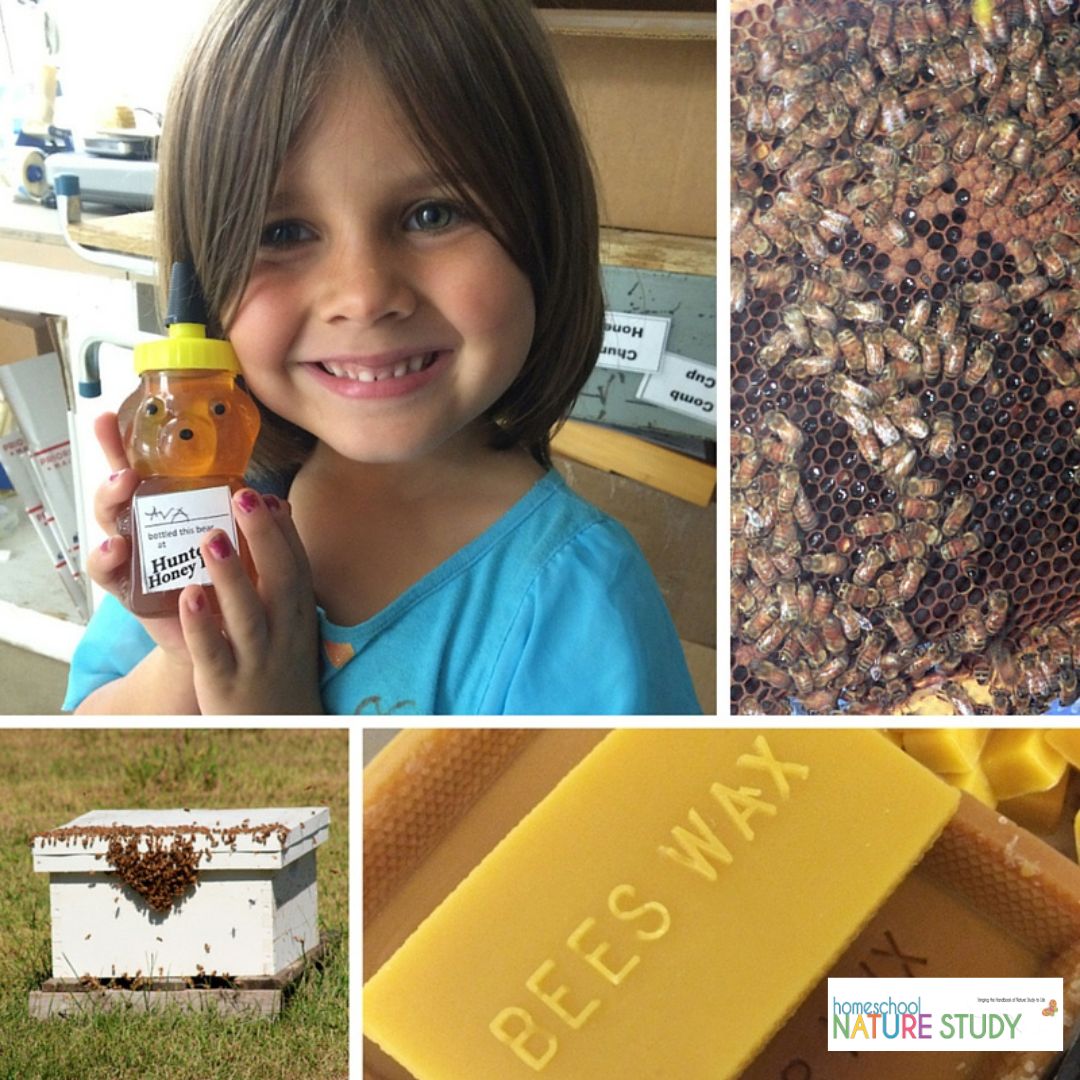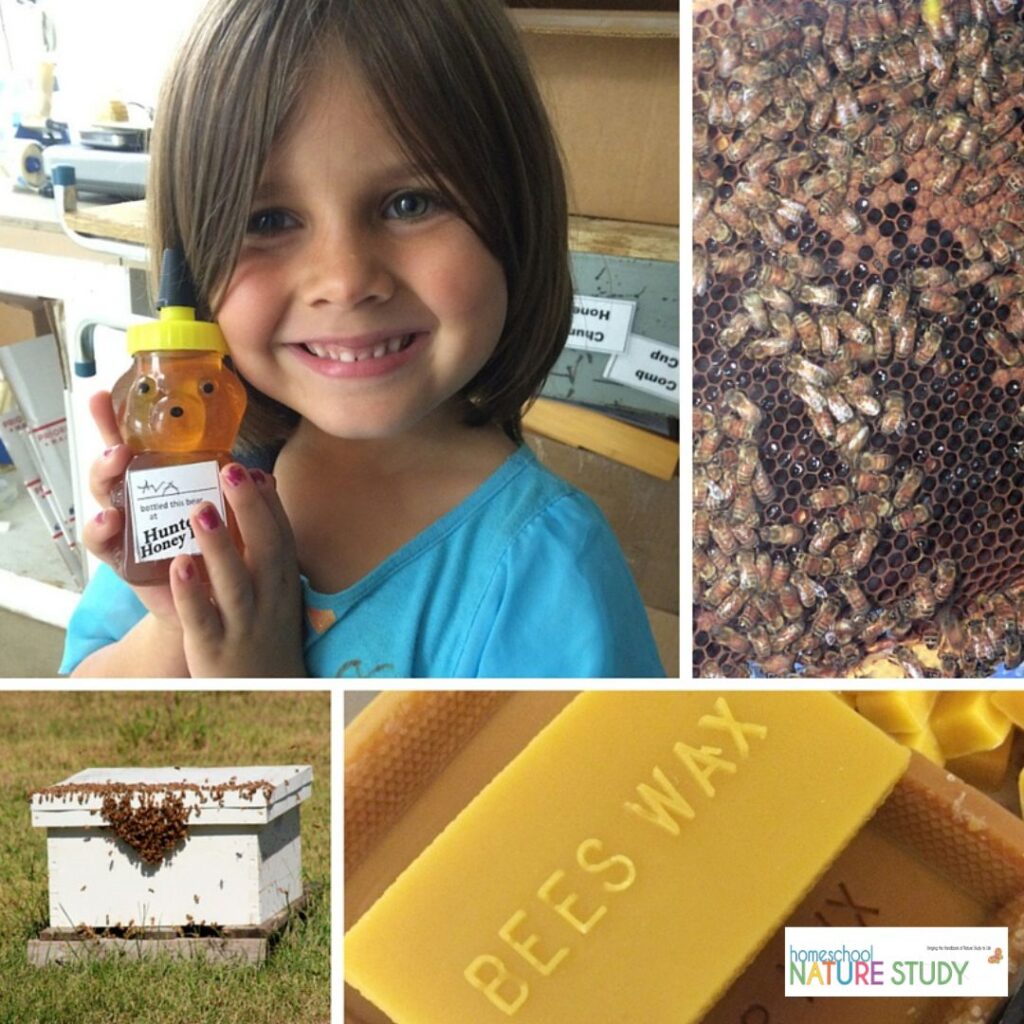 Honey Bee Farm Field Trip
Our Farm Field Trip group visited a large honey farm where we learned about bees from a bee keeper, tasted honey sticks, saw beeswax candles being made and even got to fill our own honey bottles.
This was a great field trip because we got to experience bees in a different way than we do in our back yard. The bee keeper was able to teach the students about bees, what to do when you are around them and why they are so important to have in our environment. He took a section of the hive and was able to show the students the honey comb, worker bees and the queen. He shared why he had to use the "smoker" while handling the bees (it throws off their communication.) And don't worry— he was in a screened in tent with the bees while we watched from the outside. 🙂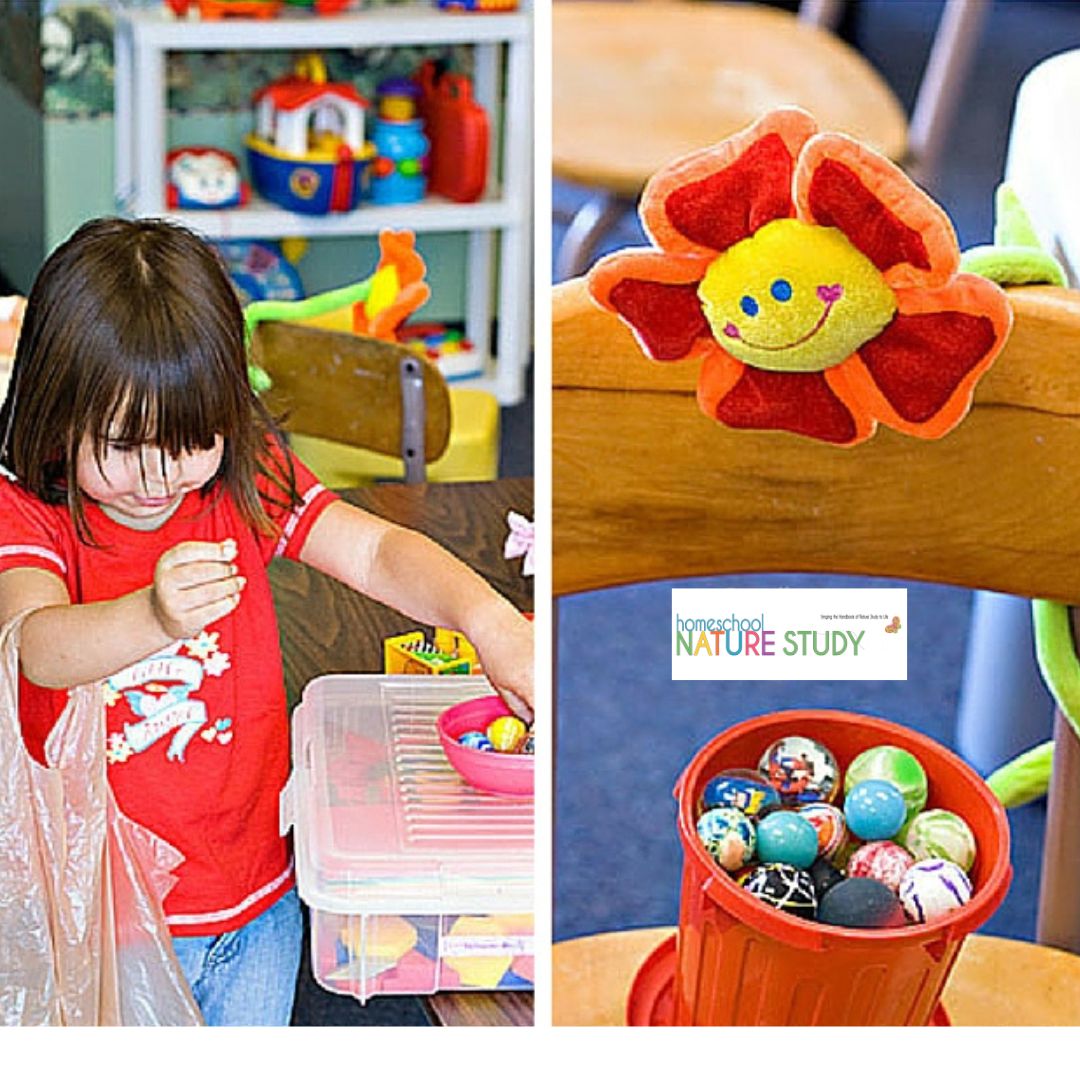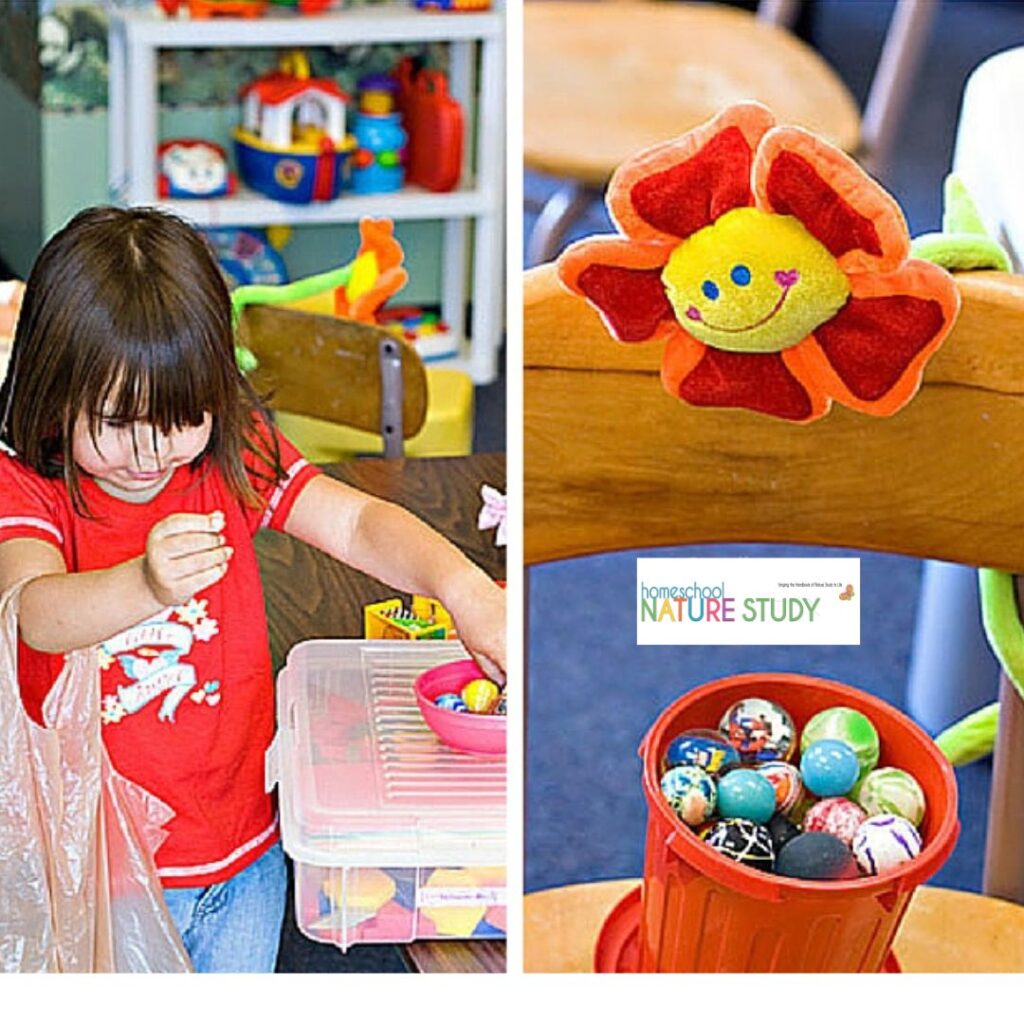 Picking Up Pollen Bee Game
Supplies:
bouncy balls, ping pong balls or pom poms
bags
several small bowls
Bee Game Directions:
Flowers have pollen and that is just what bees love to collect. Set out several "flowers" with pollen (bowls, trays etc. filled with balls or pom poms) around the room.
Give each child a bag. Have them step into the handle so it is on one leg and place the other handle on their arm. This represents the sacks on the back of a bee's leg that holds the pollen . (If that's too difficult for the child, let them put it on their arm). Have the children collect the pollen and bring back to the hive (select a place to be the hive like a big tub to place all the "pollen").
Female bees have a structure on their legs that no other insects, including wasps, have: a pollen basket. The basket is made of rows of stiff hairs that arch to form a hollow space on the outside of the bees' legs, usually her back legs. When a bee visits a flower, she combs grains of pollen into her baskets. Pollen from the flower also sticks to the bee's hair.

~ San Diego Zoo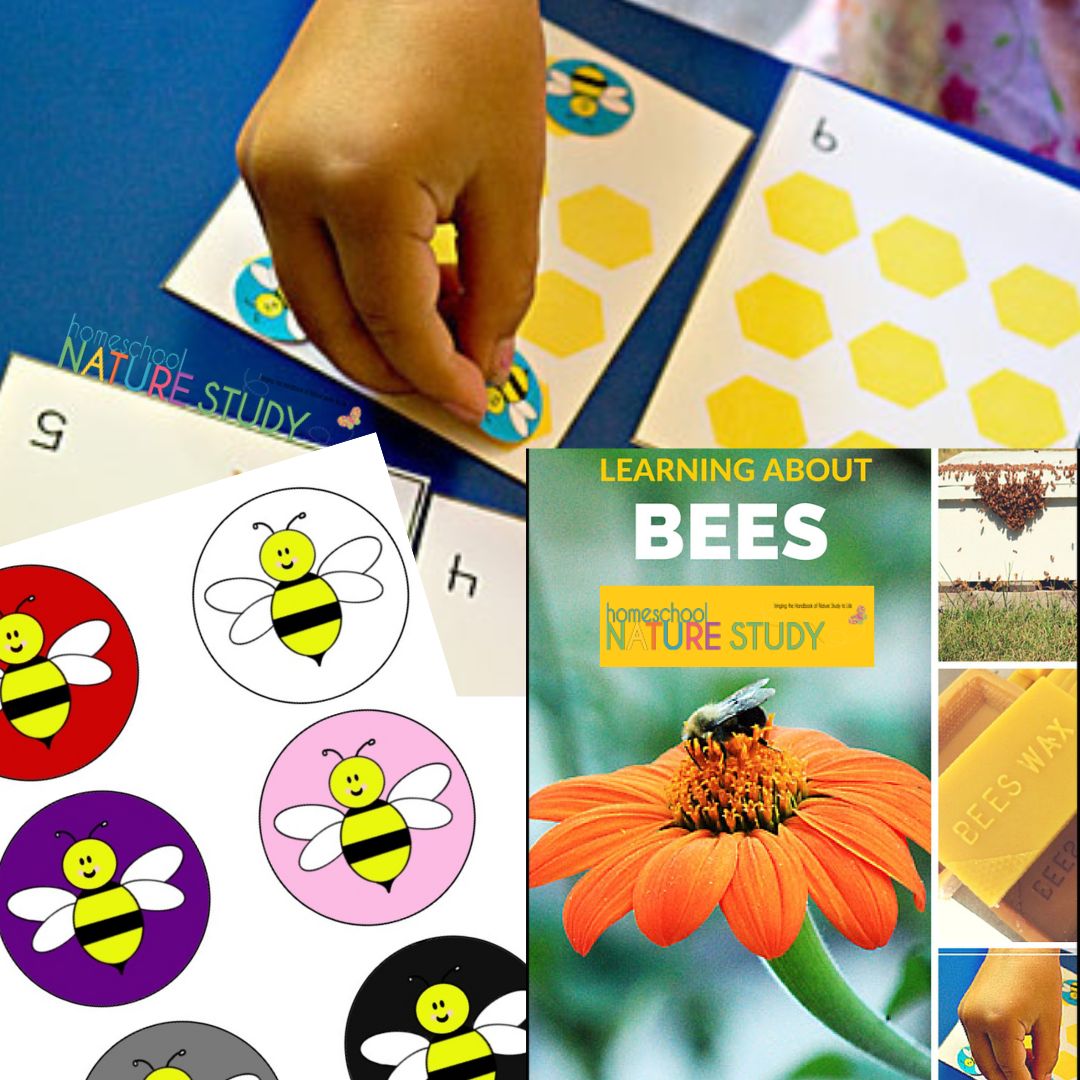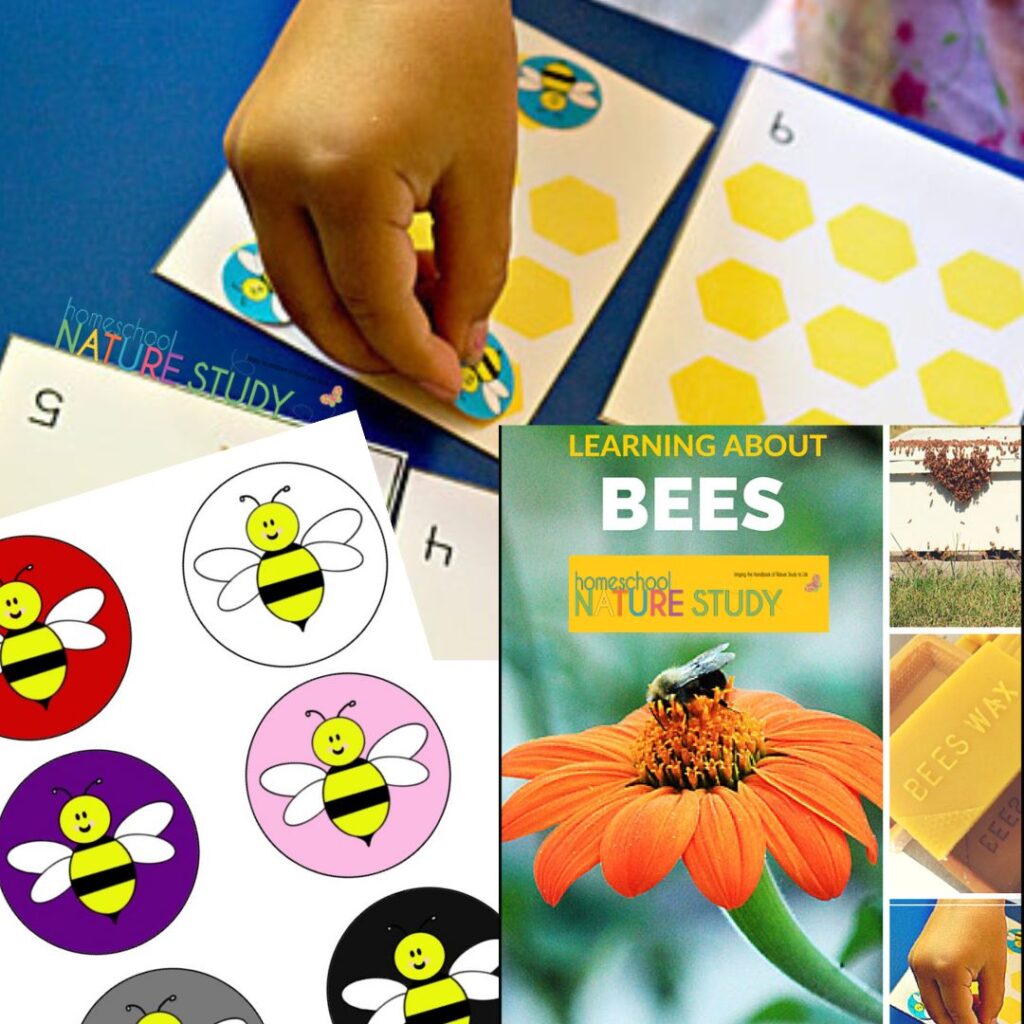 Bee Printables and Art Activities
We have some toddler/preschool bee-themed printables by Maureen Spell in Homeschool Nature Study Membership! Members, log in and go to your Preschool Course to find a bee number count and a bee color match printable.
Our sister site, You ARE an ARTiST, has a variety of bee art lessons to enjoy! Including a fun, Winnie the Pooh and the Honey Tree art lesson.
Making a Bee Habitat
I have talked before here on the blog and in my newsletter about creating a wildlife habitat in your yard. This is something that has brought such joy to our family and I highly recommend getting started even if it is in a small way like hanging a mason bee house.
Gardens That Help Honeybees – great tips for building a bee habitat.
Participate in the Great Sunflower Project! Count bees and enjoy a citizen science opportunity as a family.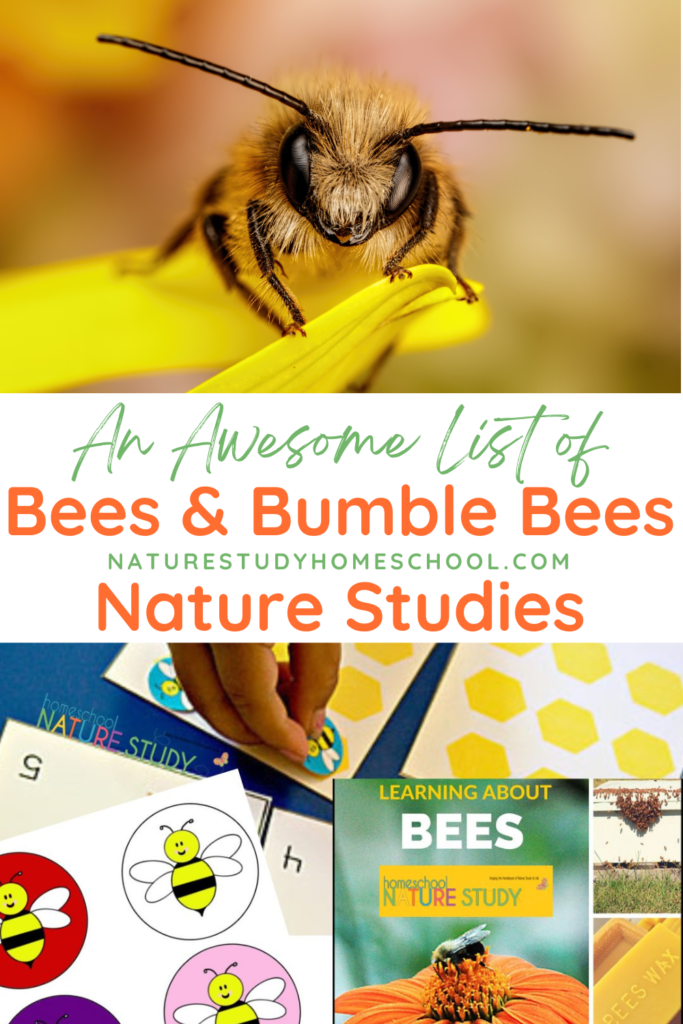 Homeschool Nature Study Membership
In homeschool nature study membership, find Outdoor Hour Challenges on bees, yellow jackets and mud daubers. Join us for even more homeschool nature studies for all the seasons! With a nature study plan for each week, you will have joyful learning leading all the way through the homeschool year for all your ages!
Be inspired. Be encouraged. Get outdoors!
Written by Barb McCoy, founder of the Outdoor Hour Challenges, Maureen Spell and Tricia Hodges