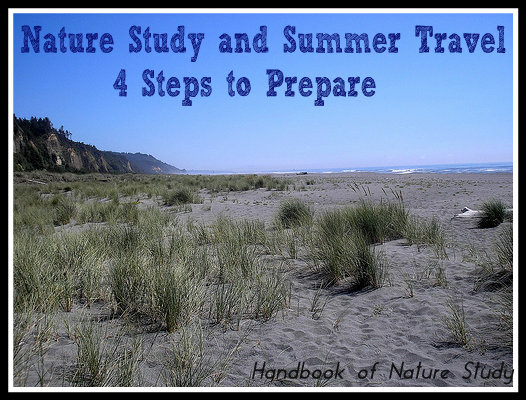 The difference between a good outdoor experience and a great outdoor experience with an opportunity for nature study is sometimes just a matter of preparation. Summer nature study is a perfect fit for most families with the weather being more enjoyable and with longer days to enjoy. Whether you are visiting a new city, exploring your own city, or taking a road trip, including nature study in your plans can make your time more fun and interesting. Our family tries to include some element of outdoor time to each traveling experience.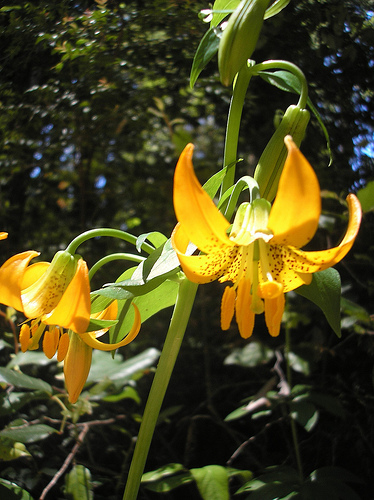 California Tiger Lily
Four steps to preparing for nature study as you travel this summer.


1. Do a little research ahead of time for the habitat you will be visiting. Determine what you will encounter on your trip that might make for interesting nature study. I linked some ideas below along with some simple nature study books to get you started. Make sure to use your local library to find more books to prepare your family before your trip so you have some things to look forward to seeing in real life. For example, if you are going to be visiting an ocean beach, learn what plants, birds, and animals make their home there. You can also use the Handbook of Nature Study to read about things you think you might encounter during your summer travels.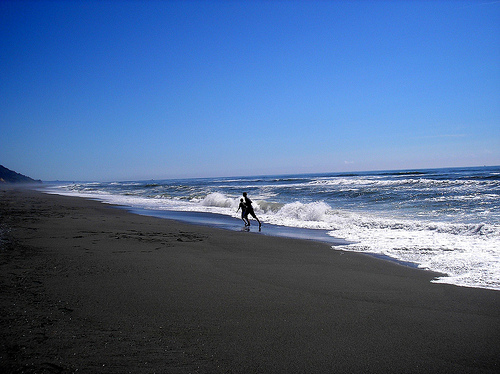 Beach play and nature study….a nice balance
Habitats Might Include:
Seashore

Woods

Desert

Pond

Deciduous Forest

Boreal Forest (Northern)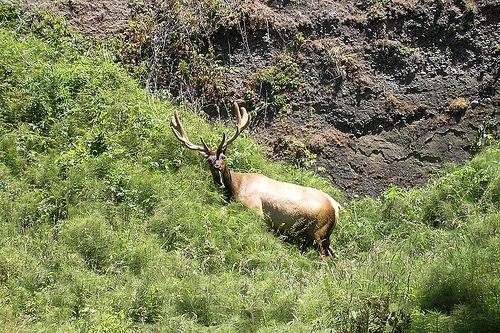 Roosevelt Elk – Northern California
2. Find resources such as field guides or other nature related books to read or bring along with you. I suggest a good bird field guide, a wildflower field guide, and perhaps a tree field guide as a basic set of resources to have with you. Check your library for books you can borrow and take with you. I have complied two lists of suggested field guides: Field Guides for Beginners and Field Guides for Families To prepare, you should page through the field guides before you leave on your trip to be familiar with the layout of the book and perhaps to glean a few things ahead of time to be looking for as you go outdoors.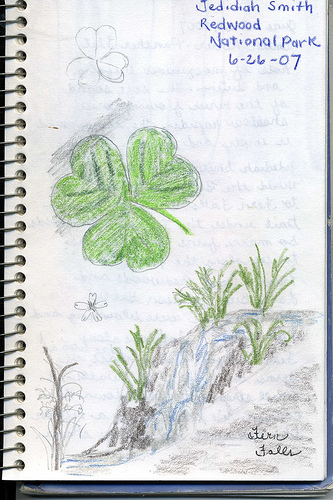 Nature Journals done on the trail do not need to be fancy.
3. Bring along your nature journal or some pre-printed notebook pages. During down time it is nice to have supplies on hand to make a nature journal entry to record your nature study as you travel. Basic art supplies like markers or colored pencils are easy to pack. I also like watercolor pencils for nature journal entries. Keep it simple and light. Digital cameras are a lot of fun for children to use as they document their own view of the trip. Encourage your children to take photos of things that they observe for future reference in identifying or including in their nature journals.
My suggestions for nature journal supplies and then nature journal ideas can be found here:  
Nature Journals-Ideas and Tips.
 
In preparing for your trip, you could also look up a few of the Outdoor Hour Challenges before you travel, the first five challenges can be applied to any habitat. If you have the first Getting Started Challenges 1-10 ebook, you can have that loaded on your laptop and reference it as you travel.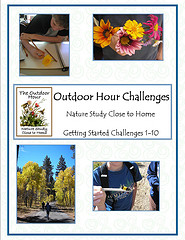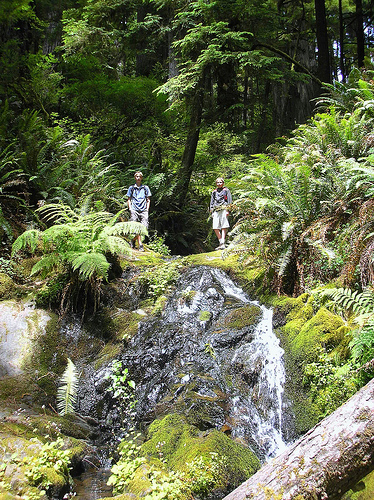 My boys love to climb and this time they discovered banana slugs and salamanders.
4. I also like to look up nature centers or nature trails in the areas we visit. A good nature center visit can take an hour or two and can provide a spark to capture the interest of everyone in the family. The staff is usually knowledgeable about the local habitat, giving you advice on where to go and what to see. They also can help identify anything you have observed but can't put a name to as you try to make your journal entries. Most nature centers have bookstores that can provide additional resources to follow-up your nature study time. I found this list of Nature Centers in the United States. (This list does not look complete but it will get you started.)
We are preparing for a camping trip of our own and I have used the suggestions above to gather ideas and resources ahead of time. You know we will share our results when we return from our coastal trip where we are hoping to find tidepools to explore, sandy beaches to walk, and redwood forests to hike in. We have some time before we set out so we will be thumbing through our field guides and looking up some additional information and redwood forests while we wait.
Hope you have the chance to spend some time outdoors this summer with your family AND include a little nature study.
This post is going to be a part of the Charlotte Mason Blog Carnival for nature study. You can submit your own entry HERE and the deadline is 6/13/11.