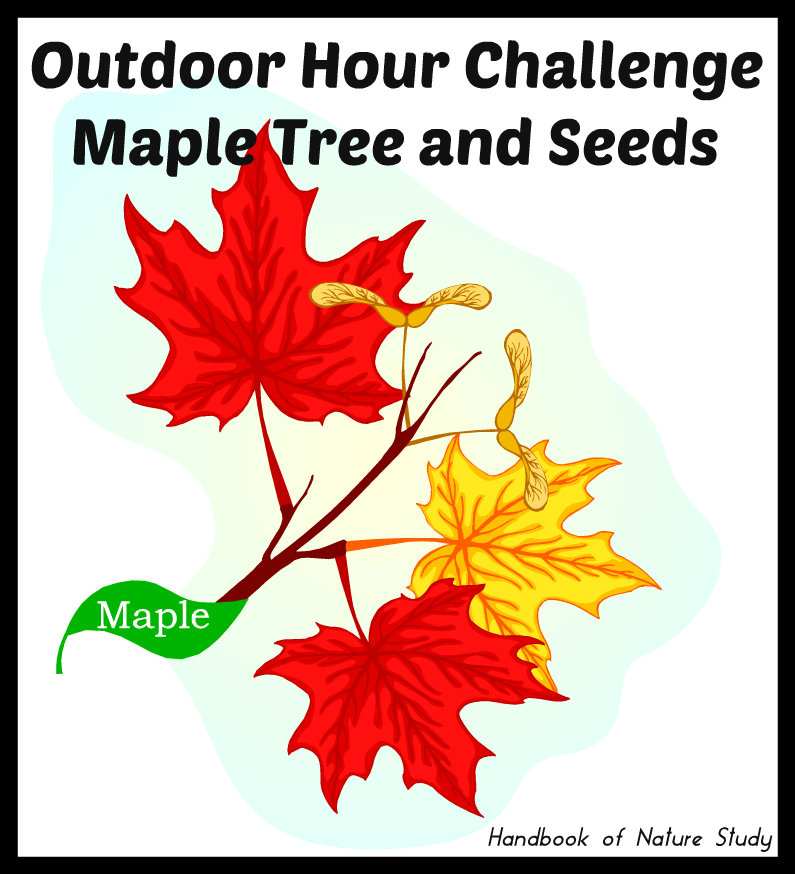 OHC More Nature Study #10
Maple Seeds and Maple Tree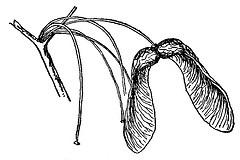 Inside Preparation Work:
Read in the Handbook of Nature Study pages 628-632 (Lesson 174). This is the section on the sugar maple. Pay special attention to the "Fall Work" section, especially #2 which describes the "key" and how to observe it. There is also a previous OHC for the Maple Tree that you may wish to look up and read for ideas to include in this challenge.
Other Maples to Investigate: Bigleaf Maple, Silver Maple, more listed on USDA. If you have a tree field guide, page through the maple tree section and get an idea of what kind of maples you have in your local area.
You will want to discuss with your child any winged seeds you are familiar with. We often call these winged seeds "helicopter seeds". Another name for the winged seeds are samaras.
Outdoor Hour Time:
For this challenge, spend some of your Outdoor Hour time looking for maple trees and maple seeds. Gather a few of the winged seeds to observe and investigate. Maple trees in the autumn have beautifully colored leaves and should help you in finding one to study.
Have some fun with your maple seeds. Release them and measure the distance they travel and how long they stay afloat.
If you don't have a maple tree or seeds to observe, see if you can find another tree observe that has seeds (oaks/acorns, conifer/cones, sweet gum/sticker balls, etc). Collect a few to bring indoors to observe with a magnifying lens.
You may wish to talk about other seeds you have observed that fly or float in the air. How about dandelions, milkweed, and elm seeds as well as the maple? If you found maple seeds, compare them with other seeds you know about.
Allow time to make a journal entry, complete a notebook page, and/or finish a coloring page. Make sure to sketch the key with the seed and wing labeled. If you observed a tree other than the maple, you can complete the Seasonal Tree Study notebook page if you wish.
Plant a maple seed where you can watch it grow.
Read about why and how leaves change color in the autumn: A Tree's True Color.
Advanced Follow-Up: Use a field guide to learn more about your maple. You can use this online tree field guide. Complete a notebook page for your nature journal (ebook users).
Advanced Follow-Up: Find other autumn seeds and make some observations. Suggested seeds: acorns, seeds from a cone, sticker balls, etc. Sort your seeds: Round/Not Round, Float/Not Float, Fly/Not Fly, Seeds That Lie Flat/Seeds That Do Not Lie Flat, and by Size.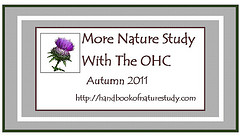 This challenge is part of the More Nature Study – Autumn series. All of the challenges are gathered into one ebook with notebooking pages (regular and for advanced students) and additional resources. You can gain access to this ebook by purchasing an Ultimate Naturalist membership here on the Handbook of Nature Study. See the Join Us page by clicking the link at the top of the website for more information about what comes with your Ultimate membership.

Save
Save