There are so many simple ways to study nature in your homeschool this winter! From nature walks to indoor studies, use this guide as a starting point for making memories together.
Simple Ways to Study Nature in Your Homeschool This Winter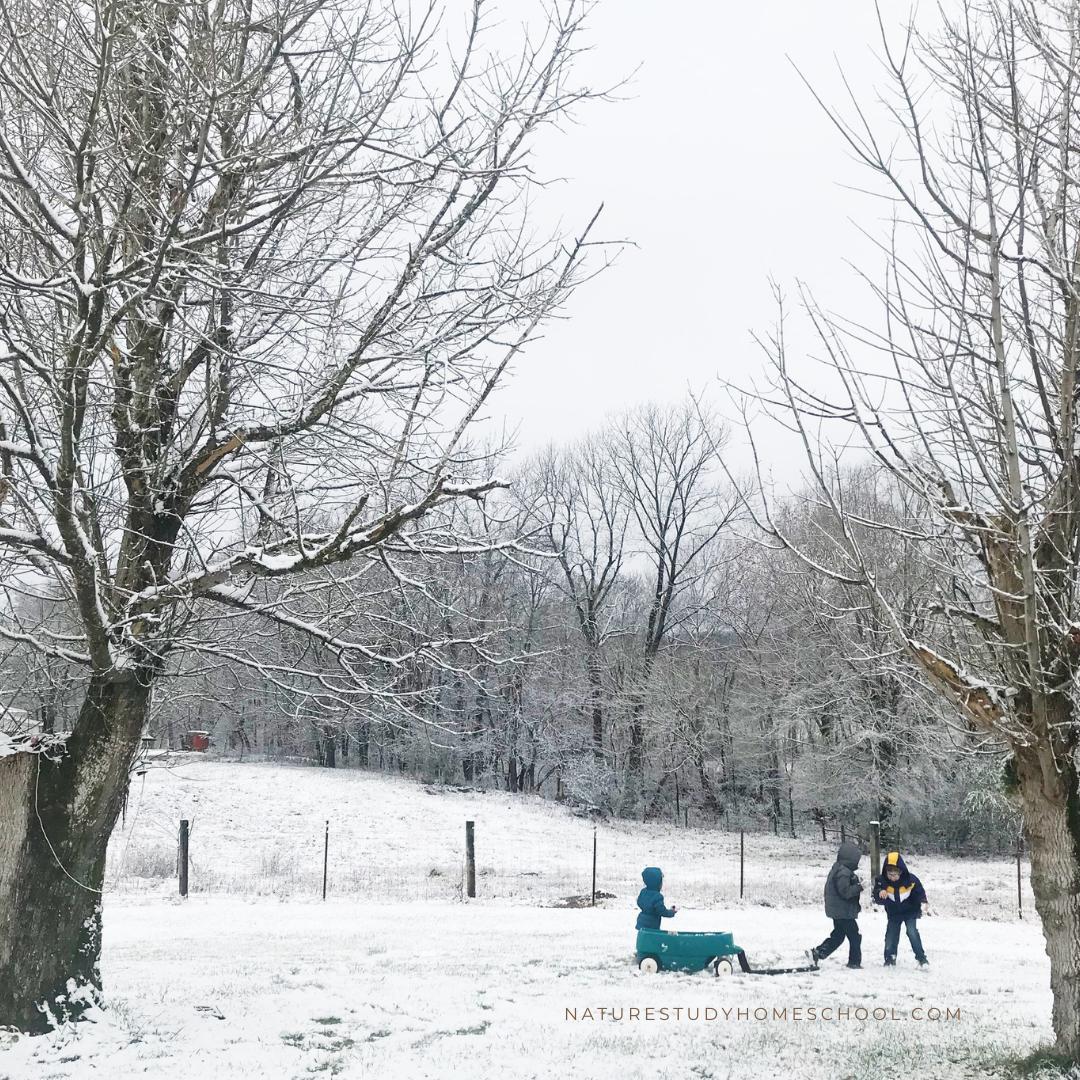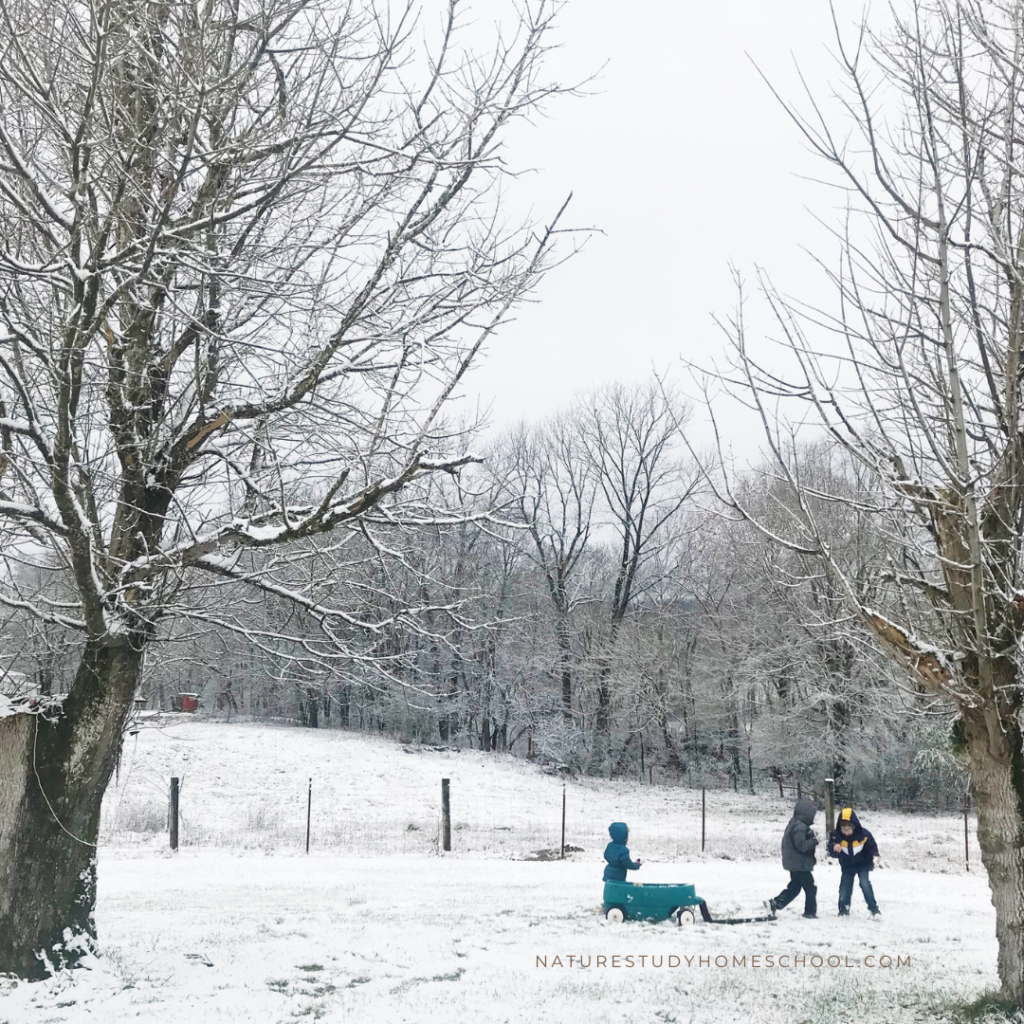 Take a First Day of Winter Nature Walk
Getting outside for a walk on the first day of winter may be one of the most refreshing activities you could do with your children. The temperatures drop and we huddle inside more and more, especially on the shortest day of the year!
"The most obvious work of nature has been the preparation for winter. A wide range of observation should be used to impress the truth: the trees and shrubs have lost their leaves, and stored the provisions for spring in the buds and branches; many softer plants die down to the ground, storing the food in roots, others in bulbs, and still others in tubers. The question may be asked for each plant that comes up for observation – How did it get ready for winter?"


Nature Study by Months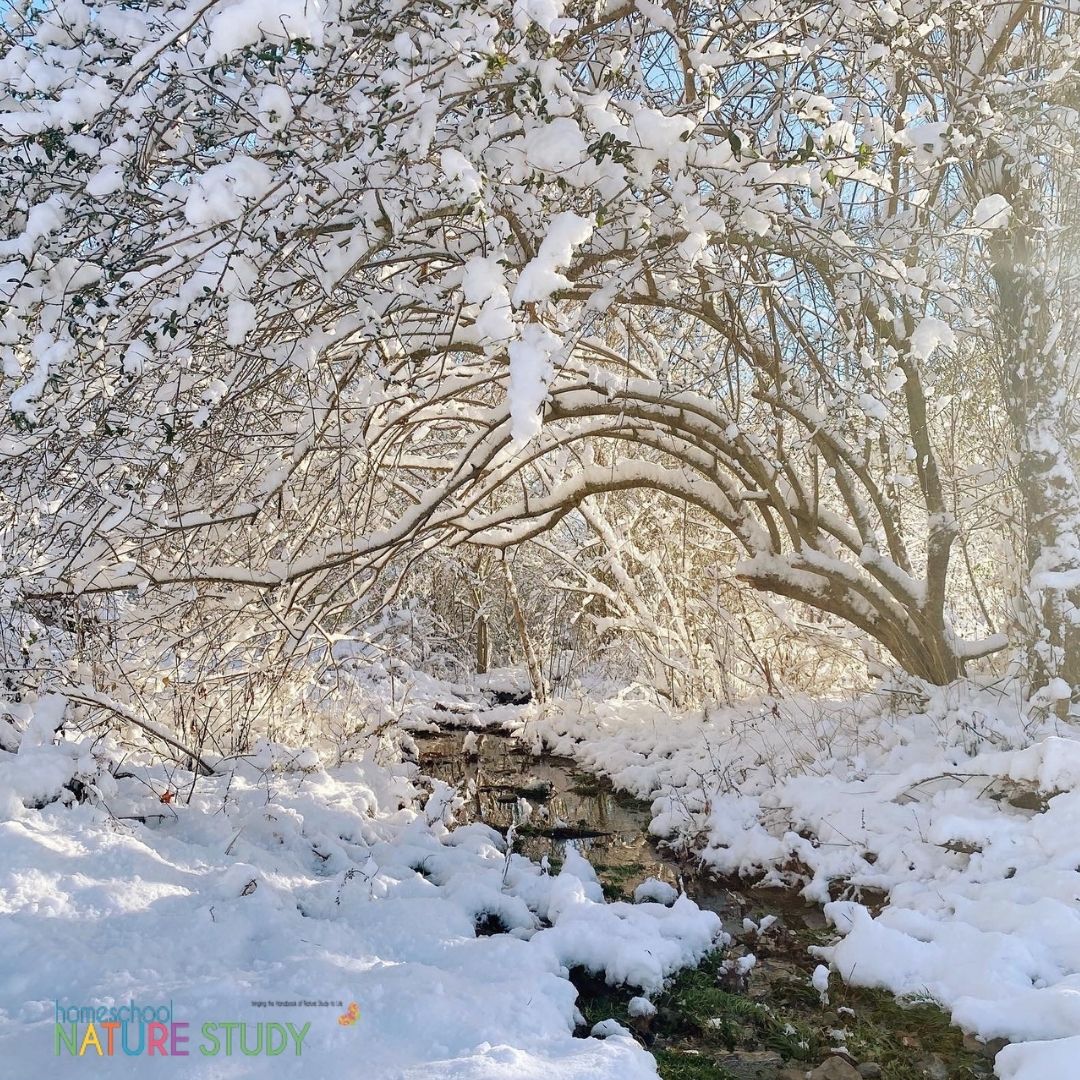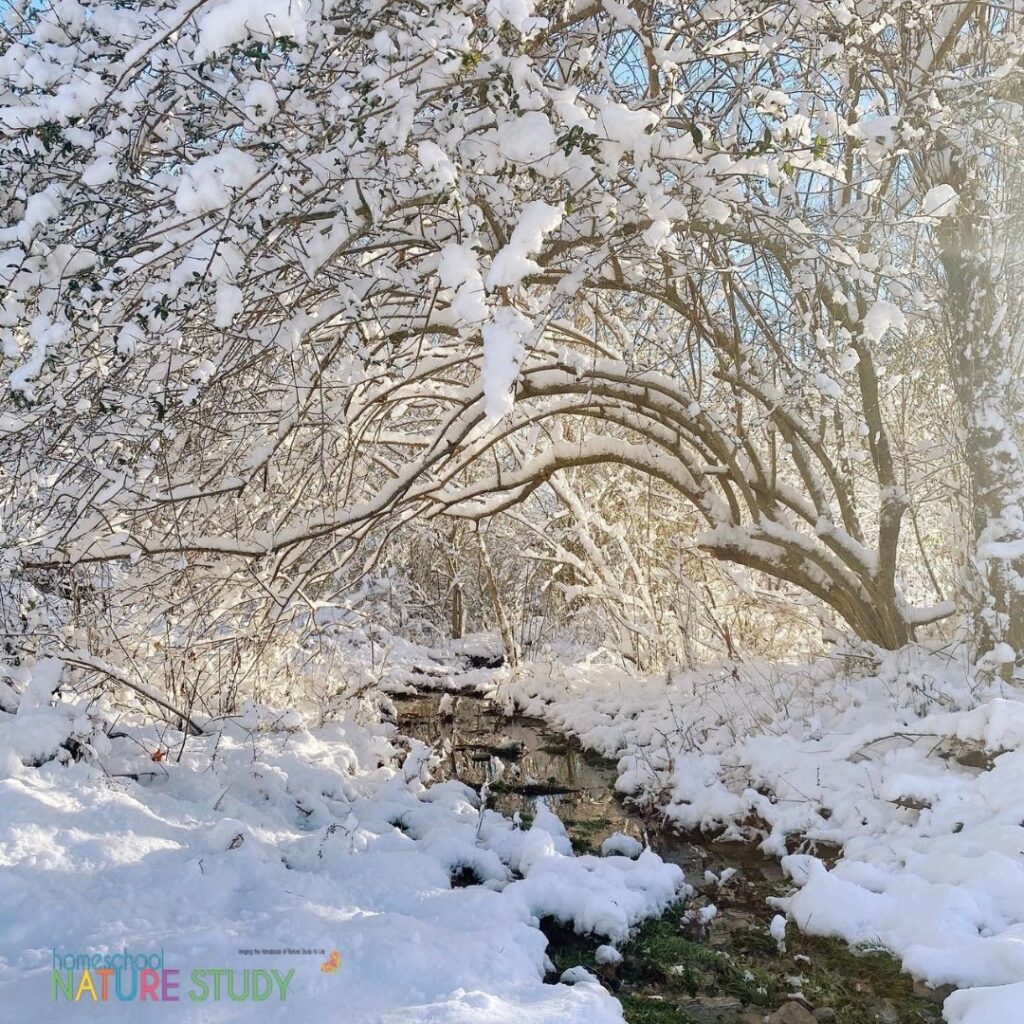 1. Take a walk this week and spend a few minutes looking at the plants in your yard and neighborhood. Look for bushes and trees without leaves, stopping to note that these plants are many times not dead but just waiting for spring to begin a new growth cycle. Don't go into too much detail but allow time for quiet observation.
2. After your outdoor time, spend a few minutes discussing how plants get ready for winter. You can bring out the following points:
Some plants (Annuals) have seeds that survive the winter even when the plant does not.
Other plants (Perennials) have roots that survive the winter and start to grow again in the spring.
Deciduous trees shed their leaves, conserve food, and have buds that are waiting until spring to open and grow.
3. Make a nature journal entry recording anything of interest from your outdoor time.
Alternately, make plans to get outside for a brisk nature walk and then to follow up with a nature journal page recording all of the interesting things you found while outside.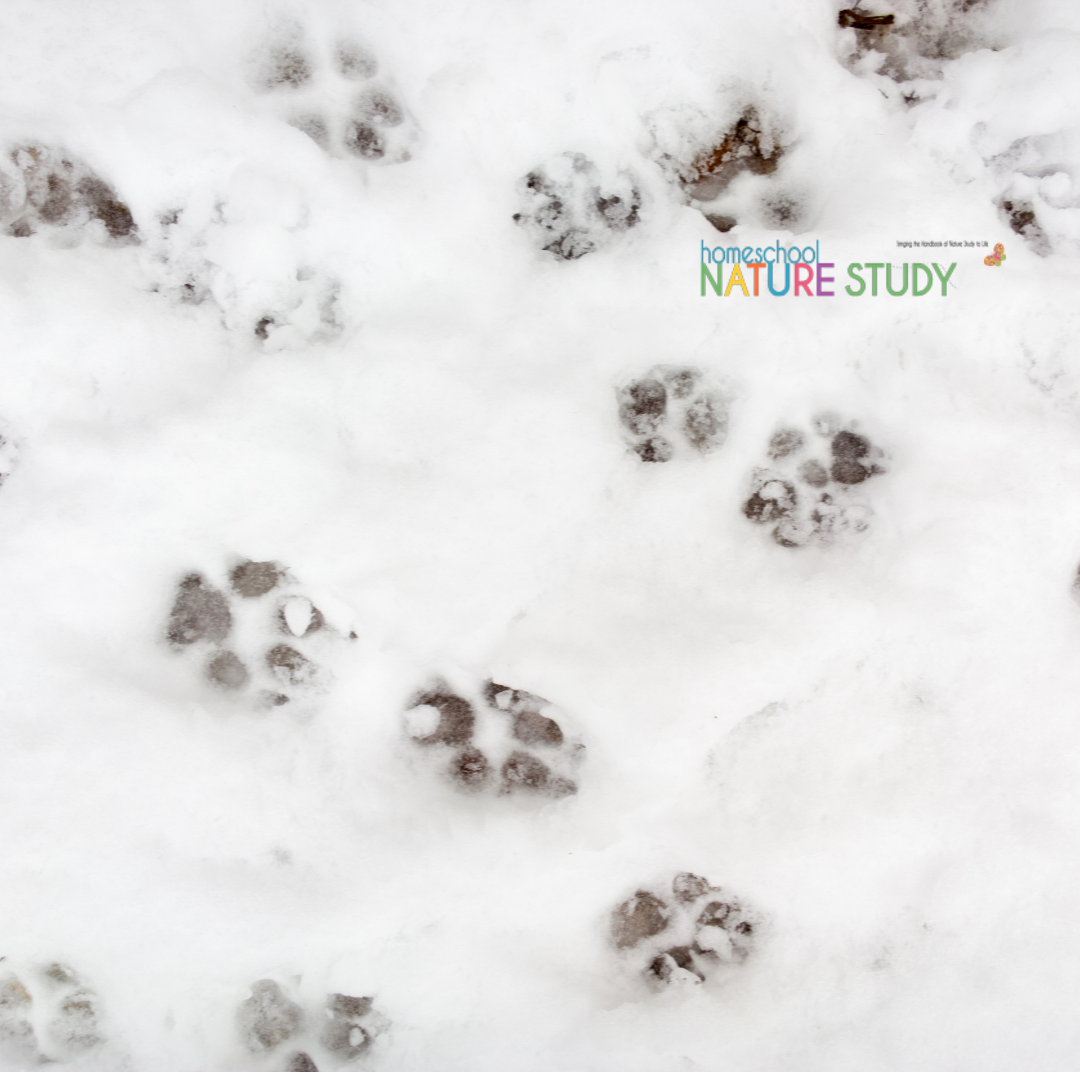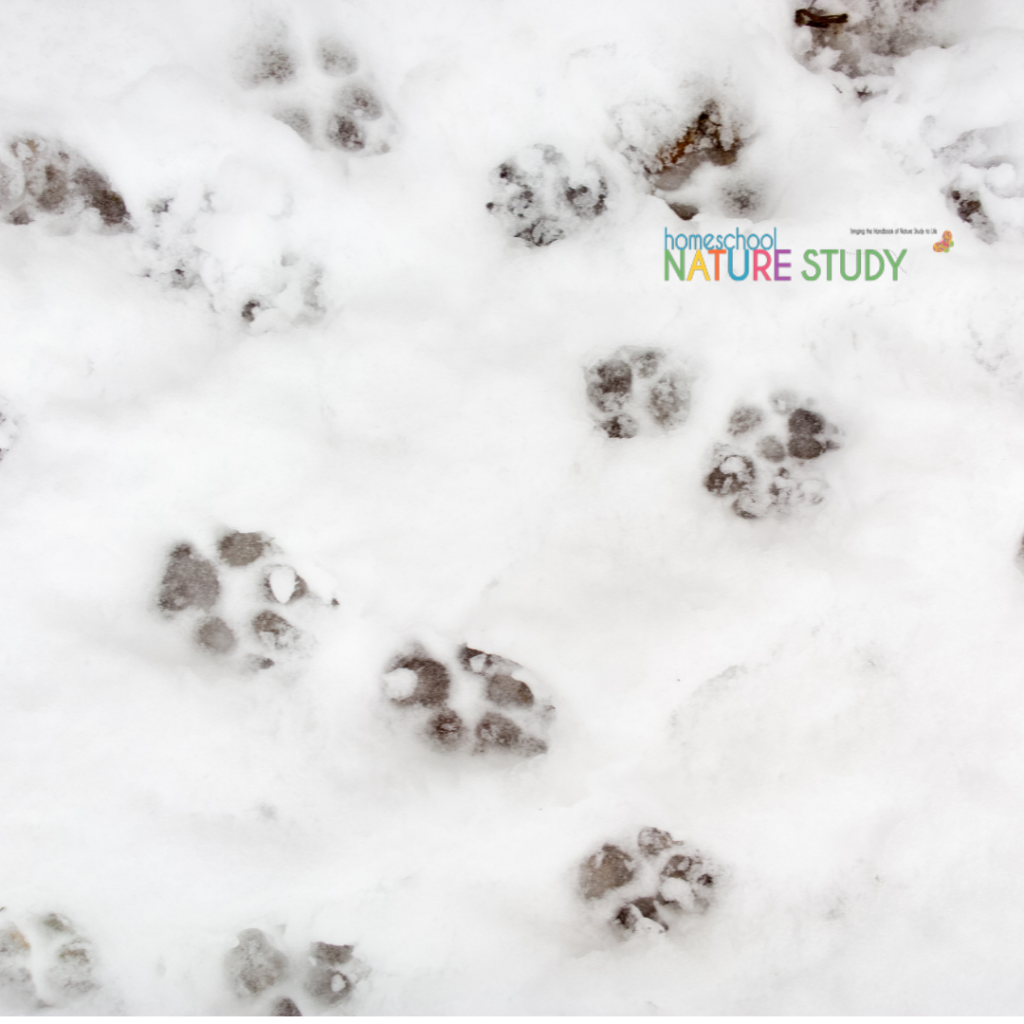 Animals in Winter Homeschool Nature Study
"The same thought should be applied to the animals. Most of the birds have gone south because of the cold, and also because their food is gone; the frogs, turtles, and toads are going to sleep all winter down in the mud or earth below the frost; the caterpillars are waiting in their cocoons for the warm spring sunshine; most of the other insects have laid their eggs for the next season, while a few of them have crawled into warm places to wait; the squirrels have gathered a store of nuts, and will soon be asleep in the old tree-trunks; the cats dogs, horses, and cows have grown a fresh coat of hair and fur. Nothing is forgotten; each is ready in its own best way."

Nature Study by Months
Ideas to Prepare for Outdoor Study:
This will be another easy week of nature study that will blend easily with other Outdoor Hour Challenges. Take the opportunity to spend some time outdoors noticing the way that animals prepare for winter. Make this one an investigation!
You might prepare with a little discussion about the various animals and birds that live in your local area. Some ideas to get you started:
migrating or visiting birds
squirrels gathering nuts
insects in cocoons
changes in color of various animals as they prepare for the white of the snow time
You can also read this article: Animals in Winter.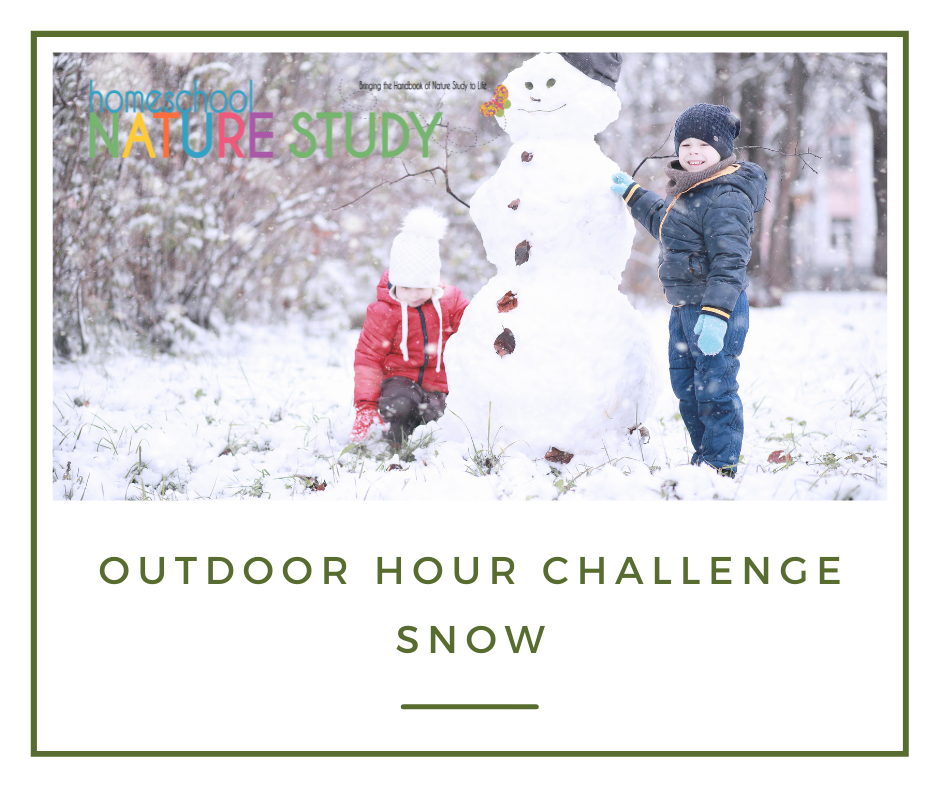 Get Outside!
Bundle up and spend fifteen minutes outdoors enjoying the December world. A good nature walk is pleasurable for everyone and allows you and your children to appreciate God's beautiful creation. The best times I can remember with my children are the times we just took it slow and easy, looking for the little things that most people pass by.
Look for signs of animals and think about ways they prepare for winter. You can also make bird and animal observations, noting their behavior. How are they staying warm? finding food? sheltering from the weather?
Encourage everyone to use all of their senses on this walk:
Did they see something colorful or unusual?
How does the air feel on your skin?
Is there a particular fragrance to the air?
Can you listen carefully for a minute or two to distinguish any particular sounds?
Another idea is to ask your children to find differences in the landscape, comparing your neighborhood habitat on this winter day to what they remember about the first day of summer. This is a little harder and you may need to help them get started with a few of your own observations.
More Outdoor Hour Challenge Ideas:
Turn over a rock and see what's underneath.
Look up in the branches of the trees and see if you can find any birds or other critters.
Sit quietly by the edge of a pond or stream and see what comes along.
Breathe the air and enjoy the day.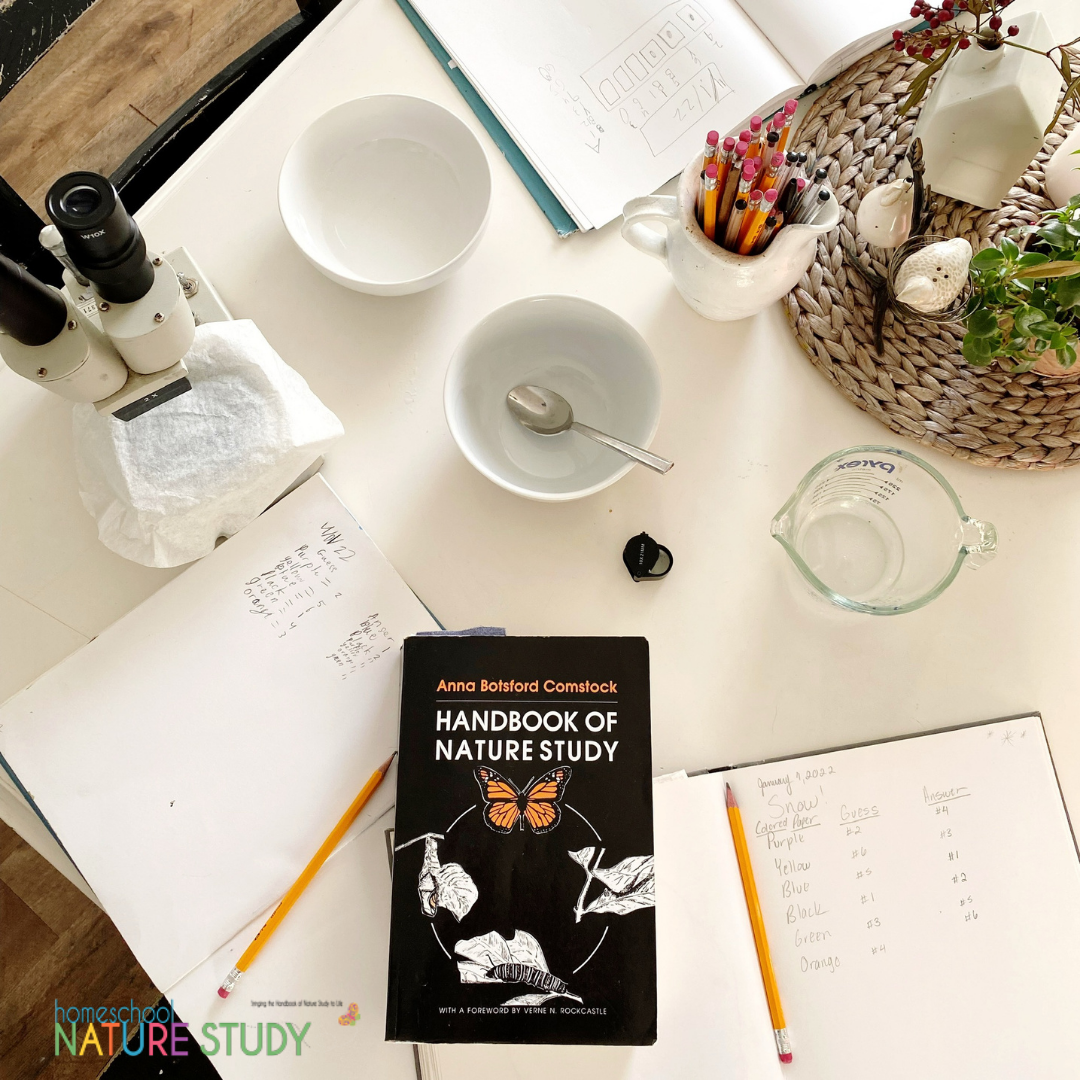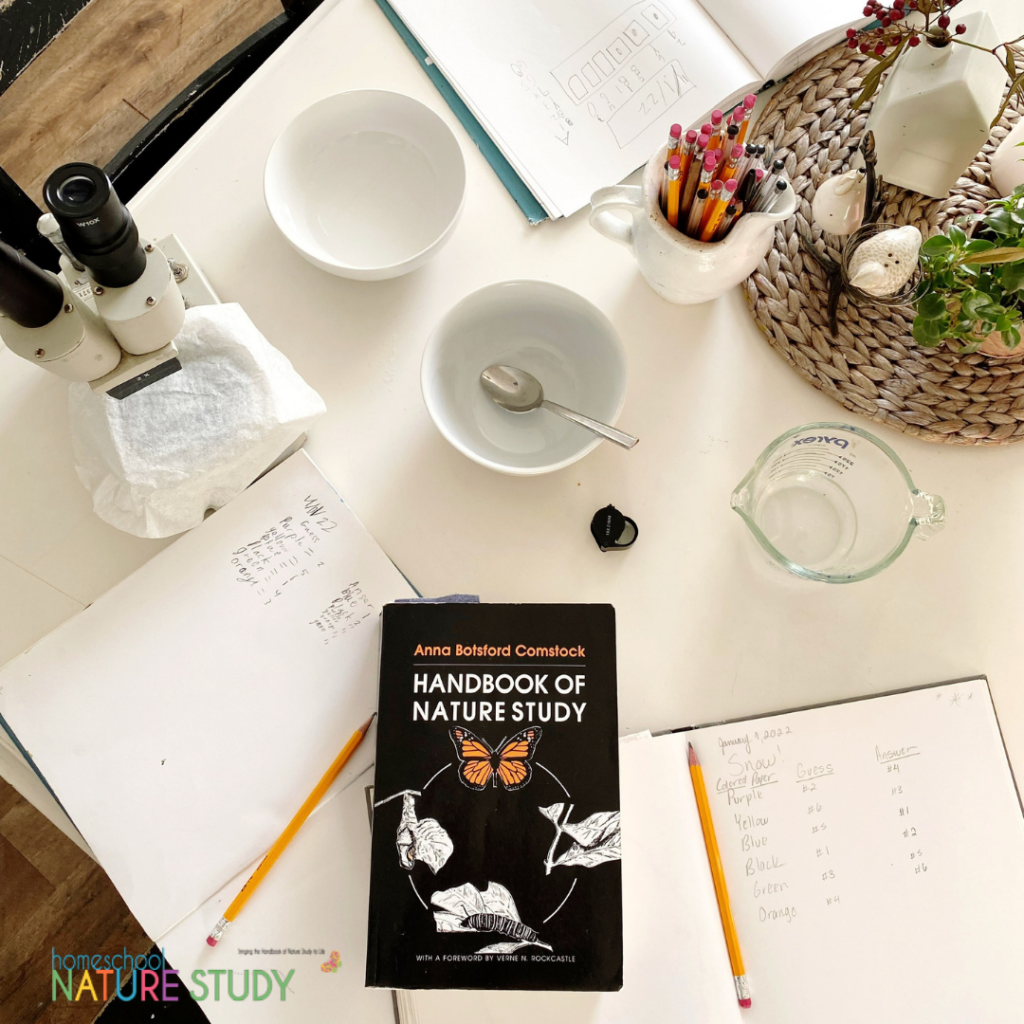 Follow Up Indoor Winter Nature Study Activities:
After your outdoor time allow time for a nature journal entry. Use the notebook page or the journal idea from the December Newsletter to record your observations of anything that your child finds interesting. I also have a December World Notebook Page included Homechool Nature Study Membership or you can use one of the journaling pages included in the free membership sample, below.
Maybe this week you could use a different art medium in your journal…many of us get stuck in a rut. Offer colored pencils, thin markers, watercolors, or pastels.
Paint a Winter Frosty Leaf in Chalk Pastels
Nana of You ARE an ARTiST offers a sample of her winter art lessons series in You ARE an ARTiST Complete Clubhouse membership. Suggested supplies: dark blue construction paper and leaf chalk pastel colors. Baby wipes or slightly damp paper towel for easy clean up.
You could also try offering modeling clay as an alternative to drawing the subject this week and then take a photo of the finished product to include in the nature journal.
Additional Link: Animals in Winter lapbook – free printable
Not all nature study needs to happen outdoors during the winter season! There are so many lovely ideas for you in Taking Your Winter Nature Study Indoors.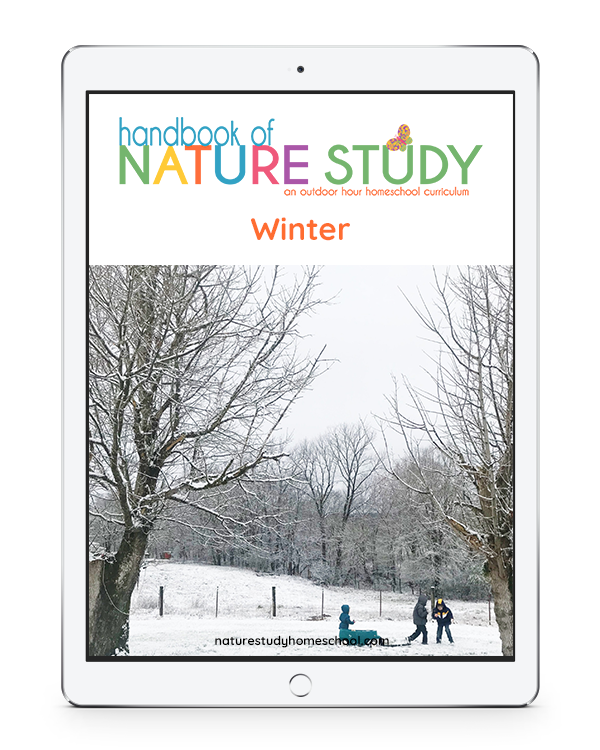 Wonderful Winter Homeschool Nature Study Topics
In Homeschool Nature Study membership, each challenge gives you step by step instructions to get started with simple weekly nature study ideas…even in the middle of winter! This may just be what your homeschool week needs to get you through the cold winter days of January, February, and March.
Each challenge is written for you to complete in your own neighborhood or backyard and you can adapt each challenge to fit your local area with suggestions I offer with each topic. Don't be discouraged if you look at the list of topics and think you don't have that particular subject close at hand. I will guide you through finding a replacement to still offer you a weekly dose of nature study.
The winter homeschool nature study challenges were written for families with children of all ages. In addition to the regular challenge, I have bumped up the nature study for older or more experienced children, complete with their own set of notebooking pages. You will be able to use these studies with your whole family and pull it out from year to year and have a nature study resource for all levels.
Outdoor Hour Challenges for Winter – Bring the Handbook of Nature Study to Life in Your Homeschool!
Membership includes all you need for using the Handbook of Nature Study and enjoying learning together as a family. See a sample membership Winter Homeschool Nature Study by signing up with the form, below.
Membership includes all of this plus MORE!
notebook pages and coloring pages
Upper Level notebook pages for advanced or experienced students
Charlotte Mason style exam questions
Complete list of supplies needed
Detailed instructions for each challenge, including links and printables
Nature journal suggestions
Alternate ideas to adapt the challenges to your local area
Members also enjoy:
Bird in Snow video art lesson
First Day of Winter Walk and Observations Page
December World Notebook Page
Winter Weather Observations Journal Page
Window Observations Journal Page
December Words and Poem Journal Page
Special Outdoor Hour Challenges
Snow Study!
Red and Green Outdoor Hour Challenge
Moon and Moon Names
Study on Magnets and the Compass
And more challenges from all of the courses pictured above!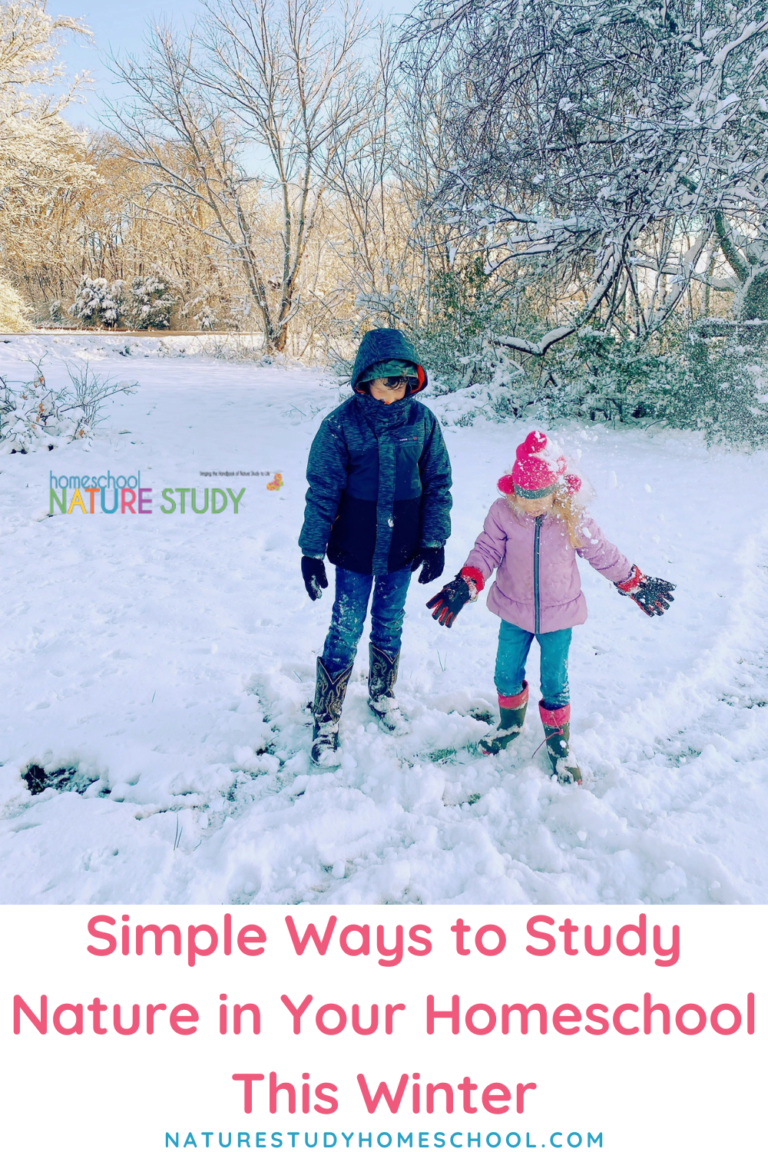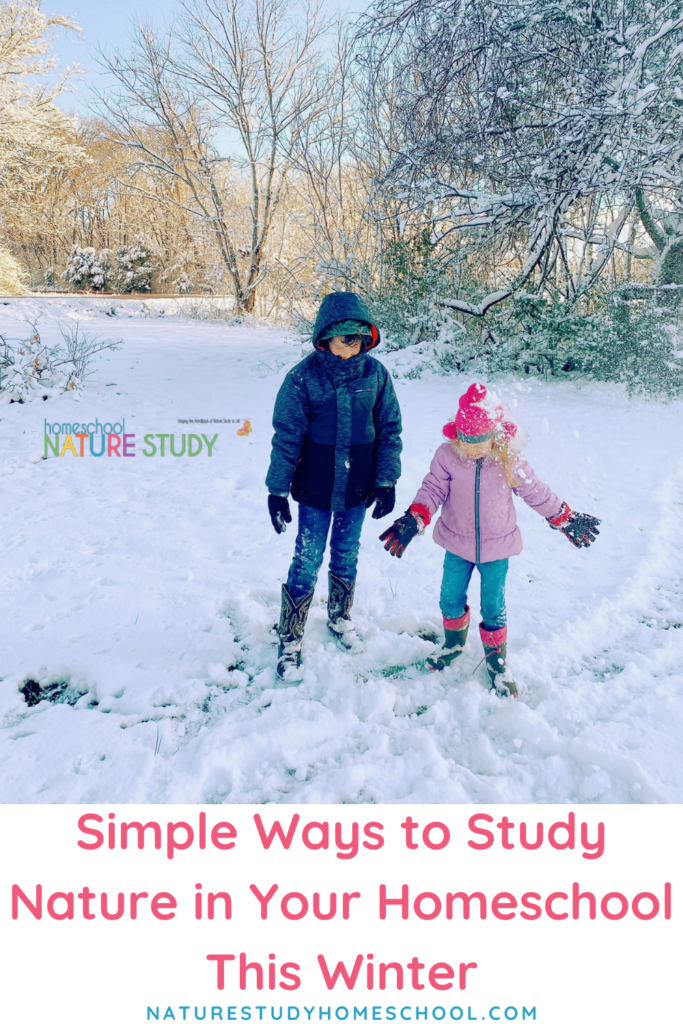 Get Your Free Sample Of Membership: Winter Homeschool Nature Study Download
Most importantly, when you get outside for your winter homeschool nature study, take along a good attitude and leave yourself open to whatever the experience brings. Allow your children to direct you to things they find interesting and then share in their excitement.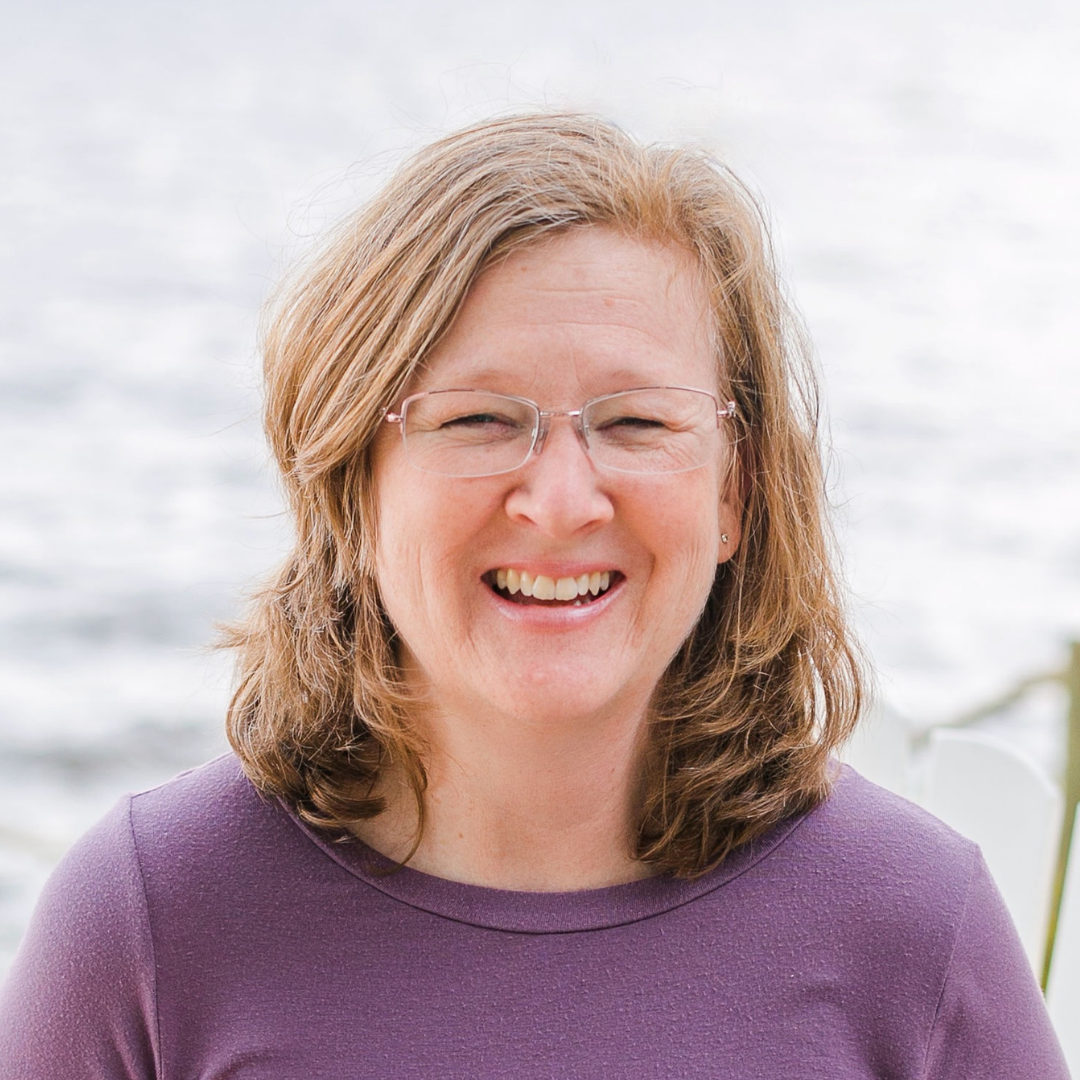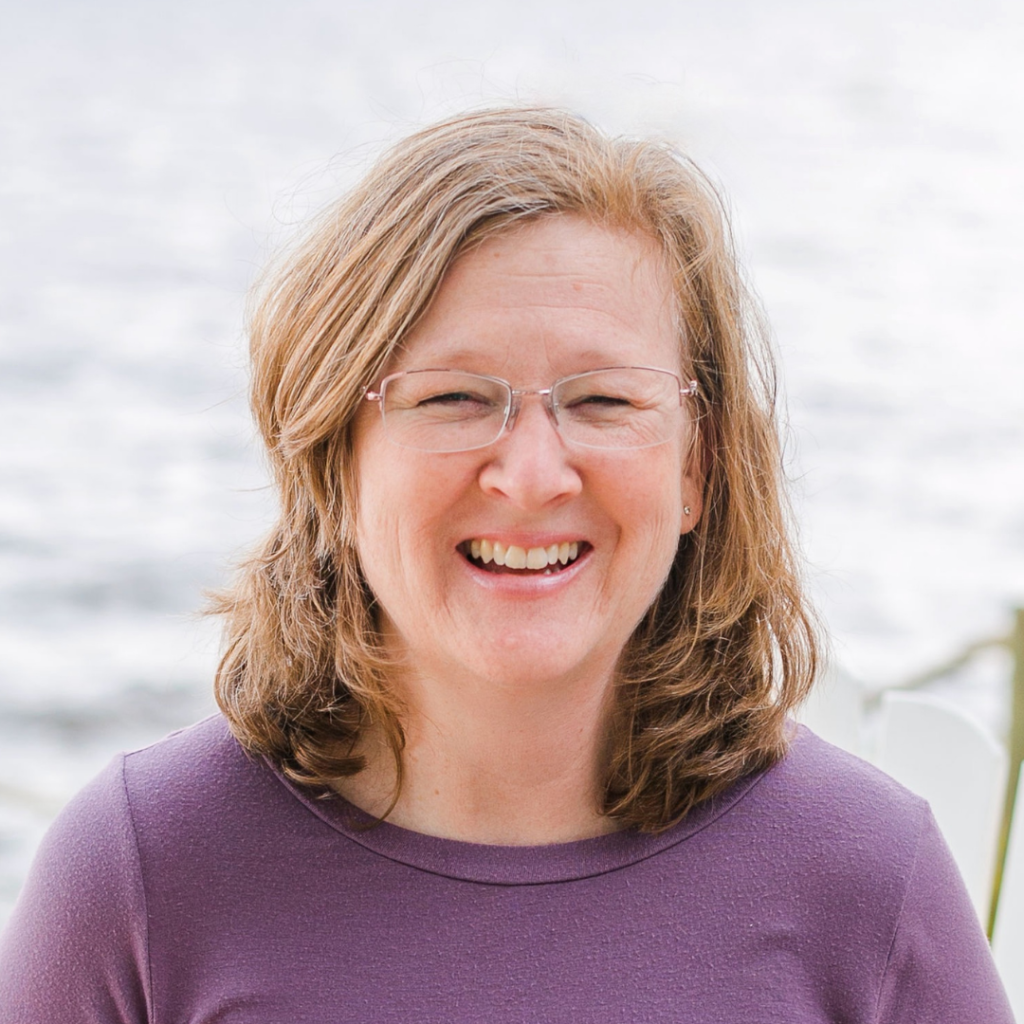 Tricia and her family fell in love with the Handbook of Nature Study and the accompanying Outdoor Hour Challenges early in their homeschooling. The simplicity and ease of the weekly outdoor hour challenges brought joy to their homeschool and opened their eyes to the world right out their own back door! She shares the art and heart of homeschooling at You ARE an ARTiST and Your Best Homeschool plus her favorite curricula at The Curriculum Choice.