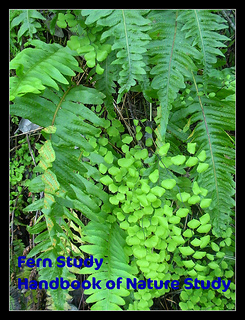 More Nature Study Book 3
Fern Study 
Inside Preparation Work:
Read pages 693-706 in the Handbook of Nature Study (Lessons 192-195)). Highlight information on ferns that you would like to share with your children. After reading through the information, pick one aspect of the fern to focus on during your outdoor time (unfolding, fruiting, learning parts of the fern).
View this animation: The Life Cycle of the Fern. This one is also interesting: YouTube: Time Lapse Fern Unfurling.
Advanced preparation: YouTube: Fern Life Cycle (Give this one a chance. It starts off a little rough but covers the information very well for this challenge.) Fern Cycle—Animated (For Fun). For students who have a background with high school biology: Fern Life Cycle.
Outdoor Hour Time:
Note:Take a hand lens and a way to carry a fern frond with you during your outdoor time.
Ferns are in the section of the Handbook of Nature Study that covers Flowerless Plants. Use your outdoor time this week to go on a fern hunt or as an alternative, look for moss which is in the same section in the Handbook (Lesson 197). Make observations using a hand lens if you have one. Take photos of the location of your ferns or other subjects.
Collect one frond of your fern (if appropriate).
Follow-Up Activities:
Allow time for a nature journal (notebook page provided in the ebook). If you would like to make this study into a year-long project, record your spring fern observations and mark your calendar to return in summer, autumn, and winter to view your fern's changes.
Use careful observation to view the sori on the back of your fern.
Make ink prints of your fern frond in your nature journal. Step by step instructions are on my blog: Making Leaf Prints With Ink.
Advanced study: Record the story of the fern in your nature journal. Ebook users: Optional: Fern coloring page.
Additional Links:
Guide to Ferns (for Georgia but information that can apply anywhere)