We all were aching to get on the road and start our week long camping trip in Oregon. Part of the joy of driving to Oregon are the views along the Northern California and Southern Oregon Coast. Amazing! The photo above is between Arcata and Crescent City along a stretch of the coast that at this time of year is ablaze with lupine…the fragrance is divine as you walk through the vegetation to the sandy beach.
When the boys get out onto to the sand for the first time it is pure joy! They stretch their legs after a long car ride and enjoy the Northern California wide open sandy beaches. We walked a long way, looking for beach treasures as we went. Then it was back into the car for the last leg of the trip over the California/Oregon border and up to Brookings and our beloved Harris Beach.
Yes! This is our campsite this year which overlooks the Pacific Ocean…looking westward and perfect for watching the sun go down each day. We were surprised at how light it was late into the evening…sunset was about 9 PM each day but it was light much longer than that.
Two of the days we were there we were able to take advantage of the negative tide and do some serious tidepooling.
Lots and lots of anemones to be seen…large and small!
Look carefully in this image and you can see the sea star's "feet" that are clinging to the rocks at low tide. There were so many sea stars of many colors, sizes, and types. I love being able to see up close all the things we learned about from books.
I brought along a Stomp Rocket for the family to use on the beach. This was a fabulous idea and the boys (and mom and dad) each had turns stomping the rocket and watching it propel off down the beach.
We spent many, many hours walking the beaches and collecting colorful rocks…sometimes my pockets were all filled to capacity. I enjoyed sorting my rocks by colors on the picnic table at the campsite. I left them out each night and in the morning the dew would make them shiny and shimmery again.
These were my favorites…the red, green, and gray ones.
I also like this colorful kind which sort of looks like wood. I have a couple more rock related entries to share with you next month as part of my nature study goals and collecting various kinds of rocks. This was a great way to keep nature study at the forefront of our trip..love a good goal.
Mr. A was my fellow photographer at the tidepools. He was willing to really get out where he might slip and get wet to capture some great images of his own. He uses his cell phone camera and they turn our really great.
Here is a shot of my other photography buddy…Mr. D. He is more of an artist with his camera and takes his time to get just the right shot with the right setting. His images are amazing. This was also the very first time that our Kona dog has gone camping with us. She settled right in and had a great time. The wonderful thing about Oregon is that dogs are allowed on the trails as long as they are on a leash. She was able to take every hike with us…love Oregon!
We spent two different days in the redwoods hiking in the quiet stillness. We pretty much had the place to ourselves and it was so very refreshing. I already miss it. I am checking off another new hike on my 2013 Nature Study Goals, two down and two to go!
Can you just imagine how far you can walk on this Oregon beach? It was a windy day but it wasn't cold so we took advantage of the open space and just roamed for a very long time. (I collected a few rocks too.)
Hello Mr. Snail!
Oh wow! These ferns were amazing! I loved seeing the black stems and the graceful way the fronds grow.
Aren't they just incredibly pretty? I knew that our California Maidenhair fern had a black stem so I though maybe they were related. I looked it up when we got home and sure enough! This is the Northern Maidenhair fern.
On our last day we visited Crissey Field State Park which has a wonderful visitors center. We spent some time viewing all the nature displays and gathered some pamphlets for future use. We had a picnic lunch and then adventured out to the beach which is so very beautiful. Driftwood, dune plants and flowers, and a nice sandy beach are just what we needed to end our trip on a high note.
We were so happy that our trip turned out with gorgeous sunny skies for the majority of the week. We were able to do a lot of hiking, a lot of exploring, and enjoyed each other's company while visiting the Southern Oregon Coast.
Until next time….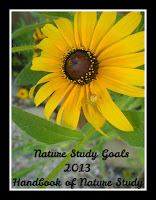 Have you seen the new product over at NotebookingPages.com? If you own a Lifetime Membership over on Debra's website, you can log into your account on NotebookingPages.com and download your set right now. If you aren't already a member over there, you can purchase the set separately or I would highly recommend a Lifetime Membership so you can access all of the 1000's of notebooking pages she has to offer. ($4.95 for the set or get started with your membership with $10!)
Please note I am an affiliate for NotebookingPages.com and have used the notebooking pages with my family for years!