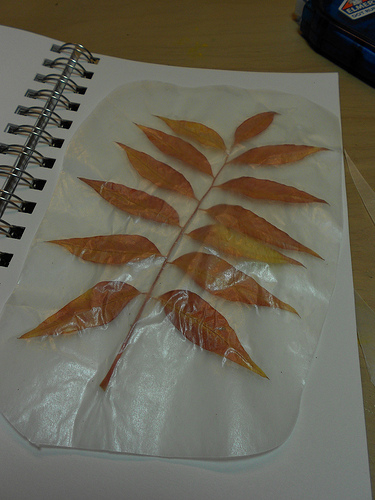 Pressed leaves going into my nature journal (See the November Newsletter for instructions.)
We are finally starting to see some fall colors all over our neighborhood. With our autumn color words in mind, we try to challenge each other to find just the right color words as we drive around town…noticing the crimson, the indigo, the mahogany, and the bronze of the leaves. (Download your own Advanced Fall Color Activity from Hearts and Trees.)
As part of the Leaf Close-Up challenge, Mr. B was happy to come along to gather fall leaves but not too excited about doing the follow-up for this one. His teen attitude was that he knew all there was to know about leaves. I let it go for that day since we had enjoyed spending time together outside and I did not want to spoil the mood.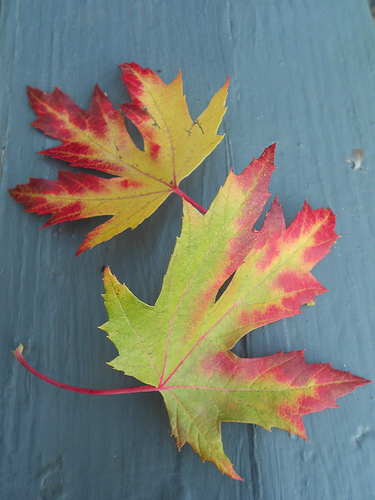 I waited until another day to try the advanced study work suggested in the challenge which was to make our own slides using the leaves we gathered, looking closer at them using a microscope. As much as I want my teen to continue his nature study, I know that pushing him too hard takes the joy out of it and that is the opposite of my aim in continuing nature study through high school.
It can wait.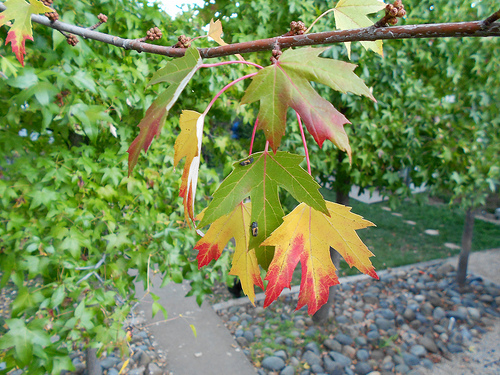 Fall leaves with larvae.
So, even though a leaf study was not a great fit for Mr. B, I tried to finish the challenge myself this week, hoping he would join me. Well, right off the bat I needed his help with the microscope. It did not seem to be working so he took a look at it for me but he could not get it going either. That ended another day of trying to get this challenge done.
Then on Friday, Mr. A (my older son who has graduated from high school) was home and I asked him if he wanted to finish up the challenge with me. He actually was eager to participate. He brought his own leaves in and got to work. The image below is a glimpse at his notebook page from the More Nature Study ebook. He ended up using the hand lens instead to view the leaves up close.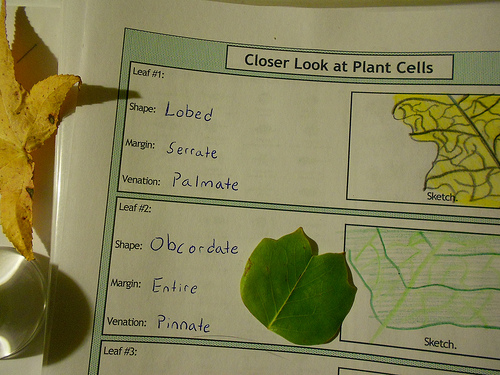 Advanced Study notebook page from More Nature Study ebook
This challenge led to a light bulb moment for me.
Mr. B was not interested in this particular challenge but we did enjoy our time together outdoors viewing the trees and leaves. For Mr. B, that was enough.
Mr. A *was* interested in taking a closer look with me at the fall leaves even though he has graduated from homeschool.
Lesson? I am succeeding in keeping my teens interested in nature study. As always, I need to learn to be flexible and allow for personal taste and styles of learning.
For more on that topic make sure to read the article in the November edition of my Outdoor Hour Challenge Newsletter from Ellen Crandall (available to all subscribers to my blog-see the sidebar to sign up). She has a few teens in her home that she is encouraging nature study with each month.