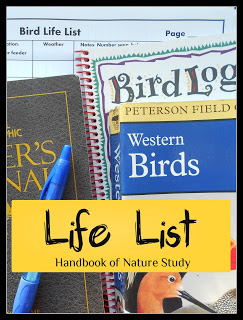 Outdoor Hour Challenge:
For this challenge, I encourage you to start a life list of birds. A bird life list is a cumulative list of birds that a birder sees and identifies.There are a variety of ways to do a life list including a handwritten list in your nature journal, using a pre-made book, checking off birds and noting the dates in your field guide or from a checklist, keeping an online list at eBird, or using an app on your phone. 
Don't get stuck on picking the "perfect" way to keep your list. Review the choices and then get started. My only regret is that I did not start my personal life list sooner.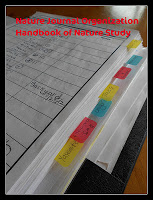 I have found that I like to keep multiple lists including one for our yard and neighborhood (by month), by location when you travel (like my Oregon and Yosemite lists), and perhaps even lists by the month or season. You can see my entry on Nature Journal Organization for more information.
You can also start a bird "wish list" and keep track of birds you would like to see in the future. This is especially helpful if you are traveling and can do some preparation before you leave noting the birds you may encounter. 
Special Activity:Life List Printable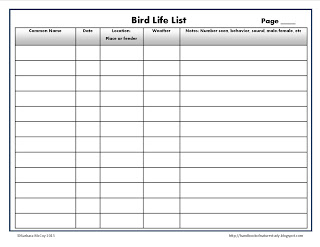 Bird Life List Printable
I have attempted to create a Life List Printable that will be flexible for you to use in your nature notebook. I am in the process of testing it out in my everyday bird sightings.
Your list can be as detailed as you wish.
Things to include: Date and Time of Day. Location. Gender. Weather. Bird Sounds. Number of birds seen.
Additional resources:
Printable Checklists by Country or Region (updated the link with one that should get you started)
 


Getting Started Suggestion:
If you already own the Getting Started ebook, complete Outdoor Hour Challenge #5. I love the quotes in this challenge from Charlotte Mason. Remind yourself that you are the key to a successful outing and follow your child's lead as much as possible. After your outdoor time, start or add to your running list of birds you see in your backyard. You can use the notebook page from the ebook for further information.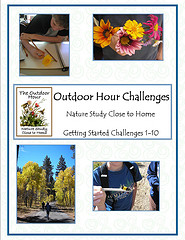 You can see and download a sample challenge and notebook pages: OHC Getting Started Ebook Sample.

Please note that this ebook is included in every level of membership here on the Handbook of Nature Study.

Save