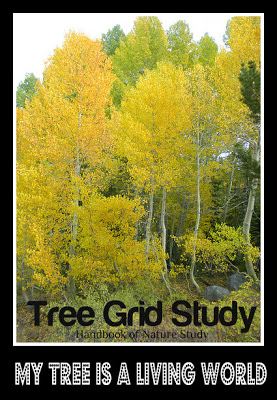 Outdoor Hour Challenge:
This week we will be using the Tree Study Grid from the October 2012 Newsletter. Print the grid out, cut it to include in your nature journal, and then take a few minutes during your week to complete some of the suggested activities. If you haven't subscribed to the blog yet, you can do so now and you will receive the newsletter link in the next entry.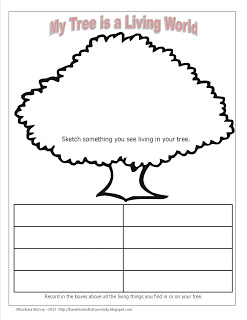 Printable Activity Notebook Page:
This week the challenge extra is a free printable activity notebook page.
My Tree Is A Living World: Record all the living things you find in the tree you observe. Remember to look high, low, on the bark, on the leaves, in the crown, and on the branches. If you don't know what something is, record a description and then look it up after you return home.
Getting Started Suggestion:
If you already own this ebook, this week's challenge would be a great addition to Challenge #6: Starting a Collection. Read the challenge for simple ideas to get you started with a nature collection. You could focus this month on collecting things related to trees.
Pictured above is our very casual collection of tree related items and misc natural objects. There are seeds, acorns, nuts, peeled tree bark, galls, leaves, moss, and a few small twigs. These sit right on top of our nature table.
If you need an explanation of how the Outdoor Hour Challenge is going to work from this day forward, please read this entry:
Nature Study Using the Outdoor Hour Challenge – How to Steps and Explanation.