The best part of autumn is taking in the fruits of the season. Apples, apples, apples, and more apples. We visited the apple orchard (which has much more than apples this time of the year) and enjoyed some freshly pressed apple cider, apple doughnuts, and picking out quite a few apples to take home.
Yes, I said apple doughnuts. I don't usually eat doughnuts but this time of year it is a tradition that I like to indulge in with my men. I eat one and they have two or three. Crumb, cinnamon sugar, glaze??? They are all delicious.
In every plant, and bird and insect there is a life-history to be learned more interesting than any story, and I would urge parents to make themselves acquainted with these life-histories by obtaining and studying some of the many admirable books on Natural History which abound in the present day. They will then be enabled to pass on the information in happy talks with their children till they become eager little naturalists, loving the book of nature and seeing in it, not only endless things to admire and wonder at, but evidences, on all sides, of the works of an all-wise and kind Creator, Who has so marvelously fitted each living thing to fill its appointed place in creation and fulfill the duties assigned to it as a part of a great harmonious whole.
Parent's Review Volume 11, 1900, pgs. 578-584
How much more do we enjoy our apples knowing their life history from twigs and buds in the winter, to leaves and blossoms in the spring, and then fulling enjoying the taste that arrives in a neat little package in the autumn.
It is a wonderful story for children to learn and appreciate.
Applesauce was next on the apple menu…homemade from apples we gleaned from a friend's orchard. Now we have some jars to enjoy over the next few weeks. Yum!
There are several apple related studies here on the Handbook of Nature Study:
Apple Trees
Spring Apple Blossom
Apples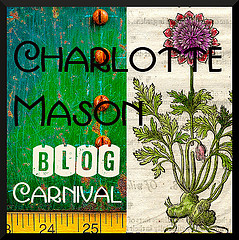 I am submitting this entry to the Charlotte Mason Blog Carnival and if you have any entries you would like to submit, you can send them to this email address: charlottemasonblogs@gmail.com. The official blog carnival site is not working so you will need to send them directly to this email.