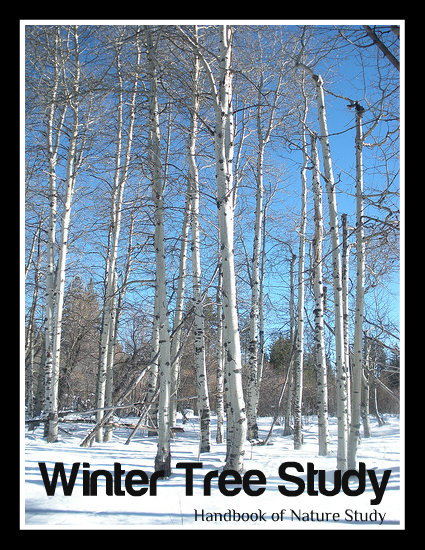 Outdoor Hour Challenge
Winter Series Ebook
Winter Tree Study

Inside Preparation Work:
Now that winter is upon us, let's take this week and observe the tree we chose last autumn to study during each of the four seasons. This week you will use the suggestions on pages 624-625 of the Handbook of Nature Study to make general winter observations of your tree. You may wish to read through the suggested ideas for studying your tree before heading outdoors so you will have those in mind. If you started a year-long tree study a few months ago during the Autumn Series of challenges, you may want to pull out your nature journal and refresh your memory about your particular tree. Hopefully when you go outdoors you will observe some big changes.
Also, if you have the Discover Nature in Winter book, turn to pages 76-81 for valuable information on branch patterns, tree silhouettes, twigs, and seed containers.
Outdoor Hour Time:
Take your 10-15 minute outdoor time to study your tree. If you are just starting out with a tree study, pick a tree from your yard that you can watch through all four seasons. Have your children make as many observations as possible, perhaps comparing the appearance to how it was during autumn. Another way to record your tree changes is to take photographs in every season. This makes for a very easy nature journal entry once you get back indoors. If your weather is too cold or snowy to go outdoors, you can pick a tree to observe from your window or you can bring in a twig or cone to study from your tree instead.
Simple Suggestions for Winter Tree Study:
1. Pick a tree in your yard or on your street and view its branch patterns and silhouette.
2. Find a tree that has lost its leaves and sketch its shape in your nature journal. This activity can be done from a window if your weather is too cold or snowy.
3. Collect some seeds from trees that may still be left over from last season. Look for sweet gum, locust, yellow poplar, ash, mimosa, or sycamore.
4. Collect twigs from different trees and compare them.
Follow-Up Activity:
After your outdoor time, complete a nature journal entry. If you purchased the Winter Nature Study ebook you will have a custom notebook page or there are several free alternatives by using a general notebook page from the sidebar of my blog, the original Seasonal Tree notebook page, or your own blank journal. You can take photos of your tree to put in your nature journal as well. The Handbook of Nature Study suggests sketching your tree to show its shape as it stands bare. File your nature journal page as a record of the season.
Additional Project:
Anna Botsford Comstock in the Handbook of Nature Study suggests on page 624 to take a twig from your tree in February and look at it carefully. She suggests placing the twig in a vase of water and then leaving it in a warm, light place and see what happens to the buds.