Now that one complete challenge each month is to use the grid study…we are making better use of it as we go about our weekly outdoor time. This week we had tennis plans with some friends at the park and we combined this with some time observing the oak trees that surround the courts. 
I brought our tree field guide, our journal supplies, and the tree grid to help us glean more from our observations. There is a picnic bench right under the great big oak that you see in the top image. It is very different from the other oak we observed last week in our backyard. This one has a bunch of large trunks coming up from one spot and reaching out to make a crown.
So we took photos of our tree parts as part of the grid study.
These acorns are much larger than the ones we have on the California Black Oak tree in our yard. We also noticed that there are two growing together, opposite each other. This was a clue to the identify of the type of oak once we pulled out our field guide.
Here is a photo of the trunk with the bark and woodpecker holes. Which reminds me that I need to add the woodpeckers we saw to our bird list for October. We keep a running list each month of the birds we see and now that we have three year's worth of data it is interesting to compare.
Under the main tree we saw this new oak sprouting….which technically isn't part of the tree but we thought it was interesting. Looking at the image now it also shows the dry, brown leaves of this oak tree.
My tree pages using the tree grid and bookmark from the October Newsletter. (Amazon link to journal below)
So then we pulled out our tree field guide (A Field Guide to Western Trees-Peterson Field Guides
) and tried to determine just what particular oak we were enjoying at the park on a glorious October afternoon. Turns out it is an Interior Live Oak.  We were interested in the fact that the leaves can either be smooth (like ours) or they can be "sharp-toothed".
So for my nature journal pages for our tree study, I am using the Tree Grid and bookmark from the newsletter, my tree poetry from last Friday's Using Your Words challenge, and then I will add some additional observations and maybe an image I print our from our photos.
We still have some tasks left from the Tree Study Grid to complete but there is plenty of time in the month to work on them. We have had some debate about which tree is "closest to our house"….it might even mean getting out a measuring tape to have an official closest tree.
I have a nature study group trip this week and I have been gathering some things to take for all of us.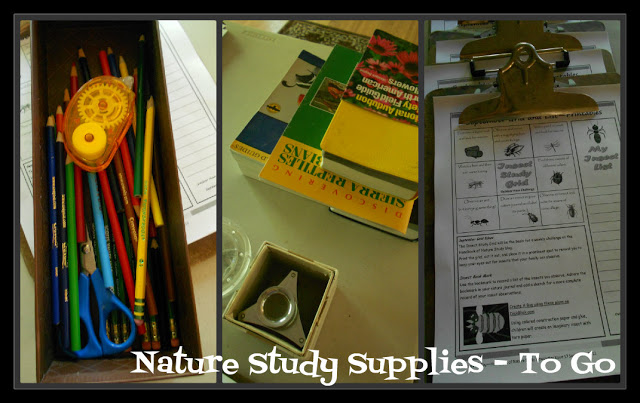 I thought you might like to see what I pack for our group…nothing too exciting.
Colored pencils and Number 2 pencils with erasers
Scissors (for cutting the grids)
Tape
Pencil sharpener (can't see it in the photo)
Assorted field guides (which I put in my daypack)
A couple of magnifying tools
Clipboards with the study grid (we are going to work on insects on this trip)
Even though we are going to be working on insects, I decided to bring in a few other field guides. We have quite a few lizards right now and I know some of the boys are going to want to chase those. I also always bring a bird field guide since that is one that we always seem to need.
I have gleaned some wonderful ideas from all of you as I watch you work with your grid studies….so many ways to use this simple idea. I hope that showing you a glimpse into our tree grid study will encourage you to give it a try this month or any other month you feel like studying trees.