Outdoor Mom – February 2020
Hibernation, Bird Counts, and Garden Plans
During our outdoor time this month we went…
There have been no great trips out and about this month….spending most of my days inside, looking out at the wintery landscape. Don't get me wrong. We have sunshine but it is COLD!
This winter I've been more of a hibernator than in years past.
Maybe it's my age or the weight of the responsibility I'm under, taking care of elderly parents, but I enjoy the warmth and rejuvenating powers of sitting by a warm woodstove more than bundling up and going out in the freezing temperatures.
I don't think I'll always be this way; it's just a season of something different for us here in Central Oregon.
The most inspiring thing we experienced was…
I have to admit that the most inspiring and interesting thing we've done is to participate in the Great Backyard Bird Count. The juncos took the prize for the most birds of any species. But the chickadees, nuthatches, and house finches have been the most consistent visitors to our feeders this season. The most surprising visitors we had were three red-winged blackbirds! They made an appearance one morning up on the tall bird feeder…I can't believe how early they are this year, almost a full month before I expected them to arrive. We also had a few varied thrushes to count and flickers, downy woodpeckers, and hairy woodpeckers. Under the feeder we had mourning doves and collared doves that duked it out with the gray squirrels for the seeds on the ground.
Great Backyard Bird Count 2020
Northern flicker-1
Downy woodpecker-1
Hairy woodpecker-2
Mourning dove-6
Collared dove-2
Red-breasted nuthatch-1
Pygmy nuthatch-4
House finches-6
Dark-eyed juncos-30
American robin-2
Varied thrush-2
Mountain chickadee-5
California scrub jay-4
Red-winged blackbirds-3
In the garden, we are planning/planting/harvesting…
It's time for planning new garden beds to be filled with plants that will attract birds, bees, and butterflies. After our success in growing quite a few colorful and habitat friendly flowers, we're going to expand our wildflower meadow and increase the number of sunflowers and bird/bee attractive plants.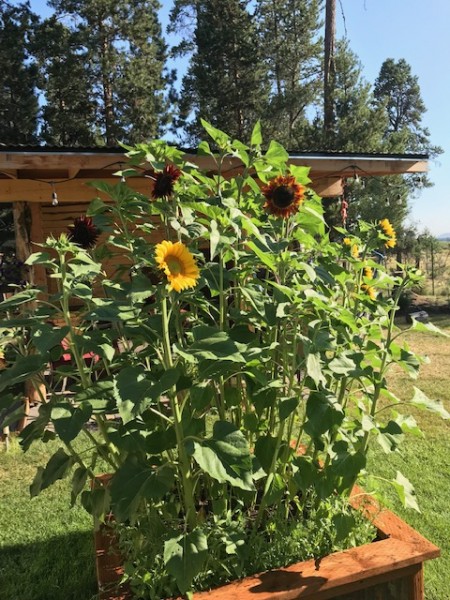 I love Renee's Garden seeds and each year I order some old favorites and a few new things to test out in our yard. I've long had a relationship with this awesome seed company and this year they are sending me the following seeds to try as part of their media partnership.
Beekeeper's Mix – This is a mix we had last year under our sunflowers and they were so pretty!
Seeds for a Hummingbird Garden – This will be a new mix of flowers that will go in one of my garden boxes. I'm anxious to see if they flourish here in Central Oregon.
Seeds for a Butterfly Garden – Another new mix for us to experiment with this summer!
Butterfly Monarda – I'm going to add this packet to my wildflower garden to add a little height and color.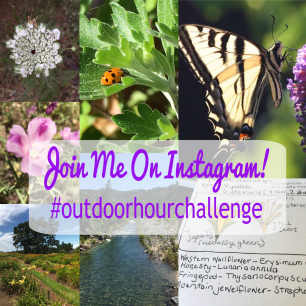 Want to join in the Outdoor Mom post?
Answer all or just one of the prompts in a blog entry on your own blog or right here on my blog in a comment. If you answer on your blog, make sure to leave me a link in a comment so that I can pop over and read your responses.
During our outdoor time this month we went…
The most inspiring thing we experienced was…
Our outdoor time made us ask (or wonder about)…
In the garden, we are planning/planting/harvesting…
I added nature journal pages about…
I am reading…
I am dreaming about…
One last image…