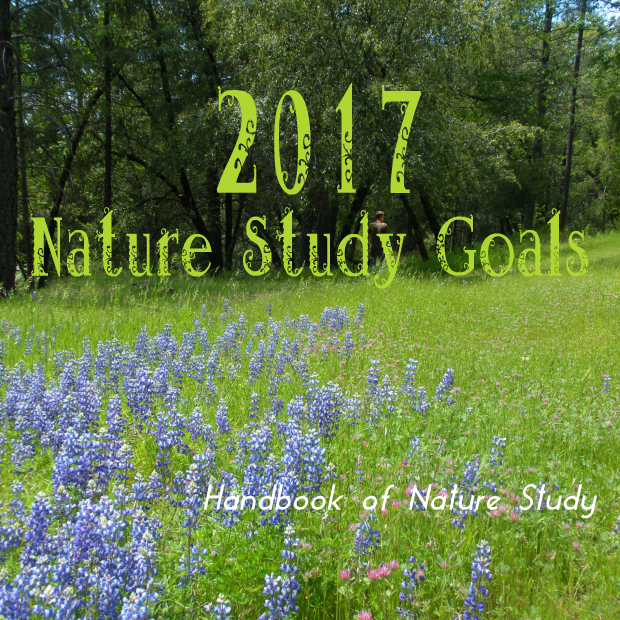 Nature Study Goals 2017 – Let me inspire you to create your own goals!
I am at a point in my life that I am simplifying and decluttering my home, my thinking, and my lifestyle. I'm embracing these changes as I see the space both physically and mentally it provides for new opportunities and experiences. I have thought long and hard about how this relates to what I do here on my blog and with the Outdoor Hour Challenge.
Things here on the blog will go on pretty much as before except for perhaps fewer posts in months where we are traveling. I will still be creating a monthly newsletter as a companion to the weekly Outdoor Hour Challenges. There will still be printables and activities added to the Member's Library.
Big News Here at the Outdoor Hour Challenge
The biggest development here, and the real reason I want to simplify my blog work, is a new wildflower ebook in the works. I will expound on that very soon here on the blog but you can anticipate the first set of wildflower challenges (all new) to start posting in April.
But for me personally, 2017 is going to be a year that I focus on my personal nature journal. Most of my goals will be centered on creating a more meaningful and thorough record of my nature study experiences. (Especially after reading and being inspired by The Laws Guide to Nature Drawing and Journaling.)
You are welcome to join me as I pull from ideas that are in my archives, from internet sources like Pinterest, and from the books I have on my nature reference shelf.  I will of course be sharing some of my work here on the blog but you may consider following me on Instagram since that is my social media outlet of choice and lends itself to the visual nature of a nature journal.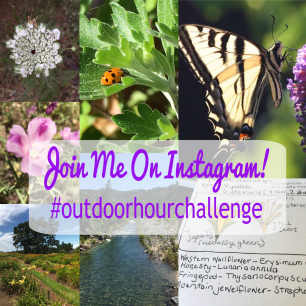 Nature Study Goals 2017 – Focus on My Nature Journal

Create monthly entries for my Outdoor Mom experiences as I share our nature study using the Outdoor Hour Challenge, our travel experiences, and any of my family's nature adventures.
Focus on my nature journal and create at least one page weekly. This is a BIG commitment on my part but I think it is a goal I can reach with continued focus and inspiration. I have created a chart for the front of my nature journal that has page ideas for me to use so that I get a variety of pages over the year's time.
Post images of my nature journal pages on Instagram each week.
Read and review 6 nature journal related books. I will need inspiration to keep me going. I haven't had a chance to gather 6 books together yet but I will be sure to share them both on Instagram and here on my blog ASAP.
I always love to read your goals so leave me a comment with your goals or a link to your blog if you post an entry there.
Be Inspired! Be Encouraged! Get Outdoors!
Nature Study Goals From Previous Years:
Are you interested in creating your own nature goals? Here is a free printable for you to use as you brainstorm the goal and the steps to meeting that goal.