Outdoor Mom
September 2018
 Like much of the West Coast, we've been plagued with wildfire smoke off and on for the last month. It rolls in thickly, making it impossible to truly enjoy being outdoors for very long. But, the minute it clears out, we are trying to squeeze in the last of the late summer activities.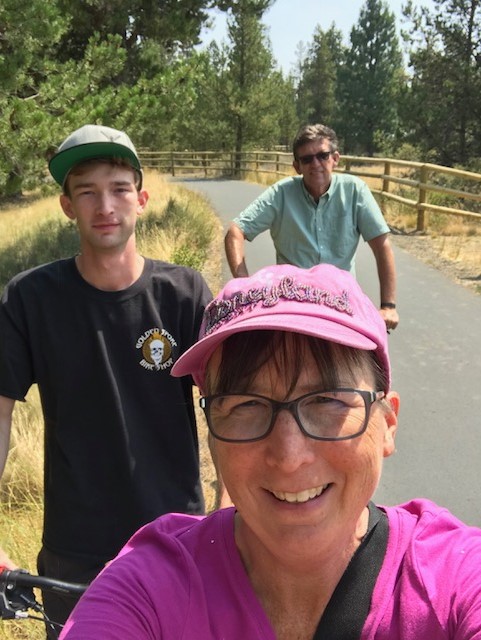 Creating memories of a summer spent outside with family and friends is high on our priority.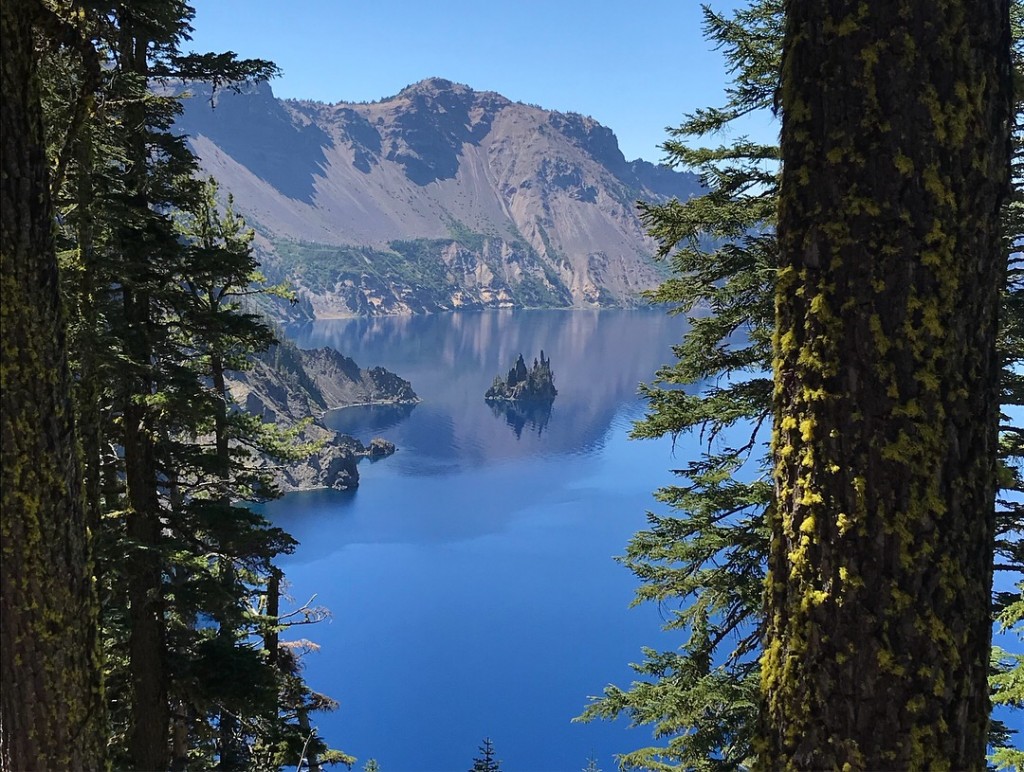 Sometimes we plan an outing and sometimes we get invited on a spur of the moment trip. This was the case with a day trip to Crater Lake National Park. Our son unexpectedly had the day off and he phoned us up and asked if we wanted to accompany him to see Crater Lake on a day that the skies were blue and clear. It took us about ½ a second to respond, "Yes!"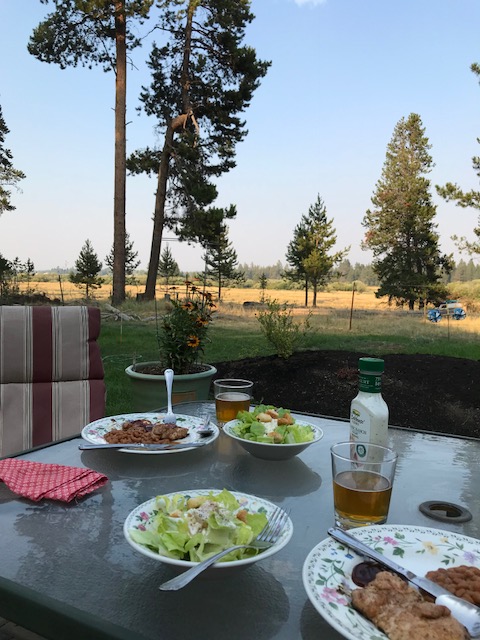 We try to eat outside on our patio as much as possible.  The last Outdoor Hour Challenge in August was to have a late summer picnic. We've had several in the past few weeks but I haven't taken a photo. The image above is our typical summer meal with a little grilled chicken, salad, and some beans. I've actually perfected my baked beans recipe this summer as the perfect accompaniment to any grilled dish.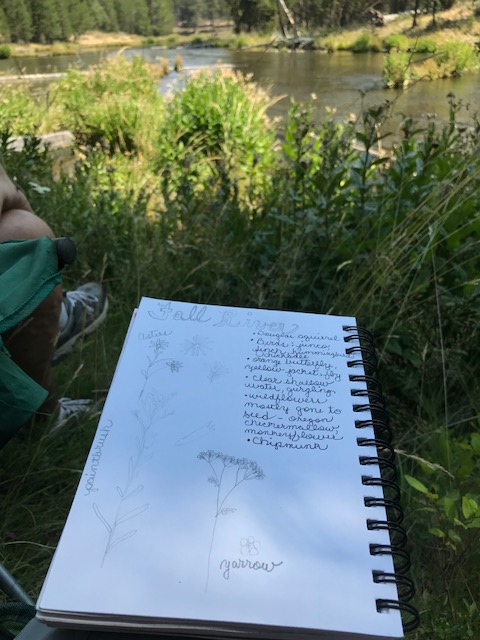 We have a place we discovered this summer that's very close to our house that offers a variety of nature experiences. It's along the Fall River where we can hike, picnic, and just sit and enjoy an afternoon in the sunshine among the wildflowers. There's also a nearby fish hatchery with amazing rainbow trout of all sizes to observe. These will be summer memories that will warm my heart during the long winter.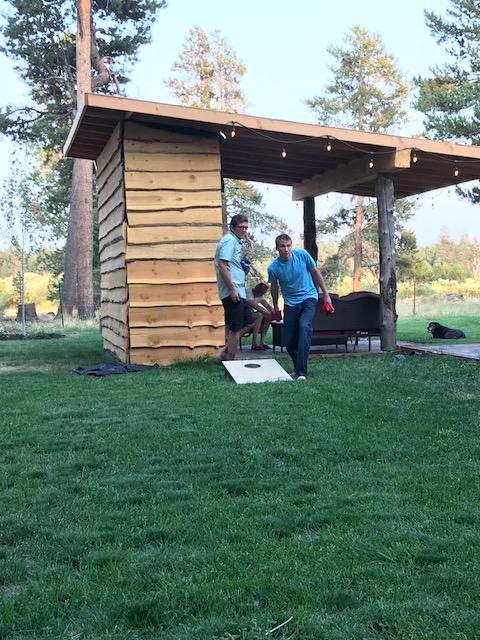 We are nearly finished building our bbq shed with the help of our sons. It's the perfect spot to enjoy a summer evening playing cornhole or just watching the dark descend on the mountains in the distance.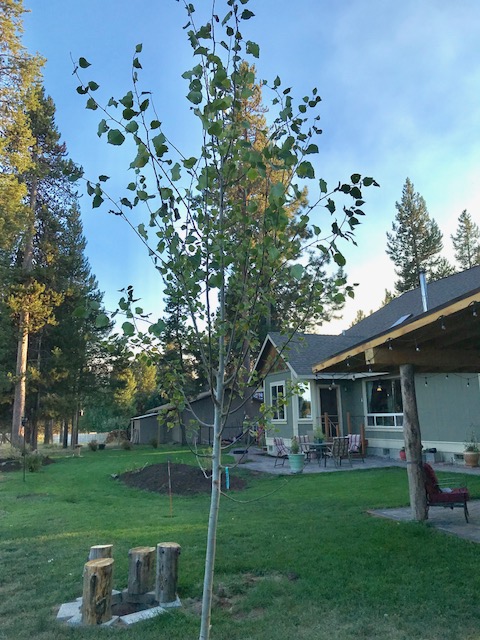 Our main focus this summer was to landscape our backyard, or at least get the hardscape down and build a few berms. My husband has worked his little heart out creating a beautiful space for us to enjoy that far exceeded our summer goals. He surprised me at how much he has accomplished and even got an aspen planted in the far corner of the property. I'm going to love watching it change colors with the season.
There is so much more to share but I will end there in the hope that you will be inspired to get outside with your family during the next month.  I invite you to follow me on Instagram to see more of our outdoor experiences here in Central Oregon.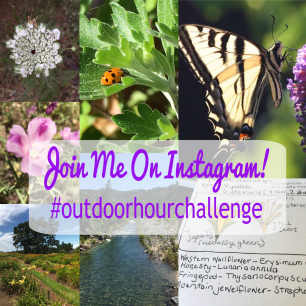 Follow me here: Instagram – outdoorhourchallenge. If you would like me to take a look at one of your images on Instagram, use the hashtag #outdoorhourchallenge.
Want to join in the Outdoor Mom post?
Answer all or just one of the prompts in a blog entry on your own blog or right here on my blog in a comment. If you answer on your blog, make sure to leave me a link in a comment so that I can pop over and read your responses.
During our outdoor time this month we went…
The most inspiring thing we experienced was…
Our outdoor time made us ask (or wonder about)…
In the garden, we are planning/planting/harvesting…
I added nature journal pages about…
I am reading…
I am dreaming about…
One last image…