Nature Observer – Nature Journal Project
May 2018
I love spring!
Keeping a nature journal helps to remind me to slow down and create a record of some of the amazing things we see and experience as each week goes by. It's easy to let the days slip away without taking note of the beautiful spring changes. But the sense of satisfaction as I flip back through my nature journal pages encourages me to keep at it even when I have a busy week.
I'm even trying to draw and paint more in my journal which is far out of my comfort zone.
I hope you are inspired to stop for a few creative moments this week to make a page in your journal and make the opportunity for your children to do the same.
Here are my entries for May!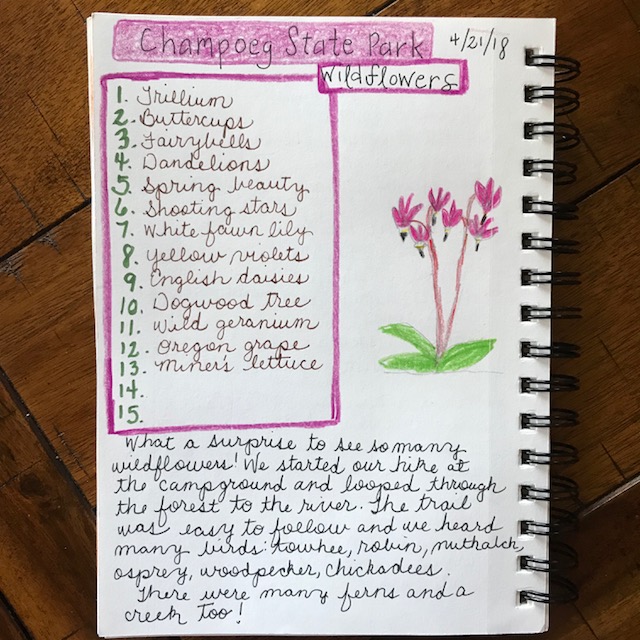 We had a weekend trip over to the Willamette Valley for a few days of camping. We did a little hiking along the river and I so enjoyed the wildflowers! Not only the wildflowers, but the birds made this weekend special by providing the birdsong that followed us everywhere.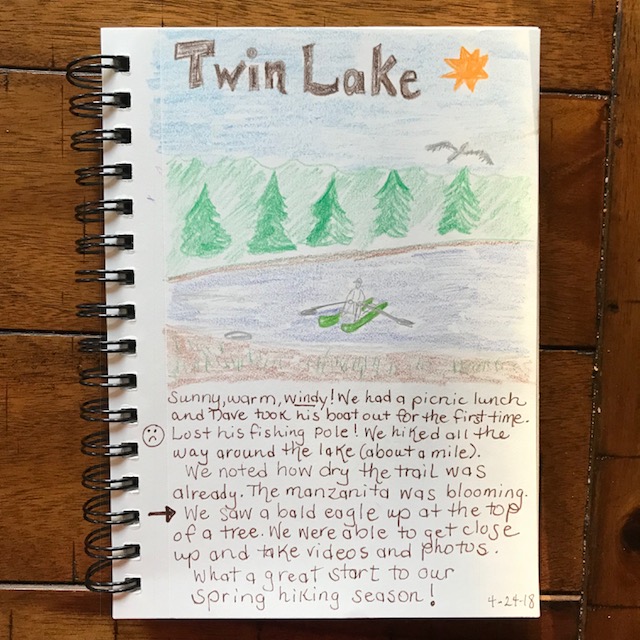 One day the sun was shining and the temperatures were warm so we decided to take my husband's new fishing boat out on the lake. He rowed around fishing until his pole fell into the water! I sat on the shore watching the clouds, the birds, and the water…my happy place. We ended the day with a hike around the lake which yielded a fantastic bald eagle sighting. We were able to get close up and see him sitting on the top of a tree. Great memories!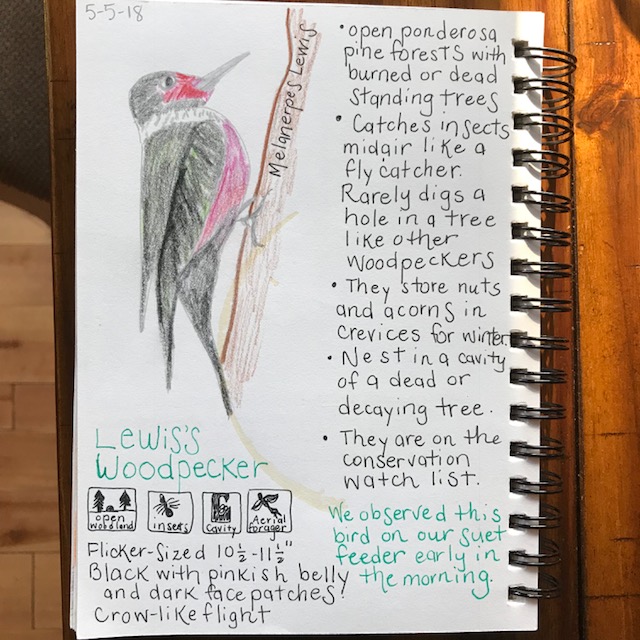 One morning we were eating breakfast and looking out the window just like we normally do each day. My husband noticed an unusual bird hanging onto our suet feeder. He had unusual coloring and I grabbed my binoculars to get a closer look. He stuck around long enough that we got to make some notes of distinctive features and that enabled us to find him in our field guide. He was a Lewis' woodpecker. This is a rather large woodpecker and he flew away with flapping wings. I've since seen another one alongside the road when I was out with a friend. I love being able to name a bird…makes it so special.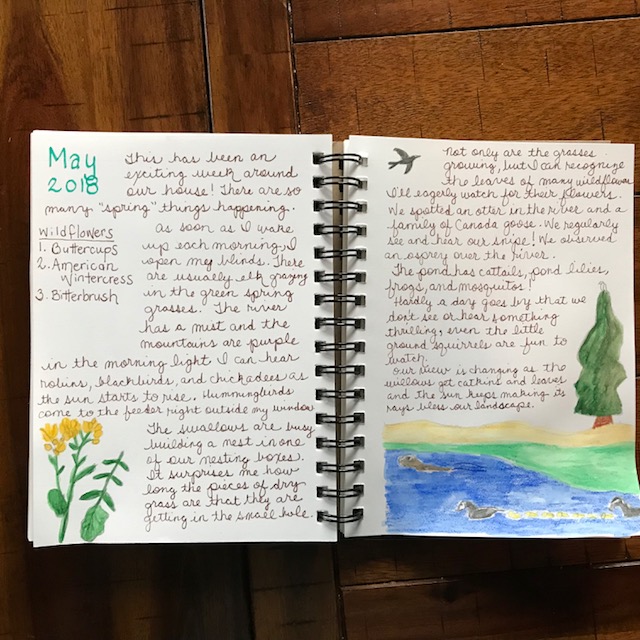 We have seen such changes in our landscape this month. I created a nature journal record of the many special moments we've had just out our back door. We spotted river otters in the river. We have marveled at swallows and chickadees building nests in our nesting boxes. I was delighted to see our Canada goose family with seven babies swimming in the water. We've also seen the return of the wildflowers as well as the tall grasses.

Have you taken a look at my updated nature journal page? Here's a link to see some ideas to inspire you in your journaling efforts.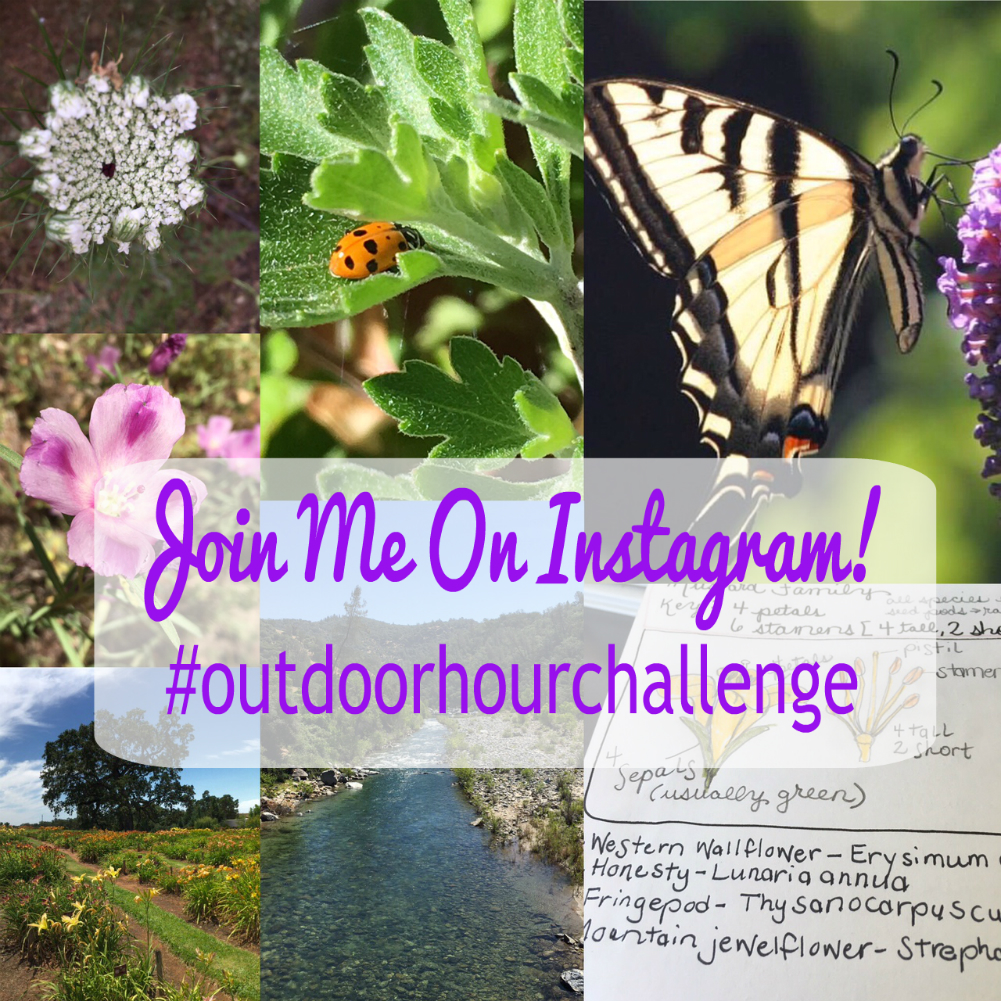 Don't forget that I'm sharing a nature journal page each week on my Instagram account if you want to see the pages as they unfold. Follow me here: Instagram – outdoorhourchallenge. And, if you want to create a page and share it on your Instagram for me to see, use the hashtag #OHCnaturejournal.