Nature Observer – Nature Journal Examples
March 2018
We're still in the midst of winter weather…no spring yet! But, that hasn't kept us from getting outside and enjoying the amazing clouds, birds, and weather that greets us each day. I had a friend ask me this week if I'm suffering from the loss of spring green and early wildflowers that she has in California and I could honestly say that it hasn't been a big deal to me. We moved here to experience something different and that is exactly what we're feeling here in the middle of March. I created a sign on my chalkboard to remind me of an important fact…
Spring will come and I will be just as excited about it in May as I would've been in March.
We're busy planning the landscaping in our backyard right now.  Doing the research on plants and trees and shrubs that thrive here in our harsh climate has made my heart happy in anticipation. We want to get it right so it's taking a lot of research to decide which plants will give some color and depth to our very flat piece of land. We don't want to obstruct our view of the mountains so everything needs to be viewed in light of how it will affect the sight lines from our back windows and from the future patio. More on that project in an upcoming post!
Here are my weekly entries from March!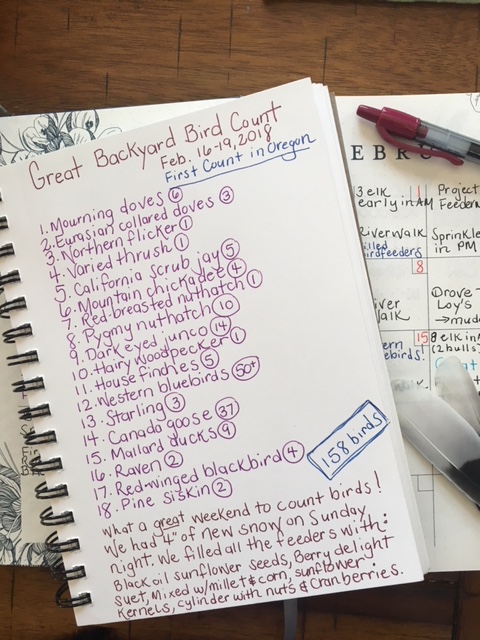 I had been eagerly anticipating the arrival of the Great Backyard Bird Count since it's our first here in Oregon. We had some surprise bird visitors just in time to be officially counted for the event.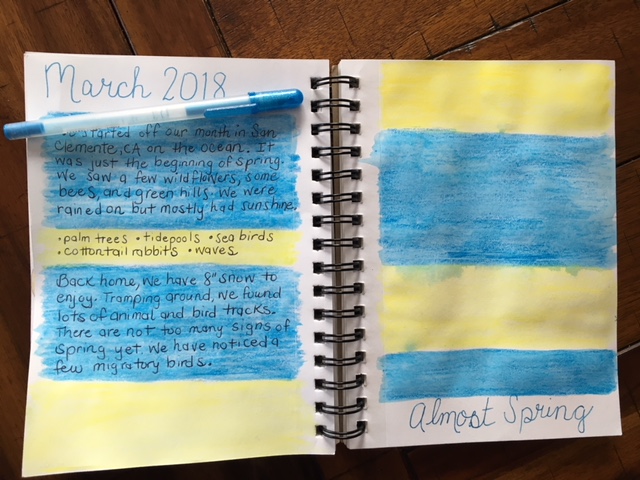 I wanted to record our March nature events as they unfolded so this two page spread will allow me to add to the journal throughout the month. I should have called it "not really spring yet" instead of "almost spring".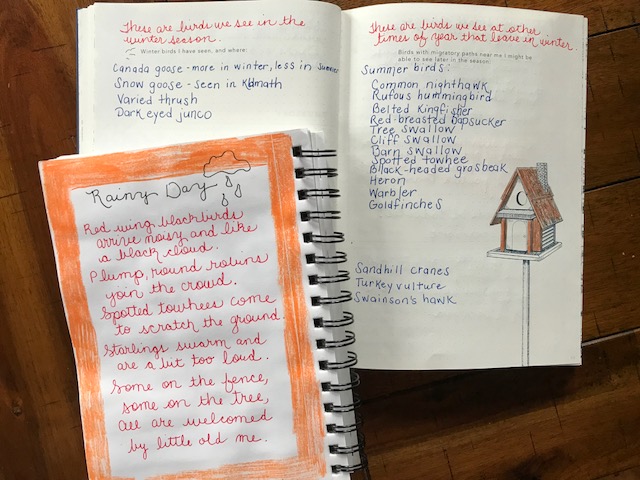 I'm still going strong with the Nature Observer journal that I began in January. The premade pages encourage me to record things I wouldn't otherwise think about including in my journal. The pages shown here are both to record the winter bird visitors we observe during this season on one page and then another page to record migratory birds we'll see in future seasons that are not here now. These pages required some research on my part but I love that kind of work. It impressed on me more deeply the rhythm and cycles of bird migration here in Central Oregon. It's a way we can anticipate the changing seasons and view a bird's comings and goings as a natural sign of the time of year.
Bonus! Plus here is a page from my archives that you can create in your journal using the March 2014 newsletter printables.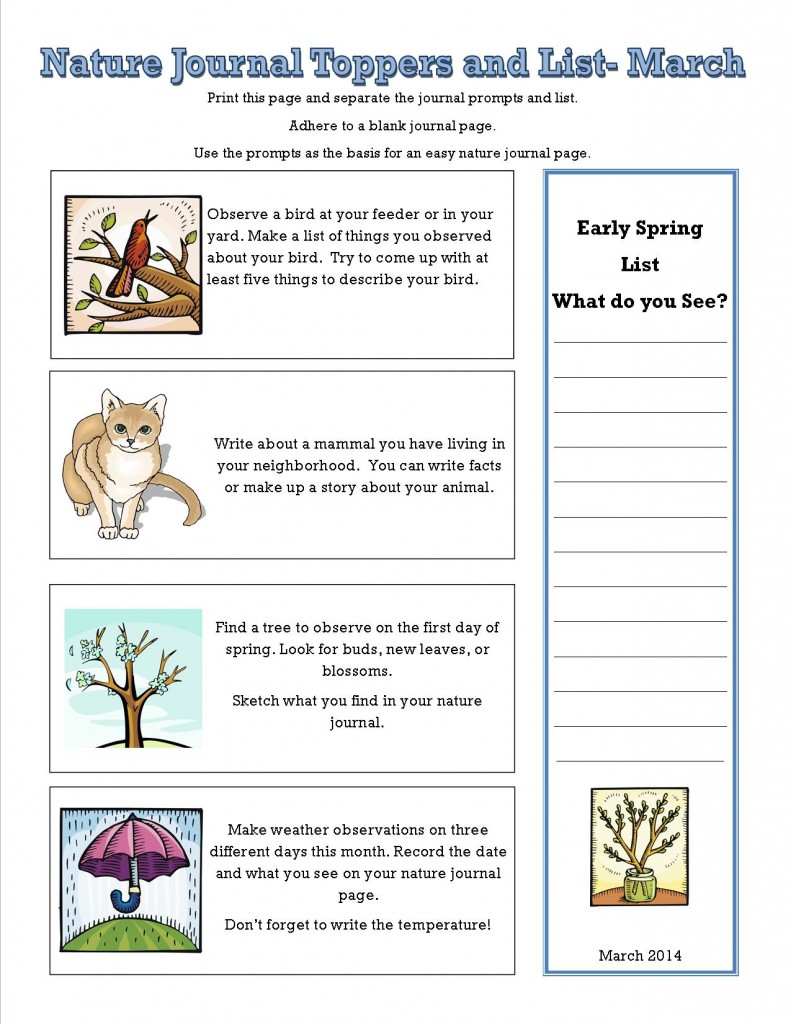 March 2014 Nature Journal Topper Printable List
This is from my 2014 nature journal where I was using a little bit larger page (Mixed Media Side Wire 7 x 10). I was able to use the printable list and nature journal topper from the March 2014 newsletter to create a page using a photo and some journaling. I'm anticipating using this size journal again after I finish my current smaller one (Mixed Media Side Wire 8.5 x 5.5).

Have you taken a look at my updated nature journal page? Here's a link to see some ideas to inspire you in your journaling efforts.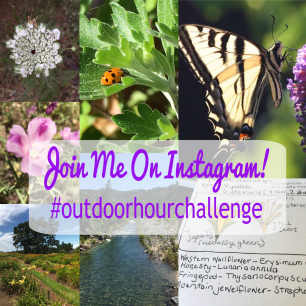 Don't forget that I'm sharing a nature journal page each week on my Instagram account if you want to see the pages as they unfold. Follow me here: Instagram – outdoorhourchallenge. And, if you want to create a page and share it on your Instagram for me to see, use the hashtag #OHCnaturejournal.