Change is good! I know many of you are disappointed with my decision to stop creating a monthly newsletter. Please read the rest of this entry to understand a bit more about my decision to make some changes here with the Outdoor Hour Challenge and memberships at the Handbook of Nature Study. (You can read my previous entry here: Plans for October 2017 to August 2018.)
New Beginnings
Here we are at the beginning of a new month and a new school year. My fellow nature-lovers have long enjoyed the monthly newsletters here at the Handbook of Nature Study but now the time has come to make a change. With 76 issues in the archives, I've helped to create quite a library of ideas and encouragement along with my amazing contributors.
Over the last year I became increasingly aware that the newsletter has had a good run but it was time to go in a different direction. So, instead of creating a newsletter each month to encourage nature study, I will be back to writing encouraging blog entries on a regular basis that subscribers will receive in their email inbox.
I Will Still Be Creating New Resources for Nature Study
In addition to those blog entries, there will be new things like printables and ebooks shared via the Member's Library.  (Remember Ultimate and Journey level members get all the new printables and ebooks for the year of their subscription.)
How to Get More Out of the Newsletter Archives
All 76 of the past newsletters are included in every paid membership level here at the Handbook of Nature Study (Ultimate, Journey, and Discovery levels).
To help you see what is actually available with your membership, which includes the 76 newsletters, I am going to do two things: give everyone access to several complete newsletters as samples and create a printable list of the topics and contents of each issue.
Would you like a sample newsletter?
October 2014 – Fall Trees Newsletter
April 2015 – Nature Journal Fun Newsletter
Download the two newsletter and you will get a really good idea of what is included in each issue.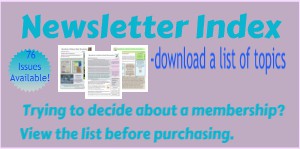 Would you like to print a list of newsletter topics and contents?
Handbook of Nature Study Newsletter Index
The newsletter index will be helpful in making the decision to purchase a membership.  It will also be a quick guide for all members here on the Handbook of Nature Study to find resources to supplement your nature study.
Remember, every level of membership here on the Handbook of Nature Study includes the 76 archived newsletters!
It's the beginning of a new chapter here on the Handbook of Nature Study and I hope you will stick around to see all of the amazing things I have planned this year.
If you haven't subscribed to my blog yet, I encourage you to give it a try and see if it encourages you and your family to get outside and learn together, to explore together, and to get to know the amazing things right outside your door! Subscribe here: Email subscription to the Handbook of Nature Study blog.
Be encouraged! Be inspired! Get outdoors!